We've all been there, living in small spaces made even smaller by the ever-increasing accumulation of books: piles growing like mushrooms from the floor, double-stacked on shelves, laid flat under chairs or sofas. When we eventually escape to a larger apartment or house, we hastily box up the books and it's only upon beginning the reshelving process in our new space that we notice the damage that has accrued: bleached spines and covers, yellowed page edges, mold, spider webs, scratches on previously-pristine dust jackets, bent or torn covers, cocked spines, pages sagging or come loose from the binding…
We resolve to do better, but usually get no further than alphabetizing the collection before the cycle starts over again.
So, how should we store our books to prevent common deterioration?
1. Careful shelving
Unless a book is a very old or delicate, shelve them upright, as they would be in any bookstore. (Medieval manuscripts should be stored flat, if you're lucky enough to have some in your collection.) Shelve similar size books together, as they benefit from the support of other books on each side. But, don't shelve them so close together that you have to pull hard to remove one -- that can tear the top of the dust jacket or spine. A good rule of thumb is to stop when you think you could probably squeeze one more book in there.
Note: the featured image above shows a variety of ways -- good and bad -- to shelve your books, including diagonally, which can lead to bent and crooked books.
Featured item:
Gilead (First Edition)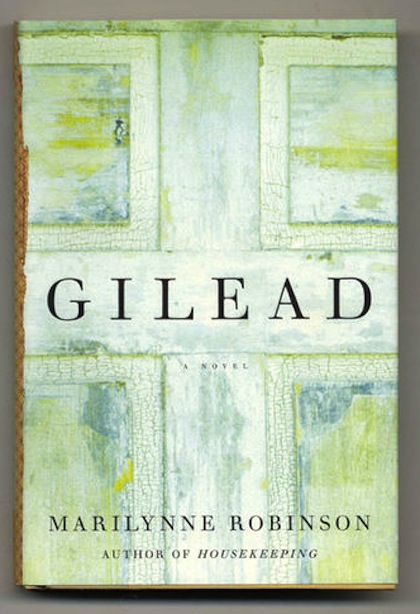 Toronto: Harpercollins Publishers. Fine in Fine dust jacket. 2004. First Edition; First Printing; Signed by Author. 1/4 Cloth. An attractive first edition/first printing in Fine condition in alike dustjacket. The Canadian edition was issued three weeks prior to the US edition, SIGNED by author Marilynne Robinson on the title page.
Offered by Books Tell You Why, Inc.
2. Keep Books Away From Direct Sunlight
While professional archives can employ climate controls and store books in darkened rooms, most of us will not have the space or means to go to such lengths. Common sense steps like placing bookshelves away from windows and out of direct sunlight will help minimize the yellowing of paper or bleaching of jackets. (Keep such considerations in mind when buying books -- if a book store displays shelves of books in their front window year-round, those volumes will not long remain in good condition.)
If you have the means, install windows with a solar window film designed to block UV rays, as these are what fade book covers, carpet colors, furniture, etc. Regular glass will block some UV light (perhaps 45%) and window films can block up to 99.9%. Other options include sheer curtains or roman shades to block direct light.
3. Try to Regulate the Humidity
Don't store your books in a musty basement or in cardboard boxes in the attic. The temperature changes in an attic can be extreme, and air does not circulate in tightly packed boxes. Choose a room with decent airflow, and don't store books directly under or over a heating or cooling vent. A ceiling or oscillating fan can help regulate airflow.
You want to keep the humidity below 60% (archives aim for no more than 35%). Above 60% humidity mold spores can form, and once present mold can quickly spread through the air. When deciding which room to use as your library, ensure there are no water pipes in the ceiling above the bookshelves -- a burst pipe would be catastrophic!
4. Prevent Dust Buildup
Clean gently (with a feather duster or small brush) and regularly. If you can afford glass-fronted cabinets or lawyer's bookshelves, these can be a good investment: keeping dust at bay and making cleaning less onerous. If extra security is desired, purchase cases that can be locked.
However, be careful where you place them. Glass-fronted cabinets in direct sunlight may increase the humidity in certain climates.
Featured item:
Gone with the Wind (Signed, First Edition)
New York: Macmillan, 1936. First Edition, with "Published May, 1936" on the copyright page; first issue dust jacket. 1037 pp. 1 vols. 8vo. Original gray cloth lettered in blue. Minor shelf wear, else a fine, tight copy, in a very good first-issue dust jacket, unclipped, with "$3.00" cost and with the "Spring Novels" advertisment on the lower panel showing this work as the second title in the right hand column.
Short closed tear to top edge of front panel, some wear to ends of spine panel, small squared closed tear on back panel. Half green morocco slipcase and cloth chemise. First Edition, with "Published May, 1936" on the copyright page; first issue dust jacket. 1037 pp. 1 vols. 8vo. First Edition, in Jacket, With a Letter. Laid in is a one-page Typed Letter, signed ("Margaret Mitchell Marsh"), from Mitchell to bookseller Robert Wilson, then a student at Johns Hopkins University, on a sheet of personal stationery headed "Margaret Mitchell," dated Atlanta, Georgia May 21, 1941.
Offered by James Cummins Bookseller, Inc.
5. Store Books Away From Smoke or Cooking
Our popular conception of a comfortable home library comes largely from the Jane Austen novels (or their film-adaptations): shelves of books in beautiful bindings, a comfortable chair by an open fire, and a glass of port on the side table. Unfortunately, the smoke from those fires will not have been very good for the books. It's better to keep your books away from an open fire (or from a kitchen) as the smell of smoke can permeate the pages, and the heat can dry out the bindings.
6. Keep Food Away From Books.
The biggest danger in combining food and books is not the stains, but damage from insects and rodents. Insects might come for the crumbs, but stay for the glue in your bindings; rodents will eat the covers themselves; and both will leave droppings that stain.
7. Protective Plastic Covers.
If you're going to handle your books, adding a protective plastic cover (often called a "mylar" cover, although that is just one of many brands) can be a very good idea. It will keep the jacket safe from spills, dust, and the oils from our fingers. If covers have delicate design elements, cut-outs, or raised elements, plastic covers can protect these from damage.
If you decide to use a protective cover, choose an archival-quality polyester film, and chose at least a .005mm thickness (anything thinner will not be a great help).
Beyond plastic covers, some collectors have special protective boxes made for individual volumes, but these custom boxes are expensive to produce, so are likely only for the most expensive or delicate of rare books.
Featured item:
by John Cage, Lois Long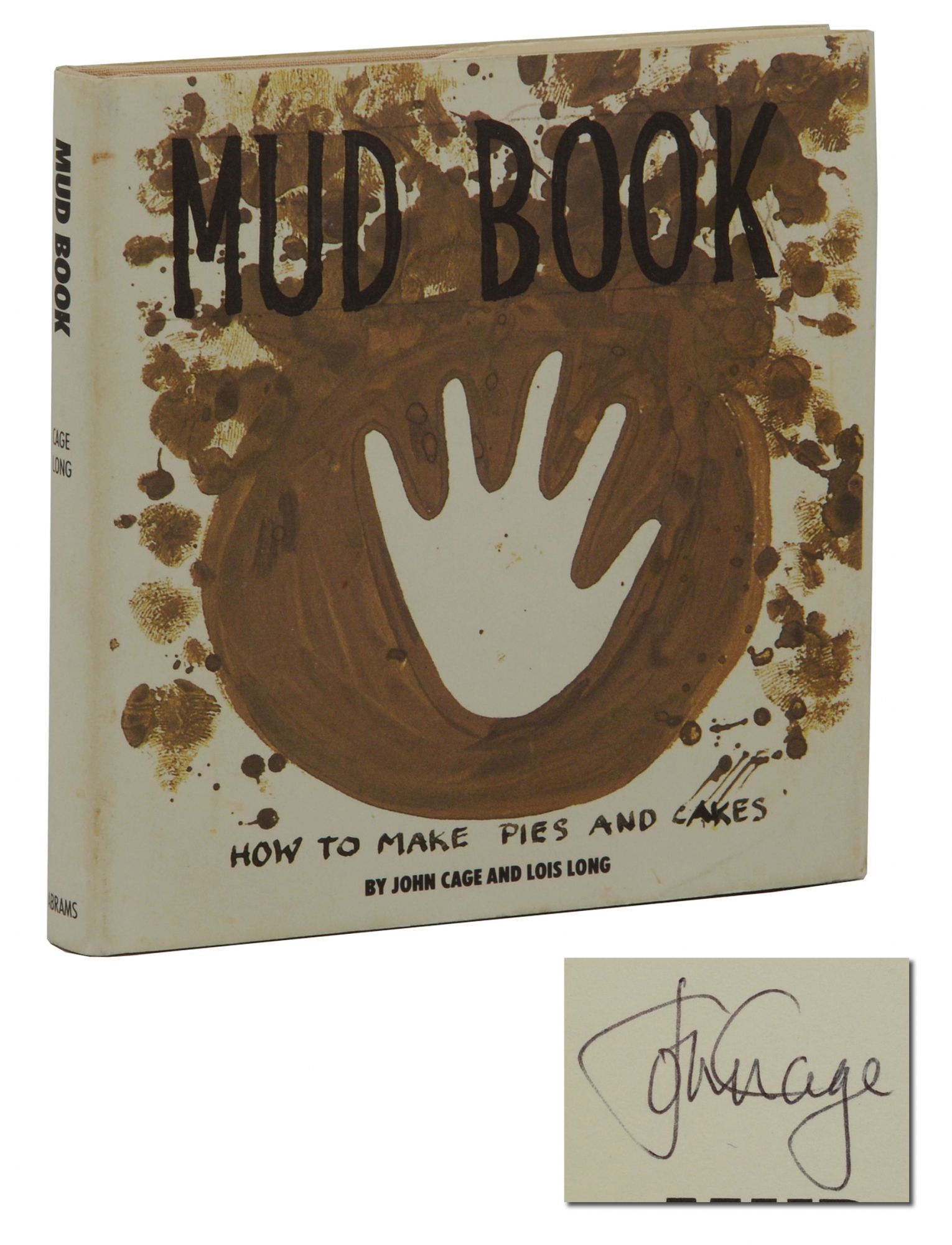 New York: Harry N. Abrams, 1988. First Trade Edition. Fine/Near Fine. First trade edition. Signed by John Cage on the title page. Bound in publisher's tan cloth with spine lettered in gilt. Fine, in Near Fine price-clipped and lightly shelf-worn dust jacket. A lovely copy.
Offered by Burnside Rare Books.
---
(Featured image source: Stewart Butterfield/Flickr via a cc license)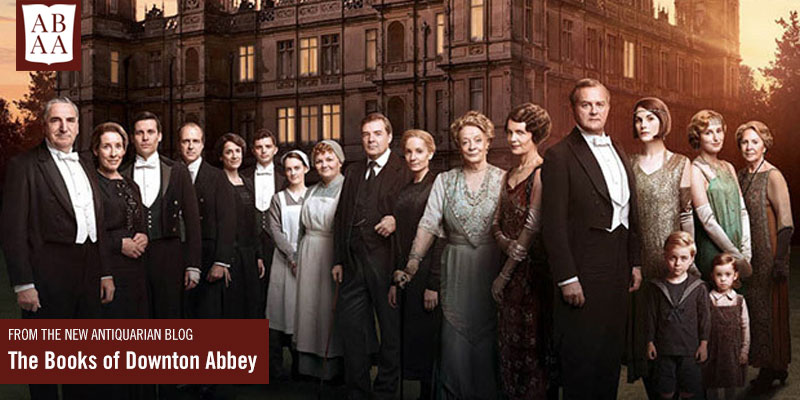 The producers of Downton Abbey go to great lengths to get their period details and history correct, and one of the ways they do this is by incorporating contemporary books into conversations and even at times the main plot. (Learn more...)
---