The makers of Downton Abbey go to great lengths to get their period details and history correct, and one of the ways they do this is by incorporating contemporary books into conversations and even at times the main plot.
In fact, it can be difficult to find an episode of Downton where the references to Dickens, Trollope, or now-obscure English historians are not flying thick and fast. When Lady Edith started dating a London editor, one expected to meet Virginia Woolf or E.M. Forster at a party any moment. Alas, poor Michael Gregson died before the producers could work a Bloomsbury party into the show.
(Post script: After I wrote this post, I attended the "Dressing Downton" exhibition at Asheville, NC's Biltmore House -- which has a stunning library -- and discovered that Virginia Woolf was a guest at that London party, albeit in a blink-and-you'll-miss-it, non-speaking role. Her costume is the one on the right of the photo below. The exhibition is currently touring the US. You can view locations and schedule here...)
Outfits worn by Lady Sybil (left) and Virginia Woolf (r) in Downton Abbey. Shown in the Biltmore House as part of the "Dressing Downton" exhibition in early 2015. (Source: Cincinatti Enquirer.)
Given scriptwriter Julian Fellowes' attention to detail and habit of tangling the fictional Crawleys in real historical events, those featured books are genuine and are generally well-chosen. The discerning Downton Abbey fan would do well to search the ABAA database for some of these titles, as they will not be found at your average bookstore. Here are some of the more-prominent titles to have featured on Downton Abbey.
Gutenberg Bible
Bibliophiles and book collectors have admired the Crawleys' wonderful library for years -- Oh, to have 10 minutes to investigate their bookshelves! However, serious collectors weren't very impressed when Robert revealed they have a Gutenberg Bible, but he didn't know where it was! Imagine owning one of the 49 known surviving copies of one of the world rarest books (even fewer at the time the show is set), and not knowing where to find it. The best most of us can hope for is to own a facsimile edition. But, sadly, the Crawley family are not known for their intellectual curiosity (except for Isobel's shining example, of course).
Peerage Guides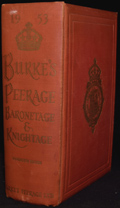 Carson the butler would fully approve of a purchase of any edition of a peerage guide, such as Debrett's or Burke's, two longtime guides to who's-who among the British nobility. ABAA members usually have several offerings available, from different decades.
When Matthew Crawley, an obscure third cousin, was revealed to be the new heir to the lands and titles of the Earl of Grantham, family members were chagrinned. But Robert took it in his stride and commented that they should simply check DeBrett's, one of several guides to the peerage that are continually referenced in the series, as if that should settle matters. If this unknown lawyer from Manchester was listed in DeBrett's, it was unassailable proof of his membership of the aristocracy -- whether the Dowager Countess liked it or not! Later, Carson did not approve of Matthew's new fiancée, Lavinia Swire, because she was "not to be found in Burke's Peerage, or even Burke's Landed Gentry!"
Marie Stopes' Married Love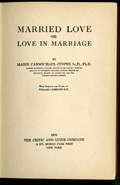 Perhaps the most prominent book to feature in Downton in recent seasons is Marie Stopes' pioneering work on contraception and pregnancy, Married Love. Stopes had finished her manuscript in late 1915, but every publisher in London turned it down because of the certain controversy. It was finally published in 1918, and was an instant cause-celebre, selling out five printings in the first year alone.
Mrs. Hughes used the mere presence of the book to undermine Edna's plan to seduce Tom Branson and compel him to marry her in season four. And, the book resurfaced to cause trouble between Anna and Bates in season five.
Elizabeth and her German Garden

In season two, when Mr. Molesly, the younger ("You make him sound like a Greek philosopher," quipped the Dowager Countess) was attempting to court Anna (in the brief period when Bates had gone back to his wife) he loaned her a copy of Elizabeth Von Armin's Elizabeth and Her German Garden, as an ice-breaker. Although first published (anonymously) in 1898, Elizabeth and her German Garden was a hugely popular book in the early decades of the twentieth century -- doubtless because it was humorous and idiosyncratic, in stark contrast to the deadly seriousness of so much Victorian culture.
The Sketch Magazine
In the very first episode, we learned that Cora was a regular reader of The Sketch, a weekly news magazine devoted to the aristocracy and society gossip. As we enter season six, the magazine that Edith inherited from the late Michael Gregson comes to take up more and more of her time, giving us a glimpse into the low-tech world of magazine production in the days before Photoshop.
Incidently, The Sketch was the first magazine to publish short stories by Agatha Christie, who went on to become a frequent contributor over the years. Other notable writers who published fiction in the magazine include Walter de la Mare and Algernon Blackwood.
Search abaa.org for copies of The Sketch....
Sources and Inspiration for Downton Abbey
Julian Fellowes has written that reading To Marry an English Lord (1989) by Carol McD Wallace and Gail MacColl gave him the initial spark for the family dynamic at the heart of Downton Abbey: the tension between an old title and new money. Following the completion of the six seasons of the show, he recommended three other books which he felt gave great insight into the world of the great houses and the issues their owners had to confront in the early part of the twentieth century; these books are: Edwardians in Love (1972) by Anita Leslie, The Big House (2004) by Christopher Simon Sykes, and Chatsworth: The House (2002 edition) by the late Duchess of Devonshire.
One novel that Fellowes has acknowledged partially inspired his script for the film Gosford Park -- which was a kind of dress-rehearsal for the series Downton Abbey -- is Isabel Colegate's 1980 novel The Shooting Party.
The World of Downton Abbey
Another step removed from the show, are books relating to service, including this unusual book of advice and instruction published by the Sunday School Union in 1828, A Farewell to a Female Scholar on Going into Service. With one of season five's plot lines concerning assistant-cook Daisy's attempts to educate herself, I doubt she received such a volume on beginning work at the abbey.
Among the more unusual items offered by ABAA members, is this impressive archive of items signed by or connected to Edward VIII, who as the Prince of Wales was saved from scandal by Lady Rose in the season four Christmas episode. Certainly a gift to consider for the Downton Abbey fan who has everything!
Artfully framed archive includes an autograph note signed by the King, and displays a reproduction of the inside of what is considered one of the most important speeches ever given
Amazing archive, including King Edward VIII's Farewell Abdication Speech, signed, a kidskin ivory glove belonging to the Duchess of Windsor, as well as some candid photos of the Duke and Duchess. The speech is inscribed to the Ambassador of the United States on Special Mission. (Offered by University Archives)
---
Other books mentioned or appearing in the series include:
The Wind in the Willows by Kenneth Graham
"Edith! You are a lady, not Toad of Toad Hall." -- The Dowager Countess to Edith about her learning to drive.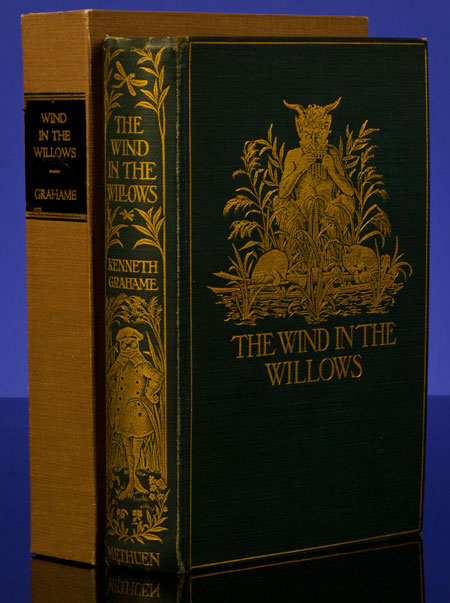 The Wind in the Willows (First Edition) 1908. First Edition of Kenneth Grahame's Children's Classic The Wind in the Willows. With a frontispiece by Graham Robertson. London: Methuen and Co., [1908].First edition. Small octavo. [8], 302, [1, blank], [1, printer's imprint] pp. Frontispiece with original tissue guard. Original blue cloth pictorially stamped and lettered in gilt within a single gilt rule border on front cover and pictorially stamped and lettered in gilt on spine. Top edge gilt, others uncut. Minimal rubbing to corners and spine extremities, the gilt bright and fresh. Very light foxing to endpapers. Lower inner hinge expertly and almost invisibly repaired. A near fine copy, housed in a brown cloth clamshell case. (Offered by David Brass Rare Books, Inc.)
The Scarlet Letter by Nathaniel Hawthorne
"Ethel has far more chance of happiness there, than re-enacting her own version of The Scarlet Letter in Downton." -- Mrs. Hughes on why the housemaid Ethel should leave the area.
Gunga Din by Rudyard Kipling
"Are you thinking of getting married, Dr. Clarkson? Because if you are, you're a better man than I am, Gunga Din." -- Isobel to Dr. Clarkson.
The Time Machine by H.G. Wells
"First electricity, now telephones. Sometimes I feel as if I were living in an H.G. Wells novel." -- The Dowager Countess declares she neither a fan of progress nor H.G. Wells.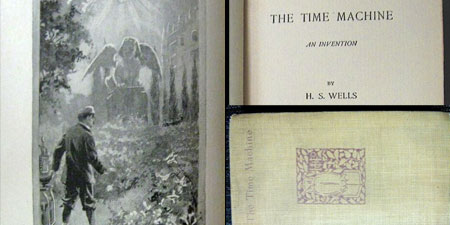 The Time Machine, Holt, 1895, first edition (first issue with the authors name misspelled as H.S. Wells on the title page), inner hinges starting, else a g/vg copy with somewhat different text than its later English counterpart. SIGNED by the author (just below the names of the previous owners?) on what appears to be a tipped in page. The author's first novel, a round trip to the year 802,701 and beyond. Most certainly a highspot of modern literature and needless to say, a cornerstone book in the building of a science fiction library. A very scarce book. (Offered by Fine Books Company)
You may also be interested in: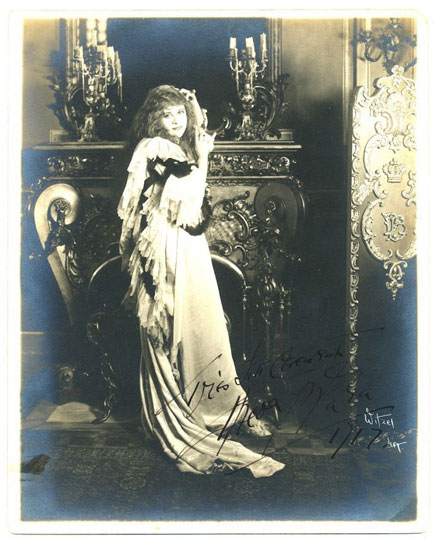 Theda Bara, Signed Photpgraph, 8x20, 1917
Bara is shown full length, in a layered lace long gown, standing by an ornate fireplace with mirror, likely from "Camille." Photograph by Witzel with photographer's white stamp in lower right corner. She inscribes in French and signs with fountain pen, "Tres sincerement, Theda Bara 1917." (Offered by Schulson Autographs)
In season two, Mr. Carson returns from inspecting Haxby Park, which Sir Richard is having modified for his new life with Mary, and Mrs. Hughes asks him how things are at Haxby he refers to "silent screen vamp" Theda Bara, an actress best remembered by film historians:
Mr. Carson: "Well, you should see some of the gadgets in the kitchens... and the bathrooms... Oh, goodness me, they're like something out of a film with Theda Bara."
Mrs. Hughes: "I'm surprised you know who Theda Bara is."
Mr. Carson: "I get about, Mrs Hughes, I get about."
Photo credit: "Rita Jolivet cover of the Sketch" by Photograph by Foulsham and Banfield, Ltd. - The Sketch Magazine, May 12, 1915. Licensed under Public Domain via wikipedia commons.
---