Faith Baldwin was once one of the bestselling authors in America, although she was never a lauded award-winner. Instead, Baldwin practiced what was variously called "light" or popular fiction, and today is generally called romance — usually with a touch of superiority. In her obituary, The New York Times declared her 'the doyenne of American light fiction writers." Raised in relative wealth and comfort in Manhattan, Baldwin initially saw acting as a means for a single women to gain independence, but as her writing career took off, she embraced it.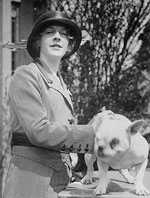 At the start, she wrote for the women's magazines, publishing poetry and prose -- whatever there was a market for. In 1921, she published her first novel, Mavis of Green Hill, and by 1927 she was able to regularly sell the serialization rights for many of her novels to mainstream magazines, assuring herself of a steady income. Critics have alternately praised Baldwin for being a proto-feminist and dismissed her for being too conservative, which is unsurprising as Baldwin generally wrote about the domestic concerns of love, marriage, and a woman's career, concerns which tend to be under-appreciated in any age. But, in novels like Private Duty (1935), Hotel Hostess (1938), and Career By Proxy (1939) she often returned to the question of whether a woman could be fulfilled through work and also find marital bliss — although her heroines often had to accept their fate of leaving their job after marriage — and she frequently focused on women who resisted the status quo. The Feminist Press republished Baldwin's 1931 novel Skyscraper in 2004 as part of a series that celebrated female pulp fiction. Skyscraper concerns a young woman who works, but whose beau cannot yet afford to marry her. Will he accept a woman who works, and will she be able to pursue her career? Those were important questions to women at the time, and increasingly after WWII brought so many into the workforce for the first time.
However, those were also important questions to Baldwin personally. An astute observer of the social mores of her time, she was a deft hand at allowing her heroines to push against the edges of what was acceptable. It is perhaps not surprising to discover — through Rick Cypert's 2005 biography of Baldwin's friend and fellow bestselling novelist, Mignon Eberhart — that Baldwin had quietly divorced her husband and lived for much of her life with another woman. (A fact omitted from the New York Times' vaguely condescending obituary.) Her writing was therefore essential for her to maintain her independence. This knowledge also sheds an interesting light on her novels about divorce and the difficulties it created for subsequent relationships, such as Alimony (1928) and Temporary Address, Reno (1941).
---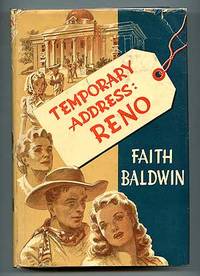 Temporary Address: Reno (First Edition)
by Faith Baldwin
New York: Farrar and Rinehart, 1941. Hardcover. Fine/Near Fine. First edition. Fine in a price-clipped, near fine dustwrapper with a tear on the front panel. Three different women come to Reno to shed their husbands and find happiness. An attractive copy.
Offered by Between the Covers Rare Books.
---
During WWII, Baldwin worked for the Office of War Information, writing radio addresses that were broadcast into Germany and articles for the Writers War Board. A great many of her novels were turned into films, and her archive at Boston University's Howard Gottlieb Archival Research Center contains correspondence with many leading directors and actors of her day. In later years, she was a long-time agony aunt for Woman Day Magazine, and hosted the Faith Baldwin Romance Theatre, an early television show on ABC. Her books were regularly reprinted as part of popular pulp paperback series, such as the Dell Mapback series. Along with her friend Mignon Eberhart, Baldwin was on the faculty of the "Famous Writers School," a correspondence course for writers founded by the editor Bennett Cerf and others. The school was exposed for unethical business practices and vastly inflated charges in an explosive article by Jessica Mitford in 1970 and filed for bankruptcy in 1972.
---
Comet Over Broadway (Original screenplay for the 1938 film, screenwriter Mark Hellinger's bound copy, with a typescript draft, and a TLS from Bette Davis)
by HELLINGER, MARK (SCREENWRITER); BUSBY BERKELEY (DIRECTOR); FAITH BALDWIN, ROBERT BUCKNER (SCREENWRITERS); KAY FRANCIS, IAN HUNTER, JOHN LITEL, DONALD CRISP (STARRING)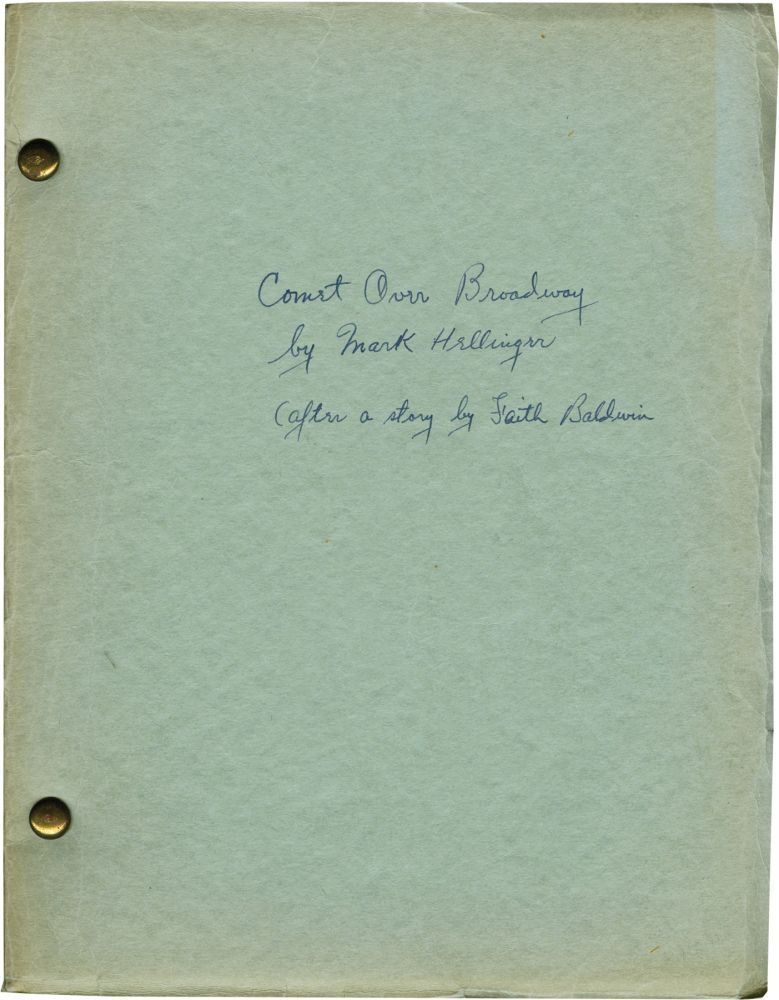 Burbank, CA: Warner Brothers, 1938. Final Draft script for the 1938 film. From the library of producer Mark Hellinger, who wrote the film's screenplay, bound in red three-quarter leather with gilt titles and designs, marbled endpapers, raised bands, trimmed edges, and Hellinger's name in gilt on the front board. Also included is a typescript on onionskin stock, with the title and credits for Hellinger and story writer Faith Baldwin on the front wrapper in holograph ink. Finally, laid in is a typed letter signed by Bette Davis (dated March 31, 1939), on Davis' stationery, thanking Hellinger for kind words regarding her film "Dark Victory" (1939), and discussing her dismay with the script for "Comet Over Broadway," and her resulting decision to part ways with the film. Mark Hellinger's first screenplay for Warner Brothers. His other credits include the noir antecedent, "The Roaring Twenties" (1939, screenwriter), "It All Came True" (1940, producer), and his notable series of foundation noir films, "High Sierra" (1941, associate producer), "The Killers" (1946, producer), and "The Naked City" (1948, producer). Based on a story by Faith Baldwin (published in "Cosmopolitan" in 1937), about Eve Appleton (Francis), wife of garage owner Bill Appleton (Litel) and aspiring actress. Bill gets into an argument with an actor over Eve, and accidentally kills him. Eve takes her infant daughter and tries to make her way on Broadway while Bill is imprisoned. Set in New York. Bound script: Noted as FINAL on the distribution page, dated 3/28/38, with credits for Hellinger, Robert Buckner, N. Brewster Morse, Fritz Falkenstein, and Frank Cavett on the following page, flatsigned by Walter MacEwen. Distribution page present, with receipt intact. 155 leaves, mimeograph, dated August 19, 1938 and August 22, 1938 (screenwriters' credit page). Pages and binding Near Fine. Typescript: Blue wrappers. "Comet Over Broadway by Mark Hellinger / (after a story by Faith Baldwin)" in holograph ink on the front wrapper. Title page present, with credits for screenwriter Hellinger and story writer Baldwin. 78 leaves, typed, watermarked "MILLERS FALLS." Pages Near Fine, wrapper Very Good plus, bound with two gold brads. Bette Davis letter and envelope: Light soil and a closed tear to the envelope. Letter folded horizontally, else Near Fine.
Offered by Royal Books.
---
Baldwin died in 1978, aged 84. She published over 80 novels, at least 17 of which were adapted as films.
So, clearly there's much, much more to the story of Faith Baldwin and her fiction than the NYT obituary writer or contemporary critics realized. Slowly, some of her books are being rediscovered and — at least in the footnotes of other writer's biographies — a few of her books are being critically re-appraised. Perhaps somebody is working on a ground-breaking biography? She surely deserves one.
Featured items:

by Faith Baldwin
NY: Farrar & Rinehart, 1935. Very Good in Very Good dust jacket. 1935. Hardcover. First edition. Brief gift inscription on half-title page, else very good in a very good (light edge wear, a bit faded along the spine) dust jacket. 388 pages.
Offered by Grendel Books.
That Man is Mine (Presentation Copy)
by Fairth Baldwin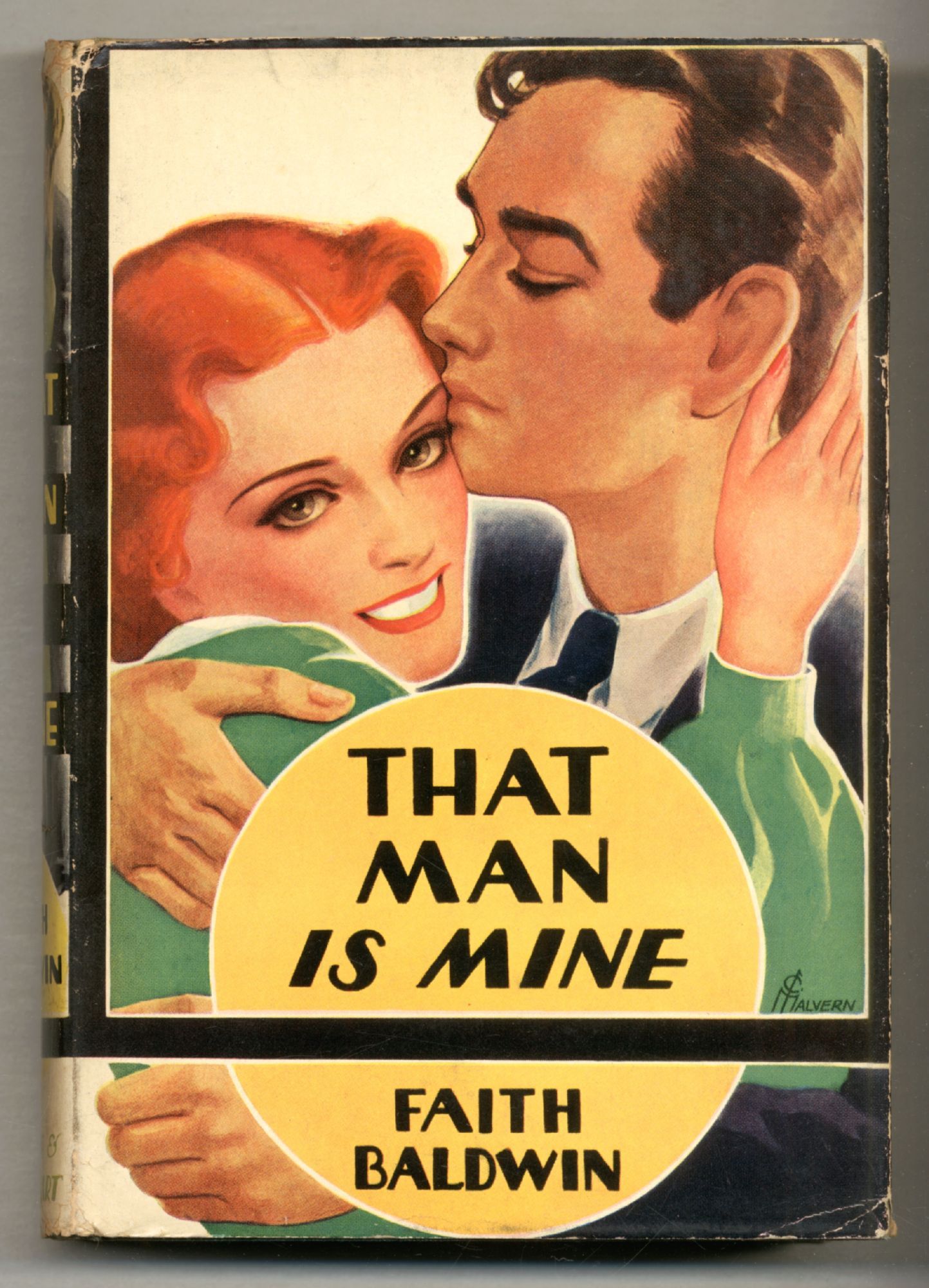 New York: Farrar & Rinehart, 1937. Hardcover. Near Fine/Very Good. First edition. Near fine in very good or better dustwrapper with slight fading and a short tear on the spine .Inscribed by Baldwin on the front endpaper to crime novelist Mignon Eberhart: "Love to Mignon From Faith." The friendship between Baldwin and Eberhart is well documented, with Eberhart, considered the founder of the modern romance suspense or mystery novel. Baldwin was one of the most popular romance novelists of her day.
Offered by Between the Covers Rare Books.
by Faith Baldwin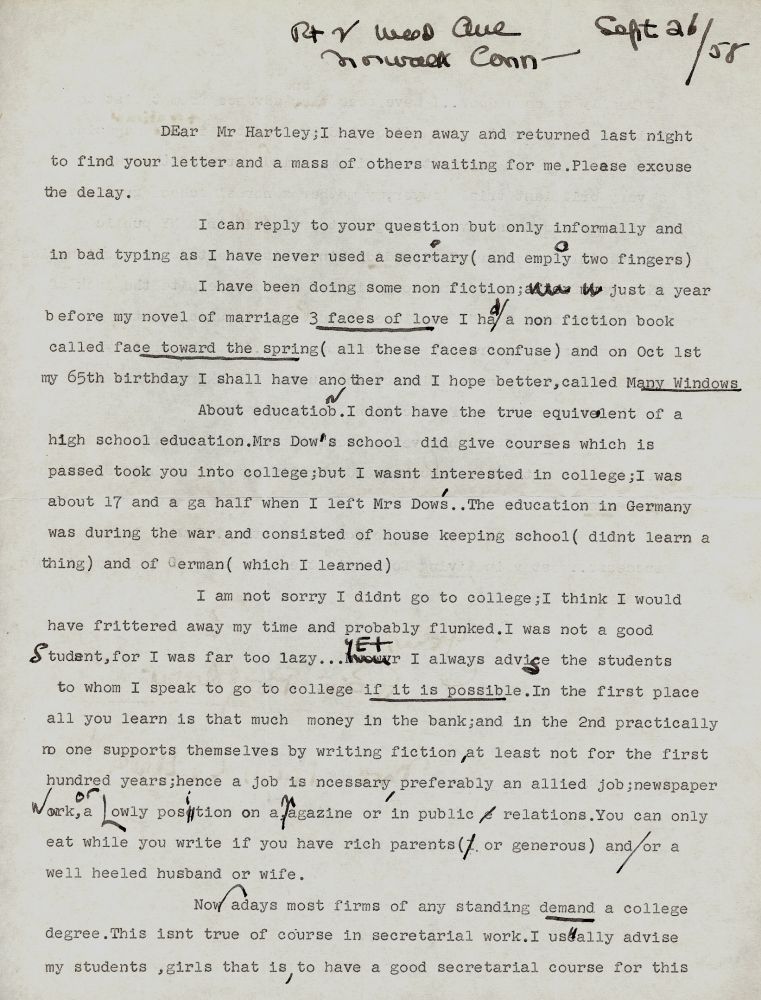 1958. BALDWIN, Faith. Typed Letter Signed. Two pages on both sides of a single sheet; hand-written in ink: "Rt. 2 Meed Ave., Norwalk, Conn, Sept. 26/58." Note: There are numerous typing errors and hand-written corrections in ink throughout the letter and spelling errors are, for the most part, not noted in the follow textual description- as there are many.
To a teacher in California, Baldwin apologizes for the delay in her response to several questions posed by the teacher. "I can reply to your questions only informally and in bad typing as I have never used a secretary (and employ two fingers)." Baldwin discusses several of her books and writes that Many Windows will be published on her 65th birthday. "About education. I don't have the true equivalent of a high school education. Mrs. Dow's school did give courses which if passed took you into college; but I wasn't interested in college; I was about 17 and a ga half [sic] when I left Mrs. Dow's. The education in Germany was during the war and consisted of house keeping school (didn't learn a thing) and of German (which I learned). I am not sorry I didn't go to college; I think I would have frittered away my time and probably flunked. I was not a good student, for I was far too lazy." Baldwin goes on, in some detail, about advising students to go to college "if it is possible" and discusses the benefits of a college education and the difficulty of supporting herself as a writer. "You can only eat while you write if you have rich parents (or generous) and/or a well-heeled husband or wife." Baldwin writes about the demands for college degrees in the business world and says she always advises her students to at least have a good secretarial degree "for this is really an open door... I have seen one advance from typist to private secretary to asst. editor and then editor on a national magazine." Baldwin continues about her father's profession (lawyer) and her mother's (a grade-school teacher) and her family's background (missionaries, editors, etc.). "It's tougher if you are born into a family without the cultural background but that can be overcome by education." She writes "in this era a college education is extremely valuable and certainly a high school education a must." Also signed by Baldwin as "Mrs. Hugh Cuthrell." Baldwin was known for typing her manuscripts quickly, but inaccurately
Offered by Antic Hay Books.
Hearst's International Combined with Cosmopolitan Magazine, January 1935 - All-Star Christmas Issue (No. 583)
by BALDWIN, FAITH; DELMAR, VINA; LA FARGE, OLIVER; CARREL, BART; TUCKERMAN, ARTHUR; BROWN, ROYAL; KANTOR, MACKINLAY; CRONIN, A.J.; RUNYON, DAMON; KYNE, PETER B.; BRUSH, KATHARINE; DOUGLAS, LLOYD C.; CORCORAN, WILLIAM; RINEHART, MARY ROBERTS; HANIGHEN, FRANK;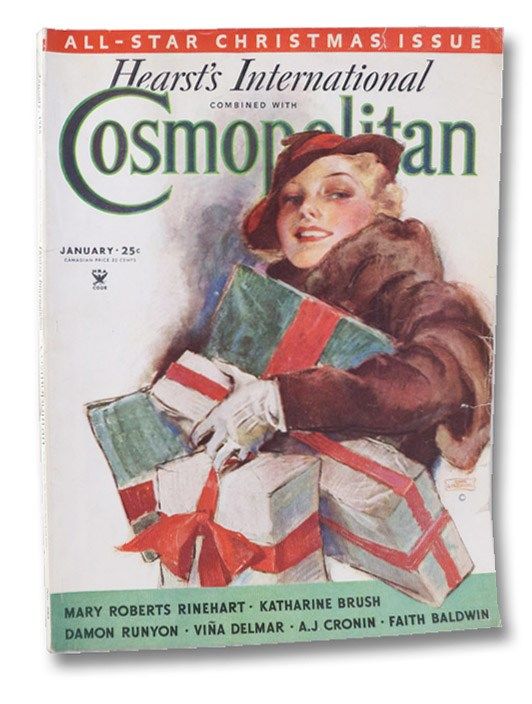 International Magazine Company, Inc, 1935. Magazine. Very Good. LaGatta, John. A few faint corner creases, closed tear on rear wrapper along spine base. 1935 Magazine. 170 pp. 11 1/2 x 8 1/2. John LaGatta illustration on front wrapper, Lucky Strike cigarette advertisement on rear wrapper. Color and black & white advertisements, photographs, and illustrations throughout. Cosmopolitan Magazine was founded in 1886, and purchased by William Randolph Hearst in 1905, who merged it with another smaller publication he owned in 1925. It was called 'Hearst's International Combined with Cosmopolitan Magazine' until 1952, the year after Hearst's death. During this period it published the first appearances of many novels and short stories by notable authors, some complete within one magazine, others as serials. Includes: a complete short novel: Career by Faith Baldwin; nine short stories: The Innkeeper's Wife by Vina Delmar; The Goddess Was Mortal by Oliver La Farge; A Matter of Money by Bart Carrel; Some Day I May Surprise You by Arthur Tuckerman; Love and Vacuum Cleaners by Royal Brown; Mountain Music by MacKinlay Kantor; Christmas for Agnes by A.J. Cronin; Breach of Promise by Damon Runyon; Without Benefit of Jury by Peter B. Kyne; three serials: Don't Ever Leave Me by Katharine Brush; Green Light by Lloyd C. Douglas; Blow, Desert Winds! by William Corcoran; seven articles: The Lighted Candle by Mary Roberts Rinehart; Dictators: American Style by Frank Hanighen; Five Years... What Have They Done to Us? by a Symposium of Famous Americans; The Best Gift of All by Mrs. George B. Simmons; Hollywood is My Home Town by Louella O. Parsons; No, Santa Didn't Bring Me That Bobsled! by O.O. McIntyre; Diamond Jim by Parker Morell; one special feature: At the Metropolitan Opera by McClelland Barclay & Deems Taylor.
Offered by Yesterday's Muse.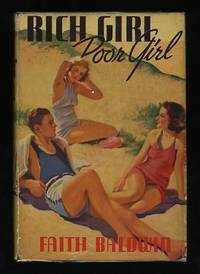 by Faith Baldwin
New York: Farrar & Rinehart. Very Good+ in Very Good dj. (c.1938, 1936). First Edition. Hardcover. NOISBN . [good solid copy, light wear to corners, minor soiling and age-toning to page edges, spine very slightly turned, original owner's name and address on front pastedown; jacket moderately worn at edges, lightly soiled, small tears at several corners, minor paper loss at lower rear hinge]. "This is not only the story of two girls and the man they love, but of a small town divided against itself, of a people struggling to free themselves from the feudalism of ex-State Senator Sutton, and the dangerous escapades of the 'fast' younger set, led by Larry Dexter."
Offered by ReadInk.
The Incredible Year (Dell Mapback No. 532)
by Faith Baldwin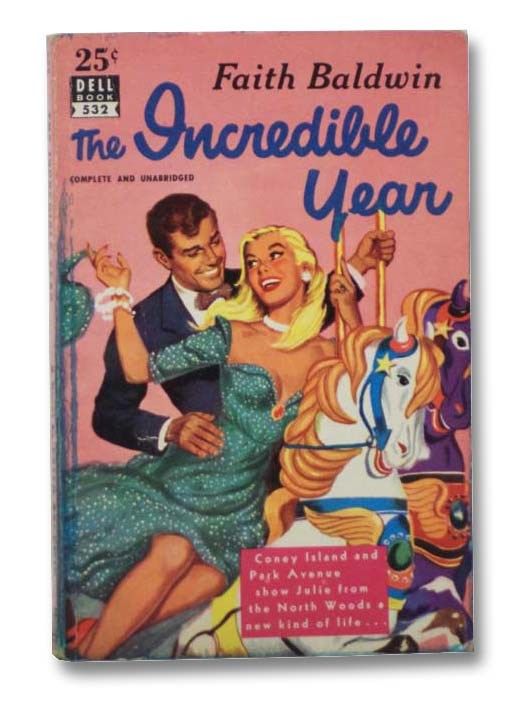 Dell Publishing Company, Inc, 1929. 1st Printing. Mass Market Paperback. Very Good. First printing thus. 1929 Mass Market Paperback. We have more books available by this author!. 224 pp. A simple-minded girl must make her way in the bright lights of Manhattan.
Offered by Yesterday's Muse.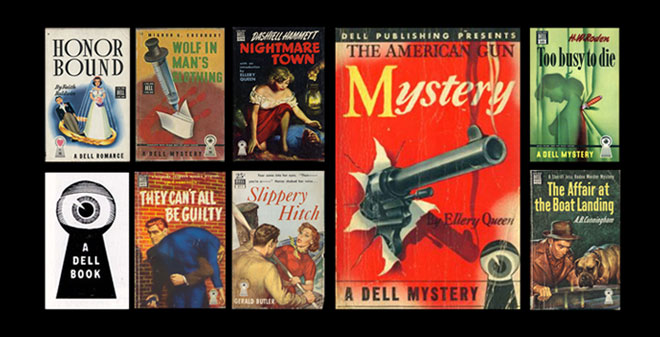 Read about Collecting Dell Mapbacks...