One phrase you might hear at a rare-book fair is mapbacks. No, that's not some sort of tattoo favored by rare map dealers; a "mapback" is the informal name for a series of pulp paperback books published by Dell between 1943 and 1950.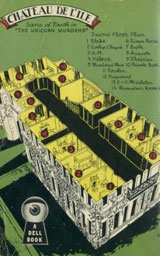 Initially, the back cover of these books featured bland art, but starting with the fifth book in the series, Four Frightened Women by George Harmon Coxe, Dell added an illustration showing the locale where the book's events took place. (Note: the previous book in the series, The American Gun Mystery by Ellery Queen, was later reprinted with a map on the back cover, but it was the fifth book in the series that was the first to feature a map.)
The "maps" were not all conventional maps by any means, with cut-away illustrations of buildings being a frequent option the various artists used when the action was largely confined to one house or building.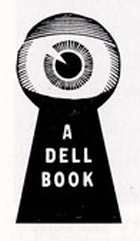 Dell paperbacks were distinguished airbrushed art and a distinctive Keyhole collophon with an eye peering through, a nod to the lurid mysteries they mainly published in the paperback line — although they soon began to add thrillers, romance, western titles, even historical novels and nonfiction as the series grew in popularity. The keyhole logo soon accreted a number of variations to denote genre, and (according to Piet Schreuders in The Book of Paperbacks) in 1949 it ceased to be used on the rear of mapbacks).
by Thomas Polsky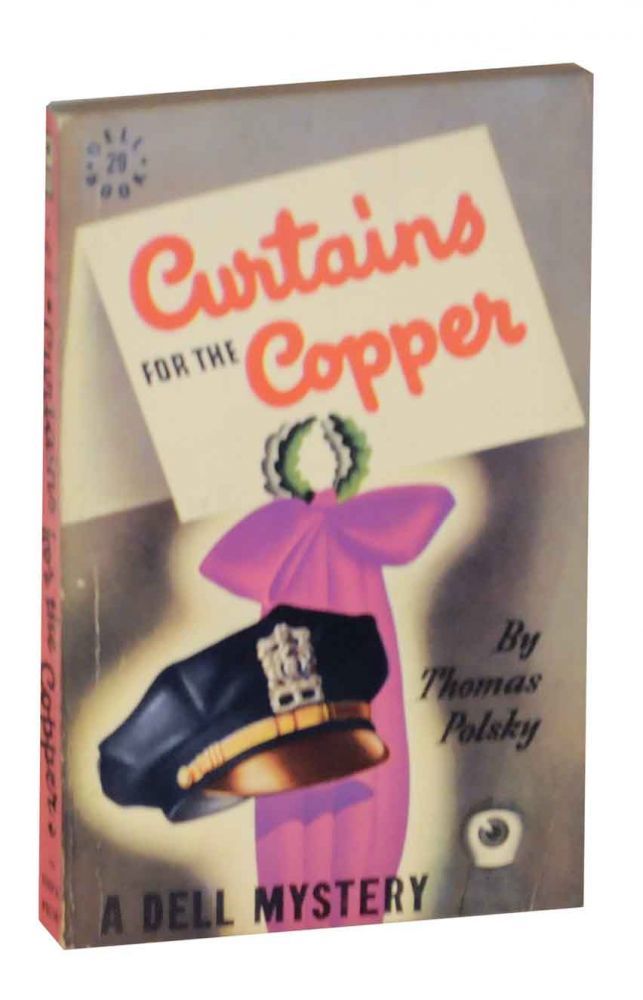 New York: Dell Publishing Company. First edition. Softcover. Dell Book 29, a mapback. A tight very good copy with some minor creases to the corners of the wrappers and some of the usual tanning to the pages. Otherwise, a very nice copy.
Offered by Jeff Hirsch Rare Books.
Initially, there was no numbering on this series, but Dell began adding a number to enhance collectability with Thomas Polsky's Curtains for the Copper in 1944 (according to the wonderful resource The Mapback Index). Eventually the keyhole design was changed to incorporate the number.
Collectors have long had great affection for the Dell mapbacks, and their original large print runs and popularity means that most are not difficult to come by, but institutional respect was slower to develop — in part because of the sheer number of volumes and the small paperback format posed problems for institutional storage. Despite the fact that the Library of Congress was required to receive two complimentary copies of any and all copyrighted works published in the United States since 1870, the Library had routinely rejected copyright receipts of mass-market paperbacks because they didn't have the space to store them! It wasn't until the 1970s that the Library made an effort to incorporate mass market paperbacks in their collection, and in 1976, Helen Meyer, the Chairman of Dell Publishing, donated a complete archive of 8500 Dell paperbacks to the library.
The Big City After Dark - New York: Confidential! the lowdown on its bright life (1950) edition
by Jack Lait & Brad Mortimer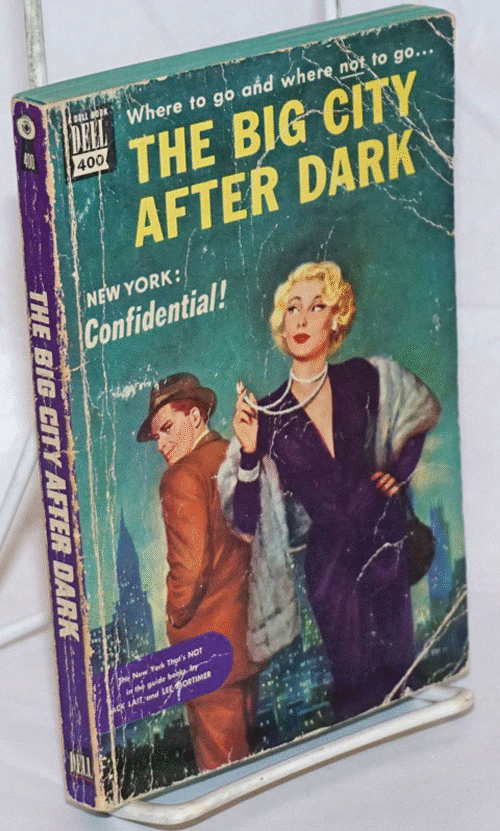 New York: Dell, 1950. Paperback. 240p., mapback paperback reprint of the 1948 original, very worn pictorial wraps. Dell Book 400. Several sections on gay and lesbian interest.
Offered by Bolerium Books.
Today, most mapbacks are available for modest prices in fair condition. There are of course titles that are harder to find, and a wide gulf between copies in fair and fine condition! There are several good books and websites that explore the history of the Dell paperbacks, mapbacks, and pulp paperbacks in general, and these are good resources if you wish to build up a collection of mapbacks or other mass-market paperbacks from the era.
ABAA members have many Dell mapbacks listed on abaa.org — search by the keyword mapback — and many more that they have not posted online. If you are hunting for a specific title or titles, we encourage you to contact an ABAA member near you directly, so they can help you locate the best copy. Here is a sample of the titles currently available:
Silent are the Dead (Dell Mapback Series No. 225)
by George Harmon Coxe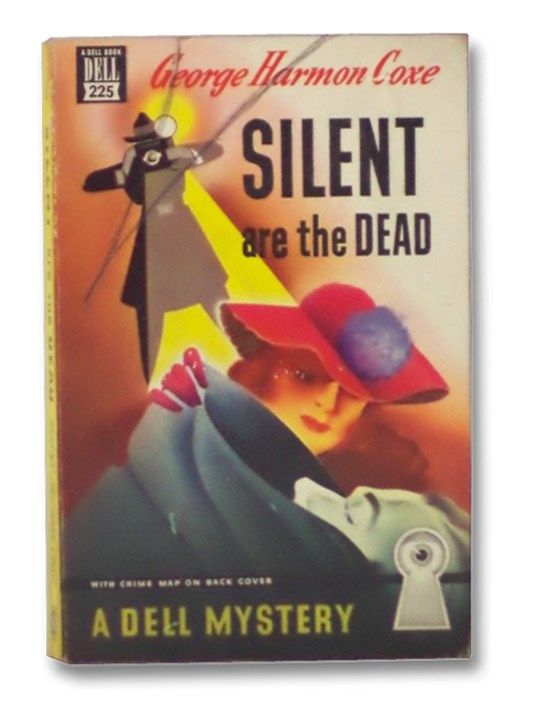 Dell, 1941. Mass Market Paperback. Near Fine. Wrappers very faintly creased, pages faintly toned. 1941 Mass Market Paperback. 240 pp. Flash Casey snaps a photo that holds the key to a corrupt lawyer's murder. Casey shouldn't have had to go back for more pictures of Stanford Endicott. He was at the court with the other newspaper photographers when the wealthy lawyer was arraigned, and got pictures of him smiling as he put on a hat to hide his bald head. But before Casey can get the negatives developed, a pair of urchins steal his camera case and expose the plates to the sun. At his editor's orders, Casey visits Endicott's office for another round of photos. The picture he takes there is altogether more interesting: Stanford Endicott, dead on his office floor. Casey hears a sound in the next room and knows the murderer is close. He gives chase out the front door, and takes a picture just as the killer drives away. Suddenly, Flash Casey has a bigger story than he bargained for.
Offered by Yesterday's Muse.
Brandy for a Hero (Dell Mapback)
by William O'Farrell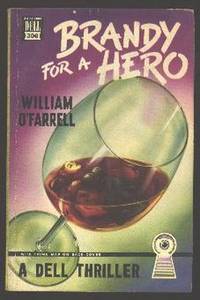 New York: Dell Publishing Co. (306). Very Good+. [1949] (c.1948). 1st printing thus. Softcover. NO ISBN . [nice tight copy, mild edgewear, some soft creasing in front cover, inked number at top of first inside page]. Mass Market PB "The Story of a Night of Terror." The rear cover crime map depicts "The Old Fort Skating-Rink, where death pursues a doctor" (a cutaway view of the building, with a map of Manhattan as background).
Offered by ReadInk.
by Dashiell Hammett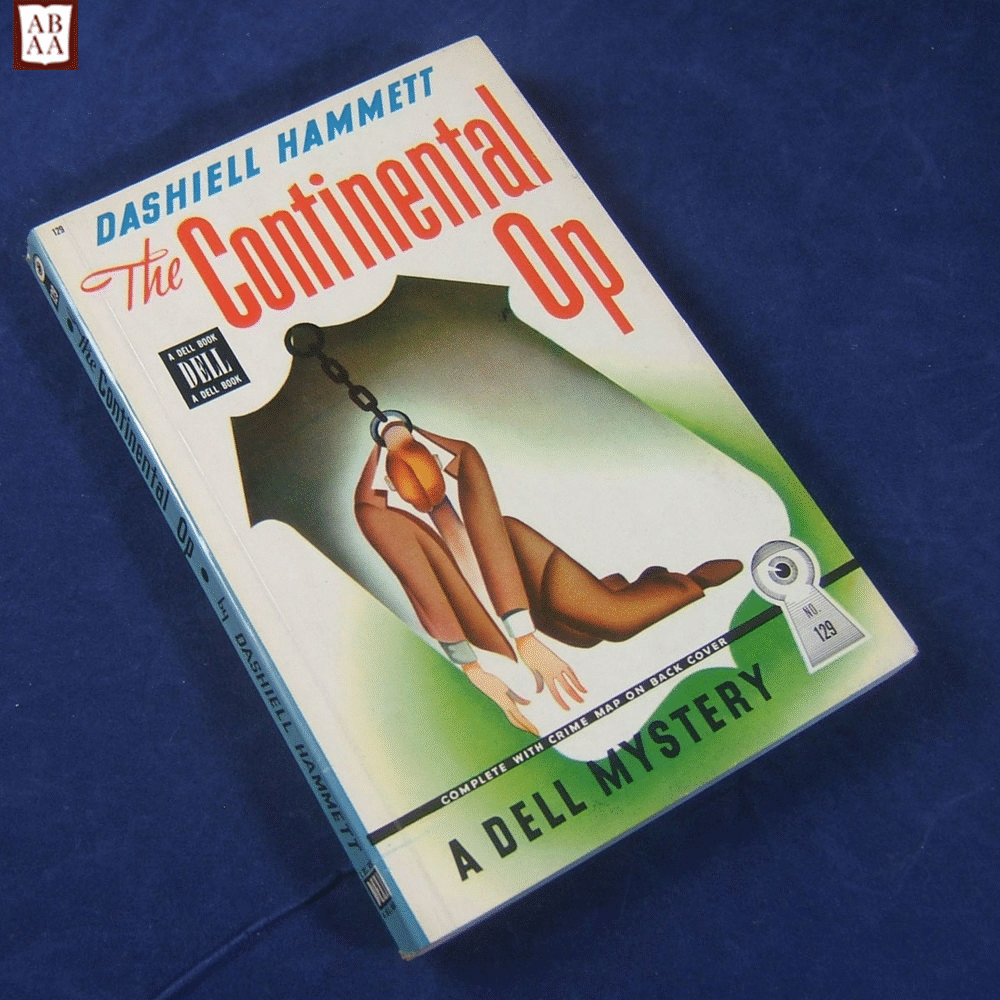 New York: Dell #129, 1946. Hammett, Dashiell. THE CONTINENTAL OP. NY: DELL #129 [1946]. First Printing. A FINE copy with only the most minor of blemishes. Great mapback of the streets of San Francisco.. Fine.
Offered by Lakin & Marley Rare Books.
by Dashiell Hammett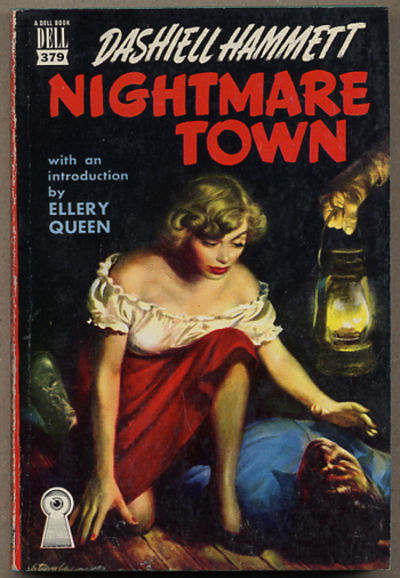 New York: Dell Publishing Company, Inc., [1950].. Small octavo, cover art by Robert Stanley, pictorial wrappers. First mass market paperback edition. Dell #379 A Dell mapback. Collects four stories, "Nightmare Town," "The Scorched Face," "Albert Pastor at Home" and "Corkscrew." First book publication for all. The first story appeared in ARGOSY ALL STORY WEEKLY, the second in BLACK MASK, the last two in ESQUIRE. Introduction by Ellery Queen. Reading crease at spine edge, spine ends rubbed, a near fine copy.
Offered by L.W. Currey.
They Can't All Be Guilty (Dell Mapback No. 401)
by M.V. Heberden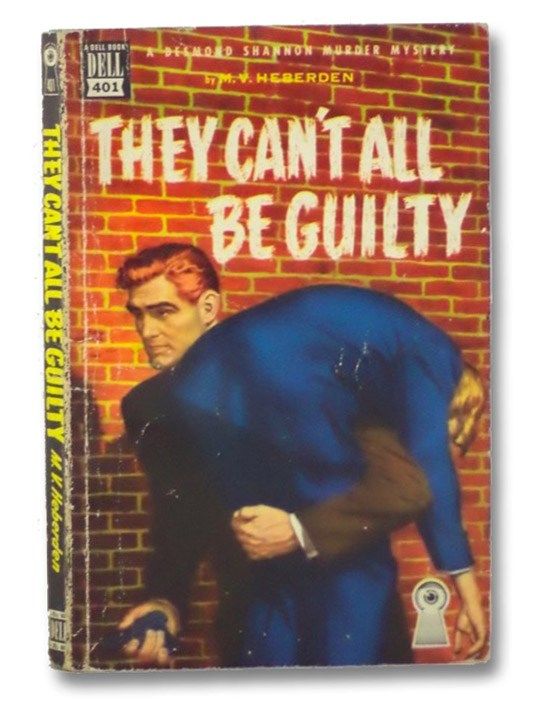 Dell Publishing Company, 1950. Mass Market Paperback. Good. Light creasing to spine. 1950 Mass Market Paperback. We have more books available by this author!. 240 pp. By the author of Murder of a Stuffed Shirt, Vicious Pattern, Drinks on the Victim, and Murder Cancels All Debts.
Offered by Yesterday's Muse.
The Affair at the Boat Landing
by A. B. Cunningham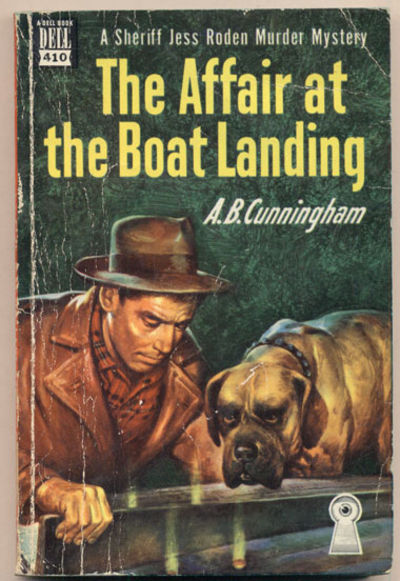 New York: Dell Publishing Company, 1943. Paperback. 224pp. Sextodecimo [16 cm] Illustrated wraps. The text block edges have the publisher's blue stain. Very good. The covers are mildly creased and rubbed. Slight spine slant. There are several very tiny moisture stains on the top edge of the text block. Browned pages. A Dell Book. Dell 410. Map Back. A Sheriff Jess Roden Murder Mystery. Cover painting by Robert Stanley. Numerous well-known authors had their books reprinted as Dell Map Backs such as Rex Stout, David Dodge, Agatha Christie and Dashiell Hammett. According to William H. Lyles, author of Putting Dell on the Map: A History of the Dell Paperbacks, "Dell achieved more variety than any of its early competitors. It did so, at first, with an instantly identifiable format of vibrant airbrushed covers for its predominantly genre fiction, varying 'eye-in-keyhole' logos, maps on the back covers, lists of the books' characters, and 'tantalizer-pages.'"
Offered by Ken Sanders Rare Books.
Mignon G. Eberhart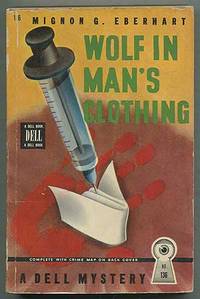 New York: Dell, 1942. Softcover. Very Good. Mass market paperback. Pages lightly age-toned with bottom corners creased, about very good with modest edgewear. A Nurse Keate Murder Mystery. A Dell Book 136, complete with map on rear wrapper.
Offered by Between the Covers Rare Books.
by Clifton Cuthbert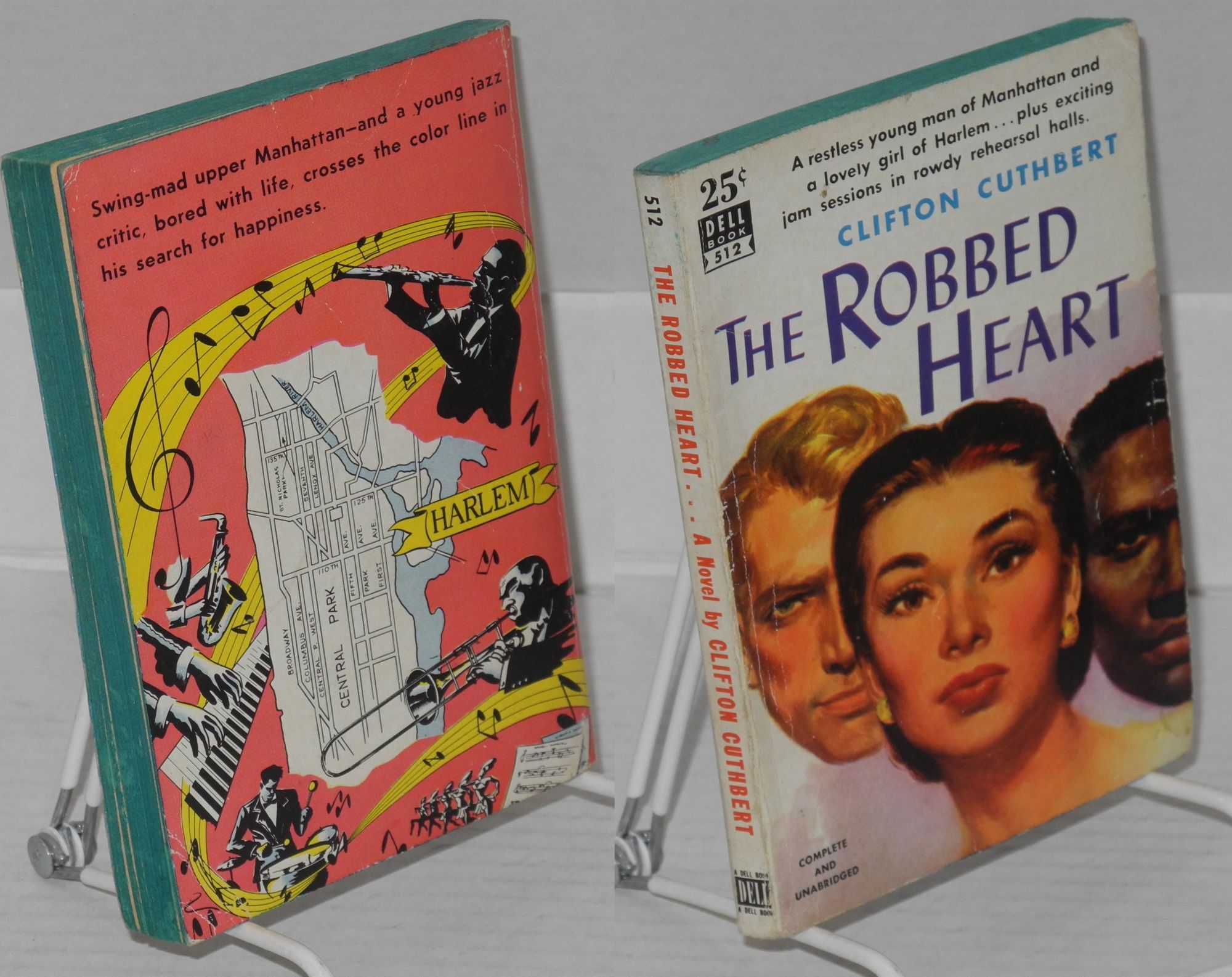 New York: Dell, [194-?]. Mass Market Paperback. 191p., first wraps edition, light handling wear. Cuthbert explores black/white relations with jazz themes, set in Harlem. *Rideout author. A Dell 'Mapback'.
Offered by Bolerium Books.
by H. Rider Haggard
New York: Dell #339, 1949. Haggard, H. Rider. SHE. New York: Dell #339, 1949. First Edition thus. A Near Fine unread copy of one of the iconic "good girl art" paperbacks from the golden age of GGA by Lou Marchetti. The stunning black cover is especially prone to wear but this example is a beauty. The mapback reverse is equally pristine. Uncreased and square, with full gloss. Not much point having this book unless you acquire it this nice (just our opinion). "She who must be obeyed" is one of Haggard's great creations and if you haven't read the book, you're missing out. But don't read this particular copy!. First Edition Thus. Mass Market Paperback.
Offered by Lakin & Marley Rare Books.
by Faith Baldwin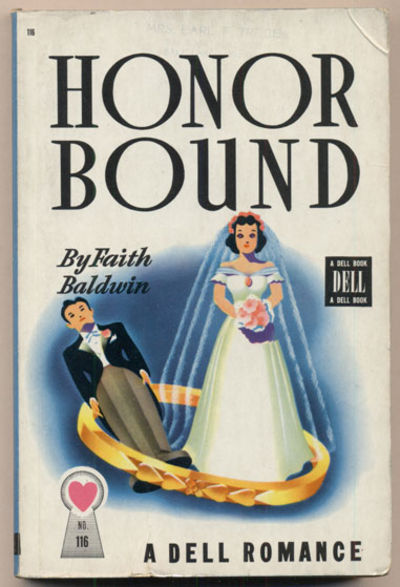 New York: Dell Publishing Company, 1940. Paperback. 240pp. Sextodecimo [16 cm] Illustrated wraps. Publisher's blue stain on the text block edges. Very good. The covers are lightly creased. There is a previous owner's faint ink stamp on the front cover, and again on the first blank page. Abraded along the inside margins of the free endsheets and the internal sides of the covers. Browned pages. A Dell Book. Dell 116. Map Back. The intricately rendered scene-of-the-crime/action representations on the back of the Dell Map Backs made them popular and collectible. Numerous well-known authors had their books reprinted as Dell Map Backs such as Rex Stout, David Dodge, Agatha Christie and Dashiell Hammett.
Offered by Ken Sanders Rare Books.
THE BOOK OF PAPERBACKS; A Visual History of the Paperback.
by Piet Schreuders (Translated from the Dutch by Josh Pachter)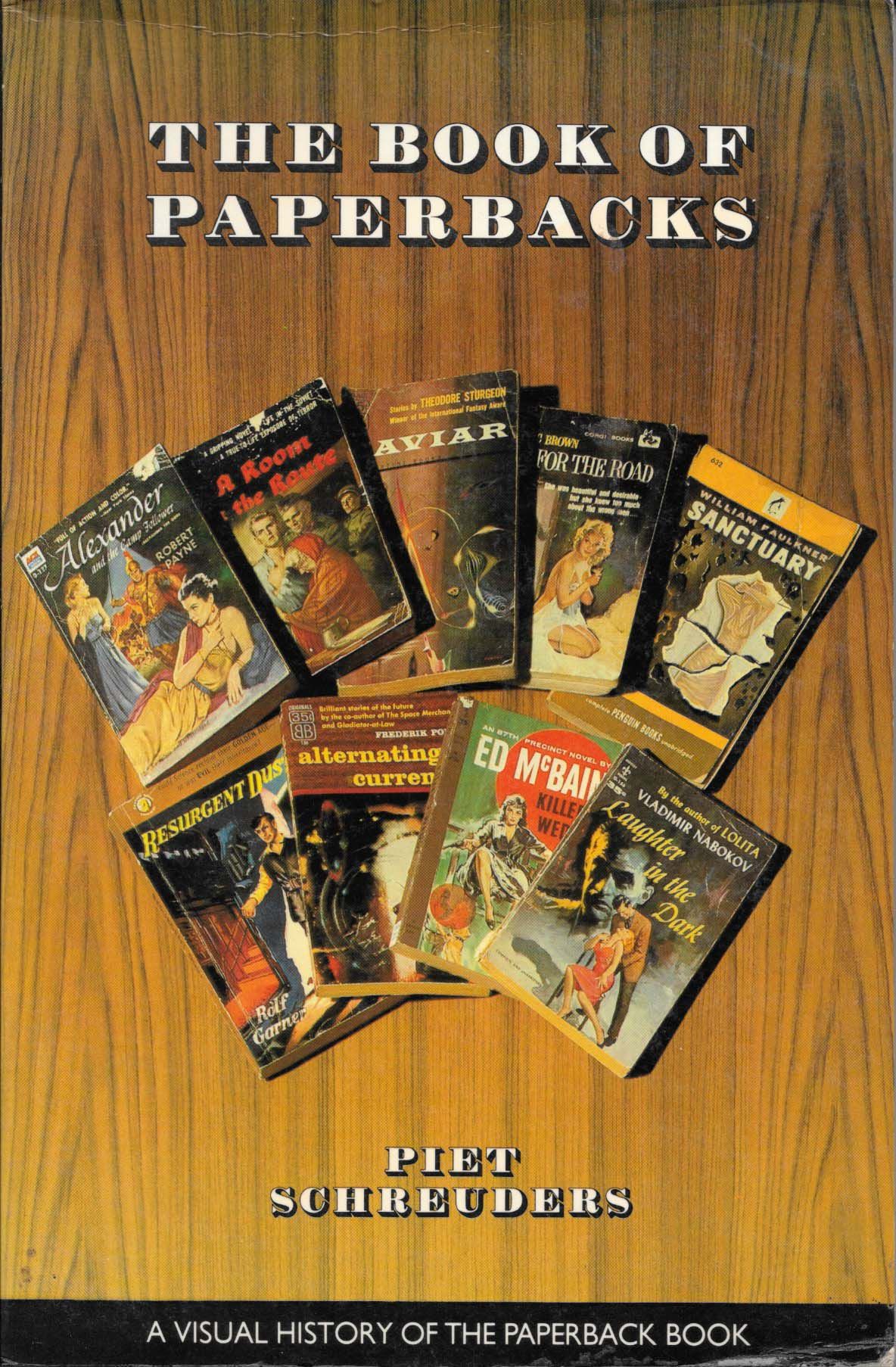 London: Virgin Books, 1981. Stiff pictorial wrappers. A VG copy. xi, 259 pp. Illustrated in color and b/w. 8vo., 9" x 6"
Offered by Tavistock Books.
DELL PAPERBACKS, 1942 TO MID-1962
by William Lyles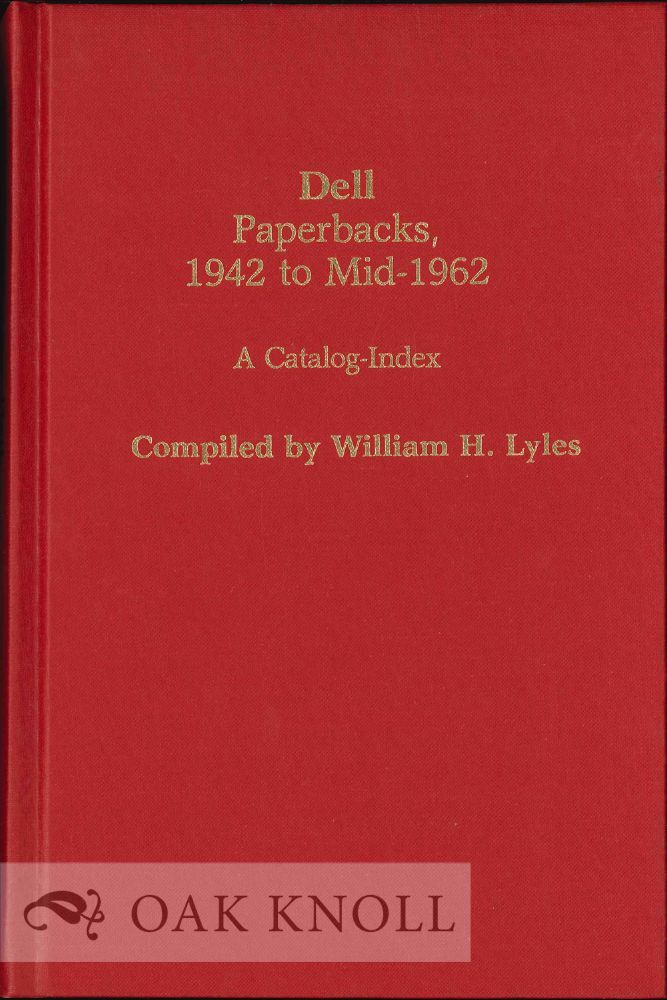 Westport: Greenwood Press, 1983. cloth. Dell. 8vo. cloth. xxxv, 471, (3) pages. A catalog-Index of Dell paperbacks.
Offered by Oak Knoll Books.

Search for other Dell mapbacks on abaa.org...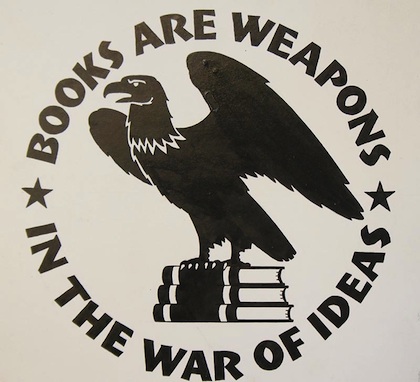 If you are interested in the history of paperbacks, be sure to read "Collecting Armed Services Editions"...