One reason books have not been replaced by electronic approximations -- despite many predictions of doom -- is the appeal of the physical objects themselves. Lavish illustrations, careful design, and artistic typography elevate a book from text to art. A page from the Kelmscott Chaucer (to give just one example) will never look as good on your phone.
Long before pixels and digital everything, publishers understood that books should be works of art, and worked to create illustrations to compliment the prose. Some works lend themselves to being illustrated better than others, and Christina Rossetti's Goblin Market has proven irresistable to artists since its first publication. (Of course having a famous artist for a brother, it was perhaps inevitable that her work would be richly illustrated.)
Here are a few of the beautifully illustrated editions of her classic work Goblin Market currently available from ABAA members.
---
Rossetti's more-famous brother, the poet and painter Dante Gabriel Rossetti, contributed two illustrations for the first publication of Goblin Market & Other Poems in 1862 (a second edition followed in 1865).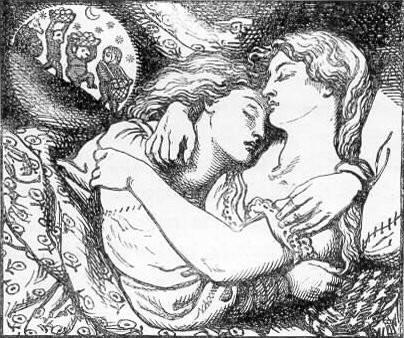 Cambridge: Macmillan, 1862. First. hardcover. good. With Two Designs by D. G. Rossetti. Small 8vo, blue cloth stamped in gilt. Cambridge: Macmillan, 1862. First Edition. The binding is lightly rubbed; inner hinge cracked, one signature spring, corners bumped. Housed in a blue, half morocco solander case. (Offered by Argosy Book Store.) (Note: Image source: wikipedia)
Search for other copies of the 1862 first edition of Goblin Market and Other Poems...
---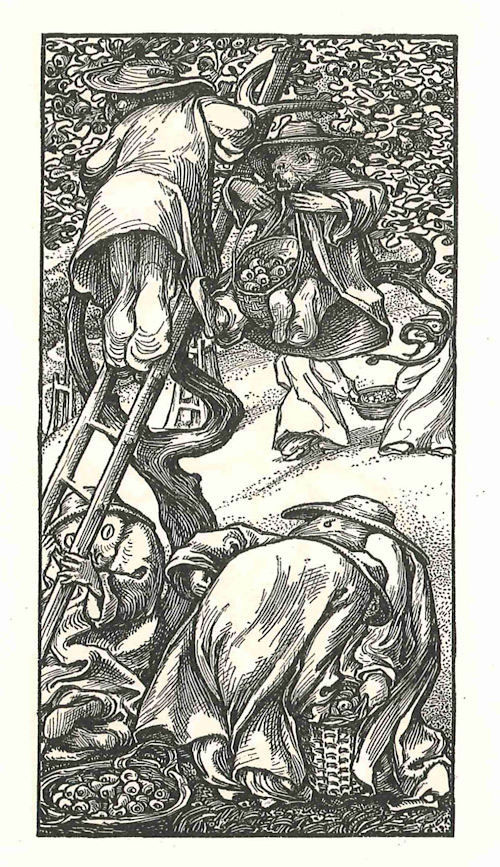 Goblin Market (Illustrated by Laurence Houseman, 1893)
London: Macmillan & Co., 1893.. Quarto (27 x 18 cm). Pale olive cloth, paper spine label. Illustrations and plates. Cloth somewhat tanned and spotted, spine label worn, internally (apart from the almost inevitable faint foxing early and late and at edges), a very good copy. First edition with Housman's illustrations, the uncommon large paper issue. One of 160 copies printed in this large format, edges untrimmed. Housman's contribution consists of thirty-three text illustrations and decorations, and four full-page and four double-page plates. In both this issue, and in the much smaller format trade issue, one of the most celebrated illustrated British trade publications of its decade. (Offered by William Reese Company)
---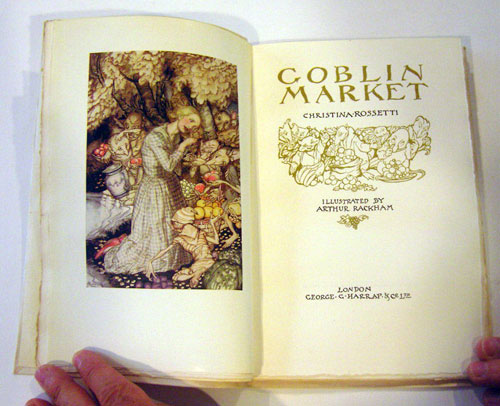 Goblin Market (Illustrated by Arthur Rackham, 1933) -- Limited Deluxe Edition
London : George G. Harrap , 1933 Limited Deluxe Edition. This is number 354 of 410 copies, signed on the colophon in black ink by Rackham. In original stiff paper covered wrappers with gilt titles on front cover. Housed in original numbered card slipcase with title label on top edge. Vellum covers are clean with sharp corners and bright lettering. Slipcase is scuffed and lightly shelf worn, but fully intact, with an extra hand-written title in ink on the spine of the case. Interior is clean and unmarked. With illustrated end papers. Four full page color plates and numerous in-text B&W line drawings. illustrations. Unpaginated. With a certificate of authenticy for the Rackham signature. A delightful green and white decorative title page, designed by the illustrator. A nice addition to a collection of Rackham illustrated books. (Offered by Boomerang Booksellers)
---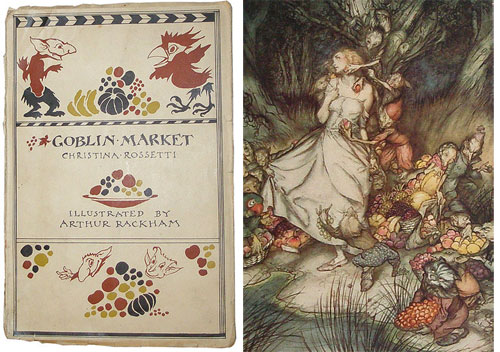 Goblin Market (Illustrated by Arthur Rackham, 1939)
London: George G. Harrap and Co., 1939 Illustrated by Arthur Rackham. First edition thus. Publisher's pictorial white paper wrappers, with illustrations by Rackham to the front panel of goblins and fruit in red, black and gold, lettered in black, pictorial gold and white endpapers with patterned goblin and tree illustrations. Good, with some wear and short tears to the extremities, some chips to the hinges and spine, light soiling to the panels, bright and fresh interior.
"Goblin Market" is a popular narrative poem that was included in Rossetti's first commercially published collection of poetry, Goblin Market and Other Poems (1862). The poem tells the story of two sisters, Laura and Lizzie, who encounter a group of goblin merchants while they collect water at a stream near their home. While Lizzie keeps her distance, Laura is lured by the goblin's strange features and luscious fruits. When the fruits prove to be not only magical but poisonous, Lizzie must save her sister from death. While the first 1862 edition was illustrated by the poet's brother Dante Gabriel Rossetti, this edition contains artwork by noted illustrator Arthur Rackham.
Arthur Rackham (1867-1939) was a prolific British artist and illustrator, best known for his deluxe editions of popular children's books. Artistically inclined since childhood, Rackham started illustrating for newspapers, but it was not until he began drawing for children's literature that he received critical acclaim. In response to his burgeoning fame, Rackham's publisher, William Heinemann, began producing deluxe and trade editions of his illustrated works, the first being Rip Van Winkle in 1905. Deluxe editions were produced in a limited edition of numbered copies (ranging in quantity from 250 - 2,020), bound in vellum bindings, printed on handmade paper, and signed by the illustrator. The trade editions were published concurrently in simple bindings, on thinner paper, and with fewer color plates. This publication strategy benefited both publisher and artist; Rackham produced about one book per year and would have an annual gallery exhibition showing his original artwork for his latest book. The recipient of multiple awards for illustrations, Rackham was a diverse artist with a talent for capturing both the fantastical and the intricacies of human nature. (Offered by B&B Rare Books)
---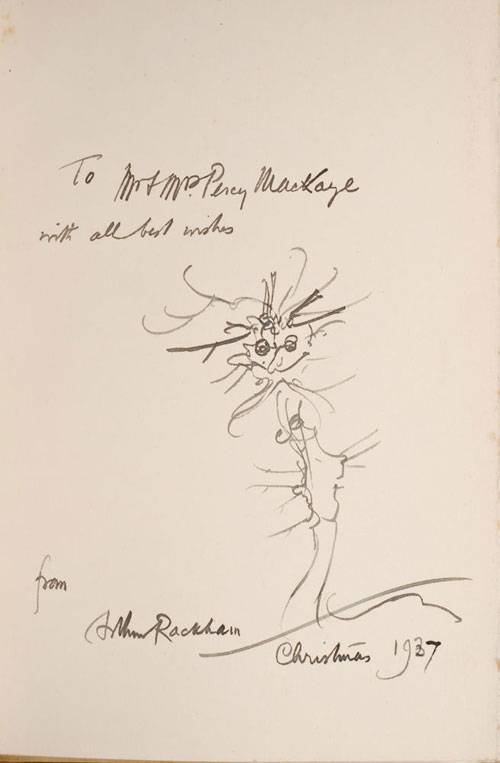 Goblin Market (Illustrated by Arthur Rackham, 1933) -- With signed drawing by Rackham
London: George G. Harrap & Co., Ltd. (1933). First trade edition, with a fine, three-quarter page original pen & ink drawing by Rackham inscribed to Mr. & Mrs. Percy MacKaye and dated Christmas 1937. The drawing depicts Mr. Rackham himself as an anthropomorphic tree. Octavo (8 3/4 x 5 1/2 in; 222 x 136 mm). 42, [4] pp. Four color plates. Original stiff-card wrappers in color. Original dust jacket with just a tiny amount of insect damage at foot of spine and flap-folds.
A nearfine copy. American dramatist and poet Percy MacKaye (1875-1956), whose poetry collection, The Far Familiar (1938) was graced with a frontispiece by Arthur Rackham, was the first champion of civic theater and is considered to be the first poet of the Atomic Era because of his sonnet "The Atomic Law," which was published in the Christmas 1945 issue of The Churchman. "Goblin Market" (composed in April 1859 and published in 1862) is a narrative poem by Christina Rossetti. In a letter to her publisher, Rossetti claimed that the poem, which is interpreted frequently as having features of remarkably sexual imagery, was not meant for children. However, in public Rossetti often stated that the poem was intended for children, and went on to write many children's poems. When the poem appeared in her first volume of poetry, Goblin Market and Other Poems, it was illustrated by her brother, the Pre-Raphaelite artist Dante Gabriel Rossetti. Goblin Market is about two close young sisters, Laura and Lizzie, who hear the sounds of the goblin fruit market from their house where they reside by themselves. At first they try to ignore the enticing calls of the goblin men but eventually Laura decides to go out and see what's happening. Lizzie warns her not to, but Laura is too curious. The goblin men offer her their fruit, and Laura thinks it looks tasty. She doesn't have any money, but the goblins offer to take a piece of her golden hair instead. So Laura gives up some of her hair, gorges herself on goblin fruit, and heads on home to her sister. But after eating all that goblin fruit, Laura starts to waste away. Lizzie gets worried and decides to go down to the market to see what's what. The goblin men try to tempt her the way they tempted Laura, but Lizzie stands firm. The goblin men turn violent and try to stuff fruit in Lizzie's mouth, but she squeezes her mouth shut, so they just end up getting juice all over her. Lizzie runs back to their house all covered in goblin fruit juice. Laura kisses the juice off her sister's cheeks and is miraculously, but painfully, healed. Years later, Laura and Lizzie are both wives and mothers, and they describe their experience in the goblin market to their own children as a cautionary tale about the importance of sisterly love. (Offered by David Brass Rare Books)
---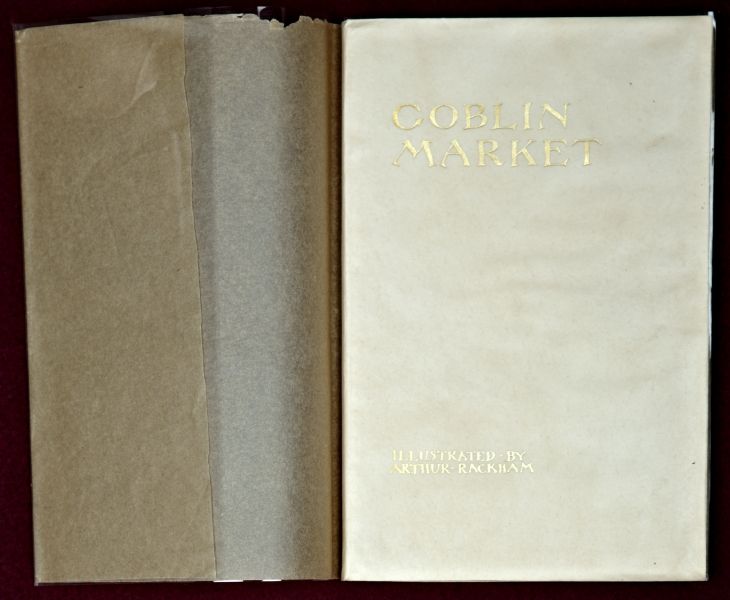 Goblin Market (Illustrated by Arthur Rackham) -- Signed by Arthur Rackham
London: George G. Harrap & Co, 1933. ONE OF 410 COPIES (400 for sale) SIGNED BY RACKHAM n.
Hardcover. 241 x 165 mm (9 1/2 x 6 1/2"). 42, [3] pp. ONE OF 410 COPIES (400 for sale) SIGNED BY RACKHAM. Original publisher's limp vellum, original(?) tissue dust wrapper, original slipcase with printed paper label on top. Illustrated endpapers, half title, and title page, text illustrations throughout, and FOUR COLOR PLATES, all BY ARTHUR RACKHAM. Title page partly printed in green. Hudson, p. 172; Latimore & Haskell, p. 69. Slight fraying and tiny chips missing along top of front panel of dust wrapper, otherwise AN ALMOST AMAZING COPY, even the slipcase being unusually clean, and the volume itself virtually pristine. This is a remarkable copy of the strictly limited signed Rackham illustrated version of the allegorical fairy tale exploring the dangers of indulging in worldly pleasures, first published in 1862. It brought Rossetti (1830-94) widespread recognition when it first appeared, and it has interested feminist critics ever since. We can find no record of a dust wrapper being present with this volume, but our tissue jacket looks to be from the time of publication and, in any case, has served to preserve the book very well over the years. (Offered by Phillip J. Pirages Fine Books & Manuscripts)
---