"Three columns of unknown verse by the Mad Poet of Broadway: Life is good."
(A brief remembrance of Robert Fraker from Garrett Scott, May 3, 2017.)
I probably met Robert Fraker of Savoy Books sometime in the mid-1990s, though later neither of us could ever remember when exactly it happened. It must have been some February back when I worked for John Crichton at the Brick Row Book Shop in San Francisco, when Robert would have been wandering through the shop a day or two before a California Book Fair.
This genial bookseller from back east immediately stood out because even when judged by the recondite standards of the Brick Row Book Shop, Robert tended to purchase remarkably obscure titles of American verse. In those days, to have sold anybody a copy of C. L. Woods's Kaw-Wau-Nita, and Other Poems (Stockton, Calif., 1873)—as I believe we did to Robert around that time—seemed to me an event worthy of at least minor celebration; to have sold it to a colleague in the trade, who presumably labored under the belief that he might someday sell it, and at a profit, seemed to my tender sensibilities even more baffling and worth further inquiry. Across the broad landscape of 19th century American poetry, a landscape marked by tall trees like Walt Whitman and Emily Dickinson (or even by the spreading shade trees of Fitz-Greene Halleck and Henry Wadsworth Longfellow, or by the tough native shrubbery of Frederick Goddard Tuckerman or even Jones Very), what kind of bookseller would invest in building a collection of such scope as to include the merest tender shoots of verse like those of the Jailer-Poet of Stockton, California?
Robert himself outlined the scope and eventual purpose of his American poetry collection, which grew to include by his estimation about 5,000 items, in a talk he gave at the American Antiquarian Society on September 29, 2012 at the symposium celebrating the publication of the Stoddard-Whitesell bibliography of American verse. Robert kicked off his address, " 'Stomach for Them All': Collecting Minor American Verse in the Twenty-First Century" by noting, "I am a collector of minor verse, and while this declaration has the confessional air of a twelve-step introduction, I will say at the outset that collecting poetry that few have heard of and even fewer would bother reading is a pastime that I proudly undertake and would give up unwillingly."
Robert's talk went on to touch, in his characteristic and graceful way, on such diverse topics as his own place in the lineage of Narcissus Luttrell and Oscar Wegelin, a brief glance at the jailer-poet of Stockton noted above (with mention of Woods's verses on post-mortem infant photography), the revelatory power of a widowed father's acrostic pleading for custody of his newborn baby or the humor of an 1850s broadside poem on impotence, and "the erratic, occasionally sublime, and startlingly modern lines of McDonald Clarke, the Mad Poet of Broadway." Robert notes toward the end of his address, "There are countless 'little worlds in the past' in the pages of minor verse, and for the explorer of these worlds, countless pleasures in their discovery. In the collections of such material there are innumerable lost voices waiting to be heard again and more and more nuanced and subtle revelations to be made."
(Robert's paper from the symposium was published in the Papers of the Bibliographic Society of America, 107:3, September 2013; Robert's earlier detailed and commendatory review of Stoddard-Whitesell in the March 2013 number of the PBSA was said by secondhand oral tradition to have been esteemed by Roger Stoddard as a greater honor than a Breslauer Prize, which had in any event instead gone in 2014 to the Gilbert bibliography of Ian Fleming.)
But the text of Robert's address is not what I remember most clearly about his performance at the symposium, which included on its public program such bibliographical luminaries as Roger Stoddard, Marcus McCorison, David Whitesell, James Green, and Michael Winship. Instead, I remember the turnout of colleagues, among them Stuart Bennett, Dan DeSimone (still in some fundamental way a member of the trade despite his long exile at the Library of Congress and the Folger) and the late Cheryl Needle; the booksellers all generally arrayed themselves for Robert's talk as if driven by the long habits of the auction rooms along the last few rows of seats in the main hall of A.A.S. I recall that Robert had been given the first diagnosis of his cancer earlier that summer and, given the uncertainty of his health, the tenderness and affection of his friends in the trade was evident in the turnout.
Robert's pursuit of his nineteenth-century verse project was no mere checklist exercise—indeed, it became more than even a scholarly or commercial pursuit, though since Robert was always a serious bookseller it necessarily partook of both. Ian Jackson remarks of Robert in his Den of Book Jackals (Berkeley, 1997), "Charitable spinsters in New England have a tradition of giving a home to unwanted strays, particularly cats. Robert Fraker runs a sort of orphanage or pound in Lanesborough, where he has spent years gathering nineteenth-century American verse for a projected series of catalogues."
Robert's love for these orphaned waifs was obvious, and certainly there was a theme of rescue that ran through many of his acquisitions and enthusiasms; it was Robert who first introduced me to the forgotten visionary Detroit outsider poet-astrologer Lyman E. Stowe's utopian magnum opus Poetical Drifts of Thought (Detroit, 1884), a title worthy of revival; Robert also sold me the few fragile examples I've ever handled of material from Nancy Luce, the chicken-poet of Martha's Vineyard. Robert introduced me to the eccentric work of Rev. Billy Cook of Salem, Mass., as well as to the work of McDonald Clarke—whose mention above was no accident, since the Mad Poet of Broadway was one of Robert's particular enthusiasms.
A note from Robert dated November 17, 2009 suggests the pull Clarke had on him; Robert gave me an account of how he and Lillian had packed up that previous Thursday morning to leave for the Boston Book Fair to drop off their books at the loading dock of the Hynes Convention Center for set-up the next day, "and stopped at the post office on the way out of town. Lillian is driving, I open [a colleague's] catalogue (the first I've gotten in years). I start hyperventilating at item 12 [an unrecorded carrier's address broadside by McDonald Clarke]. I'll never curse cell phones again. It's available! I don't know how I would have risen to the weekend had I not gotten it; I regained my composure around Framingham. I am particularly keen on McDonald Clarke, along with carrier's addresses. The idea that there was an unknown carrier's address by him was the stuff of dreams. You should have seen Roger Stoddard when I told him, woofing and twitching. Rusty [Mott] was muttering to himself all weekend about it, Dan Siegel too. I now have it . . . a beautiful folio broadside printed in blue ink. Three columns of unknown verse by the Mad Poet of Broadway. Life is good."
To have made Roger Stoddard twitch and Rusty Mott mutter is no small legacy to leave behind you.
Life generally did seem good when I visited the Frakers in Lanesboro, though the first night I ever spent at their house on my way to a Boston book fair memorably coincided with the death of their elderly cat Marley, who had crawled off into the night to die in peace beneath a favorite bush. I awoke sometime after midnight to the sound of rain on the roof and the gentle susurration of Robert's spade in the dirt, shoveling a grave for Marley beneath my window—fit subject itself for a slip ballad in Robert's collection of verse.
But putting this morbid incident to one side, I will always instead associate the smell of ripe apples and of drying onions with my visits to Savoy Books. Lillian and Robert's gardens were extensive and their fruit trees mature, and because their back porch in the month or so prior to the Boston Book Fair was generally filled with bushels of garden truck, you would catch the whiff of dirt and vegetables and apples whenever you came into the house.
Garrett Scott, Robert Fraker, and Lillian Fraker at Savoy Books in Lanesboro, Mass. August 2016.
Like most of my favorite people in the trade, Robert ate well and knew his way around the kitchen; he once saved me the mortification of composting the stems from a couple of bunches of red chard one night when we were helping Ann Arnold prep a dinner in Berkeley. (I learned from Robert that the leaf of chard is the Berkeley equivalent to the fabled buffalo of the Plains Indians—no part goes unused.)
But with a meal in mind as the ultimate goal, a visit to the Frakers would usually follow certain contours: we would spend a few hours out in the shop over the course of the afternoon, me poking through pamphlet boxes or looking over his shelves, him at his desk with its view of Mount Greylock, nominally cataloging something in preparation for a show but more often than not turning around from his desk to show me whatever he was working on. The shipboard program for the first American minstrel show given to the Japanese emperor? Mary Rutledge's hymnal, which had sat with her in the log cabin while Lincoln courted her back in New Salem? Or perhaps we would worry again over the attribution of his portrait of Chopin (or "Chopin"), or perhaps some minor Iowa poet who had come to hand might have written an elegy on a dead infant worth reading aloud. In any case, something in his shop—whether in his hands or in mine—would lead to another discursive conversation, until at some point at the end of the afternoon he would stand up from his desk and we would walk out the shop and up the flag path and through the porch and the piled bushel baskets and the smell of apples, and into his kitchen, where he would decant whatever bottle of wine he had brought up from his basement or I had brought from Michigan. He would get out the bowl of olives and some cheese, perhaps make a side trip back out to the garden to cut some herbs or harvest some greens, and then we would come back inside to get cleaned up and get dinner started.
Conversation over drinks and cheese with Robert marked the wide range of his interests. There would be talk about the music, of course. He and Lillian for years made the circuit of bluegrass festivals, Robert on his mandolin or fiddle or guitar, Lillian on bass and adding her high tenor; I still hold onto my cassette tape copy of Broken Hearts and Better Times, one of the albums produced by their bluegrass group the Bear Bridge Band in the 1990s. Later, the Frakers bought an old general store in nearby Hancock Village and held weekly jam sessions in the store with friends on Wednesday nights. Robert also stored the duplicates from his poetry collection at the Hancock store, and I spent one very happy Wednesday night picking through duplicates while the music played on in the adjoining room.
Knowing about Robert's interest in American music led me to sell him a copy of the moderately uncommon first edition of Judge Jackson's Colored Sacred Harp (Ozark, Ala., 1934). Just a few days after I had sold him this title, which also happened to be just barely a couple of weeks after my mother had died, I wrote to him that the shuffle on my iPod had one night during a walk come around to the Wiregrass Sacred Harp Singers launching into a song from the Colored Sacred Harp: "My Mother is Gone." I mentioned that even though it was a simple song of no more than two or three lines, it had nearly laid me out. Robert almost immediately wrote back, "Funny how that happens, and I know exactly what you mean. The frank emotional confrontation of lost parent or child themes in gospel and country music, black or white, can have an exotic, abstract appeal, until you slam against the real context for such songs and they become difficult to embrace. But despite all their sentiment and bathos they are in the end what Bill Monroe used to call 'true songs,' and their unsophisticated truth can be comforting or at least purging—we the levelled now know what they're talking about."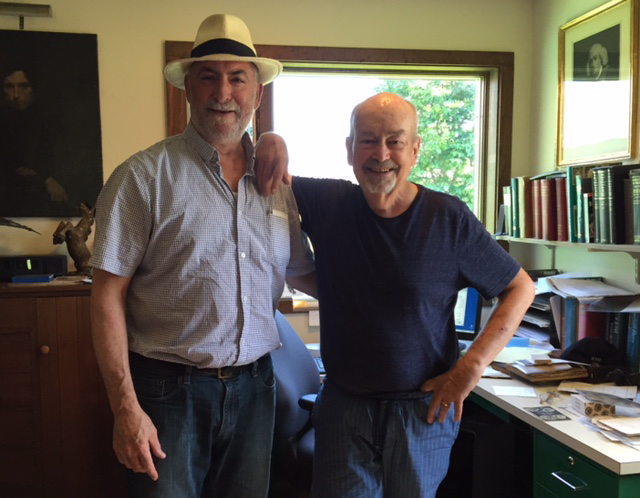 Marc Selvaggio & Robert Fraker.
But besides books and music, Robert could also turn the conversation to the art market, to film, to the production of oil cloth, to the role of the banjo in art and photograph, and to the times he and Lillian spent on their visits to Crete (including the friends they made and the music they picked up while there); we would also of course cover a wide range of trade gossip. If the conversation lapsed, Robert's idiosyncratic and persistently vocal frustration with the practice of "scare quotes" could reliably provide an interlocuter with a satisfying reaction if you chose in mock earnestness to "introduce" them into "conversation."
The stock in trade of Savoy Books marked a similarly diverse range of interests—poetry was not the only subject to pass through Robert's hands. One perennial specialty of Savoy Books was agriculture and horticulture, which even to this inexpert eye usually offered up some obscure items of interest; Savoy Books also managed to develop a deep and interesting collection of material on early American education. In his last months, he and Lillian catalogued their collection of material relating to shorthand, and when I paid them a visit shortly before Robert died they were at work cataloging his collection of early American hermit material. A number of his banjo instructional manuals ended up at Hamilton College (where they have been digitized) and his 274-item collection of material relating to James Garfield ended up at the Chapin Library at Williams in 2015.
Robert collected Garfield material ranging from the high spots to the obscure, the latter of which especially pleased a number of his colleagues nearly as much as his willingness to take similarly obscure pieces of verse off their hands for cash money; I suspect the morbid and pathetic aspects of the Garfield assassination struck some deep chord with both his affection for the lachrymose strains of American poetics and with the bluegrass and old-time music he knew so well.
Looking back over the poetry titles and Garfield titles I sold him over the years, I suggest it would be naive to claim that a bookseller feels any truly deep affinity for a colleague with whom there isn't at least a fitful flow of material passing back and forth to mark their shared interests; a professed enthusiasm that isn't backed with the earnest of an occasional a 30-day invoice is the merest shadow of a hobby and ultimately a suspect friendship. Robert's willingness to sometimes do the work of selling to himself the books I had offered him was but one more reason to respect him. I once offered Robert an obscure if clumsy example of a sermon preached while Garfield lingered on his deathbed, Guiteau's assassin bullet lodged somewhere in his body—this sermon offered to Robert alongside a few songsters and a piece of verse, though the Garfield sermon was the relative high-spot of the bunch—a rather grim discourse, even by my elastic standards, from the upstate Presbyterian divine Rev. William Allen Niles of Hornellsville, N. Y.
(Niles memorably remarks in his address that "The spoils system is only a swollen gland.")
Given that the Niles sermon could not be found in any of the usual sources, I described it to Robert as the "black tulip" of Garfieldiana. He quickly got back to me about the lot, noting of the entire handful of books, "I'll pass. I have No Sect (or Sects) in several variants [N.B., my records on this are unclear, but this is likely Elizabeth Hannah Jocelyn Cleaveland's juvenile slip poem No Sect in Heaven, which issued from her Athol Depot press sometime ca. 1860-1870], the Spaulding songster and the Bradlees. The tulipe noire de Garfield I will reluctantly turn down, though I must say I don't think I have any sermons delivered while he lingered on the earthly plane. Oh damn, I just talked myself into it. Do send it along."
Robert also later accused me in jest of having engineered the well-publicized theft of commemorative spoons from a display case in James Garfield's tomb shortly after my own family had paid the tomb a visit in Cleveland; Robert remarked "I understand the temptation, but really? But if you decide to sell them . . ." (The ellipses here are [sic], and though suggestive of the temptation of passing bad title and the subsequent embarrassment of an inevitable replevin case over souvenir spoons, were of course offered up only in jest.)
Savoy Books also handled collections that went beyond the scope of single subjects; when Marc Selvaggio and his late wife Donnis de Camp were in 2005 offered the chance to purchase the Fred Board collection, they partnered with Robert and Lillian. The story of the Board books isn't mine to tell, but even after the collection had been somewhat picked over, one could find early examples of embossed printing for the blind, scarce examples of plastic volvelles in Victorian meteorology, obscure sample books or even, for the truly dedicated, different states of Thomas Wirgman's foray into color printing in the service of Kantian theology, Divarication of the New Testament in Doctrine, the Word of God. History, the Word of Man (London, 1834).
But in the end, as with most of my friends in the trade, the books were only an excuse I used to create reasons to see Robert and Lillian. In my 2015 specialty bookseller lecture at the Colorado Antiquarian Book Seminar, I said this about the importance of friends in the trade:
"In all sincerity, aside from the day my daughter was born and the day my wife agreed to marry me and a few other family milestones, the happiest times of my life have been waking up on a bright morning someplace like the guest bedroom of my friends Robert and Lillian Fraker of Savoy Books in Lanesboro, Mass., and wandering out into their kitchen with the prospect of heading to their shop out back with my second cup of coffee in hand to go look at interesting stuff. And maybe when I head out to the shop, Robert will still be there doing his morning fiddle practice. You will buy good material. You will stay up late. You will swap trade gossip and unrepeatable stories. The casual conversation of colleagues is the real medium upon which the book trade floats. I am rarely more myself than when in conversation with folks in the trade. Cultivate these relationships. This is the real long-term capital of bookselling."
Garrett Scott and Robert Fraker, August 2016.
When I went to see him two weeks before he died (though I did not know then or at least did not want to admit that his death was so close as that), we talked for an hour or two before he sent me out to the shop so he could take a nap. I spent maybe an hour out there finding things I had never seen before and making a small stack and bringing the stuff back into the house for him to price or write up. More than one bookseller I know has said they want to be selling good stuff right up until they die; Cheryl Needle famously was selling books from her hospital bed just before her death. Robert managed to pull that off—the last thing he did for me sitting there on the couch was to write up a sale.
And then that afternoon, I left him—one more in what had once seemed like an endless series of sunny afternoons we spent in conversation and to our own mutual commercial benefit. I left him that last afternoon with the promise that I would stop in to see him on my way out to the Brooklyn Book Fair in September, this being I think the closest either of us would manage to saying an actual goodbye. (This sort of goodbye I have tentatively classified as the "bookseller's farewell"—the fiction that you can get at least one more book fair or one more scouting trip under your belt and that we'll see each other down the road.) These tentative plans left us the possibility of another meal together, another visit, and another chance to look at his books. Sadly, that next afternoon will never happen, and the book trade is much poorer for his passing.
Robert Fraker in his garden with his bookshop nearby.
---
Robert Fraker interviewed in 2014: