A look at some of the items currently offered by ABAA members can present a partial, but nonetheless illuminating, history of various editors' attempts to complete, "improve," or make Shakespeare more accessible over the centuries.
For a guy who's been dead for 400 years, Shakespeare gets more press than many movie stars. Every week there's another theory about what he looked like or whether he was high while writing his plays. This week, the headlines are driven by British designer Jamie Rector, who created a series of new conceptual covers for several plays by Shakespeare, attempting to summarize the plays in a series of emojis.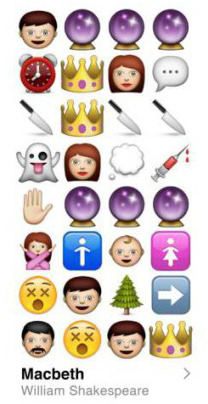 Although this was a concept design, the images caught the eye of Creative Review magazine, who are now using them for a series of posters aimed at attracting new design talent -- evidence that Shakespeare's work still remains vital today. London daily paper Metro speculated that if Shakespeare were alive today "chances are he would have been writing his plays in emoji." I'm not sure if I can agree with that statement -- not least because Shakespeare wrote for the stage, not the smartphone screen -- but adapting Shakespeare for modern audiences is hardly a new idea.
Nicholas Rowe got the ball rolling with his critical editions in 1709. While later scholarly editors sought to gloss obscure words and add historical context, Rowe, a poet himself (and evidently not devoid of ego) tried to improve and modernize the text.
Alexander Pope took a similar "improving" attitude to the plays, rewriting anything he considered vulgar or inharmonious in his 1723 6-volume edition of Shakespeare. Although a fabulous poet, Pope was not a textual scholar. His shoddy editing irritated Lewis Theobald, a translator and minor dramatist. Theobald's skill as a poet may have been far inferior to Pope's, but his editorial judgement was far superior. Theobald published Shakespeare Restored in 1726, taking Pope to task for his changes and inclusion of dubious sources.
---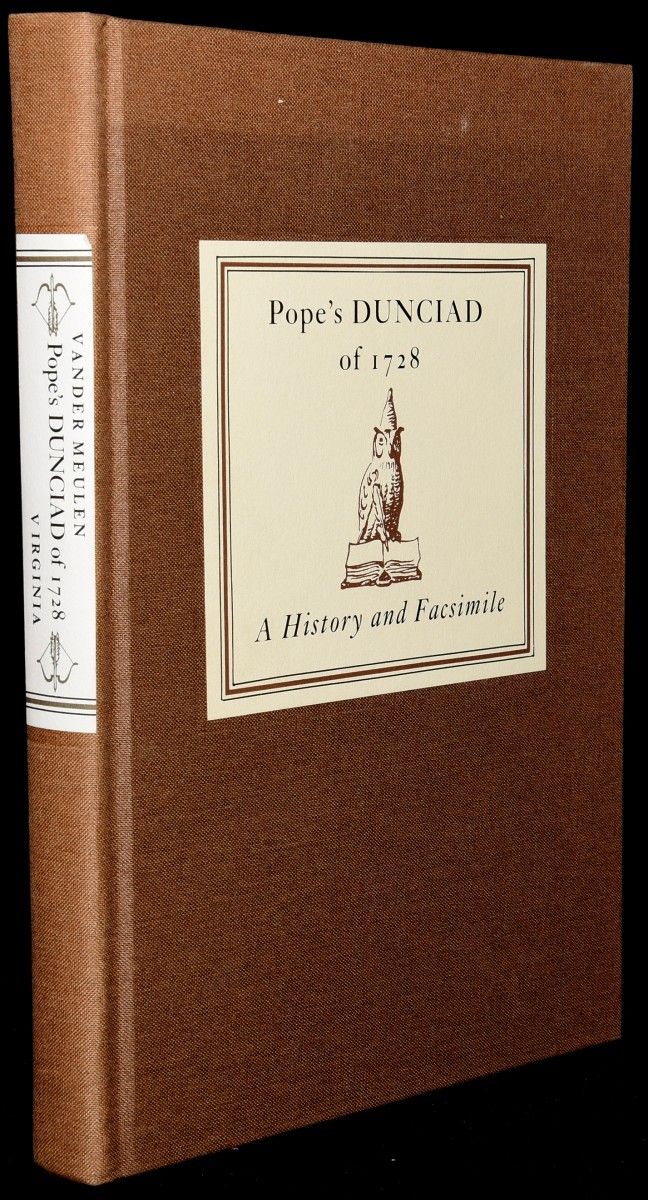 POPE'S DUNCIAD OF 1728: A HISTORY AND FACSMILE
by Alexander Pope / David Van Der Meulen (Editor)
Charlottesville: The University of Virginia Press, 1991. First Edition. Hard Cover. Near Fine binding. A crisp copy with some light sunning to the top of the binding. No marks of any kind. (Offered by Black Swan Books, Inc.)
---
Pope was not happy to be so publicly chastised, and subsequently made Theobald immortal as the chief of the dunces in his satire The Dunciad. However, Pope quietly incorporated almost all of Theobald's criticisms in his second edition of Shakespeare in 1728.
Theobald himself edited a compete edition of Shakespeare's plays in 1733, and this edition is regarded by modern scholars as the most authoritative edition until much later in the 18th century.
---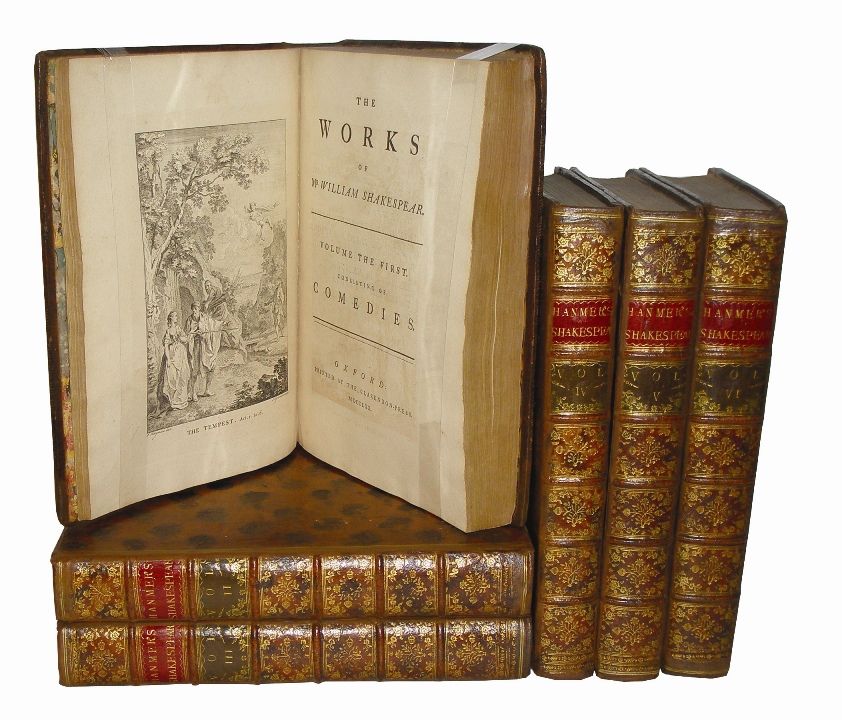 The Works of Mr. William Shakespear
Oxford: Printed at the Clarendon Press, 1770-71, 1770 Second Hanmer edition. Six volumes. Engraved plates of the Chandos portrait, Stratford bust, and Westminster monument, and 35 (of 36 plates) engraved by H. Gravelot after Francis Hayman. Various readings of Theobald and Capel at the end of each volume, glossary with errata in Volume VI. Bound in contemporary brown mottled calf, spines elaborately decorated in gilt, spines with six raised bands and Morocco spine labels, gilt borders to covers, marbled endpapers. Some dampstaining to a few leaves in Volume I, plates with some occasional toning and offsetting, pencil marginalia to a few plays, spines andcorners show some repair and reinforcement, former owner bookplates to endpapers and pastedowns. Volume I contains the prefaces of Hanmer and Pope, a biographical account by Rowe, and Ben Johnson's poem. The second edition of Sir Thomas Hanmer's edition, after the small print run from 1744, is based on Pope's edition and includes his introduction, as well as Rowe's important Life of Shakespeare. (Offered by B&B Rare Books, Ltd.)
---
Many dilettante gentlemen published their own editions or commentaries on Shakespeare as the 18th century progressed. Thomas Hanmer (who was also immortalized as a fool in The Dunciad) has the distinction of being regarded by the editors of The Oxford Shakespeare as have written one of the worst editions of all time, although the insufferably arrogant William Warburton's 8-volume 1747 edition surely ran Hanmer close.
---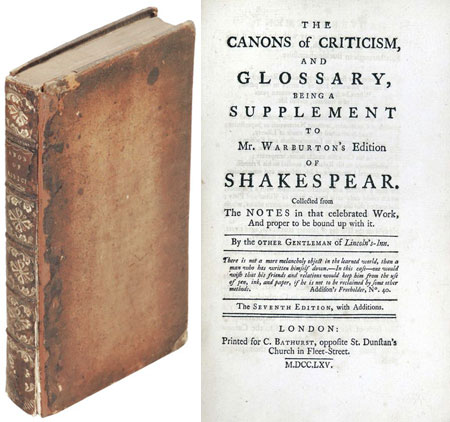 The Canons of Criticism, and Glossary; The Trial of the Letter Y, alias Y, and Sonnets
by Thomas Edwards
London: C. Bathurst, 1765. Hardcover. Very Good -. Hardcover. VG- full leather, gilt title and elaborate decoration to spine. Hinges have been restored. Interior laid paper w/some foxing and browning but text still bright. Chipping to loose front and rear endpapers. Binding tight; overall in very nice condition. 351 pages. + Index. (Offered by The Kelmscott Bookshop)
---
Warburton's work inspired Thomas Edwards to pen a satire, The Canons of Criticism, mocking the many failings in the work -- although, oddly, Dr. Johnson appeared to think highly of Warburton, and based his own 1765 edition of Shakespeare on Warburton's flawed work. Sadly, Dr. Johnson's eyes were failing, and he was not up to close textual analysis. His preface to this first edition is a justly famous piece of criticism, but his reconstruction of Shakespeare's texts were later amended and ultimately replaced by George Steevens' sterling work between 1773 and 1793.
---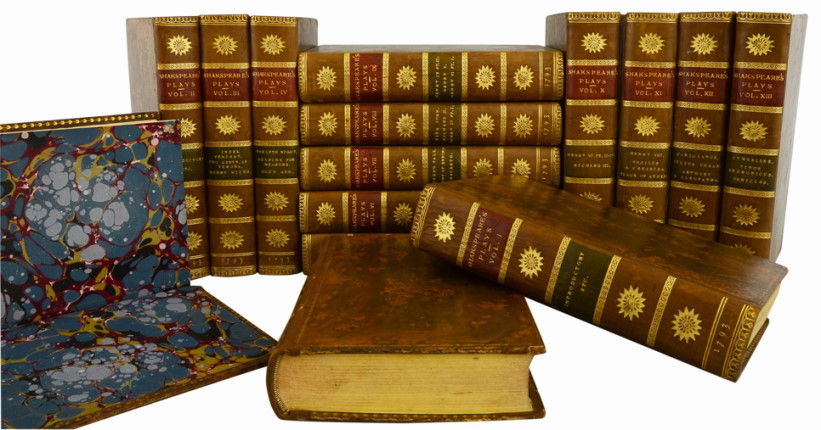 The Plays of William Shakespeare (15 Vols)
London: T. Longman, etc., 1793. Fourth edition. Near Fine. Bound in full tree calf (expertly rebacked), red and green Morocco spine labels and gilt detailing. some wear to board edges and corners, trace spots of foxing to the pages, but overall an excellent set. In fifteen large octavo volumes, pages measuring 216 x 138 mm. Three plates in vol. 1, four folding plates in vol. 2, one folding plate in vol. 8. The fourth Johnson & Steevens edition. The Johnson & Steevens edition is considered the most scholarly edition of Shakespeare's plays. The work includes a glossarial index, plus essays by Samuel Johnson, George Steevens, Alexander Pope and others on topics such as: the life of Shakespeare, a chronological study of the plays, the learning of Shakespeare and the history of the English stage. To read the plays of Shakespeare without the benefit of the voluminous, insightful commentary in these volumes is to miss an invaluable historical perspective. Near Fine. (Offered by Whitmore Rare Books)
---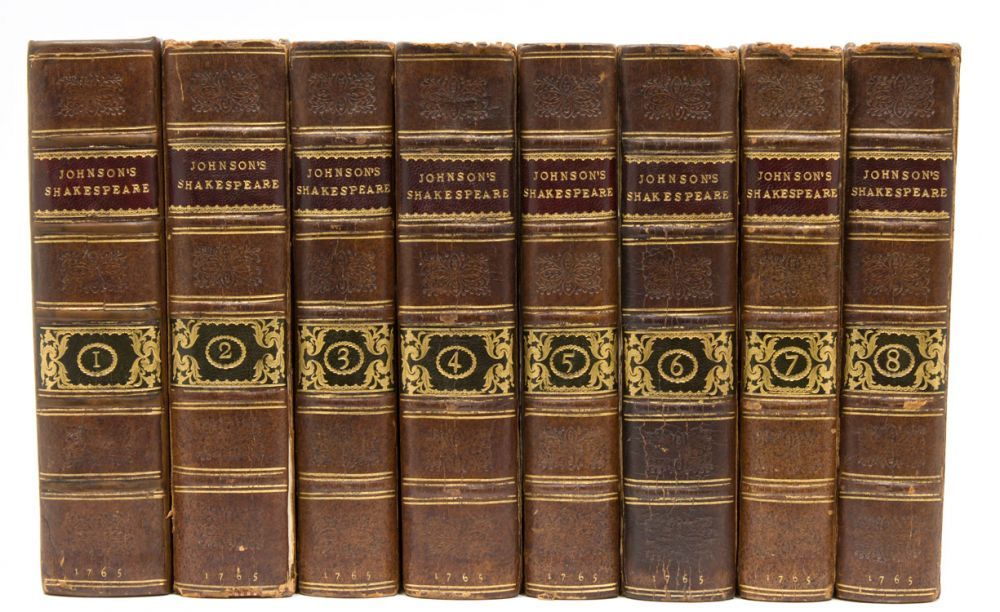 The Plays of William Shakespeare, in eight volumes, with the corrections and illustrations of various commentators; to which are added notes by Sam. Johnson
London: Printed [by William Strahan] for J. and R. Tonson …, 1765. First Johnson edition. Portrait frontispiece. Johnson's Preface ([A]1-[E]5 in vol. I) unpaginated and here bound at end of front matter. Half titles in vols. III-VIII as called for. 8 vols. 8vo. Full period brown calf gilt, spines tooled in blind and in gilt with contrasting red and olive morocco labels by Sangorski and Sutcliffe. Volume one rebacked with original spine. Some traces of rubbing to extremities or joints of a few volumes. Near fine. First Johnson edition. Portrait frontispiece. Johnson's Preface ([A]1-[E]5 in vol. I) unpaginated and here bound at end of front matter. Half titles in vols. III-VIII as called for. 8 vols. 8vo. Johnson's Shakespeare: A Landmark of Literary Scholarship. Adam Smith is said to have called it "the most manly piece of criticism that was ever published in any country". Jaggard notes that Johnson seems to have earned in excess of £1,300 for his editorial labors. "Printing occupied several years. The work was published, and presumably distributed to subscribers, on 10 October 1765, at 2 guineas a copy ... The reception was almost uniformly favorable" (Fleeman). (Offered by James Cummins Bookseller, Inc.)
---
In the 19th century, new editors collected every scrap of writing attributed to Shakespeare in the "Variorum" editions (works that collect all the known textual variants).
The Dramatic Works of William Shakespeare
1820. William Shakespeare in Contemporary Red Straight-Grain Morocco. SHAKESPEARE, William. The Dramatic Works of William Shakespeare, From the Correct Edition of Isaac Reed, Esq. With Copious Annotations. The Life, Dr. Johnson's Preface. Farmer's Essay on Shakespeare. London: Printed for J. Walker, 1820. Stereotype edition. Twelve octavo volumes (8 1/4 x 4 7/8 in; 210 x 123 mm). Engraved portrait and numerous plates designed by John Thurston. Bound in contemporary full crimson straight-grained morocco with triple gilt fillets bordering a richly gilt frame and elaborately gilt spine. Decorative gilt board edges and turn-ins. Pale orange endpapers, all edges gilt. A few headcaps expertly and almost invisibly repaired. A fine and handsome set.Isaac Reed (1742-1807), biographer and bibliophile, was an English Shakespearean editor. He produced a "first variorum" edition of Shakespeare in 21 volumes published in 1803 upon which the edition under notice is based. (Offered by David Brass Rare Books, Inc.)
---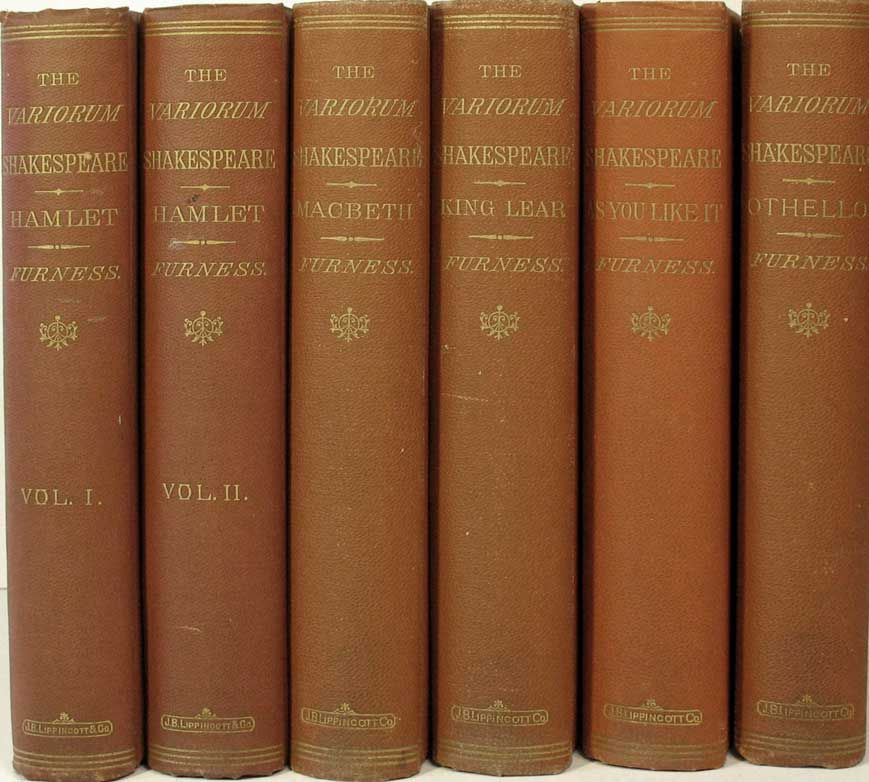 Philadelphia & London:: J.B. Lippincott & Co,. 1871-1913.. Hardcover. A scarce set of this important edition of Shakespeare, known as the "Furness Variorum", after the editor Horace Howard Furness, the foremost American Shakespearean scholar of the 19th century. The set was assembled over the years for Edward Prime as Christmas gifts from his wife Rhodie, and most volumes bear his armorial bookplate. The set runs continuously from 1871 to 1913, totaling 20 volumes. The volumes include: Vol. I. Romeo and Juliet (1871); II. MacBeth (1873); III. Hamlet I (1877); IV. Hamlet II (1877); V. King Lear (1880); VI. Othello (1886); VII. Merchant of Venice(1888); VIII. As You Like It (1890); IX. The Tempest (1892); X. Midsummer Nights Dream (1895); XI. Winter's Tale (1898); XII. Much Ado About Nothing (1899); XIII. Twelfth Night (1901); XIV. Love's Labour's Lost (1904); XV. Antony and Cleopatra (1907); XVI. Richard the Third (1908); XVII. Cymbeline (1913); XVIII. The Tragedie of Julius Caesar (1913). Also includes Macbeth (1903 revised edition); and The Concordance to Shakespeare's Poems (1874, 2nd edition). Large octavo, (10"), each volume approx. 500pp, top edge gilt, original reddish brown gilt pebbled cloth, a few inconsequential marks on spines otherwise in fine condition.
"As editor of the "New Variorum" editions of Shakespeare...he collected in a single source 300 years of references, antecedent works, influences and commentaries. He devoted more than 40 years to the series, completing the annotation of 15 plays. With his wife, Helen Kate Furness (1837–1883), he authored A Concordance to Shakespeare's Poems (1874). His son, Horace Howard Furness, Jr. (1865–1930), joined as coeditor of the Variorum's later volumes, and continued the project after the father's death, annotating 5 additional plays." (Wikipedia) A lovely complete run, mostly from one library (bar one volume in matching binding). (Offered by Antipodean Books, Maps & Prints)
---
The Cambridge Shakespeare was the first to employ multiple editors to attempt to tame the bewildering wealth of sources and prior critical work. The size of the task had moved beyond the realm of gentlemen with a taste for Elizabethan plays.
The Shakespeare most of us will be most familiar with is the Oxford Shakespeare, which changed the focus to presenting the plays as they were first performed, and trying to get back to the "pure" texts.
A new attempt to make Shakespeare relevant to young readers is the OMG Shakespeare series recently launched by Penguin Random House, rewriting the plays in the form of texts and electronic notes as if all the characters had smartphones. Iambic pentameter is replaced with texting slang and emojis. Whether you regard such re-writing as blasphemy or a reasonable attempt to re-invigrate Shakespeare for a new generation, it suggests that the desire to understand and share Shakespeare's work remains as strong as ever. Perhaps collectors of Shakespeariana will have to clear some shelf space for a new generation of creative retellings and glosses?
---
Note: I am not a Shakespeare scholar, I have just read more books about the man than is strictly healthy. I've deliberately omitted the various Folios from this article. There are also other editors and editions that I have left out due to space considerations or because our members currently don't have copies of them on offer.
For more detailed information on Shakespeare's editors, see An Introduction to Shakespeare, by Edward Dowden.
Finally, ABAA-member Michael Slicker of Lighthouse Books has an enjoyabe series of short videos about book collecting on YouTube. In the video below, he discusses some of the many aesthetic considerations to bear in mind when looking at an edition of Shakespeare.
Featured image (top) credit: Farrukh/Flickr via a cc licence.