The annual National Collegiate Book Collecting Contest aims to encourage young collectors to become accomplished bibliophiles. This year's winners have built up fascinating collections on topics as diverse as formalist Russian composers, women in the Spanish Civil War, and 20th Century Southern Literature. We asked the four winners to tell us more about their collections...
1st prize: Alexander P. Ioffreda (Harvard University)
Formalists! Musical Scores of Repressed Soviet Composers
ABAA: Could you give us a brief description of your collection?
Alex Ioffreda: My collection explores the conflict between musical expression and state ideology in the Soviet Union through rare period sheet music and associated ephemera. Thematically and historically, it centers on the Zhdanovshchina, the traumatic 1948 campaign to repress "formalists" and instill the doctrine of Socialist Realism into music. The story is told through 70 items dating 1931-1971: 59 musical scores – nearly all first editions – representing 9 composers, and 11 articles of ephemera.
ABAA: What first interested you in Soviet-era Russian composers?
Alex Ioffreda: I discovered Soviet composers concurrently with my foray into Russian literature and history at age 13. I was captivated by the emotional depth of their music, which both encapsulates the Soviet experience and transcends it. I connected with their music further as I performed it in concert as a classical flutist, researched its history in an academic context, and encountered its legacy over my four summers in Russia.
ABAA: What currently has pride of place in the collection?
Alex Ioffreda: Highlights of my collection include scores inscribed by Khachaturian, Myaskovsky, and Dzerzhinsky, a complete set of programs for the premieres of Shostakovich's censored ballets (The Golden Age, Bolt, and The Limpid Stream), and the first edition score of Shostakovich's infamous opera Lady Macbeth of the Mtsensk District. The collection's greatest treasure, however, is truly its comprehensiveness.
---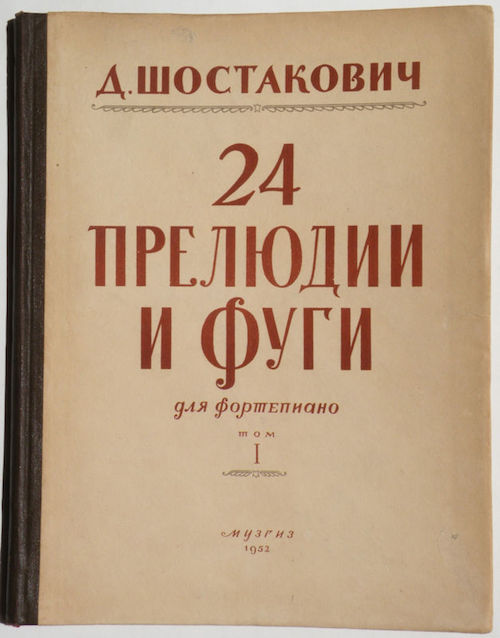 (Op. 87). 24 Preliudii i fugi dlia fortepiano Tom I (Nos. 1-12)... Tom II (NoNo 13-24) (Op. 87. Twenty-four preludes and fugues for piano. Vol. I (nos. 1-12)... Vol. II (nos. 13-24)
Moskva (Cyrillic): Gosudarstvennoe muzykal'noe izdatel'stvo (State Music Publishers) November/December 1952. Two volumes. Folio. Original publisher's dark brown cloth-backed paper- covered boards with titling printed in sepia, gilt titling to spine. (Offered by J.&J. Lubrano Music Antiquarians)
---
2nd prize: Laura A. Hartmann-Villalta (Northeastern University)
Representations of the Spanish Civil War: Testimonies, Pamphlets, Novels, and Scholarship
ABAA: Could you give us a brief description of your collection?
Laura Hartmann: My collection is an assortment of books and pamphlets about the Spanish Civil War. The theme of my collection is foreigners and the Spanish Civil War; I have a particular interest in foreign women and the war. As such, I have collected novels, academic scholarship, and memoirs by and about American and British women and the Spanish Civil War, and these books form a significant portion of the collection.
In my collection, many of the materials from women are the original editions, because these books went through one printing. Simply, if I wanted a copy of the novel or memoir, there was only one copy to acquire. The focus on foreign women in all their roles – as poets, as journalists, as photographers, as administrators, as nurses – is unique as most collections keep these testimonies separate. Over the years, I adjusted the purpose of my collection to reflect various neglected strands of Spanish Civil War studies that suited my academic interests: writing by women, visual studies (such as posters, photographs, and propaganda), and eyewitness life writing more generally.
ABAA: What first interested you about the Spanish Civil War?
Laura Hartmann: I first became interested in the Spanish Civil War during my undergraduate degree in Madrid, Spain. I took a number of courses about the war and became deeply interested in the conflict. As an historical event, I was intrigued by the complicated politics of the war and I was drawn to the fact that people from all over the world came to Spain to fight for a cause they believed in. Although women went to Spain and wrote about the war, they were not featured as prominently on the syllabus. Why weren't women, foreign and Spanish, included in the primary accounts, historical works, and academic scholarship about the Spanish Civil War? This collection is rooted in the need to answer that question. I wanted to discover the now-muted voices of history.
ABAA: What currently has pride of place in the collection?
Laura Hartmann: I feel very lucky that I've been able to acquire several items of pride in the collection.
For me, the collection's main highlight is an extensive collection of forty-four original pamphlets from 1936-1940. These pamphlets were collected by the late Sanford Soren, who donated his Spanish Civil War collection of pamphlets and books to his local library of Willingboro, New Jersey. I acquired his collection from a bookseller who bought Soren's collection at an auction, after the Willingboro Public Library discarded it en masse. Although the bookseller had sold some individual items, I managed to buy the collection more or less intact.
Other highlights from my collection include an original 1937 copy of Death in the Making, without a dust jacket. This is Robert Capa's tribute to Gerda Taro, a photographer killed during the Spanish Civil War. Capa is one of the twentieth century's great war photographers; this volume of Capa and Taro photographs had one printing. The photo-book, alone, is the most expensive item in my collection.
Most recently, I acquired my "holy grail," all thanks to a blog post from Fine Books and Magazines. They featured my collection because of the ABAA NCBCC prize. In the early 1990s, the Spanish Cultural Ministry put on an exhibition of Hungarian-born Kati Horna's Spanish Civil War photography at the University of Salamanca. The exhibition book, Kati Horna: fotografías de la guerra civil española (1937-1938), was one of my most-sought after pieces. Very few copies of the exhibition book were made, and it is out of print.
A friend of a friend viewed the blog post, and got me in touch with a vendor in Uruguay who was selling a copy. The book just arrived two days ago, to much excitement on my part. So, at the moment, the exhibition book has the place of pride in the collection.
---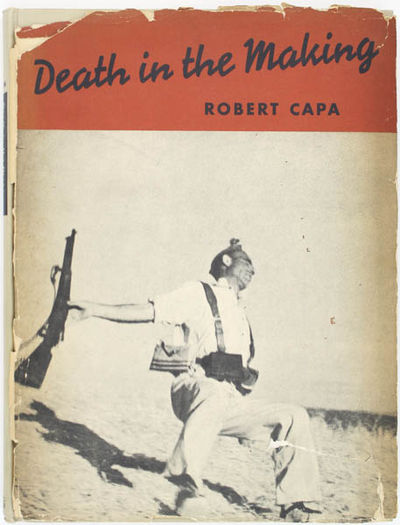 Death in the Making by Robert Capa
New York: Covici Friede, (1938). A fine copy with both panels of the rare dust jacket laid in (the front panel complete, with chips and tears; the rear mostly complete, also chipped and torn; flaps detached, but included). A rare book with any semblance of the jacket.. First Edition. Quarto. Robert Capa's first book. Images of the Spanish Civil War, arranged by André Kertesz: a landmark of 20th century war photography. (Offered by Harper's Books)
---
3rd prize: Rose Berman (University of Chicago)
Antoine de Saint Exupéry: Pilot, Author, and Friend
ABAA: Could you give us a brief description of your collection?
Rose Berman: I collect books by and about the French author Antoine de Saint Exupéry. I also collect books about the airline he flew for, Aéropostale, and his friends/fellow pilots. Most of my collection is in French, but I have a few of the English translations of his works. I especially value books with photographs and anecdotes I haven't seen before.
ABAA: How did you first become interest in Antoine de Saint Exupéry?
Rose Berman: My dad, who is an airline pilot, gave me The Little Prince for my 11th birthday. I loved the book immediately, even though it made me cry, and I subsequently took all Saint Exupéry's other books off my dad's shelves and read them. Even though I didn't understand everything in the books at that age, I loved the way Saint Exupéry combined adventure stories with deep thought. I love being able to continue to learn more about him now that I can read in French.
ABAA: What currently has pride of place in the collection?
Rose Berman: I love my first edition of Pilote de guerre for its special story. The Nazis did not allow the book to be published in France during the war, so it was instead published in New York out of a respected French bookstore. When I learned this story from a biography, I tracked down the book. It includes a carefully preserved erratum note in the front.
---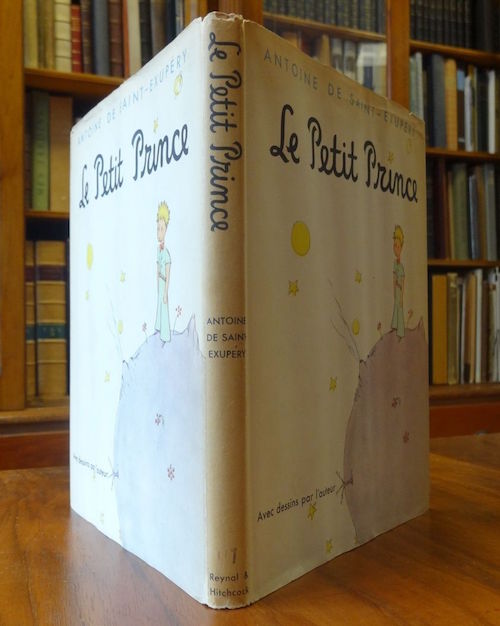 Le Petit Prince. Avec dessins de l'auteur. (The Little Prince). True first edition. Limited to only 260 copies signed by Saint-Exupery.
New York: Reynal & Hitchcock. Fine in Very Good dust jacket. 1943. First Limited Edition; First. Cloth. The rarest (and the only true first) edition of the Prince. Number 119 of a scant war-time limited edition of only 260 copies printed in America from the author's original French manuscript. This, the 1943 American French language edition, is the only edition taken from the original French manuscripts (both holographic & typewritten); the only editio princeps and inescapably the only first edition. (Offered by Old Florida Book Shop)
---
Essay Prize: Anne P. Steptoe (Duke University)
Look Homeward: Journeying Home through 20th Century Southern Literature
ABAA: Could you give us a brief description of your collection?
Anne P. Steptoe: I collect first and early editions from 19th and 20th century American and British literature. The nexus of my collection is modern Southern poetry and prose, with an emphasis on the Fugitive poets. Authors I most frequently collect beside the Fugitives include Katherine Anne Porter, William Faulkner, Eudora Welty, and William Styron. However, my collection has grown from my love of literature; and when I come across a first edition from an author I love, I find it hard to resist – my collection reflects that.
ABAA: What first interested you in Southern writers?
Anne P. Steptoe: I didn't start collecting Southern literature until college. I started collecting then, in part, as a way to feel connected to the South while far from home. But my interest in Southern writers began long before that. I grew up in a small town in West Virginia where Southern history is woven into the fabric of the local landscape. If you look out the window of my childhood bedroom, you can almost read the historical plaque marking the spot on which the abolitionist John Brown was hanged. I also grew up in a place where the most loveable characters resided. Take, for instance, my grandfather – who referred to John Wayne as a "draft dodger," stored pesticides in his garage that had been pulled from the market decades ago and could dispatch any possum who dared destroy his flower beds at fifty yards. He was also the only person who could rock me to sleep as a baby, interminably kind to his bookish little granddaughter, and a larger-than-life hero in my childhood.
The South is a complex place full of complex characters; it is a place I love dearly and recognize as imperfect in equal measure. I spent most of my youth reading to escape my small town - traveling to different eras, continents and experiences. But, especially beginning in my teen years, I started reading Southern writers to explain my own experience of Southern culture and characters. 20th century Southern writers in particular have tried to present the South in all its complexity, without layers of apology or nostalgia. I saw my home and my experience in that writing. Ever since then, I have been hooked.
ABAA: What currently has pride of place in the collection?
Anne P. Steptoe: That designation probably goes to my copy of Allen Tate's biography-meets-historical-fiction novel of the Confederate general Stonewall Jackson. Oddly, I don't care much for the novel. Tate hadn't yet figured out how to employ the Fugitives' new complex, non-apologetic telling of Southern history in prose (vs. poetry), and it's a clumsy effort. However, my copy belonged to the Southern publisher, Louis Rubin. Rubin served as a kind of adviser and intellectual compass to many authors in my collection. When I look at the copy on my bookshelf, I wonder what he must have thought reading that first Fugitive stab at prose and how it fit into the then quite new possibility of a Renaissance in Southern Literature. I've also grown fond of the fact that it is a bad novel --- a stumble within a step forward. That feels authentically Southern to me.
---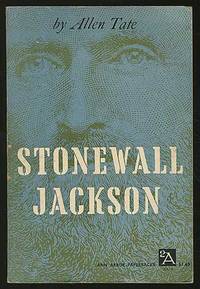 Stonewall Jackson: The Good Soldier
Michigan: Ann Arbor. 1957. Reprint. Black and white Illustrations. Very good with some rubbing and minor chips to spine. Biographical narrative of America's military genius, Stonewall Jackson. (Offered by Between the Covers Rare Books)
---