While every newspaper is publishing appreciations of the late James Salter, who died last week, few of these pieces mention his exemplary short fiction, instead focusing on the novels. Fewer still will mention an exquisite fine-press, limited edition of his short story "Bangkok," as only 110 were ever printed.
Salter's story "Bangkok" first appeared in the Paris Review in 2003. Raven Editions published a limited edition as part of their series of special editions by distinguished American authors (other books included stories by Raymond Carver, Andre Dubus, and Richard Ford) one year later, in 2004. The story was later included in his 2005 collection of short fiction, Last Night (Knopf).
Publisher's Weekly singled out "Bangkok" for particular praise in their review of Last Night:
"Bangkok" offers a different take on the reunion angle, as a woman tries to tempt an old flame into joining her and her female traveling companion on a sexually adventurous, last-second trip to the Far East, despite his being happily married and claiming to be satisfied with his sedate, settled life.
Bangkok (Signed, Limited Edition) by James Salter., West Hartford: Raven Editions, 2004. First edition. Hardcover. Fine. Wide 8vo. Lovely fine press chapbook containing a single short story by Salter with an original frontis illustration by Dente. A fine copy. This is # IV of XXV special copies SIGNED by Salter and initialed by the artist with the hand colored monoprint by Dente. The whole edition was only 110 copies. Bound with Nepali paper over boards. A truly beautiful fine press volume. (Offered by Derringer Books)
There were three slightly different fine press editions of the story published by Raven Editions. In total, only 110 copies were printed.
Copies numbered 1-75 have as a frontispiece a reproduction of a drypoint by Robert Dente over text, handwritten by James Salter, which are the final paragraphs of the Jean le Negre chapter in" The Enormous Room" by e. e. cummings.
Copies I-XXV have as a frontispiece a hand colored monoprint by Robert Dente, and are bound with Nepali paper over boards.

Search abaa.org for Bangkok by James Salter...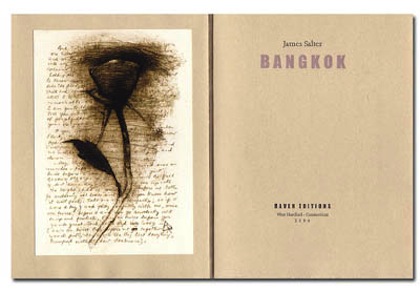 Interior view of Bangkok (Image source: Warwick Press)
Finally, ten presentation copies were reserved for the publisher's use, and have as a frontispiece an amplified hand colored monoprint by Robert Dente.
All copies were signed by the author and the artist. The designer was Carol J. Blinn (of Easthampton's Warwick Press), who letterpress printed and hand bound all copies.
ABAA members have several copies available of these beautiful, and very limited editions, which combine James Salter's exquisite prose with fine art, high craftsmanship, and beautiful bindings to match. Bangkok is a rare, and exceedingly beautiful part of James Salter's important body of work.

Search abaa.org for books by James Salter...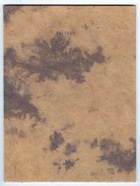 Bangkok by James Salter
West Hartford: Raven Editions, 2004. First edition, limited to 110 copies; numbers 1-75 have a frontispiece reproduction of a drypoint by Robert Dente. Signed by Salter on the limitation page as issued. Copy #27. Sewn and glued into dyed Nepali paper wrappers. Fine condition. Signed by Author. Illus. by Robert Dente. Limited Edition.
Offered by Revere Books.
---
The cover photo of James Salter (Source: windhamcampbell.org) was taken on the occasion of Salter being awarded the 2013 Windham Campell Prize for Fiction.