This week saw the anniversary of George Orwell's birth and the first publication of Pearl S. Buck's The Good Earth, among other milestones. We've featured a few items below that mark these anniversaries, or which simply caught the eye as being a little bit different or interesting.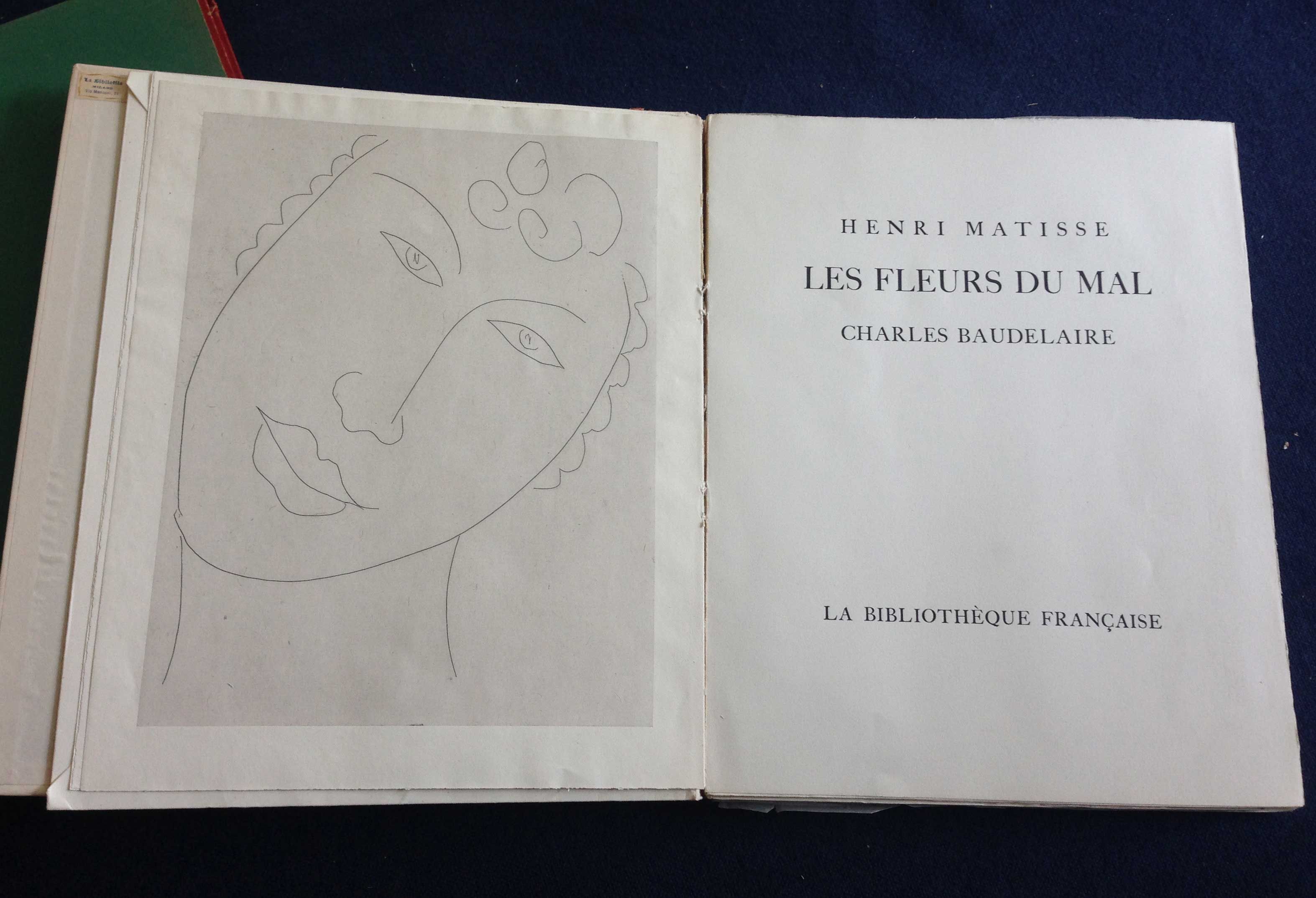 by Charles Baudelaire (Illustrated by Henri Matisse)
1947, Paris. Decorative wrap, designed by Matisse. Slipcase and chemise. One of 300 numbered copies on papier de Rives, signed by Matisse in colophon, from a total edition of 320 copies. With one original aquatint on chine appliqué (frontispiece), 33 full-page photo-lithographs with 29 portraits of women in which Matisse captures expressions and gestures of the passionate and loving feminine nature, 38 line-drawn decorations (10 full-page), of which 2 on the covers, and 33 wood-engraved lettrines; all by Matisse. Condition: Very Good.
Offered by Marinart, Inc.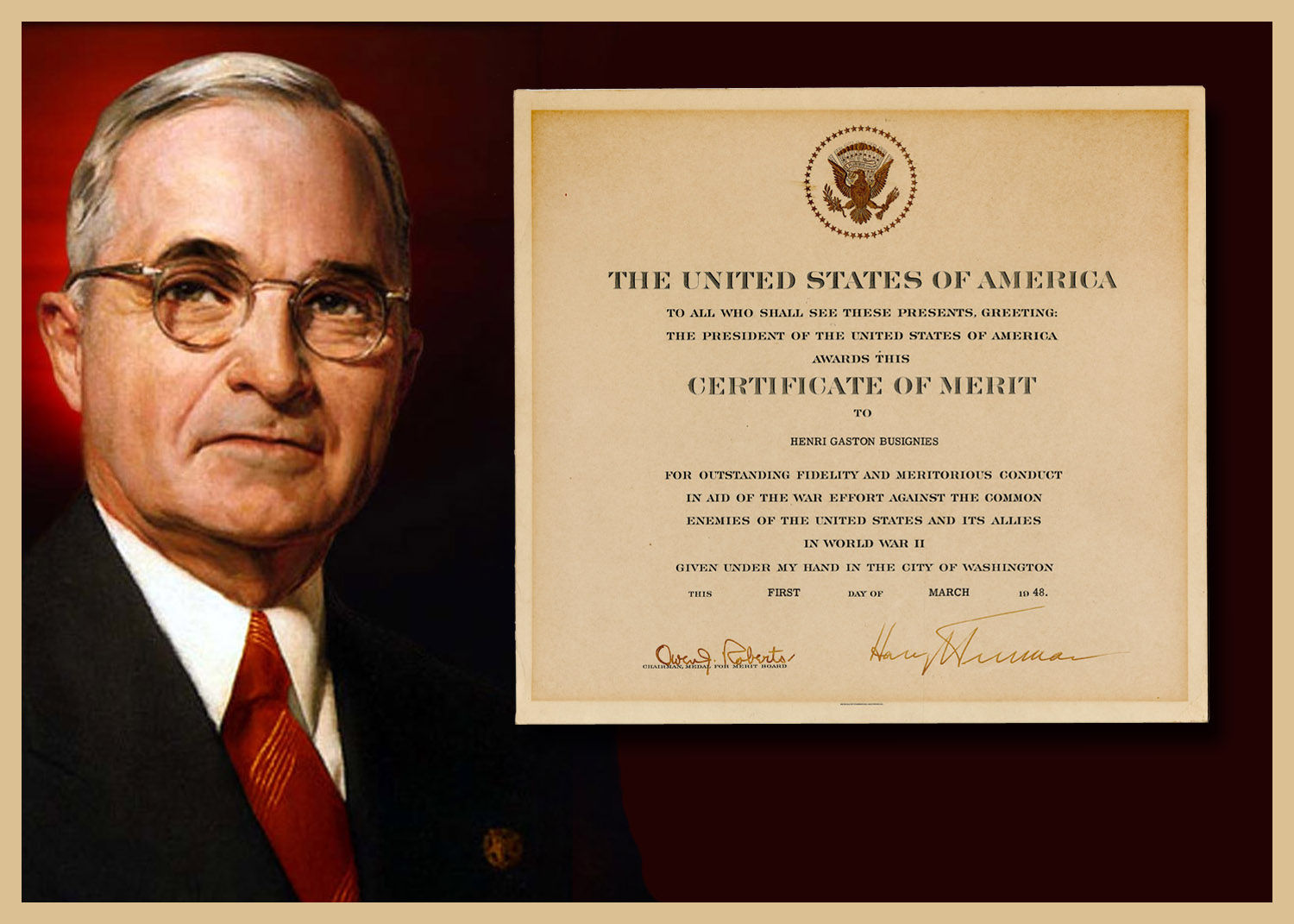 Harry S. Truman Signed Certificate of Merit awarded to Dr. Henri Gaston Busignies
Washington, DC, March 1, 1948. 11" x 10". Partly Printed Document Signed "Harry S. Truman" as President and "Owen J. Roberts" (Supreme Court Justice 1930-1955) as Chairman, Medal for Merit Board, 11" x 10". Washington, March 1, 1948. Completed in type. Mounted on identical size rigid board, rectangular toning from prior display. Fine condition.
By 1940, German U-boats were so damaging that Winston Churchill later commented that it was the only time in World War II that he thought Britain would have to contemplate surrendering. That all changed after the United States entered the war in December 1941. French electronics engineer Henri Gaston Busignies (1905-1981) of ITT's Paris laboratories invented ''Huff-Duff,'' a High-Frequency Direction Finder (H/F-D/F radar). In 1940, he spirited his invention out of France to America. "Huff-Duff" could pinpoint the source of radio transmissions in seconds, helping to thwart the wolf packs of German U-boats, which caused heavy losses to Allied convoys. Combined with British mathematician Alan Turing's development of "The Bombe," an electro-mechanical machine that was used to break the supposedly impenetrable Enigma codes of Nazi Germany (story told in The Imitation Game), countless lives were saved. Huff-Duff and the Bombe yielded the military intelligence that made major contributions to the Allied victory.
Offered by University Archives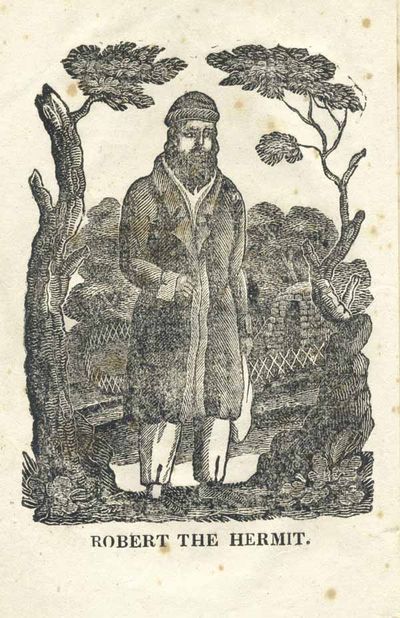 Life and Adventures of Robert, the Hermit of Massachusetts
by Henry Trumbell (Presumed)
Providence: Printed for H. Trumbull, 1829. First edition.. Spine notched in a couple of spots, suggesting perhaps extraction from a nonce volume; some light foxing throughout; a trifle worn and soiled; a very good copy, untrimmed in the original wrappers.. 12mo, original blue wrappers, 36 pages, untrimmed. Frontis portrait of the hermit, Robert Voorhis.
The sympathetic account of the life of a celebrated cave-dwelling African American hermit Robert Voorhis, taken directly from the subject by a sympathetic white author; Roberts was born ca. 1769 into slavery in Princeton, N.J., and later taken to Washington, D.C.; his savings to purchase his freedom were stolen, but he later escaped from a master in Charleston, S.C. aboard a sloop bound for Philadelphia, though he is there kidnapped and returned into slavery before escaping again on a brig bound for Massachusetts, eventually serving some nine years as a merchant seaman. His wife evidently killed herself during one of his voyages and his children apparently died soon thereafter -- "I then felt but little desire to live, as there was nothing then remaining to attach me to this world--and it was at that moment that I formed the determination to retire from it--to become a recluse, and mingle thereafter as little as possible with human society." Trumbull gives an account of Robert's cave (decorated with bones and shells) and the hermit's practice of living simply off the land; Trumbull also concludes with several passages of anti-slavery arguments. Trumbull is noted as copyright holder and is the presumed author, per the copyright declaration; a penciled note in the copy at AAS attributes authorship to Sylvanus Southworth.
Offered by Garrett Scott, Bookseller
---