Gardens grow in the mind and the spirit as much as in the soil. Our western culture offers so much garden literature to the collector who is interested in the Eden-like connection between the inner and outer world, where the garden is both a personal and cultural vision.
Possibly the most classic expression of an earthly Eden comes from one of the pre-eminent minds of Western civilization, Sir Francis Bacon, born in London in 1561. It is a good place to begin.
1. Bacon, Francis. OF GARDENS. (ca. 1625). This brief essay is part of the author's ESSAYES, a series that began in 1597 and grew to contain 58 essays by 1625. "Of Gardens" painted a vivid portrait of a late Tudor ideal. Bacon calls a garden "the greatest refreshment to the spirits of man". In just a few passages, he describes his ideal garden, how it should be configured, where light and shade should play a part, and what should grow in it. His clearly articulated vision has been a standard inspiration for garden lovers ever since.
2. (HILL, Thomas) MOUNTAIN, Didymous , (pseud). THE GARDENERS LABYBRINTH: CONTAINING A DISCOURSE OF THE GARDENERS LIFE. London: 1577. In 1558, Hill, a translator and astrologer, authored a book generally regarded as first English book devoted to gardening: "A most briefe and pleasaunte.treatise....", but this, his second book, was aimed at a wider audience and featured charming woodcut illustrations and an engaging writing style. Hill offered more material in this book, much of it openly borrowed from Continental authors, while entertaining his readers with illustrations that have become some of our best known images of the Elizabethan garden. Now it is generally recognised as the first "popular" gardening book in English. It was more attractively printed than his earlier work and is peopled with figures in period dress performing garden activities with 16th century horticultural tools. The early printings, although numerous into the 17th century, are rare, but not unobtainable. Richard Mabey's twentieth century edition puts the work in historical context and provides additional illustrations.
3. (Dezallier d'Argenville, Antoine-Joseph). LA THEORIE ET PRATIQUE DU JARDINAGE. Paris, 1709. This is arguably the most influential work on garden design of the eighteenth century. It articulates and illustrates the basic principles of the French formal garden as practiced by Andre Le Notre (who did not himself write a treatise) at the Tuileries, Versailles, Vaux –le - Vicomte and elsewhere. The popularity of French garden style spread throughout Europe as this book continued in print for at least six decades. As the garden historian M.L. Gothein has written: "Never before did a book lay down the principles of any style so surely and so intelligibly in instructive precepts." The book was first printed outside of France in Holland with its text illustrations, ornaments and engraved plates of parterres and garden plans carefully re-engraved. An English translation by John James appeared in London in 1712.
4. Loudon, J(ohn). C(laudius). ENCYCLOPAEDIA OF GARDENING; COMPRISING THE THEORY AND PRACTICE OF HORTICULTURE, FLORICULTURE, ARBORICULTURE AND LANDSCAPE GARDENING... London: 1822. J. C. Loudon, born in Scotland in 1783, was a competitor and, eventually, a successor to Humphry Repton. He became the nineteenth century's most influential horticultural journalist and garden writer. His inexhaustible drive to record and observe coincided with the century's explosion in wide scale book publication. By bringing attention to the specific characteristics and botanical origins of the flood of incoming ornamental plants from abroad, he changed the perspective on gardening from the picturesque to the gardenesque (a term he coined in 1832). His ENCYLOPAEDIA - which covered its subject internationally from theoretical, practical and historical viewpoints - was his most successful work and, probably, the most widely used garden book of the Victorian era.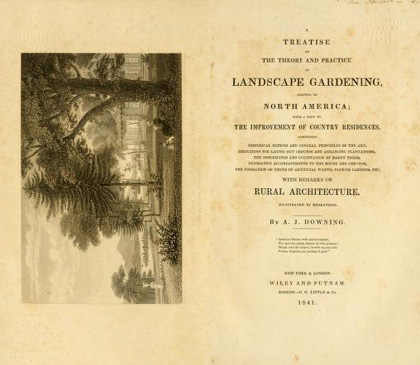 5. DOWNING, Andrew Jackson. A TREATISE ON THE THEORY AND PRACTICE OF LANDSCAPE GARDENING. New York: 1841. Downing, the son of a nurseryman, was born in 1815 at Newburgh, New York. In his short life (he died in an accident in 1852), he heralded a massive change in the 19th century American cultural landscape through his writings and advocacy, opening up a vision of picturesque informality keenly integrated with residential country architecture and an appreciation for the importance of urban parks. His TREATISE was among the most influential works on any aspect of design or taste published in 19th century America. Its numerous printings in various editions had a profound and lasting impact on the landscape of America. In addition to identifying and teaching about the characteristics and appropriate uses of trees, it analysed historic styles in gardening through the centuries; taught the principles to follow in the construction of drives, garden walks and water features; and, importantly, discussed the "value of a proper connection between house and grounds".
6. Jekyll, Gertrude. COLOUR IN THE FLOWER GARDEN. London, 1908. Later editions, starting in 1914, were titled COLOUR SCHEMES FOR THE FLOWER GARDENS. No list for the beginning garden book collector would be complete without mention of Gertrude Jekyll - plantswoman, artist, craftswoman and prolific writer. Her collaborations with architect Edwin Lutyens on English country places place her firmly in the Arts & Crafts Movement. Her writings swept gardening practice into a refreshed approach to creating art out of the natural world. In COLOUR IN THE GARDEN, Jekyll began to bring together her ideas on the harmonious composition of herbaceous borders and on the theories of colour which should govern plant selection in them. These ideas were probably her most important contribution to the art of garden design, making this book widely recognised as her most important and influential.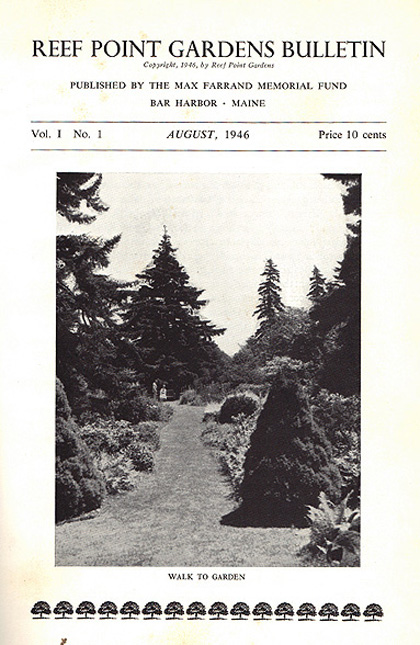 7. FARRAND, Beatrix. REEF POINT GARDENS BULLETIN. 1963. Born in New York in 1872, Beatrix Farrand became one of America's first fully professional female landscape architects and the only female founding member of the American Society of Landscape Architects. Her fortunate connections - she was a student of Charles S. Sargent at the Arnold Arboretum and the niece of the novelist Edith Wharton - opened doors for her to an enviable education in the arts which she enhanced by wide travelling throughout Europe. She visited and learned from Gertrude Jekyll and William Robinson. She made her mark on the American landscape with brilliant designs for private and institutional clients, most notably at Dumbarton Oaks gardens in Washington, D.C., Together with her husband , Max Farrand, she developed a "plantation for teaching" at their family home, Reef Point, in Bar Harbor, Maine. This collection of bulletins, assembled as a single volume after her death, contains her own contributions demonstrating her gift for understanding plant harmony in a natural landscape; the reports of the horticulturist at the gardens; an account of Reef Point's native flora garden, and an introduction to the library there (now at UCLA, Berkeley) through its collection of early prints.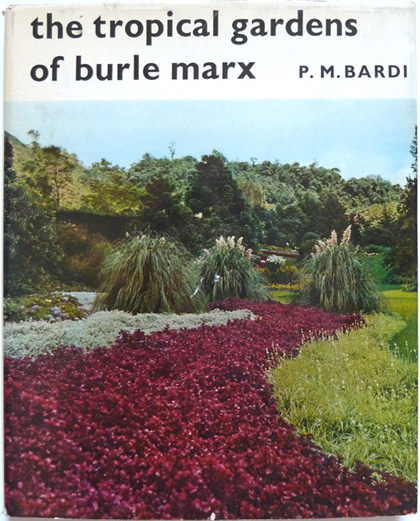 8. Bardi, P. THE TROPICAL GARDENS OF BURLE MARX. London, 1964. Roberto Burle Marx was a plantsman, artist and landscape architect from Brazil who combined a profound knowledge of his dramatic native flora with his own immersion in the currents of contemporary art to produce a vital and creative vision of landscape and horticulture for personal and civic use. This book, with its text in English, German and Italian, was among the first to introduce his work to the public at large. His avant-garde use of color, form and space along with his revolutionary use of native plant material brought many leaders in the field to consider him the finest garden artist working at the end of the twentieth century.
Two Important Reference Books:
9. Henrey, Blanche. BRITISH BOTANICAL AND HORTICULTURAL LITERATURE BEFORE 1800. Comprising a History and Bibliography of Botanical and Horticultural Books Printed in England, Scotland, and Ireland from the earliest times until 1800. London: Oxford University Press, 1975. In three volumes. An essential reference for any serious collector.
10. Bailey, L(iberty) .H(yde). THE STANDARD CYCLOPEDIA OF HORTICULTURE. New York: (1914-1917) First published in six volumes and later compressed, without loss, into three, this comprehensive work is still a basic general reference for American horticulture. For collectors, it is also valuable for its extensive biographical accounts of important early American horticulturalists and its still unsurpassed 40 page bibliography of American horticultural literature before the first World War.
---