Much has been written in the wake of Ian Fraser "Lemmy" Kilmister's passing. But lost amidst all the accolades and remembrances of the Motorhead frontman who married the sounds of heavy metal and punk and almost single-handedly invented thrash is the fact that he was the son of a librarian and an avid reader throughout his life (one assumes this was by virtue of nurture, rather than nature, as his father was a minister in the Royal Air Force).

One might not expect the artist who wrote "Killed by Death" and "The Game," the entrance theme song for WWE wrestler Triple H, to be particularly bookish. But as his friend and sometime collaborator Ozzy Osbourne recalled, there was much more to the man than his legendary appetite for booze and speed:
"To look at Lemmy, you'd never think he was as educated as he was. People look at the music we do and the way we look, and they go, 'Oh, this bunch is a bunch of yobbos. They don't know what they're doing. They're bad people.' But it's not true. Lemmy looks like an old biker, but he was so well read. He was very up on a lot of things. He was a very clever guy. On his bus on the first tour, he had a plaid suitcase and all he had in there was a pair of knickers and a pair of socks, and the rest was books. When he stayed with us, he'd stay in the library for three days, reading f—ing books."
Though the imagery of most Motorhead songs tended towards the sex, drugs, and rock 'n' roll lifestyle Lemmy embodied, literature would from time to time provide the inspiration:
"I was reading Len Deighton's book Bomber at the time I wrote it. It's about a bombing raid on Germany when the British hit the wrong town, and it's what goes on the floor in the air from both sides. It's a really good book. You should read it. "Bomber" was the first song I wrote about war." -- Lemmy Kilmister in a 2015 interview with Rolling Stone
Military history was a particular passion of Kilmister's – he also amassed an impressive collection of weaponry and regalia – and various aspects of warfare are reflected in the Motorhead canon, most notably the title track of the album 1916 (1991), a tribute to and reflection on the young soldiers who fell in World War I. As Lemmy recalled in his 2002 memoir White Line Fever:
"I wrote the words before the music. It's about the Battle of Somme in World War I … Nineteen thousand Englishmen were killed before noon, a whole generation destroyed, in three hours – think about it! It was terrible – there were three or four towns in northern Lancashire and south Yorkshire where that whole generation of men were completely wiped out."
Armed with this knowledge, I once sent Lemmy a rather uncommon work on armored cavalry tactics hoping to spark a dialogue with this hero of mine -- I also made a number of pilgrimages to Lemmy's favorite bar, The Rainbow on the Sunset Strip, only to find his Jack Daniels-endorsed stool empty -- but alas, it wasn't meant to be. These disappointments didn't deter me from continuing to collect Motorhead material for the Collection of Heavy Metal Music Materials at UCLA and for my own collection. In fact, one of the highlights of UCLA's collection is a studded battlevest with a Motorhead backpatch my wife Jen and I admired at a concert here in Los Angeles and were fortunate to acquire at a later date. Recently, noted documentary photographer Peter Beste (Houston Rap, True Norwegian Black Metal) paid a visit to UCLA to shoot the battlevest for a forthcoming project.
---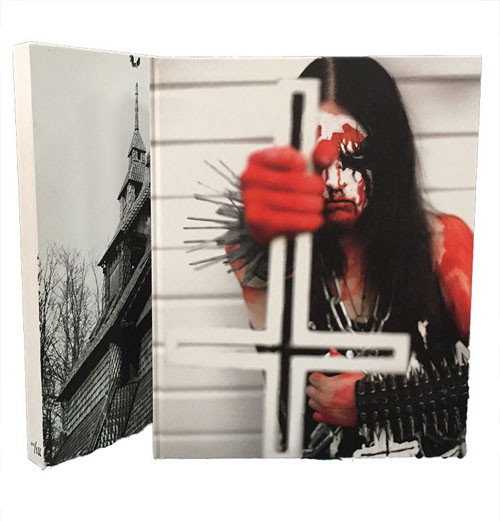 True Norwegian Black Metal by Peter Beste
Brooklyn, New York: Vice Books, 2008. Book. Fine. Hardcover. Signed by Author(s). First Edition. Photography by Peter Beste. Edited by Johan Kugelberg. Introduction by Jon "Metalion" Kristiansen. First edition, #111 of 666 copies signed by Beste on a printed slip that is laid in alongside a numbered and signed photographic print and poster. Over the course of eight years, Beste traveled to Norway thirteen times to photograph the blackest of the black: apolitical and anti-Christian separatist self-preservationists. He came away with more than 200 images of both the absurd and the deadly serious, real and fake blood, church crosses and inverted ones worn as the jewelry de rigeur, all set against the country's idyllic landscape. This unprecedented photographic journey is accompanied by a black metal history timeline, from Norway's conversion to Christianity to the arrival of every classic band and landmark album; additional photographs and articles from Norway's Slayer Mag, and tabloid stories on some of the infamous events associated with the movement. Folio. Original pictorial boards; issued without a dust jacket. A fine copy in the publisher's slipcase. Accompanied by a numbered and signed poster (24" x 18") for the 2008 exhibition of Beste's work at Zune LA. (Offered by The Book Shop)
---
More recently, at the 2015 Seattle Antiquarian Book Fair, Jon Munster of The Book Bin in Corvalis, Oregon offered me a copy of the second issue of the '70s British zine Sniffin' Flowers (a playful nod to the iconic punk zine Sniffin' Glue), which includes an interview with Hawkwind's Dave Brock and Bob Calvert that speaks to Lemmy's new band (Calvert actually suggests that Hawkwind is to Motorhead what the Grateful Dead are to the New Riders of the Purple Sage); and last month, I purchased the set list from Motorhead's October 3, 1996 concert at The Viper Room in Hollywood, which is boldly signed by Lemmy on the front. Important heavy metal material is scarce – most metalheads take these collections to their grave or Viking funeral pyre, as the case may be – and while I am genuinely thrilled to be in possession of these pieces, I am just as excited by what I might find scouring the floor at the forthcoming 49th California International Antiquarian Book Fair, February 12-14, 2016 in Pasadena.
---
1980s-1990s California Metal Concert Flyers
California. 1980-1990. A collection of 44 flyers, business cards, and handbills promoting Los Angeles metal venues and bands from the 1980s-1990s featuring acts such as Sepultura, Gwar, Saint Vitus, Abraxas, Slayer, Wool, Ulysses Siren, Raw Flower, Resistant Militia, Papa Wheelie, and others. (Offered by Between the Covers Rare Books)
---
You never know what one may stumble upon at an event like this, and while you may not find exactly what you're looking for, the experience is always well worth the effort – or, as Lemmy says: "you win some, lose some, all the same to me"