Reading resolutions are becoming more common. Following the VIDA report on the paucity of reviews for books by women versus books by men in national newspapers and magazines, a lot of people resolved to read only women authors in 2014. Others resolved to read only young adult fiction, or to spend a year re-reading their favorite books. I usually tread the well-worn path of reading whatever I feel like, and end up with mostly new fiction and nonfiction, with a few old favorites thrown into the mix -- along with whatever books my teenagers tell me are "really cool."
This year, I've resolved to read all of Colm Tóibín's fiction, and as much of his nonfiction as I can manage.
Why Colm Tóibín?
Well to start with, I'm Irish, and primarily read Irish writers. Colm Tóibín has become perhaps the finest Irish novelist currently working, and maybe one of the finest in the world, scooping major awards for his fiction (The Master), seeing a play produced on Broadway (The Testament of Mary), and his novels are now being adapted by Hollywood (Brooklyn).
For the longest time, I was resistant to reading Tóibín. He's a generation older than me, and I had the impression (wrongly) that many of his novels were about the Ireland of the 1950s, a stereo-typically repressed time that in my younger days I thought had little relevance for me, a modern Irishman, an emigrant-by-choice, and techno-savvy citizen of the world.
As time went on, I realized contemporary Ireland is sadly not so very different to past decades, and although the realities of 21st century emigration are much more fluid than in the past the experience of emigration has similarities, so books from and about mid-twentieth century Ireland began to feel quite relevant.
Also, I began reading Tóibín occasionally, and was amazed by his craft as a writer. Novels like Brooklyn explore the experience of emigration, the excitement of new beginnings, and the freedom of escape from the known, Nora Webster reveals the personal rebellions and lived experience of ordinary people in the turbulent 1960s and '70s, and his short fiction… Oh! Tóibín's short fiction is just magnificent!
After reading half his fiction piecemeal over time, I now want to read it all and read/reread it in order. I hope to see how his craft grew, and understand the themes he returns to and how the treatment of them changed over time.
Tóibín has been a prolific author over the past three decades, publishing eight novels and two collections of short fiction. In the same time, he's written15 works of nonfiction, and edited several more. Given that I usually finish 55-60 books a year, Tóibín could take up a large chunk of my reading time this year.
Fiction:
The South (1990)
The Heather Blazing (1992)
The Story of the Night (1996)
The Blackwater Lightship (1999)
The Master (2004)
Mothers and Sons (2006)
Brooklyn (2009)
The Empty Family (2010)
The Testament of Mary (2012)
Nora Webster (2014)
Selected Nonfiction:
Homage to Barcelona (1990)
Bad Blood: A Walk Along the Irish Border (1994)
The Sign of the Cross: Travels in Catholic Europe (1994)
Love in a Dark Time (2002)
Lady Gregory's Toothbrush (2002)
A Guest at the Feast (2011)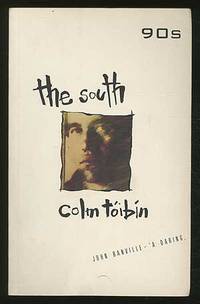 First up is his debut novel, The South, the story of an Irish woman who leaves her marriage and her home and moves to Spain in the 1950s, determined to reinvent herself as an artist. It's not one of the novels I've read before, so I'm doubly excited. Tóibín himself left Ireland to live in Spain after completing his academic studies (which he wrote about in Homage to Barcelona -- the second Tóibín book I plan to read) and this novel came out of that experience, so there's likely some autobiographical parallels in The South, as there are in his most-recent novel, Nora Webster.
My goal is to read all the fiction, and fit in some of the nonfiction as well. Given that some of that was published years ago by small presses (some of which were never published in the U.S.), it's likely that the ABAA website will be a useful tool to help track down hard-to-find and rare copies.
---
What about you? Is anyone else embarking on any reading resolutions in 2015?