During the twentieth century, Los Angeles produced a number of fine printers, Saul Marks and Ward Ritchie being familiar names. Perhaps not as well-known was Richard John Hoffman (1912-1989), a native of the city, with a massive output of printed work. Hoffman himself estimated his production at 15 to 20 items of printed material per week over a career spanning 66 years - that comes close to 50,000 items. Not all of it could be described as "fine printing." Hoffman worked at Los Angeles City College as a teacher and an academic printer from 1933 to 1959, and was an instructor in Graphic Design and Director of the Printing Management Program at California State University, Los Angeles from 1959 to 1978. Upon his retirement he continued to produce printed work of a very high caliber.
Hoffman was not a flamboyant character. In 1924, when he was 12, Richard Hoffman helped Francis C. Lofthouse install a printing press in the belfry tower of Trinity Baptist Church in East Los Angeles so that church bulletins could be printed. He married Lofthouse's daughter Ruth in 1934; they were married for 55 years. Hoffman's first employment was from 1925-1928, at the printing office of George Hillenbrand in Monterey Park, distributing type. He enrolled in Los Angeles Junior College in 1930, and began to work at the College Press as typographic editor for student publications, and edited the 1932 yearbook. Upon graduation in 1933 he became assistant manager of the College Press. At this time he was printing announcements, catalogs, forms, and other material needed in the operation of the college.
Hoffman's first book was issued in 1933, Cornel Lengyel's Thirty Pieces, a book of poetry by a student at Los Angeles Junior College, who would go on to become an important poet, playwright, and historian. Hoffman's work at this time was cautious and used traditional typefaces, with the occasional ornament. He published other books by teachers in the College, typically poetry, and these were often part of teaching assignments for students in the printing department. Now they are relatively scarce items through which one can trace the development of Hoffman's design sensibilities.
As a teacher, Hoffman developed a refined ability to express complicated elements of design and the finer points of press work in simple and direct language, and often with wry humor that was very attractive to students.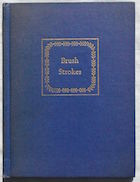 Hoffman's teaching method included opportunities for students to produce a book or pamphlet by themselves. These projects were designed by the instructor and executed by the student. Because these works incorporated Hoffman's designs, they are often interesting specimens of fine printing in their own right. The collector can study these productions over the years 1933 to 1959 to understand Hoffman's development as a printer and designer. An example of this type of publication is Nina Willis Walter's Brush Strokes, (1948).
Up until 1959, Hoffman's career was focused on three areas: 1) teaching in the Journalism and Graphic Arts Department at Los Angeles City College; 2) management of the College Press; and 3) his own private printing activities. When Hoffman left LACC, four different individuals assumed his responsibilities - one manager of the College Press; one teacher of Hoffman's typography classes; a new Chair of the Journalism and Graphic Arts Department; and a faculty advisor to the college newspaper.
In 1959, when Hoffman went to work at California State University, Los Angeles, his responsibilities included teaching, but he also began to focus his efforts at increasing the printing equipment available at the university in order to develop a program of fine printing to be taught to the students. Of special notice is the Columbian hand press - Number 415 in the Columbian series designed by George Clymer - that was purchased at auction in 1974 by Edward Petko and placed on loan at the CSULA Graphic Arts Laboratory.
When the press arrived in Los Angeles from the London auction in 1975, it was unworkable due to poor packing for its journey. Five of Hoffman's students spent over one hundred hours each restoring the press for use. It was restored in time to produce by hand a facsimile edition of the Declaration of Independence for the 1976 Bicentennial. This project won local and national attention for the CSULA program and was covered in both professional and popular media.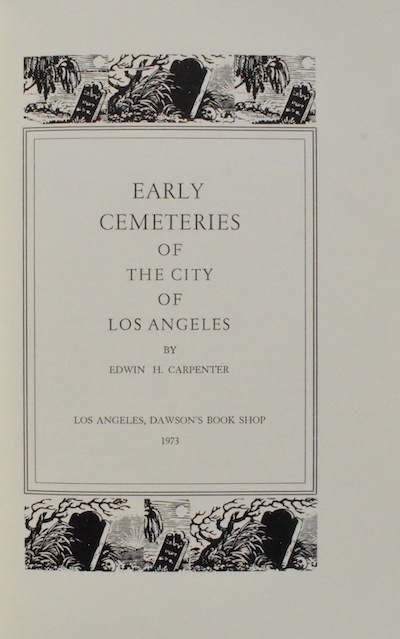 From 1959 until his retirement from CSULA in 1979, Hoffman found his teaching duties allowed more time for a variety of printing projects. Hoffman could always be counted on to provide printing for a wide range of needs. Beginning in 1962, Dawson's Book Shop (continuing a relationship that dated back to 1957) engaged Hoffman to print the California Famous Trials Series, 10 volumes that Hoffman designed. Later, Dawson's began the Los Angeles Miscellany Series, which ran to sixteen volumes, twelve of which were designed and printed by Richard Hoffman and his students, each book with a distinctive design despite their uniform size.
Richard Hoffman never operated a printing press with an imprint that took in job work, with a paid staff, printing equipment, and a mortgage or rent on a building, as Saul Marks and Ward Ritchie had done. Instead, he informally took on work requested by others. Those who wanted the work done paid for the materials. Hoffman developed the graphic designs. But Hoffman recruited his students to do the composition, press work, and binding. This was beneficial for the students because it gave them hands-on experience producing books and pamphlets. By these means, Hoffman could keep the costs down for his patrons, such as Dawson's, who in turn were able to make a wide range of limited edition publications affordable to the public, or allowed authors of modest means to publish their own books. Those who benefited from Hoffman's practice included libraries, churches, educational institutions, book clubs, and others.
Throughout his life, Hoffman printed material of a private nature, some for himself, and some for others. Hoffman produced private Christmas publications from 1929 to 1989. This involved the selection of copy, but Hoffman never repeated the content nor the form, producing everything from a simple card to elaborately decorated booklets. Hoffman printed announcements and other ephemera for the Rounce & Coffin Club from 1938-1989, designed and printed announcements for the Zamorano Club from 1970 to 1989, and designed and printed a series of 89 musical programs for Cora I. Upp, a local piano teacher, from1946 to 1977. These items display the craftsmanship and imagination Hoffman brought to even the most routine jobs. Hoffman's Christmas publications and Upp's music programs now reside in the California State Library in Sacramento.
Some time around 1970, Hoffman suffered a tumor in his neck, and the radiation treatment of the time left him with impaired speech. While he continued to lecture for several years, his retirement came in 1978 at the age of 66. But his retirement did not mean that he slowed down. The Columbian 415 which had been on loan to CSULA, came to his home in Van Nuys, as did the types gathered at the University. Hoffman spent many productive years at home, practicing his printing craft. But he was not alone. He formed the Columbian 415 Chappel, which brought his former students to his home on the first Sunday of the month for socializing and printing activities. He and John Urabec, a fellow member of the Zamorano Club, met every Friday to make by hand the Urabec-Hoffman all-rag paper that was used to print the books that Hoffman produced. "In the final decade of this life, RJH designed, composed and printed over 150 books, broadsides and pamphlets." (Petko, Tribute, p. 33).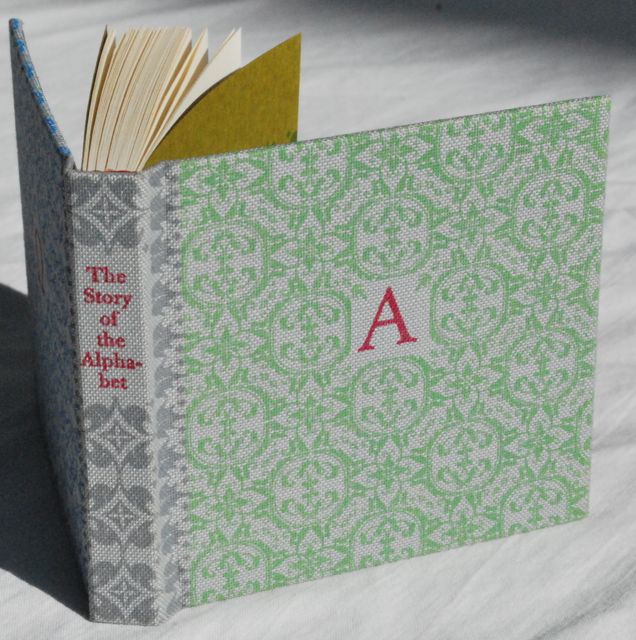 In many ways, these years were the most creative and productive of Hoffman's life. During this time, Hoffman printed a miniature edition of Otto Ege's The Story of the Alphabet (1988). This book was outstanding for its use of metal type ornaments. Each opening contains Ege's text on the left page, and on the opposite page Hoffman used metal ornaments and flowers to decorate each letter of the alphabet. Their beauty and variety are exceptional.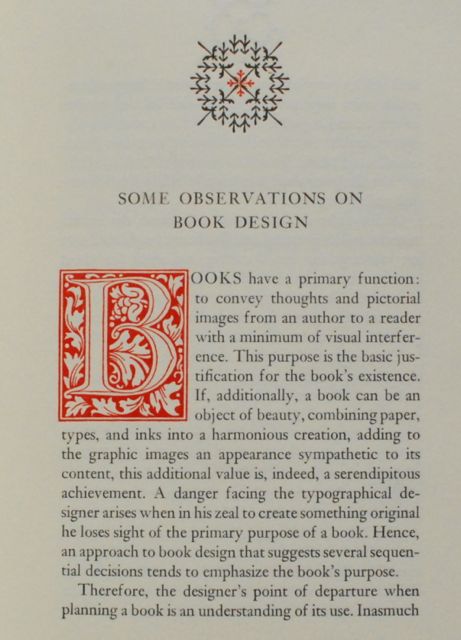 Hoffman's own text, Some Observations on Book Design (1986), exemplifies his succinct teaching style. In 12 short pages, Hoffman lays out everything the reader needs to know about how to create a book. His words are so direct and convincing they even persuade this non-printer and non-designer that he could go out and make a book today. It also displays Hoffman's eye for color and the use of sixteenth- and seventeenth-century ornamental initial letters to open the first line of the text within a book, printed in contrasting colors.
Finally, his magnum opus is his When a Printer Plays (1987), a book upon which Hoffman lavished the utmost care upon every detail of typesetting, arrangement, margins, proportions, multi-colored patterns, and illustrations. It presents in a single volume the "history of fleurons and their usage, supplemented by over 200 of his own designs and inventions." Petko, Tribute, p. 33.
Petko's Tribute contains a bibliography of 640 carefully selected items printed by Richard Hoffman from 1927-1989, including 173 announcements printed for Zamorano Club Meetings, and 39 announcements of The Rounce & Coffin Club printed by Hoffman. Many of these items can be found at modest prices and can be a fun way to introduce the budding collector to the enjoyment of collecting books and printed ephemera.
BIBLIOGRAPHY

BOWER, Richard J., et al. Celebrating the Life: Richard J. Hoffman. [Los Angeles: Ruth
L. Hoffman, 1994].
DOCTER, Richard F. Impressions of a Printer: Richard J. Hoffman. Los Angeles: Oral History Program, University of California, Los Angeles, 1989.
ENGEL, Dennis L. The Presses and Printing of Richard J. Hoffman. (LosAngeles): Graduate School of Library and Information Science, UCLA, 1977.
LIPTON, Ethan B., editor. Richard J. Hoffman: Printer and Teacher of Printing. Los Angeles: California State University, Los Angeles, 1978.
PETKO, Edward. At Seventy: Richard J. Hoffman. Text by Edward Petko. Los Angeles: Columbian 415 Chappel, 1982.
PETKO, Edward Repan. A Tribute to the Work of Richard John Hoffman, Master Printer and Teacher. Los Angeles: The Zamorano Club, 2002
ZARCOFF, Gregory and ZARCOFF, Wendy. Richard J. Hoffman, 1912-1989. Van Nuys: n. p., 1989.