ABAA members will be bringing their best items to the 56th annual New York Antiquarian Book Fair during the second week of April, 2016. Below, we have a few highlights from our members (in no particular order): exceedingly rare books, unique records, and one-of-a-kind ephemera to give a brief flavor of the treasures that await discovery in New York.
Members submitted so many featured items that we've had to split the list into two parts. Tune in next week for another sneak-peak at items you'll find at this year's New York Antiquarian Book Fair. (For more details on the book fair, click here...)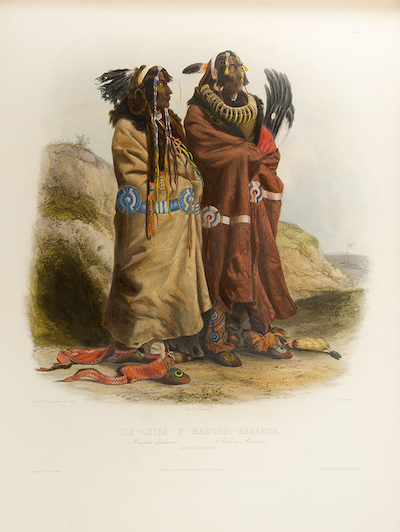 BODMER, Karl (1809-1893, illustrator) -- Prince Maximilian zu WIED-NEUWIED (1782-1867). Voyage dans l'Intérieur de l'Amérique du Nord execute pendant les années 1832, 1833 et 1834.
Paris: Chez Arthus Bertrand, 1840-1843. 4 volumes (text: 3 volumes, 8vo (9 1/2 x 6 1/4 inches); atlas: 1 oblong folio (17 x 23 1/2 inches)). French text: Half-titles, 1 lithographic plan, 31 plates of wood-engraved vignettes, 6 wood-engraved illustrations, large engraved folding map. Atlas: 81 engraved and aquatint plates (48 large aquatint tableau plates (19 hand coloured), 33 vignette plates on full folio sheets (7 hand coloured), all after Bodmer. The greatest illustrated American travel narrative and the most important depiction of American Indians in the frontier era: a very rare issue with the best plates hand-coloured. (Offered by Donald A. Heald Rare Books)
---
KNAUSGÅRD, Karl Ove. Min Kamp. Bok 1[-6].
Oslo: Forlaget Oktober, 2009-2011. First editions. [435]; [563]; [423]; [473]; [608]; [1120] pp. Black boards, spines lettered in white, with the dust jackets. A complete set of the true first edition in Norwegian of the great literary sensation of the decade, if not the century so far. Knausgård's six-volume series excavating the depths and minutiae of his everyday life adds up to a greater whole and makes for inexplicably compelling reading. Some slight rubbing and minor wear to some jackets, spine of volume six slightly rolled, but overall a near fine set. All six volumes have been signed by the author on the title-page and dated in May 2014. (Offered by Triolet Rare Books)
---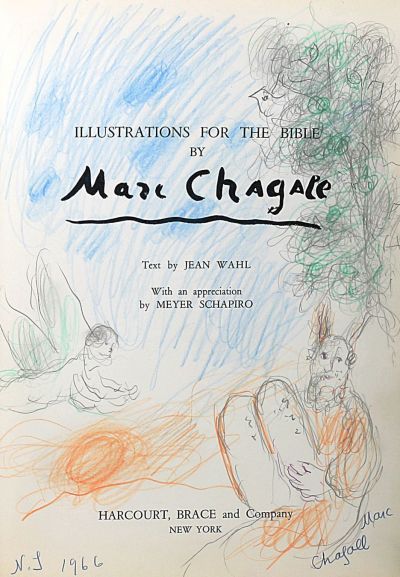 Marc Chagall, Illustrations for the Bible
First American edition, INSCRIBED BY CHAGALL AND WITH STUNNING ORIGINAL FULL-PAGE COLOR DRAWING of Moses receiving the tablets on title page. With important provenance.

The astonishing original Chagall drawing, which fills nearly the entire title page (10.5x14 inches) depicts Moses receiving the Ten Commandments with an angel to his side. On the right border a dove emerges from a tree and above all is a rich, blue sky. Composed with orange, blue, and green crayons, pencil, and ink. Complete with 16 lithographs in color, 12 in black and white, plus the lithograph cover, all specially created for this book. Also illustrated with reproductions in heliogravure of the 105 etchings made by Chagall for the illustrations of the Bible.

Provenance: Inscribed by Chagall: "Pour Lenette et George Nayor --> NJ 1966 Marc Chagall" and from the collection of Herman Krawitz, former assistant general manager of the Metropolitan Opera House. Krawitz was the son-in-law of the dedicatees Lenette and George Nayor.

"Herman Krawitz worked for the Metropolitan Opera for nineteen years, with nine of those years as Assistant General Manager. During this time he worked closely with Marc Chagall... In 1966, Chagall painted two monumental murals for the outside of the Metropolitan Opera in New York... On display in the lobby, the murals are approximately 30 ft (9.1 m) by 36 ft (11 m) and visible to the outside plaza. The south wall holds the work entitled The Triumph of Music while the north wall containsThe Sources of Music" (Llyn Towner, "Herman Krawitz 'Working with Chagall'"). Note: The inscription is dated 1966, the same year Krawitz was working with Chagall on the murals.

New York: Harcourt, Brace and Company, 1956. Folio, original pictorial (lithographed) boards, original dust jacket. Book with tape residue to endpapers, otherwise book and lithographs fine; extremely scarce dust jacket (almost never seen) with chipping, edgewear, and damage to spine. A REMARKABLE, ORIGINAL CHAGALL WORK. (Offered by Manhattan Rare Book Company)
---
An Astounding Run of all the Holmes and Watson Stories in the Strand Magazines (London and NY, 1891–1927).
75 vols. 1st editions. The 1st appearances anywhere, in the original monthly parts, of the Adventures, Memoirs, Hound (NY and London), Return, Valley, Last Bow, and Casebook, being all 56 Holmes short stories that Doyle ever wrote, and the 2 novels that were published in these magazines (only A Study in Scarlet and The Sign of Four were not published in The Strand). (Offered by Biblioctopus)
---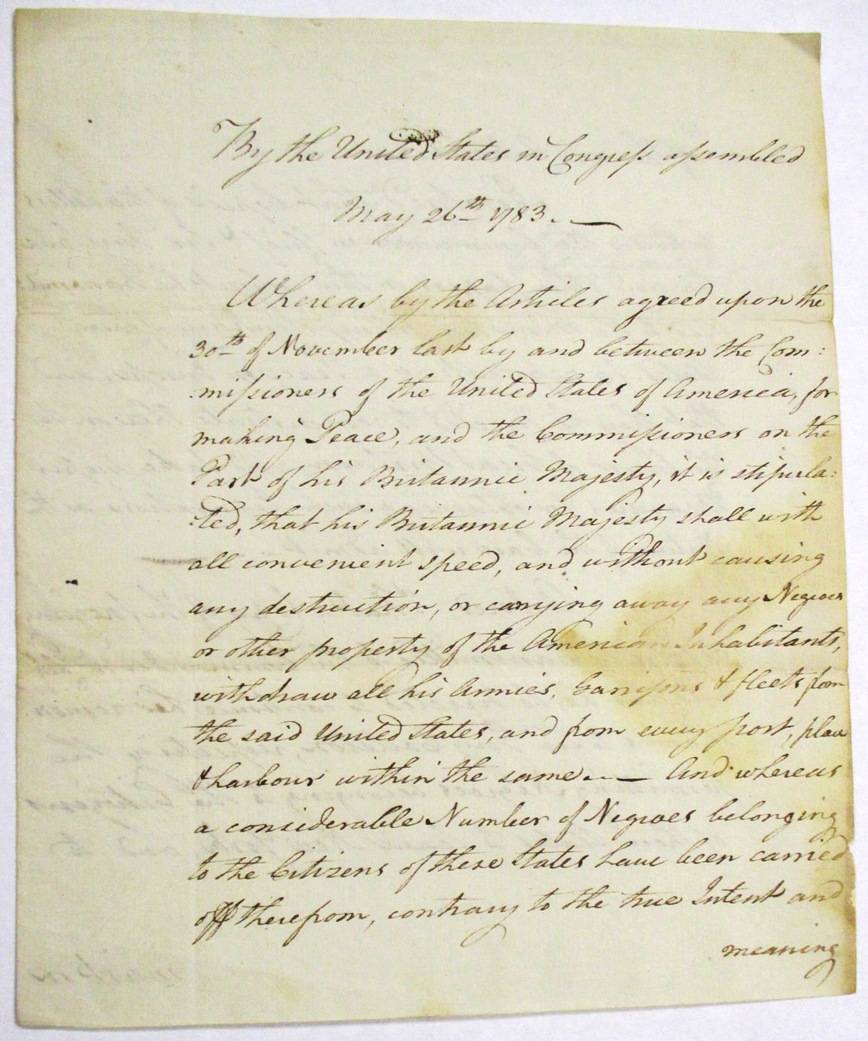 CONTEMPORARY MANUSCRIPT COPY OF THE CONTINENTAL CONGRESS'S RESOLUTION, INTRODUCED BY ALEXANDER HAMILTON, PROTESTING BRITAIN'S
"CARRYING AWAY" A "CONSIDERABLE NUMBER OF NEGROES BELONGING TO THE CITIZENS OF THESE STATES," MAY 26, 1783.
Philadelphia: May 26, 1783. Folio leaf folded to [4] pp, each page 7-1/4" x 8 3/4". Several light but large spots, not affecting legibility, else Very Good. Docketed on page [4]: "ACT OF CONGRESS- MAY 26TH 1783." The Resolution, entirely in manuscript, is signed in the same hand, 'Chas. Thomson, Secy.' Probably not written and signed by Thomson, but by one of his assistants; a reasonable candidate is George Bond, who was Deputy Secretary until October 1783. Samples of his handwriting closely match this document. (Offered by David M. Lesser, Fine Antiquarian Books)
---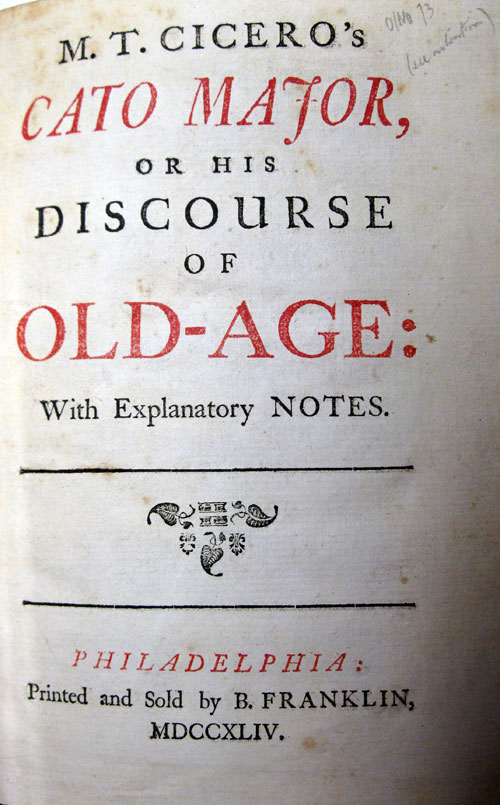 Marcus Tullius Cicero, Cato Major, or His Discourse of Old-Age
(Philadelphia: Printed by Benjamin Franklin, 1744). The most famous, and most beautiful, book to come from Benjamin Franklin's printing press. A handsome copy in the original calfskin binding. (Offered by Joseph J. Felcone, Inc.)
---
Learn more about the 2016 New York Antiquarian Book Fair...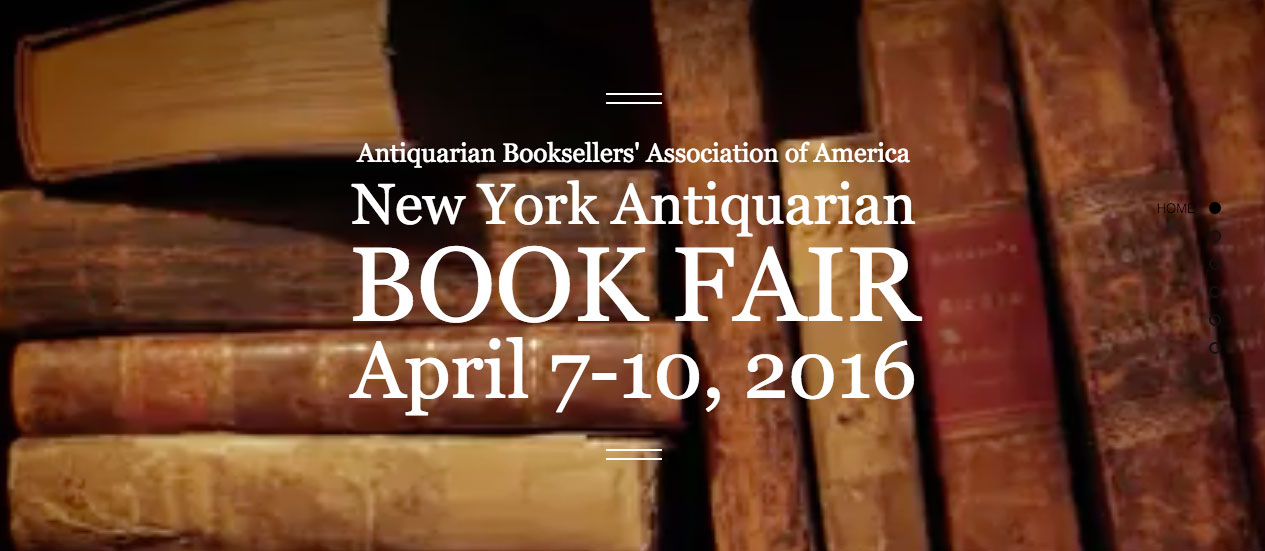 ---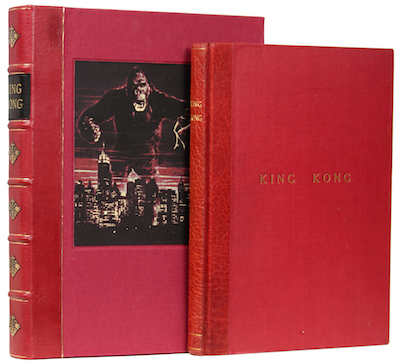 Creelman, James A. and Ruth Rose. KONG
1932. Quarto, [1] 2-105 leaves (including pages marked "changes 9/1/32," "changes 8/9/32 [sic, 9/8/32?]," and "changes 9/6/32") mimeographed on plain white stock on rectos only, four inserted plates with photographs (silverprints) of production drawings, quarter red crushed morocco and red cloth, titled "King Kong" in gold on front and spine panels, decorated endpapers printed in red.

A keepsake script, inscribed by director Merian C. Cooper on front free endpaper: "With best wishes for / a Merry Christmas / Merian C. Cooper." This script written by Ruth Rose with James A. Creelman, is the earliest mimeographed script for KING KONG (Edgar Wallace's earlier typescript treatment was never mimeographed). The script includes several scenes cut from the film and the

ending is done somewhat differently (pages 95-99 of the ending are marked "changes 9/6/32"). Four advance publicity stills (in sepia color) based on the storyboard art are bound in (famous images, including that of Kong astride the New York Skyline clutching a blonde woman). Aside from this copy, four other original mimeographed scripts are known; one held by the UCLA film school (which is similar to this copy -- and which has been reproduced -- photocopies of which are in circulation); the two other versions, one dated 24 August 1932, the other dated 23 February 1933, are both held by the British Film Institute. A copy of the 23 February 1933 version, a post-production continuity script totaling 148 leaves, is also at the University of California, Riverside. A keepsake script is the most desirable form of original film script, making this the best possible issue of the script for the most famous monster movie ever made. We know of no other copies and believe it to be unique. "'King Kong' is the primitive ancestor of the big-budget, special-effects-laden, fantastic spectacles that came to dominate feature films in the late 20th and early 21st centuries. (Offered by John W. Knott, Jr., Bookseller)
---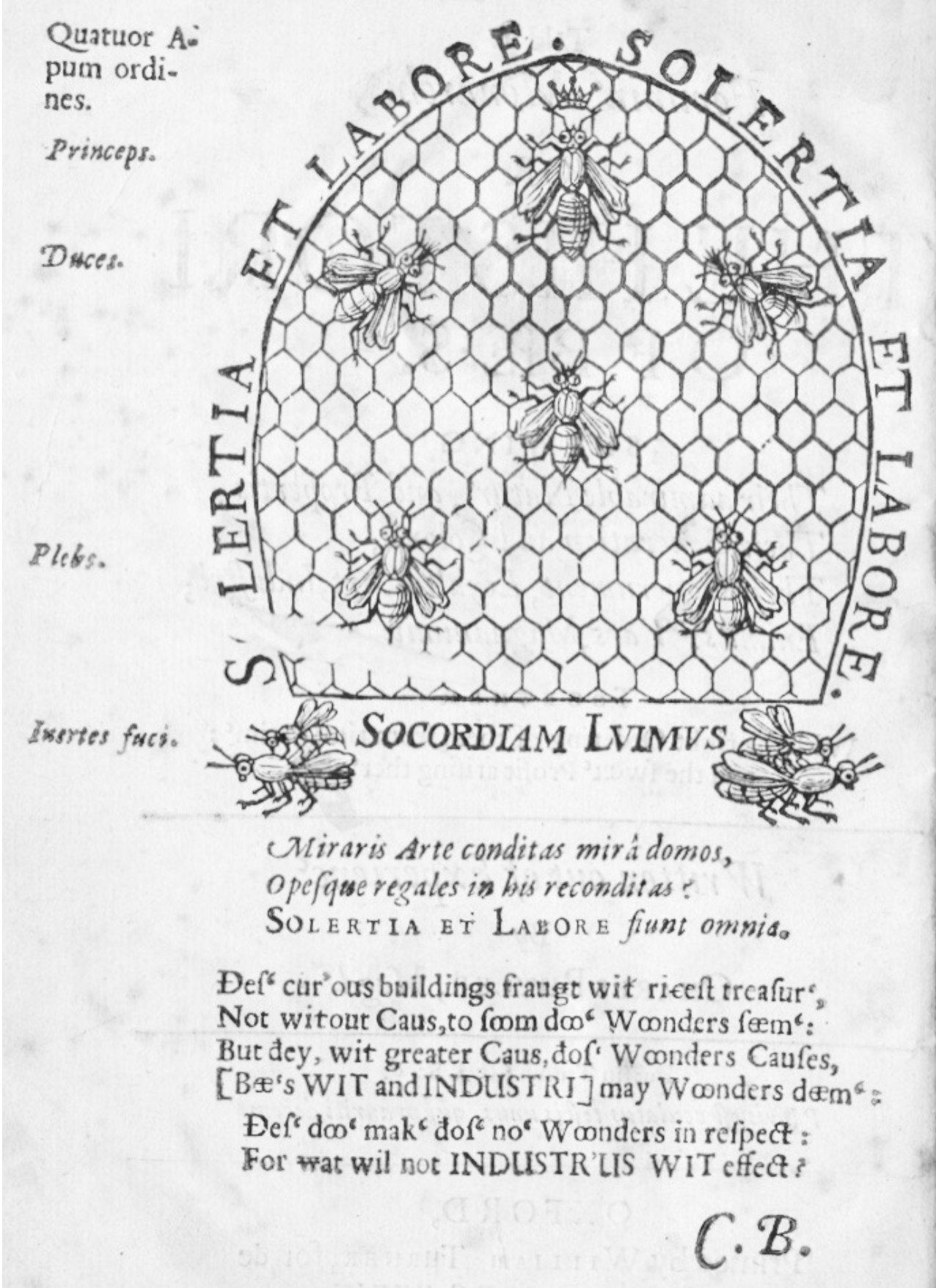 The femininʿ monarchiʿ, or the histori of beeʿs. Shewing their admirable naturʿ, and propertis; their generation and colonis; their government, loyalti, art, industri; enimiʿs, vvars, magnanimiti, &c. Together with the right ordering of them from timʿ t timʿ: and the sweetʿ profit arising therʿof. Written out of experiencʿ by Charls Butler, Magd.
Oxford: Printed by William Turner, for đe author, M.DC.XXXIV. (1634) "THE FIRST BOOK IN ENGLISH PRINTED WITH PHONETIC SPELLING, for which special roman and italic fonts were cast and first used in this edition." In addition he introduces many 'new' words and phrases. (Offered by James Gray Bookseller)
---

Drawings, Jean-Michel Basquiat
NY/Zurich: Edition Bischofberger and Boone, 1985. #757 of 1000cc Signed by Basquiat on the verso of the title page. Very good in publisher's gray cloth and jacket that shows just the lightest wear to the extremities. Published on the occasion of Basquiat's second show at the Mary Boone Gallery. (Offered by Kenneth Mallory Books)
---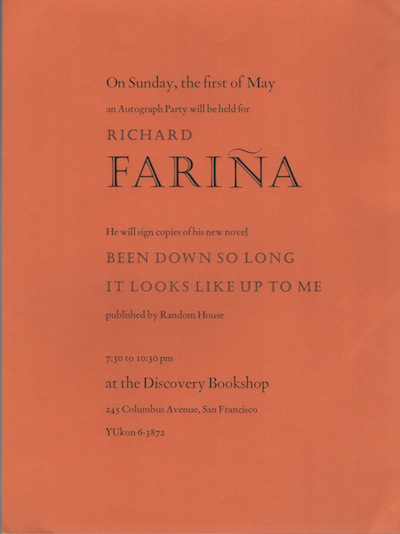 FARINA, Richard. Broadside Promo Poster for Reading and Appearance at the Discovery Bookshop, May 1, 1966.
San Francisco: The Discovery Bookshop, 1966. First Edition. Letterpress broadside poster on orange stock; 11.75 x 15.25 inches. Right edge uncut, as issued. Fine.
Handpress poster — likely job-work from Auerhahn Press — advertising a reading and autograph party for author Richard Fariña, in celebration of the publication of his now-seminal novel, "Been Down So Long It Looks Like Up to Me," at the Discovery Bookshop in San Francisco, on May 1, 1966. Fariña's book was published two days prior to his untimely death in a motorcycle accident, and this reading was to have been held the day after. A moving and greatly unintended handpress memorial to one of the most important authors of his day, one of the greatest artistic results of the Greenwich Village scene, and a major influence on the likes of Bob Dylan and Thomas Pynchon. OCLC located just one copy, at Brown. (Offered by Brian Cassidy, Bookseller)
---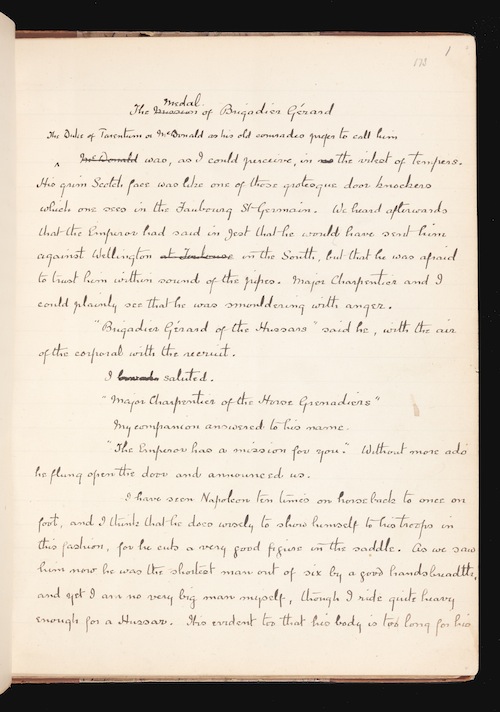 ORIGINAL HOLOGRAPH MANUSCRIPTS OF FIVE BRIGADIER GERARD SHORT STORIES
DOYLE, Sir Arthur Conan. The Medal of Brigadier Gerard. Original holograph manuscript, 41 pages written on rectos only on ruled paper, revised and corrected, signed at the end "A Conan Doyle, 12 Tennison Road, South Norwood"; 7 x 9 inches, bound in contemporary three-quarter calf and marbled paper over boards, marbled endpapers, with a printed half-title; presentation inscription on a preliminary blank: "Presented to Herbert F. Gunnison with the warm regards of Irving Bacheller"; with the bookplate of Herbert Foster Gunnison on the front pastedown. [Together with:] "How the King held the Brigadier", original holograph manuscript, 26 pages, folio & 8vo, revised and corrected, and signed at the end "A Conan Doyle, Belvedere Hotel, Davos Platz"; [Bound with:] "How the Brigadier slew the Brothers of Ajaccio", original holograph manuscript, 24 pages, folio & 8vo, revised and corrected, and signed at the end "A Conan Doyle, Belvedere Hotel, Davos Platz, Switzerland"; [Bound with:] "How the Brigadier came to the Castle of Gloom", original holograph manuscript, 21 pages, folio & 8vo, revised and corrected, and signed at the end "A Conan Doyle, Belvedere, Davos Platz"; [Bound with:] "How the Brigadier played for a Kingdom", original holograph manuscript, 23 pages, folio, revised and corrected, and signed at the end "A Conan Doyle, Belvedere Hotel, Davos Platz, May 31/95"; the four manuscripts bound together in contemporary three-quarter calf and marbled paper over boards, marbled endpapers, 8 ½ x 13 ½ inches, with a printed half-title; presentation inscription on a preliminary blank: "Presented to Herbert F. Gunnison with warm regards of Irving Bacheller"; with the bookplate of Herbert Foster Gunnison on the front pastedown.
"The Medal of Brigadier Gerard", here first titled "The Mission of Brigadier Gerard", with the word "Mission" crossed out and the word "Medal" written above, was written in 1894 and is the first short story in Conan Doyle's Brigadier Gerard saga. In their account of Conan Doyle's serial publications, his bibliographers Green and Gibson give both the English title "'How the Brigadier Won His Medal'", and the American title "'The Medal of the Brigadier'", as the story was originally published in the separate English and American issues of the Strand magazine in 1894. Green and Gibson also note that the first American periodical publication was by a Newspaper Syndicate [abbreviation "N.S.", G & G, p. 404], referring to the Bacheller Syndicate. As noted above, the present manuscripts were given by Bacheller to his friend and fellow journalist Herbert Foster Gunnison. Irving Bacheller (1859-1950), author, journalist and editor, began his career as a journalist in Brooklyn in 1882, but a few years later founded the first modern American newspaper syndicate, the Bacheller Syndicate, to provide literature and other articles to Sunday newspapers. Among the authors whose work he represented were Arthur Conan Doyle, Stephen Crane, Joseph Conrad, and Rudyard Kipling. In the 1890s, Bacheller began to write fiction and gave up his career in journalism to pursue literature, becoming a best-selling author with such works as Eben Holden (1900), D'ri and I (1901), The Light in the Clearing (1917), and A Man for the Ages (1920).
The present collection represents five of the eight short stories that appeared in The Exploits of Brigadier Gerard and an extraordinary opportunity to acquire a significant portion of one of Conan Doyle's most impressive creations. The manuscript of "The Medal of Brigadier Gerard" is in fine condition; the binding lightly rubbed; the other manuscripts, which have been assembled using revisions written on separate pieces of paper, usually of a smaller size, or cut down to a smaller size, and inserted or taped to the original drafts, are in very good condition, with a few tears and stains; the front hinge of the binding is cracked, and the top panel of the spine is detached (but retained).
Provenance: By descent from Herbert F. Gunnison (1858-1932), a Brooklyn newspaperman associated with the Brooklyn Daily Eagle, where he worked from 1882, eventually becoming its President in 1924. (Offered by James S. Jaffe Rare Books)
---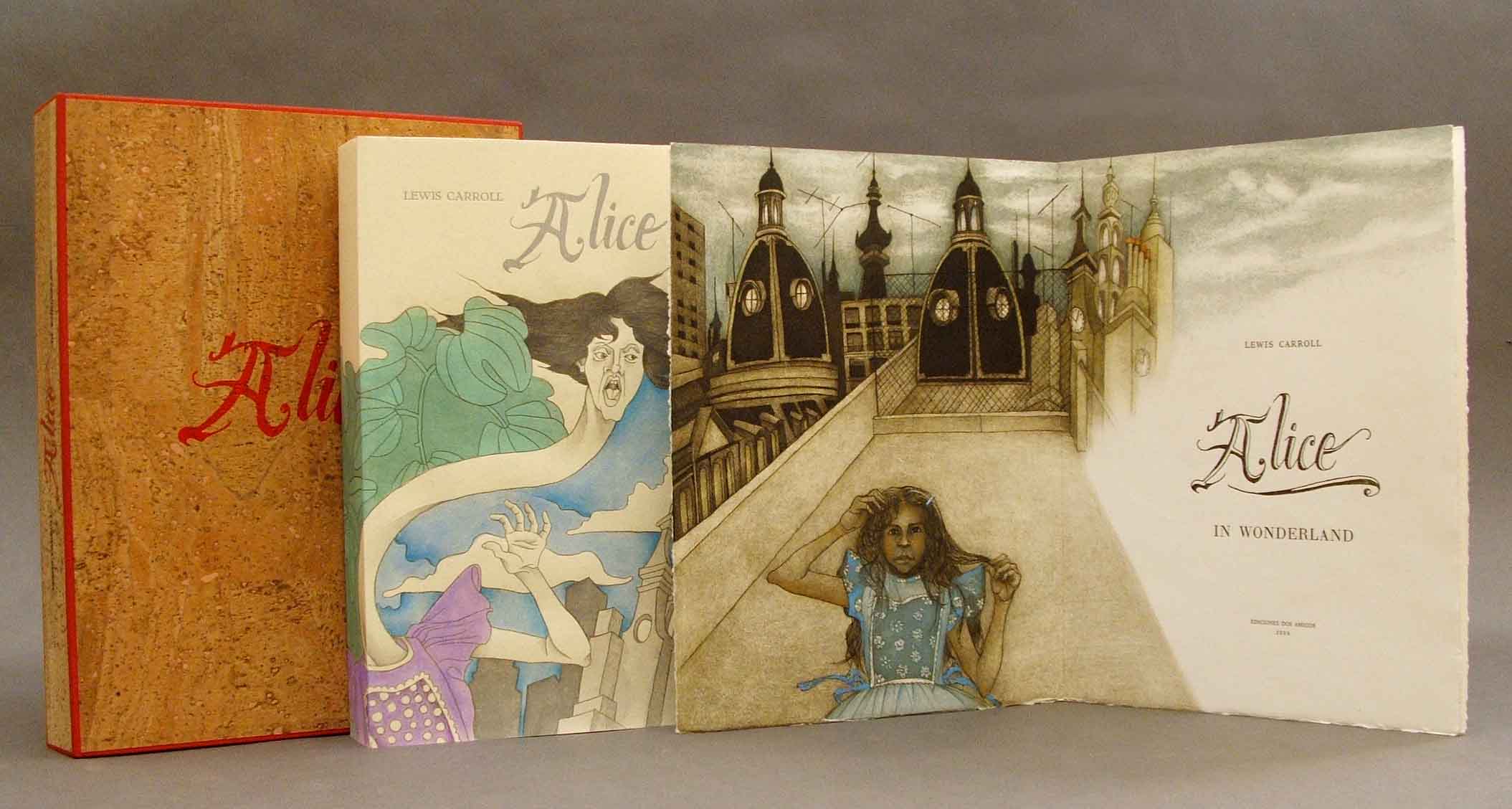 Ediciones Dos Amigos edition (long out of print) of Lewis Carroll's ALICE IN WONDERLAND with engravings by Alicia Scavino, from an edition of 25 copies. (Offered by Priscilla Juvelis, Inc.)
---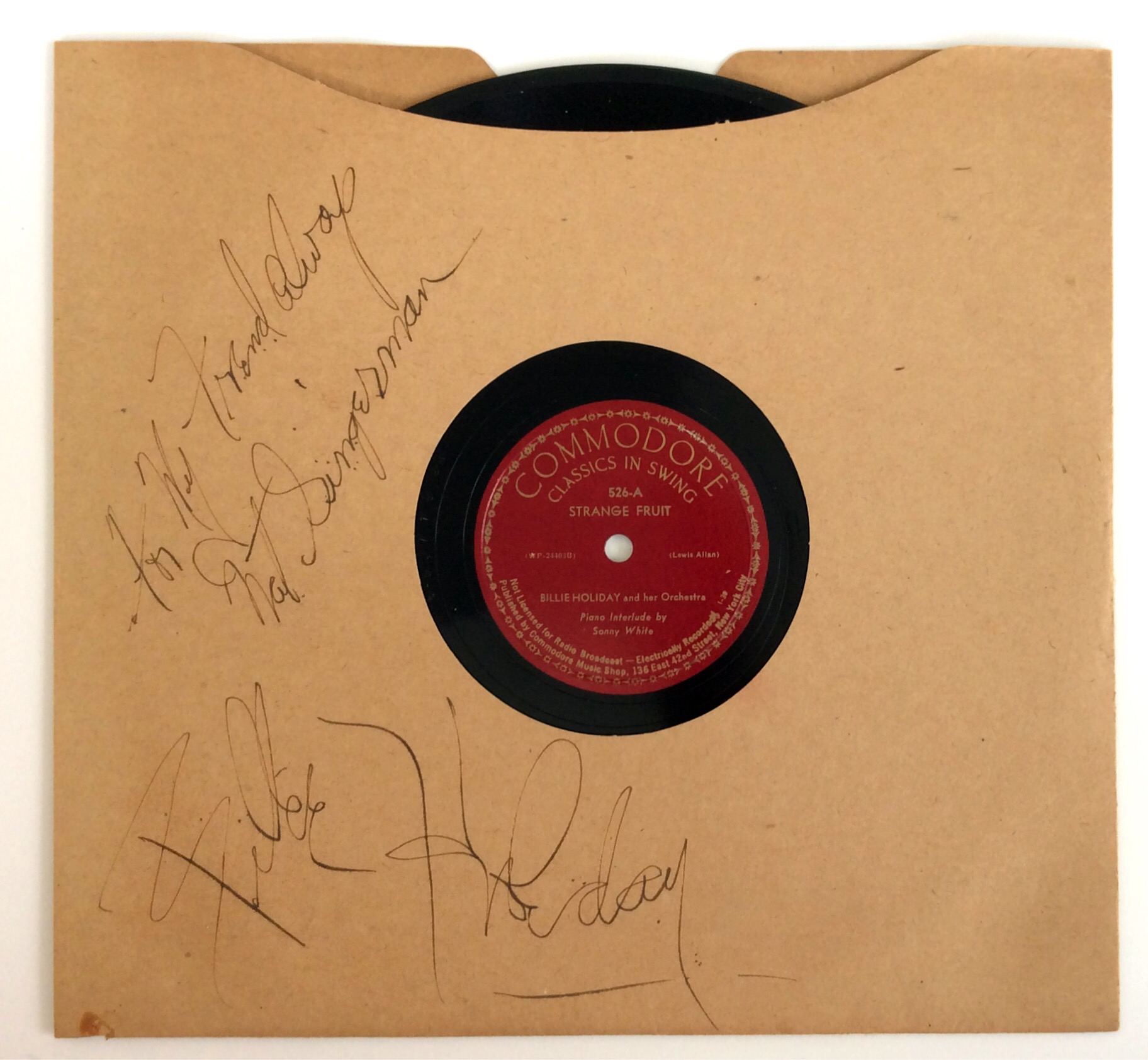 Holiday, Billie. Strange Fruit Piano Interlude by Sonny White. New York: Commodore Classics in Swing, (1939). First pressing. 10-inch 78 RPM with printed maroon labels, housed in plain paper sleeve. Record is clean and unblemished.
Original first pressing of Holiday's most famous recording; the paper sleeve has been boldly inscribed and signed by Holiday for a noted Jazz photographer and record collector, rare thus. "Strange Fruit" was written by the leftist activist Abel Meeropol -- identified on the label pseudonymously as Lewis Allan -- and stirred immediate controversy and passion when Holiday first began singing it at New York's Cafe Society in 1939. A powerful, mournful plea against lynching, it was miles and years ahead of the protest songs of the Civil Rights era. Holiday's label, Columbia Records, would not record it for fear of alienating southern record-buyers, and so the singer turned to Milt Gabler, proprietor of the respected left-wing record store and small recording label, Commodore. The recording was laid down on April 20, 1939, just a few months after she had introduced it into her repertoire. It quickly became a huge seller (both on its own merits, as well as the popularity of the record's B-side, "Fine and Mellow"), selling, according to one of the musicians on the date, 10,000 copies in its first week.With its brutally stirring lyrics, and its haunting, dirge-like orchestration, introduced by Sonny White's elegiac piano solo, "Strange Fruit" had a profound impact on emotional and social levels, with an influence that reverberated through subsequent decades. Holiday would die in 1959 at the age of 44, and her signature, while not exactly rare, is uncommon and highly sought after. Most examples are found on publicity photos, and occasionally on documents and letters. Such a bold signature on this, her most important record, is especially appealing. (Offered by Locus Solus Rare Books)
---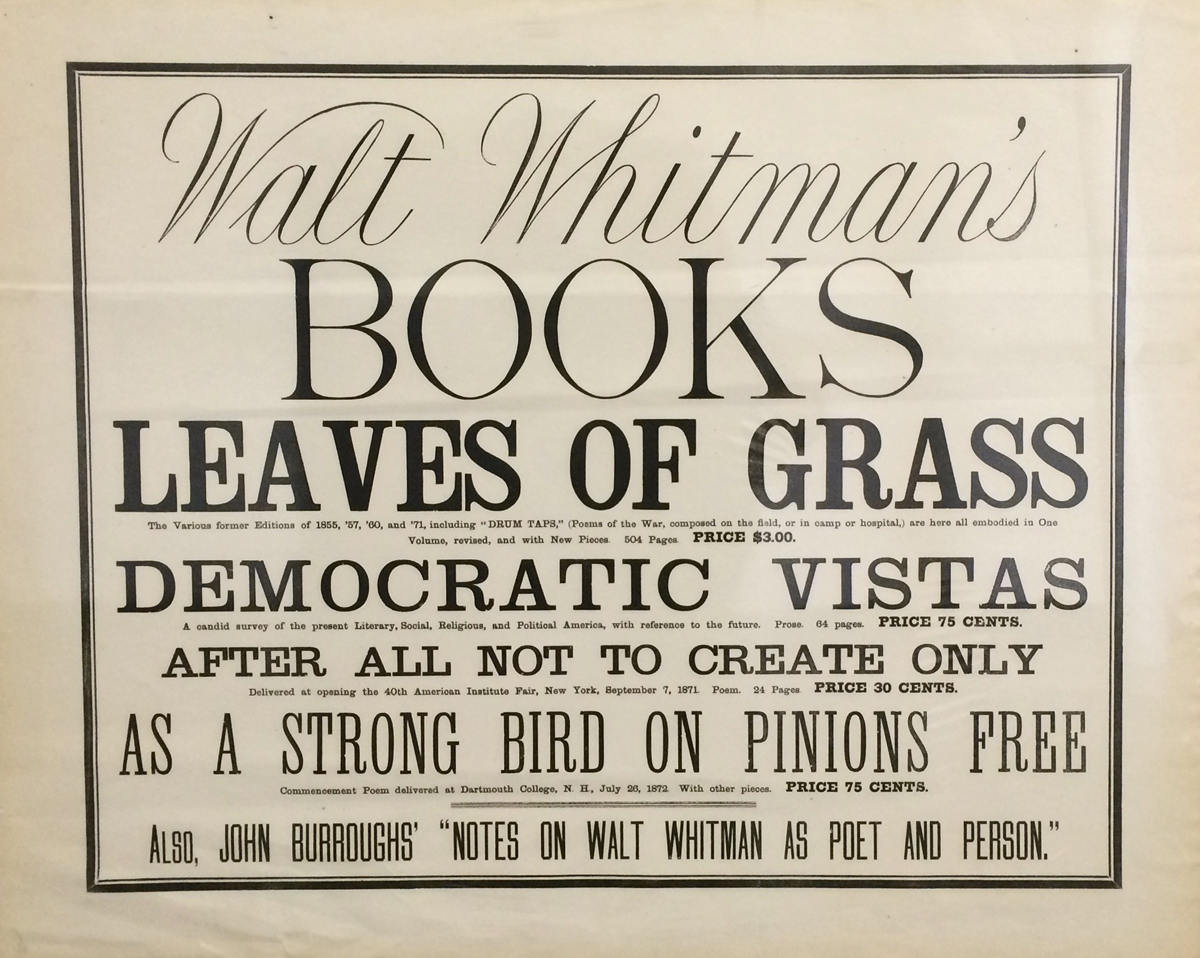 Whitman, Walt. Walt Whitman's Books (poster).
Washington, D.C.: circa 1872. Promotional poster, measuring 29.5 by 24 inches, bordered in black and printed in various metal and wooden types, headed by Walt Whitman's oversized "signature." Lightest toning to edges.
Spectacular oversized advertising poster designed by Walt Whitman for distribution to bookstores, an artifact reflecting both his printing background and his promotional energy. The primary headlines read: "Walt Whitman's / BOOKS / LEAVES OF GRASS / DEMOCRATIC VISTAS / AFTER ALL NOT TO CREATE ONLY / AS A STRONG BIRD ON PINIONS FREE / ALSO, JOHN BURROUGHS' 'NOTES ON WALT WHITMAN AS POET AND PERSON.'" Detailed descriptions and prices are given in smaller type. This example was part of the cache of "perfect" unused copies discovered in 1954, as described by William White in "A Walt Whitman Poster" (The American Book Collector, X:3, November 1959). A fine copy of an unlikely survival. (Offered by Honey & Wax Booksellers)
---
PLATINA, Bartolomeo. De la honesta uoluptate: & ualitudine.
Colophon: Venice: [Bernardinus Benalius], 1494. 8vo. One leaf of text decorated by an illuminated initial in gold with white vines on a blue, green, and red ground; at the bottom of the same leaf is the illuminated coat of arms of the Manolesso family of Venice in blue, red, and white surrounded by a green wreath and additional decoration in red, green, blue, and gilt; initials rubricated in red and blue throughout. [114] pp. Eighteenth-century boards, title in manuscript on spine, two small holes restored in the margin of leaf i4, edges stained blue. (Offered by Ben Kinmont, Bookseller)
---