Editor's note: Jim Harrison (1937-2016) was a poet, novelist, essayist, screen-writer, sporting writer, editor, and translator. Much of his work is set in sparsely populated regions of the West and Midwest. As Charlie Brice wrote in a review in the Pittsburgh Post-Gazette of The English Major, "Harrison's... appreciation for life's pleasures, his hallowing of the every day, his celebration of food and smells and nature and color, combine to produce a feast of what makes us human and of what makes it so hard to leave our troubled planet."
Jim Harrison was best known for his novella Legends of the Fall which was adapted into a Edward Zwick-directed movie with Brad Pitt, Julia Ormond, and Anthony Quinn, but he was a master of his craft who wrote equally well about nature, food, hunting, fishing, and travel. He was that rare talent who could compose beautiful poetry, write deft and powerful fiction, evocative non-fiction, and deeply personal memoirs.
One of the mantras of being a bookseller, at least a successful one, is to not have a valuable personal collection, but I've never been able to sell some of the best Jim Harrison items that I have simply because of my affection for his writing. I was first introduced to him in my early teens when I read his collection of poems, Locations, which I had found at a small library sale that my parents had taken me to (I still have that copy). I quickly devoured many of his books after that and have been a devotee ever since. I've given more of his books to my friends and family than any other author by a factor of at least ten.
Part of the allure of collecting Jim Harrison is that virtually all of his books are obtainable and, with a few exceptions, remain in the two or three figure range. Over his long career he was very generous with his signature, so signed copies of many of his early- to mid-career books are often available. Because of his deteriorating health in recent years, he stopped doing author readings, and so his later books are much harder to find signed.
Another reason that Harrison is widely collected is that there is almost something for everyone in his body of work, which ranges from collections of poetry, like After Ikkyu and Other Poems, In Search of Small Gods, The Shape of the Journey, and the recent and masterful Dead Man's Float, to non-fiction works, which include The Raw and the Cooked: Adventures of a Roving Gourmand and Off to the Side: A Memoir. But it was his fiction that gained him the most fame (and fortune), and a number were made into films. His fiction is filled with memorable characters, and one of the most enduring of these is Brown Dog, whose first role was in The Woman Lit by Fireflies but who appeared several more times in later collections as well. Farmer was a commercial flop but a brilliant short novel nonetheless and deserved more attention than it got.
If you are considering starting a collection, almost every one of the books I've mentioned can be had for under $200.* Also, there have been numerous broadsides produced with poems or excerpts from his works that are also very affordable.
My personal top ten in no particular order would be: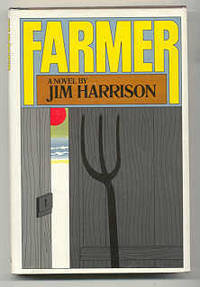 Farmer. A short gem of a novel revolving around an illicit love triangle between a teacher, his student, and his widowed childhood friend. The first printing was done by Viking and signed copies can be had for $175-250; unsigned copies will cost $100 or more for a fine copy in jacket.
Legends of the Fall. A collection of three novellas, two of which were made into movies, the title one and "Revenge," which was made into a movie starring Kevin Costner and Anthony Quinn. This book helped resuscitate Harrison's flagging career and was published by the important editor Seymour Lawrence. Lawrence decided on a weird publishing strategy for this book with three different editions: a limited edition of 250 copies with each novella separately bound and in a slipcase (copies of this version sell in the $650-1000 range), another edition of 1000 copies with each bound separately again but in a different looking cloth and slipcase than the more limited edition. Copies of this issue sell in the $350-500 range. Finally, there was the trade issue which was bound in one volume. Nice copies sell for $150-250 with signed copies selling for more.
Off to The Side. Harrison's first and only full-length attempt at a memoir. It is a lyrically written book. There was a publisher's signed-limited edition of this that sells in the $150-200 range and signed trade editions cost $40-75.
After Ikkyu and Other Poems. One of my favorites, a book of zen poetry. This is a collection of short, powerful, and vivid gems. It was issued in hardcover in a tiny print run (for a trade edition) of 500-1000 copies and a simultaneous softcover issue as well. Signed copies can be found in the $100-150 range.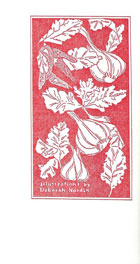 The Raw and the Cooked: Adventures of a Roving Gourmand. Harrison contributed essays of his legendary appetites to Esquire magazine and many of them are collected in this volume. Signed copies of this are hard to come by, but first editions can be had for $25-50. There was also a fine press book with this same title that included only three essays, and that goes for $350-750.
Dalva. One of his best novels, featuring the title character (a part-Sioux woman in her forties who has led a hard life) and is one of his most powerful and painful works. Unsigned copies sell from $25-50 and signed copies sell for $75-175.
Brown Dog collects all of his novellas featuring probably his most memorable (but maybe not all that lovable) characters. Unsigned copies $25-35; signed copies when found cost $60-100.
Braided Creek: A Conversation in Poetry. A terrific collection of poems written with Ted Kooser, another Midwesterner. It is a conversation of sorts between the two poets, with none of the poems attributed but all beautifully written. The only hardcover edition was a limited edition of 250 numbered copies and 26 lettered editions. Numbered copies sell in the $175-250 range. Lettered copies sell for $450 or more. But there was also a paperback that one can get for $20-30.
Wolf. Harrison's first novel, made into a movie with Jack Nicholson and Michelle Pfeiffer. A well received but not commercially successful book with many of the copies having a remainder mark. Nice copies without the remainder sell for at least $350. The pale jacket is especially prone to wear and soil, so finding a fine copy is pretty tough.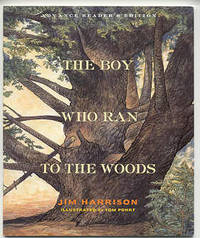 The Boy Who Ran To the Woods. Harrison's only children's book, a charming book with illustrations by Tom Pohrt. Signed copies go from $40-75. Unsigned copies sell for $20-45.
*Note: The price ranges I've given for all of Harrison's books are based on my own feel for the market, but an author's death often means that the prices go up, at least for a short time, and prices vary from dealer to dealer, depending on a number of factors (condition, what the book cost the dealer, eagerness to sell, how the book fits into the seller's specialties, length of time dealer has had the book, the seller's clientele and customer base, etc.). But it's the range of prices and differences between dealers that makes this business fun and interesting!
I hope some of you who read this will get as much out of reading and collecting Jim Harrison as I have. I am truly going to miss Jim Harrison, one of the greatest writers of my lifetime, and the one who meant the most to me.
---