The ABAA co-sponsors the three largest annual antiquarian book fairs in North America, the Boston, California, and New York Antiquarian Book Fairs.
Antiquarian book fairs are the high points of the book collector's year, representing an unmissable chance to connect with other collectors and rare book experts from top libraries, universities, and other institutions, expand your knowledge of both your chosen areas of interest and rare books in general, as well as an opportunity to get to know the booksellers personally, and insure they know your interests and what items are top of your wish list!
Boston International Antiquarian Book Fair
November 10-12, 2017
Boston, MA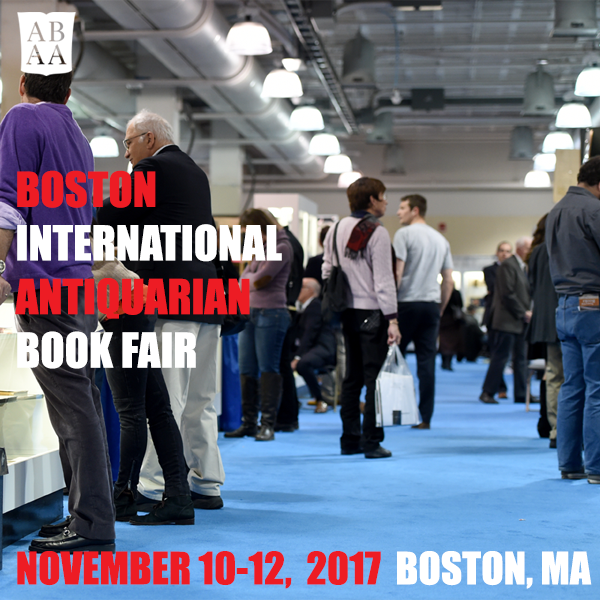 In November, the first fair of the season takes place in Boston, MA. Dealers from all over the world will rendezvous at the Hynes Convention Center for three days to display the best the rare book market has to offer. From early manuscripts and rare print ephemera to association copies inscribed by famous modern authors, the Boston exhibitors will have something for every taste and pocket book.
More details about exhibits, lectures, and discovery day will be announced closer to the date. Bookmark http://bostonbookfair.com/ for future reference.
California International Antiquarian Book Fair
February 9-11, 2018
Pasadena, CA

Recognized as one of the world's largest and most prestigious exhibitions of antiquarian books, the California International Antiquarian Book Fair is co-sponsored by the ABAA and the International League of Antiquarian Booksellers (ILAB). Featuring the collections and rare treasures of nearly 200 booksellers from over 20 countries around the world, this three-day book fair gives visitors the opportunity to see, learn about and purchase the finest in rare and valuable books, manuscripts, maps, autographs, graphics, photographs, fine bindings, children's books, and ephemera from many centuries and countries.
The upcoming fair (the 51st California Book Fair) is extra-special as it is the culmination of the week-long ILAB Congress, which will bring even more antiquarian book dealers, academics, and other rare book experts from all over the world to Southern California -- an area that already boasts an impressive number of significant cultural institutions, and many claims to literary and cultural fame. Even the most casual collector of rare books will not want to miss the 51st annual California International Antiquarian Book Fair!
Website: https://www.cabookfair.com
New York Antiquarian Book Fair
March 8-11, 2018
New York, NY
The largest antiquarian book fair in the United States! Over the weekend of March 8-11, 2018 book lovers will find a fascinating treasure trove at the Park Avenue Armory. Over 200 American and international dealers will bring a vast selection of rare books, maps, manuscripts, illuminated manuscripts, and ephemera to New York City. The diversity of specialties represented will include art, medicine, literature, photography, autographs, first editions, Americana, and much more.
Officially sanctioned by the ABAA and the ILAB, collectors can rely upon the experience and professionalism of participating dealers and the authenticity of the items available for purchase. Simply stated, all books, manuscripts and related material have been carefully examined for completeness and bibliographic accuracy.
Website: https://www.nyantiquarianbookfair.com/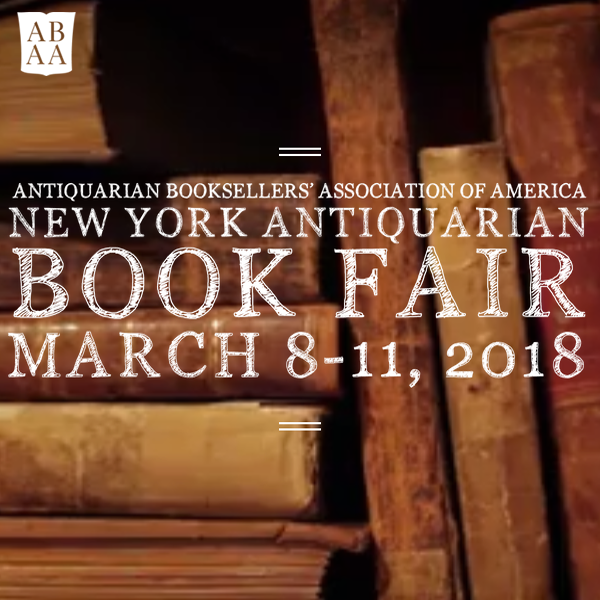 You'll find a mixture of titles of regional interest and items of international renown at each of the fairs. Dealers strive to bring the best of their stock to each fair, and many publish catalogs of their exhibits in advance of the event — allowing interested collectors to do their homework and come with a list of items to examine. (We'll collect a master list of these catalogs on abaa.org in the weeks before each fair.)
In an effort to help beginning collectors establish their collections and clarify their interests, all dealers bring a certain amount of interesting items at lower price points to each fair, so don't be dissuaded from attending because of a perception that all items are very expensive! In addition, each fair offers a "Discovery Day" where attendees can present their own books for examination, and will receive expert opinion on the items' rarity and condition. These events are designed to expand knowledge and appreciation of rare books, and occasionally reveal a particularly rare or significant volume.
While there are many more regional book fairs, these three are the biggest fairs on the calendar and the only fairs sponsored by the ABAA.
If you are considering going to one of these book fairs for the first time, here is some advice from ABAA members for first-time antiquarian book fair attendees...
---