Ernest Wessen's letters are a must for aspiring Americana dealers
In his memoir, The Adventures of a Treasure Hunter my idol, Charlie Everitt, refers to his wife as "Mrs. Everitt." I like the old fashioned formality of that address. Same with Ernest Wessen, the great Midwestern Americanist and author of the legendary series of catalogs called Midland Notes: "Mrs. Wessen and I were returning from a visit to the folks in Maine..." etc.
I would very much like to tell you about the trip Mrs. Gibson and I took recently, but when we married she kept her (Irish) family name – Crotty – and I just don't think "Ms. Crotty and I" comes across with the same archaic charm.
So anyway, the wife and me, we went down to Baltimore last week.
Papermania had been canceled.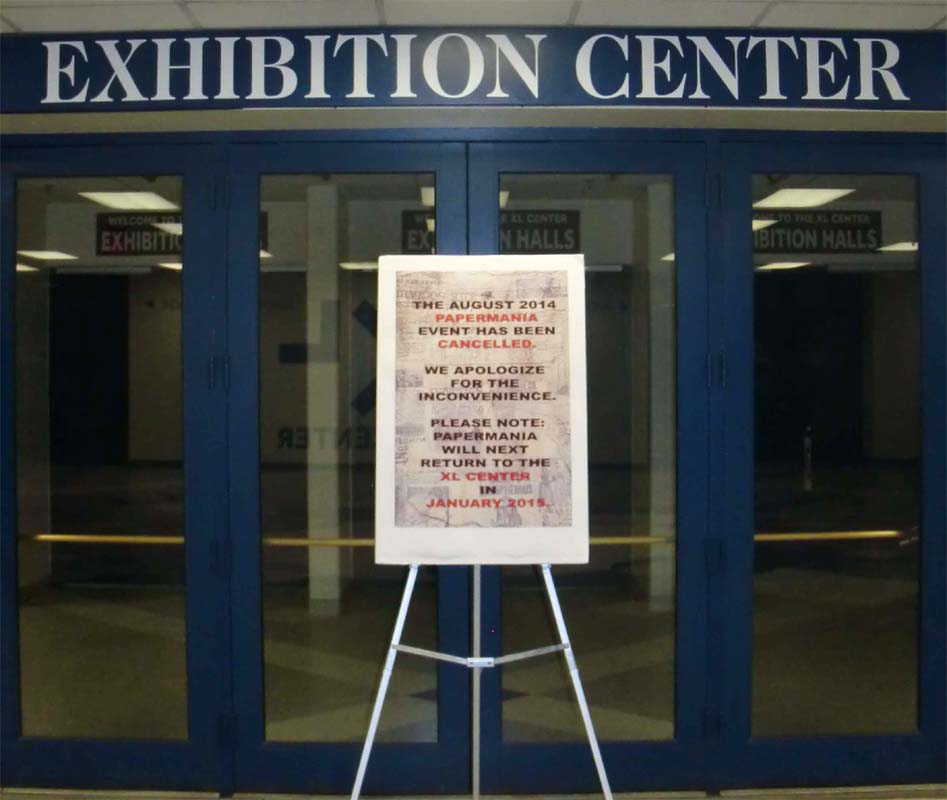 We had a little time on our hands, so we visited friends in Pennsylvania on Wednesday, and drove down Thursday for the opening of the Baltimore Summer Antique Show.
The Baltimore Summer Antique Show still packs 'em in
This used to be a sort of funky affair – diverse, rambling, and slapdash. An Irish guy named Frank was the front man. He'd get on the PA just before the show opened and give endless instructional speeches about what was expected of the dealers, unintelligible owing to the poor sound quality and his Irish brogue. Book sellers were included as an afterthought, but the combination worked. We found things to buy from the antiques people, and new customers were exposed to our wares. The show had a good run through the Nineties, and I became very fond of the city, particularly the Locust Point neighborhood, with a saloon on every corner. I fantasized buying a row house across the street from the Chesapeake Box factory (where I would work the night shift while writing detective thrillers by day) with a great view of the harbor for $75,000. Ms. Crotty, unfortunately, did not care for the heat, and I watched helplessly as the price of those fine old buildings along Fort Avenue doubled and then tripled.
Then the show was taken over by an outfit known as the Palm Beach Show group. Booth rents went up and the show reinvented itself as a fancy-schmancy affair with white carpets, soft music, and high end dealers.
The book ghetto in white carpetland
Their pre and post show publicity reached frenetic levels, and every year a rumor was floated by "unnamed sources" that a painting or a piece of pottery had sold for seven figures. The booksellers, no surprise, were increasingly marginalized.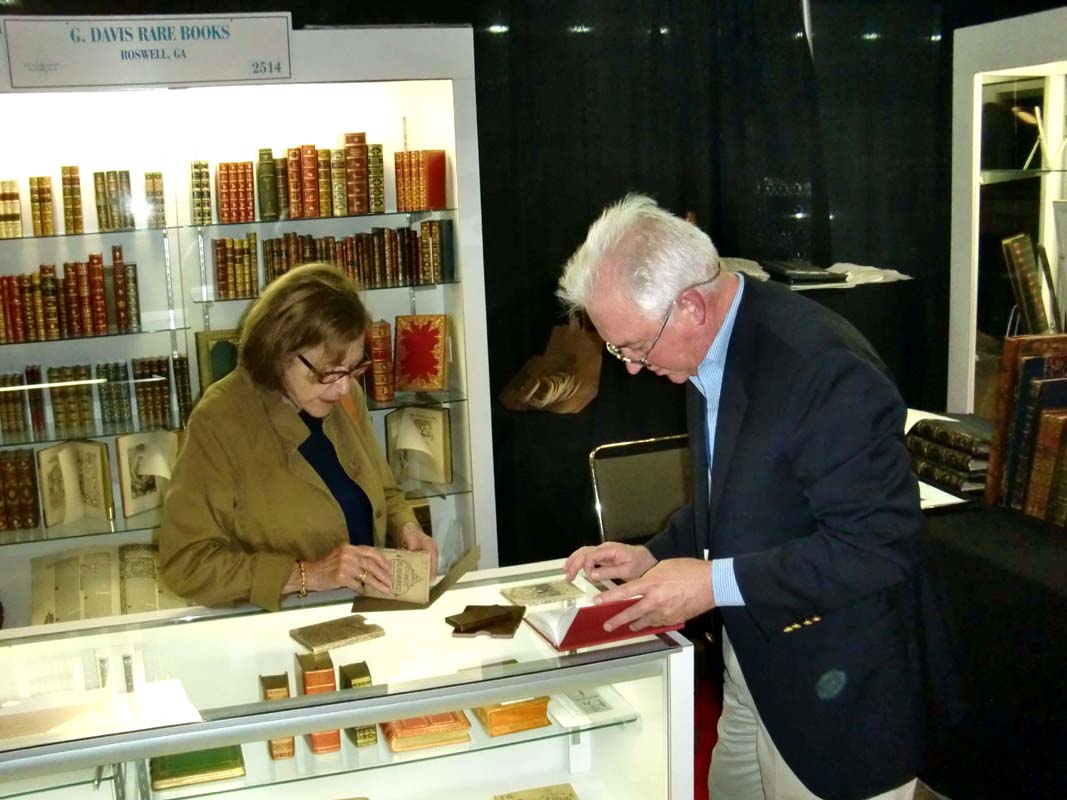 Marilyn Braiterman and Greg Davis examine rare tomes at the booth of G. Davis Books
I could have put up with all this nonsense – even the fact that high end customers were more interested in fine bindings and childrens books than in rare maritime manuscripts. In the end, however, the lengthy time commitment was too much. I'd spend a week packing, then leave Tuesday for the Wednesday setup, and then sit there amidst white carpeted antique splendor Thursday, Friday, Saturday, and Sunday while the fancy schmancies regarded my wares with incomprehension. Leave Sunday night, get as far as Wilmington, and arrive home on Monday. A week of lost time and road expenses for some good buying opportunities and low sales. Then I figured out that I could just visit the show and still buy books, and that's what I started doing. Even if Papermania was scheduled for the same weekend, I could shop the Thursday opening and then scoot back north to Hartford for setup at the paper show on Friday.
So Ms. Crotty and I did some shopping and visiting among the forty or so book dealers at the Baltimore show, adjourned for lunch with friends at the brew pub across the street, went back to the show to conclude our business, then spent a very enjoyable afternoon and evening with an old Ballmer pal on a stoop just off Fort Avenue in Locust Point,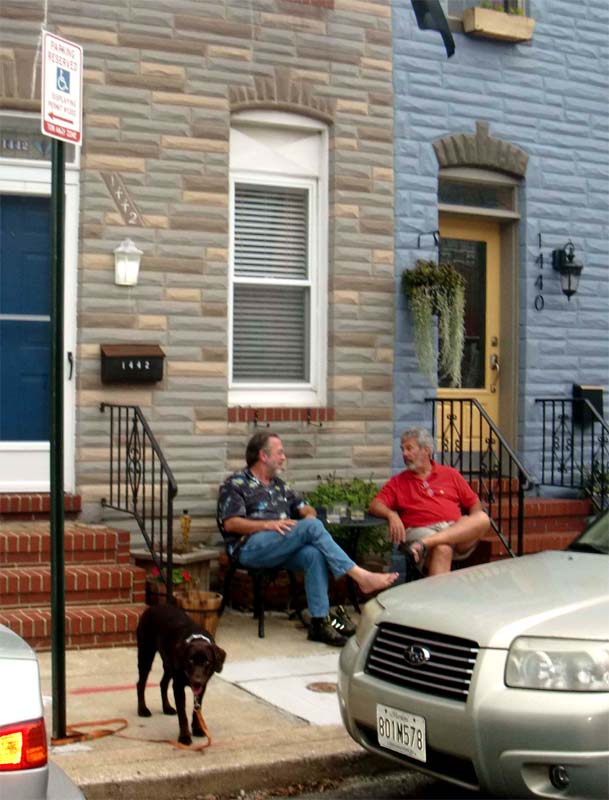 Greg and Fats solve the world's problems from Locust Point
across from what used to be the Chesapeake box factory, and was now colonized by yuppie joggers with the cutest dogs.
Here's what we bought, the wife and me:

Broadside. At the Court at St. James's, The Seventeenth Day of December, 1794... Printed folio sheet, 15 x 19 1/2 inches, with manuscript additions. b/w engraved royal seal at top. In 1794, with the outbreak of Britain's prolonged war with revolutionary France, the number of men required for the fleets rose to 85,000 and then to 120,000 in 1799. The most common methods of increasing manpower was paying a bounty for service and pressing men into service. This rare broadside covers both approaches. Enlistments of experienced seamen were to be rewarded with bounties between five pounds and two pounds ten, depending on experience, and thirty shillings for landsmen between twenty and thirty-five years of age. Furthermore, a reward of twenty shillings was to be paid to "any person who should discover any Seaman or Seamen who might conceal him or themselves..." This policy led directly to the practice of seizing American sailors on the pretext that they were English and pressing them into duty in the Royal Navy. That policy and America's angry reaction to it, was one of the causes of the War of 1812. This broadside has been updated in manuscript to June 20, 1799. The sheet is split along an old central fold at top, with no loss.$750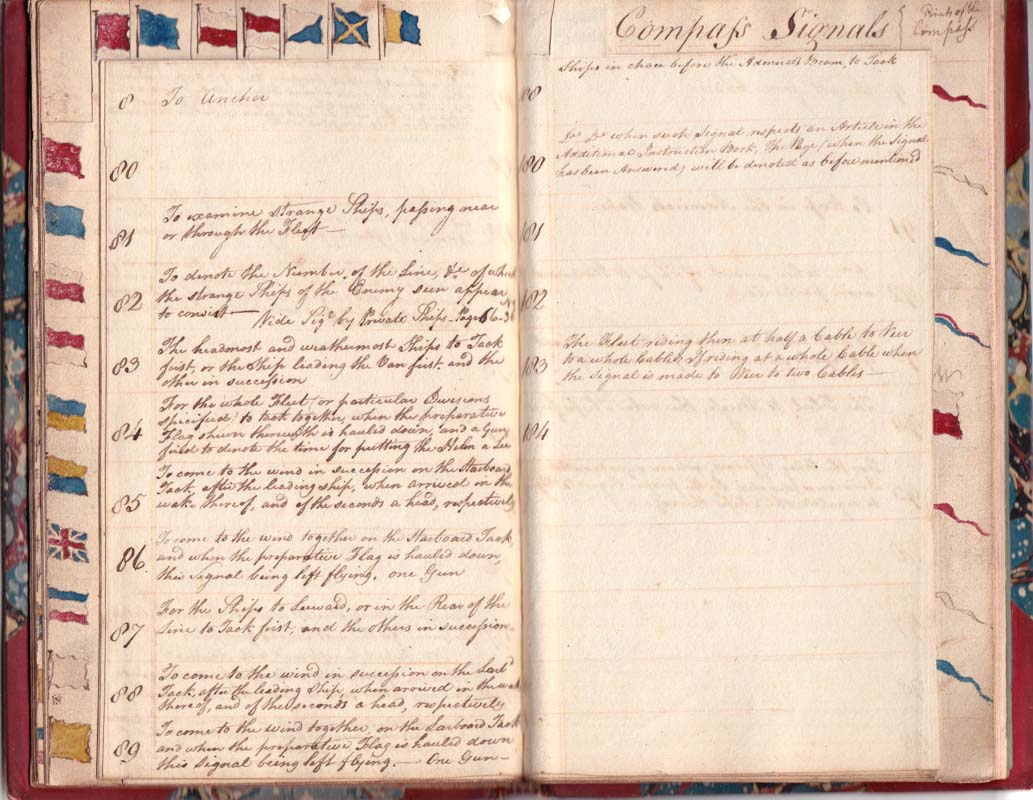 Manuscript. Signal Book. 12mo. 27 pages of hand colored signal flags and significations. Ten flags in combination with nine others yield dozens of messages spelled out in the text. Pages are sized and cut away so that the combinations can be viewed with their significations. These refer to fighting ships under sail, and date from the early nineteenth century - probably of War of 1812 vintage. Two different systems of combinations are presented. With forty-seven hand colored illustrations of flags and pennants. Very good condition, bound in scuffed half leather over marbled boards. $1500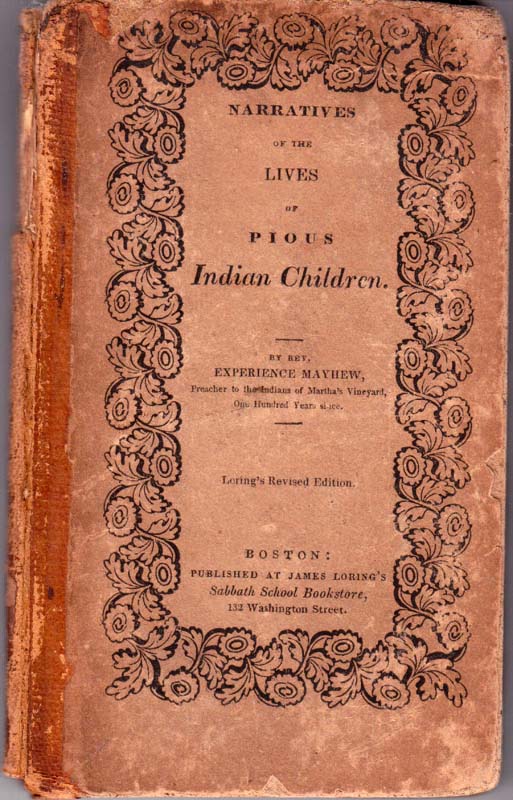 Mayhew, Experience. Narratives of the Lives of Pious Indian Children, Who Lived on Martha's Vineyard More Than One Hundred Years Since. Boston: James Loring, (1829). 24mo. 108 pp. b/w engraved frontispiece. Mostly records of exemplary piety and great tedium, but some genealogy and local history included. "This is a reprint of the fourth division of Mayhew's "Indian Converts,"or rather of extracts from it for use of Sunday Schools" - Field 1046. See also Sabin 47125. VG in original printed boards, lightly rubbed. Front hinge weak. $200
Wilkes, Charles. Synopsis of the Cruise of the U.S. Exploring Expedition During the Years 1838, '39, '40, '41, & '42. To Which is Added a List of Officers and Scientific Corps Attached to the Expedition. Washington DC: Peter Force, 1842. 56 pp. 37 x 23 3/4 inches. This pamphlet was published three years before the official account was issued. Wilkes addresses the controversy over his appointment and, according to Howes, adds some material was "not in that work." Howes W-415. Haskell 275. This copy is bound in its original printed wrappers which, although they show some chipping along edges and backstrip, are legible and complete. With the ownership signature on the front cover of Caleb Cushing, a Massachusetts Congressman who also served as minister to China and who helped negotiate the treaty of commerce with Japan. Some light tanning to pages. Bookplate of Levi K. Fuller library on inside of front cover. Call number in ink and upper right corner of title page. No other markings. As one might expect, the pamphlet has solid institutional holding both in hard copy and microform, but is rare is the trade. A rebound x-lib copy appeared in 2013; the last one prior to that was offered by John Howell in 1979. $2000