In February of 1964, in my freshman American Literature Survey Class, I first encountered Herman Melville's Moby Dick. Our teacher was Daniel Hoffman, a worthy poet, critic, and educator who'd go on to publish two dozen books, one of which, Poe Poe Poe Poe Poe Poe Poe was nominated for the National Book Award. All in all, a serious customer.
At that time, furthermore, he was 41 years of age, at the height of his powers as a teacher.
Sparks flew as he paced in front of his desk, expounding on Jonathan Edwards, Fenimore Cooper, Poe, the Transcendentalists – inspiring us, challenging us, prying us loose from our childish preconceptions, frightening us, taking us places no teacher had ever taken us. And then we got to Moby Dick.
He started right off by reading us a chapter. As I recall it was "The Honor and The Glory of Whaling" – one of those intermediary chapters that expands the scope of the story through space and time to the realm of gods and myths. It was the first time and, until just recently, the last time I'd ever heard the book read aloud. And of course, it had a profound effect. With those words still ringing in our ears, he went on to demonstrate how each of the themes resonated back through the book, strands in a mighty cable such as the one Father Mapple spins in his sermon.
We youngsters, of course, were utterly gobsmacked by this performance, for it was as much a performance as it was a lecture. At the end of that first hour, Professor Hoffman told us proudly that he'd learned his Moby Dick at Columbia, from Raymond Weaver, the dynamic teacher who had rediscovered Melville and Moby for the modern era, in his book, Herman Melville: Mariner and Mystic.
Hoffman assured us that he was giving us Moby Dick just as he'd been given it by Weaver, his mentor.
So Moby Dick became my book, and I cherished the fancied lineage of Melville, Weaver, Hoffman… Gibson. I read it closely for my term paper that semester, then I read it three or four more times in the course of writing my senior thesis about it.
Then I joined the Navy for four years (about the average length of a whaling voyage) rather then go to grad school because Melville had said, "A whale ship was my Yale College and my Harvard." (I got an education all right, though it wasn't the one I'd been expecting. I suppose you could say the same for Ishmael.) I read it in the Navy, and I read it every few years thereafter. And every time I read it, it got longer. I mean that in the fondest, most joshing sort of way. Even as Ishmael wheezed out his corny philosophies, the book got deeper and deeper. It had no bottom, as another famous writer said.
Anyway, before heading north to my writer's shack a couple of weeks ago, I searched our public library's shelves for books on tape. It was an eleven hour drive each way and, since I liked to do it in one go, I needed aural stimulation, as well as a six pack of Red Bull and whatever drugs I could cadge before departing. My perusal of the library shelves yielded the Books on Tape version of Moby Dick, read by Frank Muller who, the blurb on the back of the box informed me, was "the first true superstar of spoken audio." The box contained 18 compact discs, which ran for a total of 21 hours. Just enough to get me up and back.
---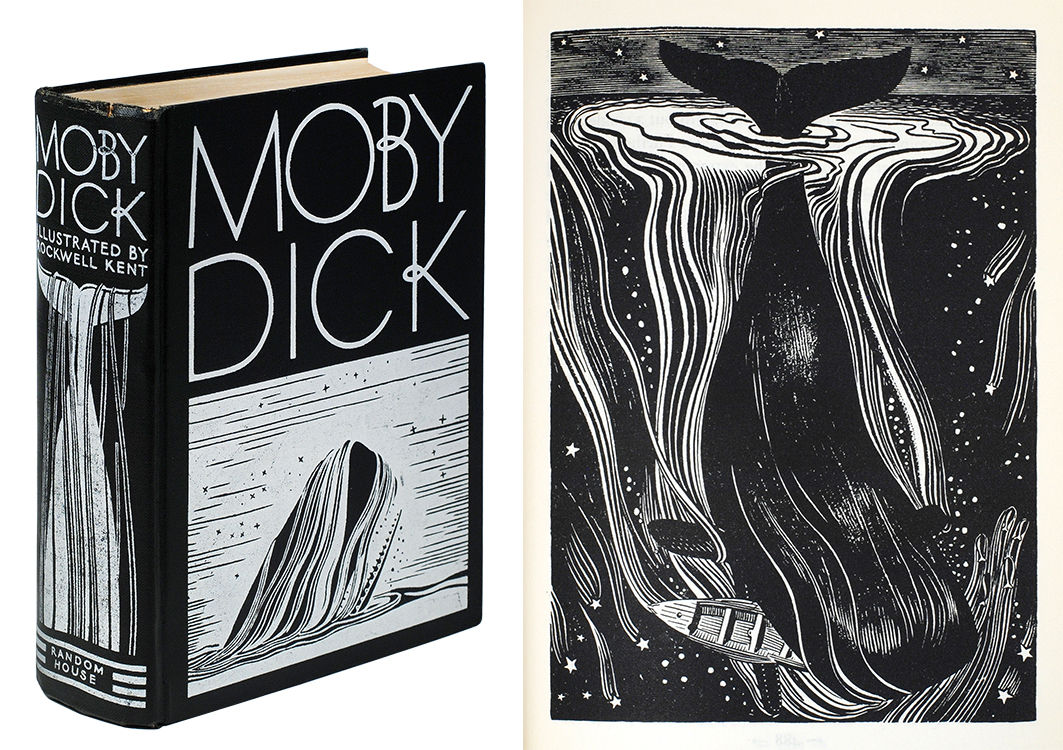 Moby Dick; or, the Whale, Illustrated by Rockwell Kent
8vo. New York: Random House, 1930. 8vo, xxxi, , 822, [vi] pp. With nearly 300 black-and-white illustrations, many full-page, by Rockwell Kent. Original black cloth, with title and decoration in silver on backstrip and upper cover. Upper cover beautifully bright and clean, light wear to silver on backstrip, small chip to headcap, light waterstain to bottom corner of textblock, not visible on pages. A very good copy, free from the marks or bookplates of any former owners. First Trade Edition. This edition was reduced from the magnificent folio three-volume edition issued in a limited edition in the same year by the Lakeside Press. It is a worthy trade edition, capturing much of the extraordinary quality of Kent's illustrations. A very good copy of one of the most important American illustrated books of the twentieth century. (Offered by John Windle, Antiquarian Bookseller)
---
Well, I made it up there, and I chopped my wood and worked on my novel and then I headed back, all in one rejuvenated piece. And just as Tashtego's hammer was pinning that seahawk's wing to the masthead, I was home.
I'm telling you all this because something interesting occurred in the course of that 21 hours of listening to Frank Muller read my totem book. It was the first time since 1964 that I'd heard Melville's words read aloud, and I discovered, to my considerable surprise, that Ishmael out loud was a hell of a lot funnier than Ishmael read to oneself in silence. As Frank Muller spoke his words I realized the degree to which, in the midst of his lengthy philosophical soliloquies, Ishmael is continually poking sly fun at himself, undercutting his profundities again and again. I mean, I was always aware that this was going on, but I never understood the degree to which Melville/Ishmael's hijinx were a part of the book – until I heard it read aloud.
Then, having just returned from a week of concentrated writing activity, I wondered if an author's writing, as he writes it, doesn't sound more to him in his own mind, the way it would sound if it were being read aloud to someone else? In the resonating chamber of a writer's brain, wouldn't his words, as he writes them, sound as if they were being spoken? Perhaps, by the time the page transmits them to us, they've lost that bit of life, leaving us to reconstitute them as we may. Which might be why writers so often feel misunderstood by their readers.
The only cure for this, of course, is that every book should be read aloud by its author as a podcast, rather than silently by a reader from a page. At the rate literacy and books seem to be disappearing, that day may be upon us sooner than we think.

Search for rare and collectible editions of Moby Dick...
Narrative of Four Months' Residence Among the Natives of a Valley of the Marquesas Islands; or, A Peep at Polynesian Life.
London: John Murray, 1846. 6/25/16. xvi, (1), 285 pp. This is a rebound copy of the first London edition of Melville's early best seller - BAL 13652, first issue, variant A. It has been trimmed from 7 inches to 6 3/4, and rebound in calf over marbled boards. It has been rebacked, with a portion of the old backstrip laid down, and a new spine label added. Stationers ticket of J. Whereat on front pastedown. Some foxing on preliminary pages, else a very good copy. (Offered by Ten Pound Island Book Company)
[This post originally appeared on Greg Gibson's blog, Bookman's Log...]