ABAA-member John Crichton of San Francisco's Brick Row Book Shop has loaned the oldest-known Christmas card to the Charles Dickens Museum in London for inclusion in their current exhibition "Beautiful Books: Dickens and the Business of Christmas." The card, illustrated by John Calcott Horsley and designed and commissioned by Sir Henry Cole, was printed and mailed in 1843, making it the oldest known Christmas card. Crichton acquired the card in 2017, and interested parties should contact Brick Row Book Shop if they wish to own this piece of history.
Charles Dickens, of course, was pivotal to the Christmas industry as we now know it! His celebrated story A Christmas Carol appeared the same year as this card, and was an instant success — so much so that another publisher was offering bootleg editions within the year!
1000 copies of the card were originally printed, but only five are known to have survived to the present day. Crichton told the San Francisco Chronicle that the "survival of these ephemeral items is a rarity, as evidenced by the fact that this museum wanted to display it" and noted that "having a Christmas card that you can sell is the beginning of the commercialization of Christmas."
The Chronicle article provides more details more details about this event: "The press run was 1,000, sold in shops at a shilling apiece, about $4 in today's U.S. currency. Each card had a line at the top for writing in the name of the recipient, and a line at the bottom for the sender to sign. There was no printed date on the card, but at least one that survived was hand-signed and dated by the artist 'J.C. Horsley, 1843.' Christmas cheer envelopes were also available for mailing." (Read the complete San Francisco Chronicle article here…)
In the description of their exhibition, The Charles Dickens Museum notes that "Dickens cornered the Christmas publishing market from the 1840s but later in his career, he began to distance himself from what had become an annual flood of festive books, stories and stocking fillers. 'I am sick of the thing' he confessed to a friend in 1868. Christmas, however, went on regardless."
Crichton's card is a centerpiece off the exhibition, which also includes Dickens's manuscripts and original illustrations for his Christmas stories and beautifully bound jewel-studded books by Sangorski and Suttcliffe."
Crichton's card is not currently listed for sale on abaa.org, but interested parties should contact him at Brick Row Bookshop. Another ABAA-member does offer two intriguing items, however; James Cummins Bookseller has both a printer's proof of the original card from 1843 and later facsimiles of the card from 1881 (details offered below).
Beautiful Books: Dickens and the Business of Christmas is on exhibit at the Charles Dickens Museum in London until April 19, 2020. After that, the world's oldest Christmas card will return to Brick Row Book Shop in San Francisco.
---
Related items:
A Merry Christmas and a Happy New Year to You SIGNED PRINTER'S PROOF OF THE FIRST CHRISTMAS CARD, PRINTED IN RED INK. 4 5/8 X 6 3/8 IN.; 119 X 162 MM
by Henry Cole (Pseud. "Felix Summerly")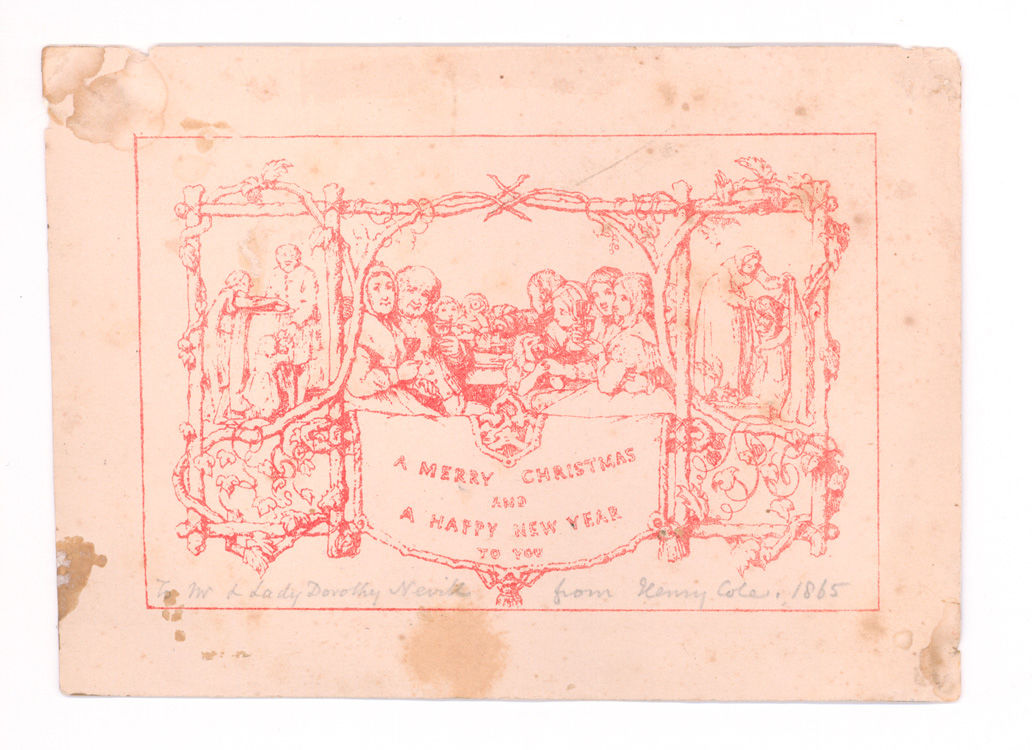 London: [Joseph Cundall for] Summerly's Home Treasury Office, 1843. Printer's proof of the first Christmas card, printed in red ink. 4 5/8 x 6 3/8 in.; 119 x 162 mm. Scattered spotting and staining, some losses to corners (chiefly on verso) from glue mounts. Printer's proof of the first Christmas card, printed in red ink. 4 5/8 x 6 3/8 in.; 119 x 162 mm. One of 5 Proofs of the First Xmas Card, Inscribed to Lady Dorothy Nevill. Inscribed "To Mr. & Lady Nevill from Henry Cole, 1865". [Together with:] Chromolithographed facsimile of the first Christmas card (3-1/4 x 5-1/8 in.; 83 x 131 mm), inscribed to Lady Dorothy Nevill and daughter by Sir H. Cole & Lady Cole; light traces of glue mounts on verso. Linen album housed within a linen slipcase. One of five proofs of the first Christmas card (and one of three remaining in private hands) along with the 1881 facsimile of the first card, both inscribed to Lady Dorothy Nevill and her family. Lady Dorothy, the youngest daughter of Horace Walpole, 3rd Earl of Orford, was an accomplished author, painter, illustrator, gardener, and collector of memorabilia (such as the proof and the card) and snuffboxes, corest buttons, lockets, etc. Grolier/Elliott 43-44; Elliott, Inventing Christmas, p. 86 (illustration of proof); Kenneth Rowe, The Ephemerist (December 1997), p. 713, listing only 4 proofs (2 in private hands), not including this proof inscribed to the Nevills (Inventory #: 100535)
Offered by James Cummins Bookseller.
A Merry Christmas and a Happy New Year to You
by Henry Cole (Pseud. "Felix Summerly")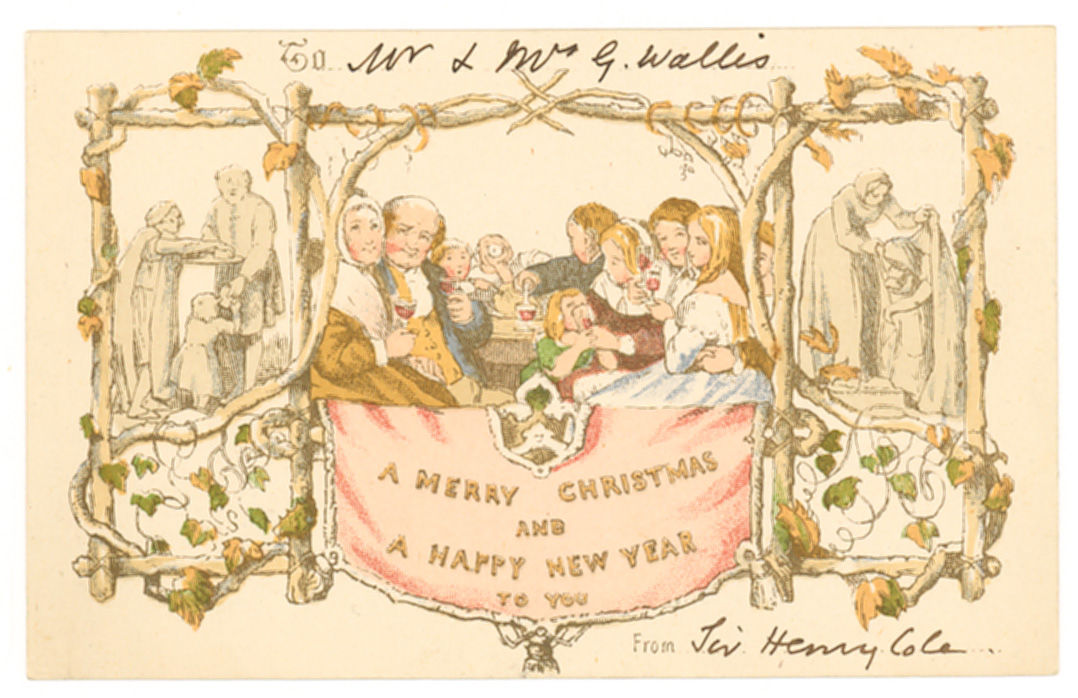 London: [De La Rue & Co, 1881. Chromolithographed card. (3-1/4 x 5-1/8 in.; 83 x 130 mm). Remnants of a blue paper mount on verso. Linen mat, laid into a cream linen slipcase. Chromolithographed card. (3-1/4 x 5-1/8 in.; 83 x 130 mm). INSCRIBED TO HEAD OF V & A.
Chromolithographed card in the form of a triptych, the central panel depicting a family party of three generations in which the adults are toasting the health of the addressee with wine, the side panels representing Christmas charity (the poor being fed and given warm clothing), being a facsimile of the 1843 Christmas card, inscribed to Mr. and Mrs. G. Wallis by Henry Cole ("Sir Henry Cole") A facsimile copy of the first Christmas card, and one of the last cards ever sent by the originator of the card. Sir Henry Cole died the following year. The card is inscribed to Mr. and Mrs. G. Wallis. George Wallis later became head of the Victoria and Albert Museum, of which Cole was a founder. Grolier/Elliott 44; Elliott, Inventing Christmas 87 (Inventory #: 100536)
Offered by James Cummins Bookseller.
by Charles Dickens (Illustrator: John Leech, Engraver: William James Linton)
London: Chapman & Hall, 1844. A Fine Association Copy of Charles Dickens's Most Famous Christmas Book The Exceptionally Rare "Trial Issue" with the Title-Page Printed in Red and Green Inscribed "Christmas 1843" by the Brother of Dickens's Illustrator for "A Christmas Carol" DICKENS, Charles. A Christmas Carol. In Prose. Being a Ghost Story of Christmas. With Illustrations by John Leech. London: Chapman & Hall, 1844. First edition, first issue, the very rare so-called "trial issue," with title-page printed in red and green and half-title printed in green; "Stave I;" text entirely uncorrected; yellow coated end-papers. Small octavo (6 7/16 x 4 1/16 inches; 164 x 103 mm.). [8], 166, [2, ads] pp. Four hand-colored steel-engraved plates by and after Leech and four wood-engraved text illustrations by W.J. Linton after Leech. Contemporary ink gift inscription on verso of front end-paper "To Maria Linton/a Christmas present/from H.D.L./1843". (H.D. Linton was the co-founder of the illustrated periodical Pen and Pencil). He was the younger brother of wood-engraver William James Linton who contributed four wood-engraved illustrations to A Christmas Carol. Original cinnamon vertically-ribbed cloth. Covers decoratively stamped in blind, front cover and spine decoratively stamped and lettered in gilt, all edges gilt. Binding matches Todd's first impression, first issue, with closest interval between blind-stamped border and gilt wreath equal to 14 mm. and with the "D" in "Dickens" in perfect condition. Inner hinges expertly and almost invisibly repaired, minimal wear to head of spine, imperceptible and very small closed splits to extremities of joints. Small rectangular colored bookplate of Mitchell S. Buck lightly tipped onto front paste-down. Bookplate of Bob Stilwell on inside of chemise. Loosely inserted is Mabel Zahn of Sessler's, Philadelphia typed 1940s description showing the textual points of the first issue and written in ink "This Copy has all points." Overall, a wonderful copy of this great rarity, exceptionally clean and bright. Chemised in a quarter red morocco over red cloth slipcase, spine with five raised bands and two green morocco labels lettered in gilt. The current Dickens bibliographer Walter Smith has examined an identical example at the W.A. Clark Library and accepted it as an authentic example of this rare issue. The red and green title-pages and the green half-titles are agreed to have been printed earlier (thus the "trial issue" moniker). Charles Dicken's Christmas classic, written in a mere six weeks at a low point in Dickens's career, and published at his own expense, A Christmas Carol revived Dickens's fortunes, establishing a robust market for Christmas gift books that survives to this day. The characters of Scrooge and Marley, Bob Cratchit and Tiny Tim, are immediately recognizable even to those who've never read a word of Dickens: "'God bless us every one!' said Tiny Tim, the last of all. He sat very close to his father's side, upon his little stool. Bob held his withered little hand in his, as if he loved the child, and wished to keep him by his side, and dreaded that he might be taken from him." One of Dickens' favorite artists, John Leech would produce the illustrations for all his Christmas books. H. D. Linton, was the younger brother of the wood engraver, landscape painter, political reformer, and Charles Dickens illustrator, William James Linton (1812-1897). In 1855 H.D. Linton together with his friend M. Edmond Morin, devised a new illustrated paper to be called Pen and Pencil. Morin furnished the money and contributed most of the drawings; H. D. Linton did the engraving (he had studied engraving with his brother and Orrin Smith); William James Linton edited the journal in conjunction with Mr. Macrae Moir. After about eight numbers Pen and Pencil succumbed to scarcity of capital. Maria Linton, nee Hoover (1815-1858) H.D. was most likely H.D. Linton's sister, first cousin, or niece. Smith, Dickens, II, 4. Calhoun & Heaney, especially pp. 35, 48-49.
Offered by David Brass Rare Books.
by Charles Dickens
London: Chapman & Hall, 1843. FIRST EDITION, FIRST ISSUE. Four inserted hand-colored steel-engraved plates by and after Leech and four black and white text wood-engravings by W.J. Linton after Leech. Full green morocco by Sangorski & Sutcliffe with intricate gilt stamping on front and back including the letter "E" and 1908 in the top corners and "Xmas 1908" in the bottom corners, all in gilt, spine in compartments with gilt lettering and ornaments, all edges gilt; title page printed in red and blue, and half title printed in blue. Tipped in is a leaf of thick paper with an elaborate multi-colored and gold pen and ink illustration of a London street scene with the words, "To Edmund From" and dated Christmas, 1908. The street is in Central London and shows numerous shops, including the bookstore of the well-known London bookseller Walter Spencer. It is quite probable that the illustration was done by Alberto Sangorski, the brother of Francis (who founded the bindery) and a well-known illustrator. The fly-leaf is signed by Francis Sangorski, George Sutcliffe, and Spencer (fl. 1860-1880), who was friends with Dickens. The original brown publisher's cloth binding is bound in on 3 separate leaves (front, back and spine). A unique, exquisite copy. First edition, first issue, with all first issue points (half-title printed in blue, title printed in blue and red with the 1843 date thereon, "Steve I" on page 1 with the uncorrected text). One of Dickens' most acclaimed works, capturing of the zeitgeist of the Victorian-era revival of the celebration of the holiday. It describes the evolution of businessman Ebenezer Scrooge from arrogant, stubborn miser to warm-hearted, kind holiday celebrant, following his meeting with the now famed characters of the Ghosts of Christmas Past, Present, and Future. Published on 19 December, the first edition sold out by Christmas Eve, 1843. Given the illustration and binding, it is likely that the book was specially bound for someone who was both a client of the bindery as well as the bookseller Walter Spencer. Sangorski and Sutcliffe made "Christmas bindings" as gifts for good customers over the years, but this example is clearly not one of their usual holiday offerings, as none of those were ever signed. It is possible (though not at all proven) that the Edmund to whom the book and the binding was given was Edmund Dulac, who was indeed a customer of both the bindery and the bookseller at the time (1908) and who was living in Central London. Dickens (1812-1870), known for his many other notable works, including Oliver Twist and David Copperfield, penned A christmas carol during England's revived exploration of yuletide traditions and the newly emerging ones, taking inspiration from tales written by Washington Irving and Douglas Jerrold. Deeply in debt, Dickens began this novel in the 1840s in order to supplement his family's deficient income. This work resulted in acknowledging Dickens as a lasting influence on the modern Western observance of Christmas, including the festive generosity of spirit experienced during the holiday season. (Inventory #: 16149).
Offered by Rootenberg Rare Books.