Like any field of endeavor, the rare book trade has its quirks and rituals, its habits and history, its jargon and secrets. Unlike some other trades, book dealers have never been afraid to commit their secrets, memories, and insights to paper. There are many, many fascinating and educational books detailing the inner workings of the rare book trade. We polled some dealers and collectors and arrived at this list of the top ten books every book collector should read.
Let's start with the more educational books: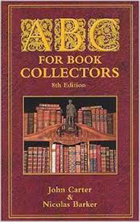 1. ABC for Book Collectors by John Carter
The classic reference work on book terminology. First published in 1952, the current edition (the 8th) has been updated to include newer jargon and terms spawned by the internet. With subtle wit and humor, first John Carter and now Nicholas Barker unpeel the layers of meaning from phrases that -- although once more-common -- now appear terribly obscure outside of rare book circles.
In a field where it's essential that buyers and sellers understand what they're talking about, ABC for Book Collectors is an excellent guide to our common language.
After one learns the jargon used in the used book trade, the next thing one needs is a guide to spotting which copy is of value and which merely interesting. While an acquaintance with an experienced rare book dealer is the best way to access this information, there are several good books that ABAA members and serious collectors keep on hand for constant reference.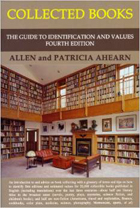 2. Collected Books: The Guide to Values by Allen and Patricia Ahearn
Written by ABAA members Allen and Patricia Ahearn of Quill and Brush, Collected Books: The Guide to Values contains information on some of the most widely collected books, provides notes on discerning one edition from another, and guidelines on typical prices for collectible copies. Noted book collector and rare book expert Nicholas Basbanes (about whom more below) declared "If any single item can be considered essential equipment for today's book collector, it is Collected Books ...this richly informative reference volume offers authoritative guidance for every manner of bibliophile, from beginning bookhunters to hard-core veterans..."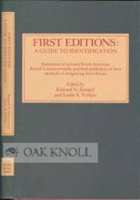 3. First Editions: A Guide to Identification by Edward Zempel and Linda Verkler
As every publisher seems to use slightly different means to identify their first editions, a reference book that collects and comments on these practices is vital.
ABAA member John Schulman of Caliban Books singles out Edward Zempel and Linda Verkler's First Editions: A Guide to Identification, commenting that "Professional booksellers keep this on hand for reference, as there are simply too many publishers and too many different notations to keep straight otherwise."
One final identification guide worth pointing out is:
4. A Pocket Guide to the Identification of First Editions by Bill McBride
The great virtue of this book is its small size. You really can carry it around in a pocket and pull it out to confirm if the book you've stumbled across is a modern first edition or not. Great for exploring used book stores on vacation, yard sales, and other unexpected opportunities to acquire old books.
(Do you need more than one identification guide to modern first editions? Possibly not, but I've never met a book collector yet who said "one book is enough.")
Beyond the reference and identification guides, there are many memoirs and nonfiction books exploring the world of rare books and the mindset of the bibliophile. Perhaps no writer has made this beat his own as much as Nicholas Basbanes, author of many books on book collecting and the history of the book. We'll pull just one of these to the fore because it's a perfect introduction to book collecting: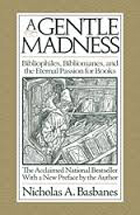 5. A Gentle Madness: Bibliophiles, Bibliomanes, and the Eternal Passion for Books by Nicholas Basbanes
Both a "timeless classic" by a charming raconteur and a fascinating work of history for those of us who love old books, book-selling, and the quirky characters who populate the antiquarian book world, A Gentle Madness "captures that last moment in time when collectors pursued their passions in dusty bookshops and street stalls, high stakes auctions, and the subterfuge worthy of a true bibliomaniac," according to its publisher.
Critics and collectors agree, with Michael Dirda writing in the Washington Post that "A Gentle Madness is chock-a-block with such strange and appealing characters, each more wonderful than the last. On nearly every page Basbanes neatly profiles similar dreams, dedication, and sometimes sheer biblio-lust. Nicholas A. Basbanes has compiled a wonderful gallery of eccentrics, isolatos, charmers and visionaries an ingratiating and altogether enjoyable book."
If you're a recent convert to serious book collecting, you need to read Basbanes to understand just what you've gotten yourself into. (After this, read Basbanes' Among the Gently Mad.)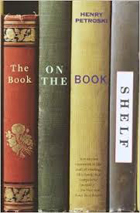 6. The Book on the Bookshelf by Henry Petroski
An essential and enthralling book about the development of the book as a physical object from scriptoriums to the computer age. Petroski is an engineer, and brings a very practical eye to the development of the book as a physical object, and the influence it has cast on the development of the furniture and buildings where one stores and uses books. Books could have evolved in different ways, but Petroski helps us to understand why they achieved their current form.
7. Obelisk: A History of Jack Kahane and the Obelisk Press by Neil Pearson
"Everyone with an interest in literary history will enjoy Pearson's narrative" wrote the Guardian's Nicholas Clee in his review, and it's easy to see why. Obelisk Press was founded by Jack Kahane (father of Maurice Girodias), who set out to profit from scandalous and notorious books in order to publish writers he championed, but knew would sell only modestly (Henry Miller, Anaïs Nin, Cyril Connelly, Lawrence Durrell and even James Joyce). A fascinating character, Kahane was described by one journalist as "a quite bizarre blend of ultra-sophisticated, avant-garde literary entrepreneur and, by the standards of his time, pornographer."
Pearson's book is part-exhaustive bibliography, part a biography of Kahane (a short one, as Kahane and Girodias were careful to destroy correspondence and the press' paper trail), and part a digressive collection of stories about writers, booksellers, and minor literary characters between the wars in Paris.
(Digression: if you are interested in the "lost generation"/publishing in post-WWI Paris, other fascinating books include: Shakespeare & Company by Sylvia Beach and Sylvia Beach and the Lost Generation: A History of Literary Paris in the Twenties and Thirties by Noel Riley Fitch. But skip Maurice Girodias' dull memoir.)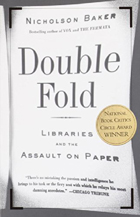 8. Double Fold: Libraries and the Assault on Paper by Nicholson Baker
Just when you thought your collection was focused and under control, along came Nicholson Baker and got everybody all worked up about the destruction of newspaper archives and distrustful of libraries.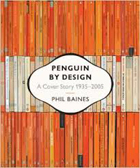 9. Penguin by Design: A Cover Story, 1935-2005 by Phil Baines
Allen Lane's Penguin Books had a huge influence on the book trade on both sides of the Atlantic over the course of the twentieth century. This volume charts the development of British publishing, the ever-changing currents of cover art and style, and the role of artists and designers in creating and designing the Penguin look. If you are interested in book design, this is an essential volume. (Honorable mention: If you are into Penguin Books, you simply must read Penguin Special: The Story of Allen Lane, the Founder of Penguin Books and the Man Who Changed Publishing Forever by Jeremy Lewis.)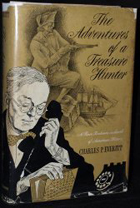 10. The Adventures of a Treasure Hunter: A Rare Bookman in Search of American History by Charles P. Everitt
ABAA member William S. Reese's hilarious review of this "no-holds-barred" memoir of a lifetime in rare book trade between the late 1800s and the 1940s won me over with his first line: "Bookseller's memoirs are a variegated and somewhat suspect form of literature. It is hard to find the right balance between anecdote and the nitty-gritty of prices, between tales out of school and platitudes. It helps, of course, if the autobiographer outlived most of his contemporaries, and so felt less constrained in what he has to say about them."
For humorous insights into the history, practices, and mindset of the bookdealers of a much earlier age, The Adventures of a Treasure Hunter is a delicious piece of history and gossip.
Also recommended:
On Paper by Nicholas Basbanes
Library: An Unquiet History by Matthew Battles
The Yellow-Lighted Bookshop by Lewis Busbee
Time Was Soft There by Jeremy Mercer
Used and Rare by Lawrence Goldstone
Modern Book Collecting by Robert A. Wilson
Living With Books by Alan Powers
When Books Went to War by Molly Guptill Manning
The Man Who Loved Books Too Much by Allison Hoover Bartlett
No doubt we've left off many favorites or undeservedly obscure classics. Please share your favorite books about book collecting in the comments below.