Contact the Seller
Bradford Lyon
P.O. Box 398
Hopewell, NJ 08525

.(JavaScript must be enabled to view this email address)

(609) 466-0522
http://www.woodburnbooks.com
Recent Catalogs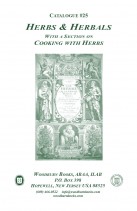 Horticulture Catalogue #25 - Herbs & Herbals
Catalogue #25 (September 2017), "Herbs & Herbals," contains 65 items including a number of significant British and American herbals. Highlights include the following: John Gerard's landmark HERBAL (London 1636), with over 2,800 woodcuts of plants; Hill's BRITISH HERBAL (London 1756) with an allegorical frontispiece and 75 copperplate engravings; Abraham Munting's DE VERA ANTIQUORUM HERBA BRITANNICA (Amsterdam 1681), containing 24 engraved plates of plants, all contenders in the author's search for the identity of the true "Herba Britannica" as discussed by early herbalists; and Constantine Rafinesque's MEDICAL FLORA (Philadelphia, PA 1828: 1830), complete with 100 plates of plants printed in green ink.
Recent Catalogs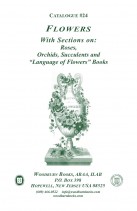 Horticulture Catalogue #24 - Flowers
Catalogue #24 (May 2017), "Flowers - with Sections on Roses, Orchids and Succulents," contains 225 items ranging from individual flower monographs to a section of "Language of Flowers" books. Highlights include the following: Brook's NEW CYCLOPAEDIA OF BOTANY AND COMPLETE BOOK OF HERBS (London 1851-1854) with 100 colored plates; Hey's THE MORAL OF FLOWERS (London 1836) with 28 colored plates of bouquets; Stern's PEONIES OF GREECE in the limited edition, with 12 loose color lithographs measuring 26" tall by 20" wide suitable for individual framing; and a nurseryman's sales catalogue with 57 color plates of fruits, flowers and trees from the Miller & House Nursery (circa 1888), a U.S./Canadian cross-border nursery.