Contact the Seller
Bradford Lyon
P.O. Box 398
Hopewell, NJ 08525

.(JavaScript must be enabled to view this email address)

(609) 466-0522
http://www.woodburnbooks.com
Recent Catalogs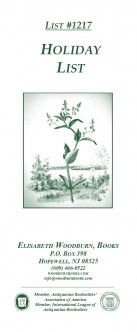 Holiday List #1217
Holiday List #1217 (December 2017) contains a descriptive listing of 31 horticulture and gardening books. Highlights include: Barton's FLORA OF NORTH AMERICA (Philadelphia 1821-1823); Cook's MANNER OF RAISING, ORDERING AND IMPROVING FOREST-TREES (London 1717); Embury's AMERICAN WILD FLOWERS (NY & Philadelphia 1845); and Keese's FLORAL KEEPSAKE (NY 1854). Please contact us at info@woodburnbooks.com or phone us at (609) 466-0522 if you would like to receive a print version of this catalogue.
Recent Catalogs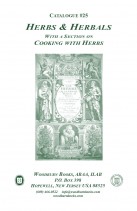 Horticulture Catalogue #25 - Herbs & Herbals
Catalogue #25 (September 2017), "Herbs & Herbals," contains 65 items including a number of significant British and American herbals. Highlights include the following: John Gerard's landmark HERBAL (London 1636), with over 2,800 woodcuts of plants; Hill's BRITISH HERBAL (London 1756) with an allegorical frontispiece and 75 copperplate engravings; Abraham Munting's DE VERA ANTIQUORUM HERBA BRITANNICA (Amsterdam 1681), containing 24 engraved plates of plants, all contenders in the author's search for the identity of the true "Herba Britannica" as discussed by early herbalists; and Constantine Rafinesque's MEDICAL FLORA (Philadelphia, PA 1828: 1830), complete with 100 plates of plants printed in green ink.