A number of ABAA members have either opened new stores or renovated their existing premises recently. This is significant because for years, antiquarian booksellers were either retiring or converting to "closed shops," which only sell by appointment, on the internet, and/or at rare book fairs. It's an expensive undertaking to keep a shop open to the public with regular business hours, staff, utilities, etc., and many rare booksellers — like their trade bookselling counterparts — found it challenging to maintain an open shop. Unlike those in the new-book trade, antiquarian booksellers have the option of operating as a "closed shop," and focusing on rare-book catalogs, rare book fairs, and selling to institutional collectors directly instead.
Recently, a new trend has emerged, with the five ABAA members below opening new stores or significantly expanding their existing ones.
Whitmore Rare Books (Pasadena, CA)
Whitmore Rare Books recently moved from a second-floor walk-up space to a ground-level showroom on a much more heavily trafficked street in Pasadena. Owner Dan Whitmore explains the attraction of the new space:
"We opened our new retail shop at 121 E Union St., Pasadena, CA 91103 in October 2018. The space was previously used as an art gallery. I fell in love with the high ceilings, the vintage purple-lead glass, hardwood floors and big window bays. We sit just on the edge of Old Town Pasadena and a short walk to the convention center where the CA International Antiquarian Book Fair is held.
I wanted to create a place where exceptional first editions could be showcased, discussed and celebrated. With so much purchasing now done online, it seemed important to create a retail experience where both novice and seasoned collectors could come in to see the books in person and engage with our knowledgeable staff.
Our inventory is generally higher-end first editions of literature, philosophy, and history with a particular focus on exceptional-condition copies. There hasn't been any shift in focus away from that; instead we have used the new shop to showcase the books that are in stock and to reach a wider audience."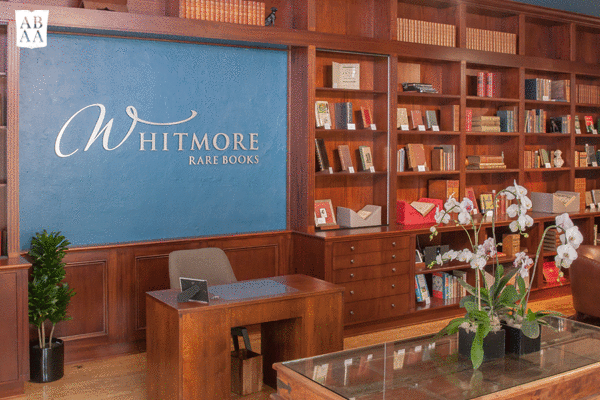 An official opening party is planned for the weekend of December 6 & 7, 2018. For details and to RSVP, contact info@whitmorerarebooks.com...
Bromer Booksellers (Boston, MA)
Boston's Bromer Booksellers celebrate their 50th anniversary this year, and one of the ways they are marking the occasion is by adding a dedicated gallery space (Bromer Gallery) celebrating printing and artist's books to their store on Boston's Boylston Street.
The store temporarily relocated to another floor over the summer of 2018 in order to facilitate major renovation of their space. According to store manager Phil Salmon, the changes involved taking over "the space adjacent to our rare books' showroom, which has ample wall space, and transforming it from a back office/shipping-receiving area to a gallery space." The new gallery does not represent an entirely new focus for the store, Salmon noted, more of "a natural extension of the Bromers' long interest in letterpress printing and artists' books."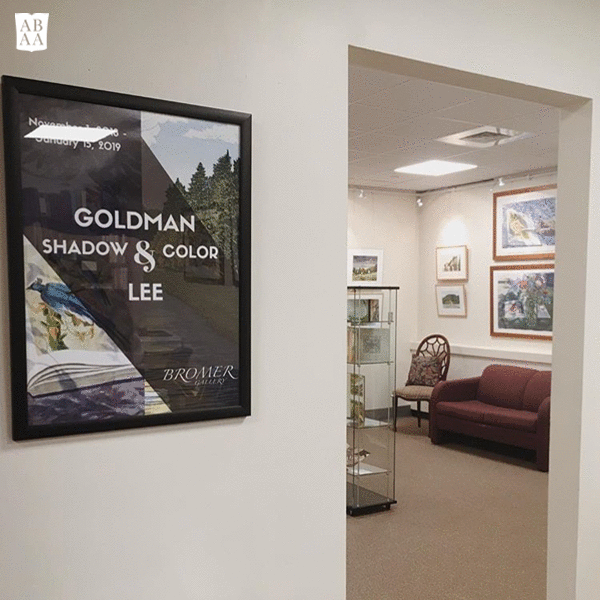 The inaugural exhibit, "Goldman and Lee: Shadow and Color" opened on November 1, 2018 (photos above), and showcases Jane Goldman's Audubon Suite, which incorporates plates from John James Audubon's Birds of America into vibrant still-lifes, and the woodcut prints and books of Jim Lee, who draws inspiration from the lush landscapes of Ireland, the Connecticut River Valley, and Maritime Canada. "Goldman and Lee: Shadow and Color" will be on exhibit at Bromer Gallery, 607 Boylston Street, Boston, MA 02116, from November 1, 2018 until January 15, 2019. In February 2019, the store plans an exhibit by noted artist Barry Moser.
lizzyoung bookseller (Brooklyn, NY)
Elizabeth Young (lizzyoung bookseller) is opening a culinary bookshop in Brooklyn's Cobble Hill this December. She told Fine Books & Collections she was "inspired to do so by the owner of a similar bookstore in San Francisco, Omnivore Books, which sells both new and rare culinary books... placing rare cookbooks and cocktail books next to new ones creates a whole new customer base. Most people who love food and cooking don't even know the rare book world exists." Young began her career as an editor at Gourmet Magazine and now specializes in books on food, drink, and the culture of cooking.
We asked Elizabeth Young to tell us why she felt the time was right for a "bricks 'n' mortar" book shop:
"Up until this new venture, I have been selling my inventory of food- and drink-related books and ephemera online by way of my website, ABE, biblio, and etsy. I have also been participating in both ABAA-sponsored and non-ABAA-sponsored rare book fairs. One of the more successful fairs for me has been the Brooklyn Antiquarian Book Fair, a non-ABAA sponsored event that attracts a younger clientele that, by-and-large, consists of first-time buyers. I suspect that I have had particularly good luck selling to this audience because food and drink is of interest to virtually everyone, and a subject easily approachable to the uninitiated. Having an open shop will allow me to continue this conversation on a daily basis with those already invested in food and the culture that surrounds it, but who are just beginning to get to know the rare book side of the culinary field.
The shop will feature new and rare books, and ephemera that touch upon virtually every subject in the culinary world -- i.e. food, drink, wine, cocktails, remedies, food culture, food history, food production, the politics of food, and even food-inspired artworks. The hope is also for the shop to function as a kind of culinary salon for New Yorkers passionate about food and drink. Brooklyn, over the last number of years, has become a center of the food-writing and food-producing world, and the shop will host regular readings, lectures, and demonstrations by local and visiting cookbook authors, chefs, brewers, vintners, cocktail experts, scholars, and artists."
One area where online bookselling cannot compete is the realm of events and book signings:
"We have two authors already signed up to do book signings: Darra Goldstein will be discussing her book, The Georgian Feast - The Vibrant Culture and Savory Food of the Republic of Georgia, November 29th, and Kara Newman will be talking about her book, Nightcap - More than 40 cocktails to Close Out Any Evening."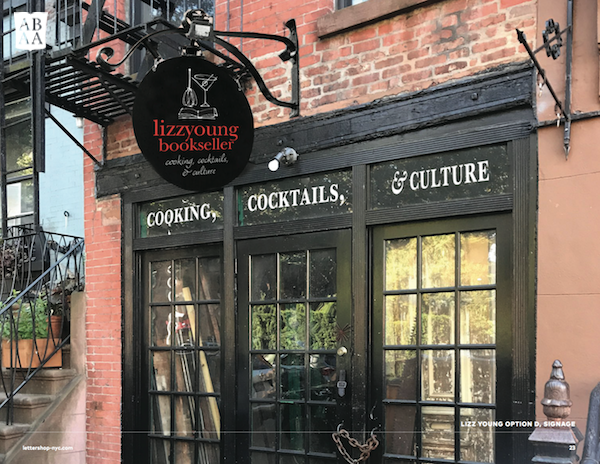 A "soft" opening is scheduled for the week after Thanksgiving, with a full schedule starting December 1st. Young had "committed to participating in the Boston Antiquarian Book Fair long before renting the shop space in Brooklyn, and decided to open the shop immediately following the fair."
"Generally, the store hours will be 12-8, Wednesdays through Sundays, although I will be open every day in December in order to meet the demands of the holidays. The store hours may change in 2019 as I adapt to the groove of the neighborhood and the needs of the local public."
Kevin F. Kelly, Bookseller (New Paltz, NY)
One of those who has moved from a closed to an open shop is Kevin F. Kelly, of New Paltz, New York, who now operates a showroom Friday through Sunday at 143 Farmers Turnpike in nearby Gardiner, New York, because, as he put it, "there is no substitute to seeing the material in real life." Like many ABAA members, Kelly has far more material than he could ever list online, so collectors will be able to explore the shelves and find items in his shop that they will not be able to find or order any other way.
Reflecting on the first couple of months in the new space, Kelly said:
"Although I have been, theoretically, open to visitors "by appointment" for ten years… the appointment part doesn't seem to encourage many visitors. I cut my teeth as a bookseller on 57th street in a beautiful shop, and I've missed the occasional visitor. When I recently moved a few miles outside of New Paltz to Gardiner, I was fortunate to secure a house next to the library, rail trail, and Majestic Park, just off the "main drag" as it were of this charming hamlet. The house was suited to dedicating two rooms in the front to "exclusive use", and rather than do the by appointment thing I decided to publicize drop-in hours. I did a soft open essentially at the onset of fall, and thankfully, a few from the trade and some locals have popped in and bought some things! It's a casual space, and for me, creating little thematic exhibits to change things up, while also showing potential newcomers books in something in between a retail and domestic setting is fun. I aim to expand the hours and have curated music events this coming spring."
The Book Bin (Corvallis, OR)
The Book Bin operates two stores in Salem and Corvallis in Oregon, selling new, used, and antiquarian books. They have recently opened a rare-book room in their Corvallis store. Previously, they sold rare books from their Salem store and at rare book fairs.
Owner Obadiah Baird told The Corvallis Gazette-Times, "The rare book room is where I really get to pursue my passion for books. It makes me feel happier and more satisfied with my work. I've seen books where just to hold them felt like a privilege." (For more information on The Book Bin's new rare book room, click here...)
We'll keep you up-to-date with any other ABAA members expanding at our regular Rare Book News page...