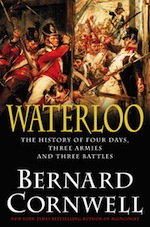 June 18 2015 marks the the 200th anniversary of the Battle of Waterloo. Bestselling historical novelist Bernard Cornwell has spent years researching the antagonists and walking the battlefield; the fruits of that labor is his first nonfiction book, Waterloo: The True Story of Four Days, Three Armies and Three Battles, which attempts to paint the full picture of the battle. We interviewed Cornwell about his research and writing process, how he uses a mixture of primary scources and rare books, and the value of a unique archive of first-person accounts of Waterloo created by a British Army Captain 15 years after the battle.
ABAA: How did your career as an historical novelist start?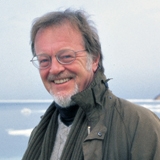 Bernard Cornwell: Purely by accident! I was a TV producer for the BBC in Britain when I met an American blonde. She couldn't move to Britain for family reasons, but I had no ties so airily said I'd move to the States! The US Government, in its wisdom, denied me a Green Card so I told her I'd support us by writing. That was 35 years ago, we're still married and now I'm a citizen!
ABAA: The non-writer imagines historical novels would take much longer to write because of all the research that must first be done, but you're incredibly prolific. How do you manage to balance the research and the writing?
BC: I'm not sure I do balance it! Balancing implies a conscious effort to finish essential research before beginning a book, but the two processes co-exist. And research is really a lifelong activity. My interest in Waterloo began when I was at school and I've been reading about and around the battle ever since. I do set aside time for research, but fairly often I get bored with it and decide to write a chapter or two, and inevitably the story takes over and I'm forever scrambling to bring the research up to date.
ABAA: What piqued your interest in writing a nonfiction book about the battle of Waterloo? Why not cover the events in an historical novel?
BC: I had covered Waterloo in one of the Sharpe novels and was aware that the version of the battle given in that story was very one-sided, colored by Sharpe's prejudices (he has many). But the battle has always fascinated me. It holds a very high place in British history, it was a clash between two military titans who had never before fought each other and, above all, it's one hell of a story!
Wellington was surely right when he said it was a 'near-run thing', and no matter how well you know the tale the ending is still a cliff-hanger. More than most battles it really does provide a thrilling story, and for a long time I wanted to tell it, not from Sharpe's point of view, but more objectively (and more fairly!)
Autographed Letter, Signed March 17, 1810. From Lord Wellington thanking a friend for sending information on what appears to be dividing some funds, and notes he is dealing with the Portugal situation. (This was the period where he was in the process of strengthening what came to be called the "Lines of Torres Vedras") signed, "Wellington" with notation on the back Lord Wellington Rec'd March 21, 1810. (Offered by Alcuin Books, Ltd.)
ABAA: Was your research primarily in biographies and existing histories, or were you able to examine primary sources like letters and diaries?
BC: It was primarily printed sources (there are so many!), but I did have the opportunity to look at a lot of unpublished material in the library of the National Army Museum. The battle is so famous, and so celebrated, that there's a wealth of published sources, though many of them have not been reprinted since the mid-19th Century and I managed to collect a good number of those old books which were tremendously useful, though I did find one, published in the USA by a soldier who claimed to have been there, and it became increasingly clear that he had never been near Waterloo. He wrote well, though!
ABAA: You quote from a great number of letters and journals by relatively ordinary soldiers. Were these letters and journals in any particular archive, or how did you come across them?
BC: The best archive (though it is heavily weighted towards officers) are the Siborne letters. William Siborne was a British army officer who, in the 1830's, conceived the idea of constructing a massive model of the battle on a scale of 9 feet to the mile. The model was built and can be seen today in the National Army Museum in Chelsea. It is a huge achievement with over 70,000 toy soldiers depicting the three armies at the moment of 'the crisis', which Siborne took to be the defeat of the Imperial Guard. Siborne spent months living at Waterloo to familiarize himself with the battlefield's topography and, with the assistance of the army, wrote to almost every surviving officer with requests for their recollections, and the subsequent replies form a unique archive of eye-witness accounts. It would have been almost impossible to write the book without those letters which Gareth Glover has collected, edited and published in many volumes.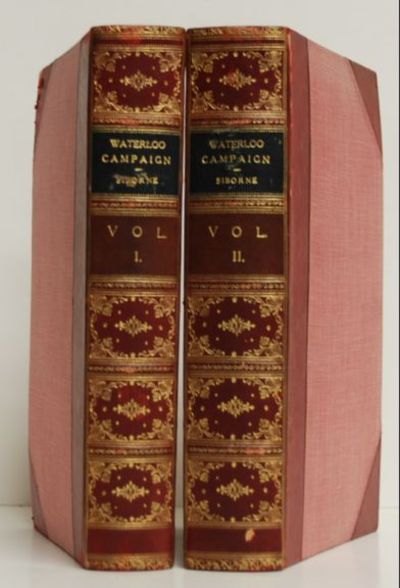 History of the War in France and Belgium in 1815, Containing Minute Details of the Battles of Quatre-Bras, Ligny, Wavre, and Waterloo by Captain William Siborne. London: T & W Boone, 1844. Second Edition. Hardcover. Near fine. Two volumes bound in half red morocco and cloth covered boards with 5 raised bands and gilt decorations and lettering on the spine. Marbled edges and endpapers. Minor wear to the extremities. Illustrations throughout. Supplements and appendices. (Offered by James & Mary Laurie Booksellers)
ABAA: The bibliography at the back of Waterloo is immense! Did you have difficult tracking down any of the older works you cited? Several appears to be written within a few decades of the battle.
BC: I've been collecting those books for over 40 years! So no, I already possessed many of them and others I found in antiquarian bookshops in the US, Britain and Australia.
ABAA: Did your opinion of the primary decision makers in the battle change over the course of your research? If so, how, and what changed it?
BC: I can't say it changed a great deal, though I was appalled by the sloppy staff work exhibited by Marshal Soult! There's little doubt that the battle was there to be won by Napoleon and it was his mistakes that lost it! And many of those mistakes were made by appalling staff work.... Marshal Grouchy was dispatched on a wild goose chase and his 33,000 men and 96 guns would have made a huge difference at Waterloo itself. The failure to reinforce Ney after the fall of La Haye Sainte was atrocious. Meanwhile Wellington, a very cool customer, kept his head and survived, and Blucher, of course, arrived in the nick of time!
Victories of the Duke of Wellington, From Drawings by R. Westall, R.A. London: Rodwell and Martin, 1819. First Edition, Abbey Issue 1. Woodcut vignette on title page, 12 hand colored aquatints engraved by T. Fielding (except No. 6 which is by Chas. Heath after R. Westall, and wood-engraved title page vignette. [iv], 47, [1] pp. 1 vols. 4to. Modern crimson morocco, with original label tipped onto the front pastedown, by MacDonald, joints repaired. A fine, brief popular account of Wellington's great victories, with 12 lively and colourful aquatint battle scenes. (Offered by James Cummins Bookseller, Inc.)
ABAA: Clearly, you spent some time visiting the battle field? How did that affect your understanding of the events? (Do you make a habit of visiting real locations for your historical fiction?)
BC: I try to visit every location I write about, but have probably visited Waterloo more than most. I'd guess I've made about 20 visits? It's a very evocative place, though not nearly as well preserved as it deserves. Wellington, on a subsequent visit, complained that they had 'spoiled' his battlefield… the Dutch erected the massive Lion Mound that now dominates the landscape and to make it they scraped between four and five feet of soil from the top of Wellington's ridge. Even so it is possible to follow the routes taken by the various combatants and to try and understand the horrors they endured that day.
ABAA: Do you ever keep a touchstone or totem artifact from a period on your desk while you write a book?
BC: I keep a British Heavy Cavalry sword in my office! It was sold by a provincial museum that was closing down and the curator swore it was carried at Waterloo, and it quite possibly was! I have no proof of that, but it's a brutal thing and looks as if it could have done a lot of damage!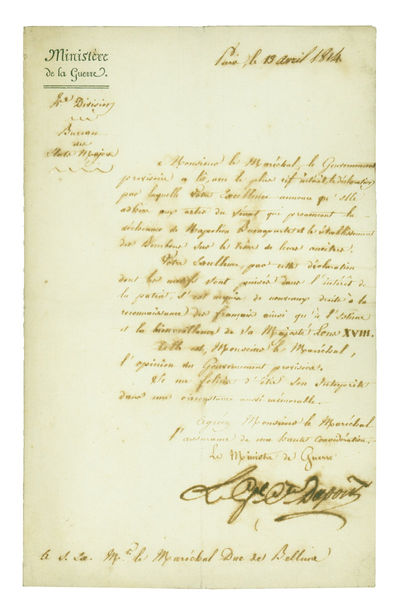 Letter, signed ("Le Gnl. Cmt. Dupont") as Minister of War under the provisional government, to Maréchal Claude Victor-Perrin, duc de Bellune, acknowledging the latter's acceptance of Napoleon's abdication and the restoration of the Bourbons. [Paris], 1814. 1 p., on letterhead of "Ministère de la Guerre". Folio. Some very slight waterstaining affecting a few letters, otherwise very good, handsomely mounted and framed. "… dans une circomstance … mémorable" An extraordinary letter of historic significance, written a mere two days after the Treaty of Fontainebleau of April 11, 1814, which set the terms of Napoleon's abdication, and ended an era. Dupont had been one of Napoleon's most distinguished generals, but his surrender in the disastrous Spanish campaign led to disgrace and imprisonment. After the fall of Napoléon, Dupont became Minister of War for Louis XVIII, and, in just such letters as this to Marshal Victor - one of Napoleon's most trusted generals - negotiated the acquiescence of Napoléon's military leaders. (Offered by James Cummins Bookseller, Inc.)
ABAA: What has the reaction to your books from the academic community been like? Are they receptive to your fictionalizing of historical events?
BC: I've no idea! I don't think I've been reviewed by any academics, and I don't read reviews anyway, and when I meet them they're unfailingly polite, but that could be hiding all kinds of evil thoughts! I'm sure some historians believe I trivialize history, and distort it, and I'm sure they're right too, but historical novels are a gateway to history and I always try to guide the reader to the non-fiction histories that will tell them so much more about the period.
ABAA: While you offer a long bibliography at the back of the book, can you single out any particular histories or biographies that are key to understanding the battle of Waterloo, and the Napoleonic wars?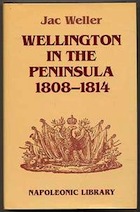 BC: I'm very fond of Jac Weller's trilogy, Wellington in India, Wellington in the Peninsula, and Wellington at Waterloo. Jac was an amazing man, an engineer by profession, but a military historian by avocation. He lived in Princeton surrounded by museum quality firearms from the Revolution and the Napoleonic eras. I once asked him why he, an American, so concentrated on a British soldier, the Duke of Wellington, and he leaned across the table, thumped it with his fist, and said "because I could have beaten him!" Well, no one else did! Jac was a passionate historian and his books are full of good sense!
ABAA: What is the pride of your book collection?
BC: The pride of my collection (which is enormous) are signed first editions of John Cowper Powys's novels.
With Napoleon exiled to Elba, the Dutch press pokes fun at it's former ruler. c. 1814. 10.5" x 12". "Etching and Aquatint after Johann Michael Volz, 10.5"" x 12"", one page, c. 1814 caricature, tilted NAPOLEON. DE EERSTE en LAATSTE… [or] NAPOLEON. THE FIRST, and LAST… The print bears Dutch and English text below the image. Light soiling and creases, moderate mat burn at lightly worn margins.The main text, also in Dutch and English respectively, pokes fun at Napoleon's titles after his defeat and exile to Elba. (Offered by University Archives)
ABAA: Do you keep any/all of the books you acquire for research while working on a novel, or does the reality of life as a working writer mean you need to finish one project, clear your mind figuratively, and move on to the next?
BC: I keep them all! We're running out of shelf space! I built a barn as a study and had stacks built into it and they're full. I need more shelves!!
---
Waterloo: The True Story of Four Days, Three Armies, and Three Battles by Bernard Cornwell is published in the US by HarperCollins.