Q: What stopped me in my tracks as I perused this week's batch of new catalogs?
A: Everything from the national importance of a presidential inaugural address to the particulars of a menu from a dinner in 1959.
Menu: A Dinner in Honor of Her Majesty Queen Elizabeth II (1959)
Given that I am a sucker for The Crown, Downton Abbey, and most other British television shows, spotting a menu from a formal dinner with Queen Elizabeth II in Rabelais' Books latest e-catalog instantly evoked various celluloid memories. This would be an nice addition to any collection focused on the British monarchy or culinary pursuits.
"This is an unforgettable day - a day I will never forget."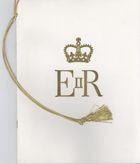 [Menu - Royal]; Queen Elizabeth II; Mayor Richard J. Daley. A Dinner in Honor of Her Majesty Queen Elizabeth II, and His Royal Highness the Prince Philip, Duke of Edinburgh, Given by the Honorable Richard J. Daley, Mayor of the City of Chicago. Chicago, Ill.: July 6, 1959. Menu and program (25 x 19 cm.), [12] pages; in gilt-stamped white cardstock boards, with decorative gold elastic cord.
A dinner to mark the occasion of Queen Elizabeth II's first visit to Chicago. The visit was made while the Queen, along with President Eisenhower, attended the opening of the St. Lawrence Seaway, part of a larger 45-day trip to visit all Canadian Provinces, much of it made aboard the Royal Yacht, H.M.S. Britannia. While in Chicago, The Queen and Prince Philip visited the International Trade Exhibit at Navy Pier and later the Museum of Science and Industry, where she viewed, among other things, the chick hatchery. Twelve hundred guests attended the dinner at the Conrad Hilton Hotel (now the Chicago Hilton & Towers), and Mayor Daley committed a minor faux pas when he sat to the Queen's left. Other incidents included a bomb-threat at the Museum of Science and Industry and a minor toothache for the Queen. The program includes full-page photographic portraits of the Queen and Prince Philip, as well as a lengthy list of those on Dais, a list that included Ambassadors, Governors, Senators and others. Dishes on the menu received appropriate Great Lakes appelations, including Fresh Strawberries Cote Sainte Catherine, Double Consommé Iroquois, Prime Chicago Filet Mingon St. Lambert, and International Rapids Salad. Very slight crease to front panel of wrapper; some light rubbing to spine crease.
Offered by Rabelais' Books in their Fresh Arrivals newsletter (#55)... (item #10) This item is not listed on abaa.org.
---
Lincoln's First Inaugural Address, Appealing to the "Better Angels of Our Nature"
"We are not enemies, but friends...The mystic chords of memory, stretching from every battlefield and patriot grave to every living heart and hearthstone...will yet swell the chorus of the Union, when again touched, as surely they will be, by the better angels of our nature."
From the description:
Lincoln came into office as the leader of a nation in crisis. The Confederate States of America had formed only months earlier with seven states declaring the Union to be dissolved. In his inaugural address, on Monday March 4, 1861, Lincoln began by reassuring the South that he had no intention of interfering with slavery where it legally existed. But he firmly declared his duty to protect and defend the Constitution, and maintain federal duties, services, and property. There are parts of the speech that today we find reprehensible (particularly relating to the fugitive slave law) that he felt duty bound, by his solemn oath to preserve and defend the Constitution, to uphold.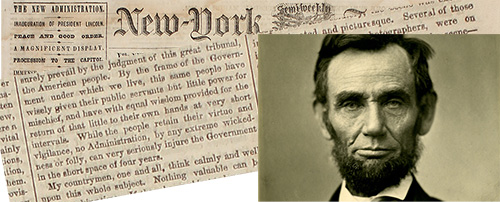 Above all else, the speech is remembered for Lincoln's emotional plea to resolve sectional differences. We excerpt it above, and know you've heard it before. Let me call your attention to more often forgotten parts of the speech:
"Physically speaking, we cannot separate. We can not remove our respective sections from each other, nor build an impassable wall between them…"
"While the people retain their virtue and vigilance, no administration, by any extreme of wickedness or folly, can very seriously injure the government in the short space of four years."
Really. That is here, all on page one. Complete, first-day printings of Lincoln's masterpiece first inaugural address are scarce.
Featured in Seth Kaller Inc.'s new newsletter, The Power of Paper, Pen, and Ink, Volume 1. File under "those who do not learn history are doomed to repeat it..." (This item is not listed on abaa.org)
---
70 Large Posters for The Saturday Evening Post

From the description:
[Philadelphia]: The Curtis Publishing Company 1951-1960. A collection of 70 different broadsides or posters for The Saturday Evening Post. Each measuring 22" x 28". Overall near fine with some scattered bumps and small tears at the edges, with folds as issued. These broadsides were used at newsstands to promote the latest issue of the magazine with text above or below the enlarged image of that week's front cover, usually touting one of the cover stories, but occasionally an interior article or a short story. The cover features the talents of a number of popular Post artists including John Falter, George Hughes, John Clymer, Thornton Utz, Steven Dohanos, Amos Sewell, Constantin Alajalov, and others. They depict American life of the 1950s with a gentle mix of humor (teenage dating, fashion, popular music), social commentary (influence of television, expansion of the highway system, and women in the workplace), and illustrations of rural life. A wonderful collection of images of mid-century American life.
Offered by Between the Covers Rare Books in Catalog 216: Broadsides (item #67). This item is not listed on abaa.org.
Many of the cover ilustrations from The Saturday Evening Post have become iconic, and even the name of the magazine itself conjures up a picture of 1950s' domesticity. But these newsstand posters are subtly different from the cover illustrations themselves, conveying some context by revealing how the magazine was advertised to potential readers of the time. This should be of great interest to anyone who collects mid-century Americana or focuses on the advertising industry.
---
1923 Type Specimen Book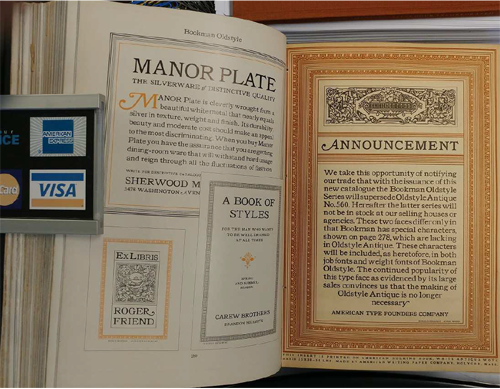 American Type Founders Company, 1923 74. (TYPE SPECIMEN BOOK). Specimen Book and Catalogue, 1923, Dedicated to the Typographic Art. Jersey City: American Type Founders Company, 1923, large octavo, rebound in black cloth. 1,148 pp. Garamond Family; Goudy Family; Bodoni; Cloister; Parsons Family, Artcraft; Cheltenham Family; Caslon (numerous); Century Family; John Hancock; Clearface Family; Pabst Oldstyle; Strathmore Oldstyle; Baskerville; Announcement; Litho; Scotch Roman; Drew; Sterling; Cromwell; Packard; Colwell Handletter. Two leaves detached but present and laid in. Rebound in sturdy black buckram. Preliminary page and title page rubberstamped with "Please return this to Mr. Weinert's office." Two pages have a piece of card 1" x .75" glued at margin (as index tab?). No excisions. A fingerprint here or there, but generally fine, clean pages.
This item is not listed on abaa.org, but appears in Colophon Books' List 235 (item #74).
Perhaps it's my background as a graphic designer, but seeing page after page of different typefaces demonstrated in elegant fashion appeals to my visual senses. Seeing thumbnails of different fonts on a dropdown menu in MS Word just isn't the same thing!
---
Kafka on the Shore (Signed, First Edition)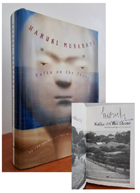 Kafka on the Shore by Haruki Murakami. Japan's most popular author tells two interlocking stories in this intriguing book. The first recounts the experiences of Kafka Tamura, a fifteen-year-old who runs away from his father's house to escape a curse and find his mother and sister. The other tale is of an old man, Nakata, who has uncanny ability as a finder of lost cats. A fascinating story unwinds as Murakami demonstrates once more his confidant handling of many aspects of Japanese society and religion in new and surprising ways. Murakami is always on the shortlist of future Nobel Prize winners. New York: Knopf, 2005. First edition. An As-new copy in blue and cream boards with gilt spine lettering in an As-new pictorial dustwrapper. Translated from the Japanese by Philip Gabriel. Signed by Murakami on the title page along with the author's blue name stamp in English.
Offered by Crawford Doyle Booksellers in their latest catalog "Twelve Potential Classics." Not listed on abaa.org.
Murakami is top of my "must-read" list. Everyone tells me I should read him -- best-of-the-years lists, critics, my bother-in-law, local booksellers, even antiquarian booksellers know he's the real deal! -- and one of these days I will.
And on that note, until next week...