ABAA members list new items on abaa.org almost every day, and publish catalogs and E-lists of new acquisitions almost weekly. Among the items that caught the eye this week, are first editions of Armistead Maupin's classic Tales of the City, A.A. Milne's Now We are Six, and Yoko Ono's Grapefruit, along with anti-fascist paper art, Nikola Tesla's John Hancock, and a first edition of John Gould's multi-volume magnum opus The Birds of Europe.
Tales of the City [Volume I] First Edition Paperback
by Armistead Maupin (Cover map by Phil Frank)

New York: Harper Colophon Books, 1978. Paperback. 240p., 7.5x9.25 inches, lightly-worn first edition stated, number line ends in "1" trade paperback original in pictorial map covers with a key to locations of the story. Originally published serially by the San Francisco Chronicle. Made into a TV miniseries and being rebooted as we speak!
Offered by Bolerium Books.
Metamorphic Puzzle - Hitler the Fifth Pig
A 6" x 8 ¾" folding paper puzzle when open flat depicts 4 different pigs. The caption at center reads To find a fifth one fold as indicated. When folded the "business end" of the pigs creates Adolph Hilter's face. Reverse is blank.
Offered by Eclectibles. Found in Eclectibles' new catalog "E-list No. 49" (item #11). This item is not listed on abaa.org.
The Birds of Europe (5 Volumes; Folio)
by GOULD, JOHN (1804-1881)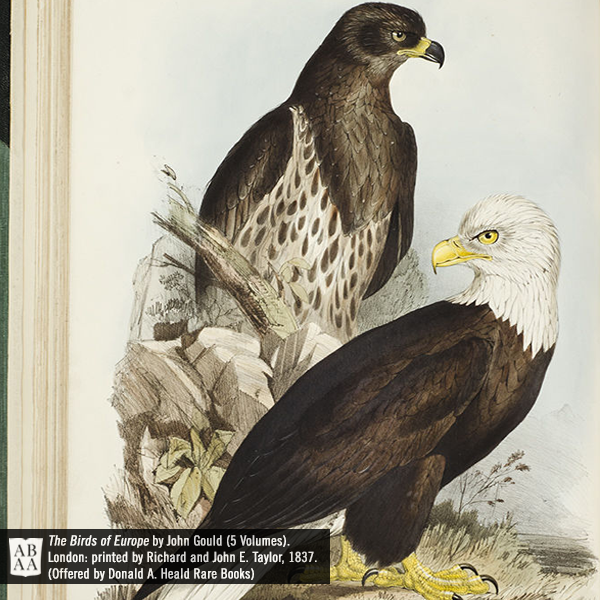 London: printed by Richard and John E. Taylor, published by the Author, 1837. 5 volumes, folio. (21 1/4 x 14 1/4 inches). 2pp. list of subscribers in vol.I. 448 fine hand-coloured lithographed plates (68 drawn and lithographed by Edward Lear, 380 drawn and lithographed by Elizabeth Gould from sketches and designs by John Gould), printed by Charles Hullmandel. Early half green morocco and green cloth covered boards, spine with raised bands in six compartments, ruled in gilt on either side of each band, lettered in gilt in the second and third department, top edge gilt.
Provenance: Society of the Signet (bookplates) First edition of Gould's first multi-volume ornithological work and the first of his works to feature plates by Edward Lear: one of the greatest ornithological artists of all time. Gould undertook this work not only hoping to build on the success of his first work (on the birds of the Himalaya mountains), but also in an effort to redress the imbalance between the study of local and foreign ornithology. It was his opinion that too much attention had focused on the exotic, whilst the beauty of the more local species was ignored. He wrote in the preface to the work: "It has been frequently remarked that the productions of distant countries have received a much larger share of attention than those objects by which we are more immediately surrounded; and it is certainly true, that while numerous and costly illustrations have made us acquainted with the Ornithology of most other parts of the world, the Birds of Europe, in which we are, or ought to be, more interested, have not received that degree of attention which they naturally demand. The present work has been undertaken to supply that deficiency." The images in this work are the first to be published by Gould that show the liveliness of treatment that was to become such a feature of later works. Notably, for the present work Gould first used the services of artist Edward Lear and more Lear plates appear in this monograph than any other of Gould's ornithological works. Lear's plates are from bird drawings that "are certainly among the most remarkable bird drawings ever made, [for] it is evident that Lear endowed them with some measure of his own whimsy and intelligence, his energetic curiosity, his self-conscious clumsiness and his unselfconscious charm" (Hyman). Furthermore, Lear's work informed the work of the other principal artist, Elizabeth Gould. "Lear's participation transformed the work of Mrs. Gould. ... [H]e propelled her limited sense of perspective into the third dimension. He encouraged movement, vigor, and a sense of character in her birds; he instilled an idea of composition in which the subject related to its background instead of perching in midair like a cardboard cutout. He introduced a sense of subtlety and freedom into her drawings where previously she had only mimicked the technique used in etching or engraving. There is no doubt that Edward Lear was the first person to understand the art of lithography and to use it to its fullest potential. It was a legacy that made the works of Gould into a success and took them into the forefront of nineteenth-century illustration" (Tree). This a lovely example, without foxing or staining, from the library of the Society of the Signet. Balis Merveilleux plumages 101; Fine Bird Books (1990) p.101; Hyman Lear's Birds 45; Nissen IVB 371; Sauer 2; Tree Ruling Passion 45; Zimmer p.251.
Offered by Donald A. Heald Rare Books.
Grapefruit (Signed, First Edition)
by Yoko Ono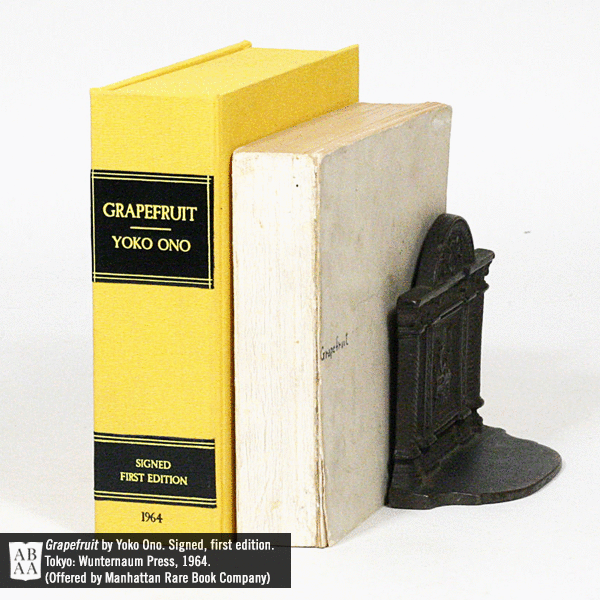 Tokyo: Wunternaum Press, 1964. First Edition. Original wrappers. Very Good. EXTREMELY RARE FIRST EDITION of Yoko Ono's highly influential conceptual art book, SIGNED AND INSCRIBED BY YOKO ONO on the front free endpaper: "To Claire / Yoko / 1965, Summer". One of only 500 copies, published by Ono's own imprint, Wunternaum Press, in Tokyo. "Somewhere between Zen poetry and a series of instructions for living, Grapefruit is literature as conceptual art, a sheaf of 'event scores' that suggest how to turn daily life into something more engaged... Perhaps the best-known effort in the collection is 'Cloud Piece,' originally composed in 1963, which reads, in its entirety: Imagine the clouds dripping. / Dig a hole in your garden to /put them in. It appeared on the back cover of Lennon's 1971 album 'Imagine' and is said to have inspired the title track… "I've loved Grapefruit from the moment I laid eyes on it, loved its sense of whimsy, its sense of play. The instructions range from the inspirational ('A dream you dream alone may be a dream, but a dream two people dream together is a reality') to the prosaic ('Step in all the puddles in the city') to the surreal… What all this has to offer is a way of thinking, of being conscious in the world. The universe is a place of wonder, Ono means to tell us, but we must remind ourselves to look. This is the key to creativity, to being present, which Grapefruit insists, begins with every one of us" (David L. Ulin, Los Angeles Times, 2/8/13). "Yoko hooked John's support for her artwork with a copy of her book Grapefruit, which she sent to him the following spring; he may have likened the instructionals therein as similar to Timothy Leary's. With a £5000 contribution, he finally sponsored her 'Yoko Plus Me' show--a.k.a 'Half a Wind Show,' where the entire contents of an all-white bedroom were displayed neatly cut in half--at the Lisson Gallery, October 9--November 14, 1967. Thus began a collaboration that in the coming year would change his life and have great significant for the Beatles" (Walter Everett, The Beatles as Musicians). Small square quarto (5 1/2 x 5 1/2 in), original perfect-bound paper wrappers. Soiling to wrappers (as always), upper joint split at bottom and possibly later adhesive added to upper joint (presumably to prevent the first few leaves from separating - a common problem with this book). Housed in a custom box by noted book artist Sjoerd Hofstra. SCARCE, especially signed.
Offered by Manhattan Rare Book Company.
Rare Typed Letter Signed on illustrated "Tesla Laboratory, Long Island, N.Y." stationery, showing the Tesla Tower and Laboratory in 1904, 4to, October 9, 1908.
by Nikola Tesla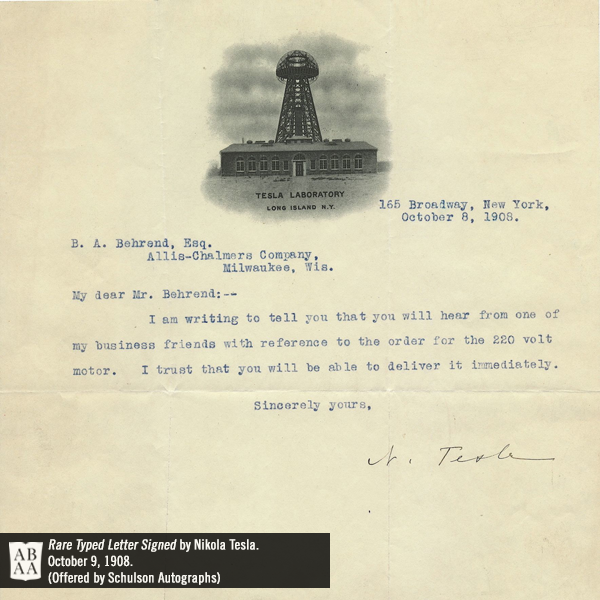 Tesla writes to Bernard A. Behrend (1875-1932), electrical engineer, author of "The Induction Motor" (1901), and important friend. "I am writing to tell you that you will hear from one of my business friends with reference to the order for the 220 volt motor. I trust that you will be able to deliver it immediately." He signs, "N. Tesla." Condition: Fine condition, horizontal center fold visible, normal aging to paper. Tesla's Wardenclyffe project, known as the Tesla Tower pictured on the stationery of our letter, was his costly and prescient concept to develop wireless transmission of electrical power. Tesla explained in an interview that electrical energy would be generated using a conductor rather than through wires. ["The Future of the Wireless Art: Wireless Telegraph and Telephony," by Walter W. Massie and Charles R. Underhill, 1908, page 67-71] The project's laboratory and tower were designed by architect Stanford White, Tesla's friend. The tower was the tallest structure on Long Island at the time rising 18 stories high (187 feet) and erected in a 120 foot foundation.
Offered by Schulson Autographs.
Now We Are Six (First Edition)
by A.A. Milne (Illustrations by E.H. Shepard)

New York: Methuen & Co, 1927. First Edition. Hardcover. Very Good. 103 pp. First British edition, first printing. Publisher's maroon cloth decorated in gilt on upper board and spine. Near Fine with slight darkening to spine cloth and light bumping to corners. In a Very Good dust jacket with a toned spine and edge wear with light chipping at the corners and spine ends also extending into the top of the front panel. Milne's fourth and final book of Pooh stories.
Offered by Burnside Rare Books.
Browse the latest items listed on abaa.org here...
View the most-recent catalogs of rare books from ABAA members here...