What new additions to the abaa.org website caught the eye this week? Signed books from James Baldwin, Annie Leibovitz, and P.L. Travers, as well as several classic children's books, among other interesting items...
If Beale Street Could Talk (Signed)
by James Baldwin

New York: The Dial Press, 1974. First Edition. Hardcover. Very Good. Signed by Author. First edition. Copy #6 of 250 specially bound copies signed by the author on the rear limitation page. 197 pp. Leather lettered in gilt in original brown cloth slipcase. Near Fine with slightly foxed edges and light rubbing to gilt, in Near Fine slipcase. A novel by the African-American expatriate, the basis of an upcoming film directed by Barry Jenkins.
Offered by Burnside Rare Books.
Annie Leibovitz: Photographs 1970-1990 (Signed, first edition)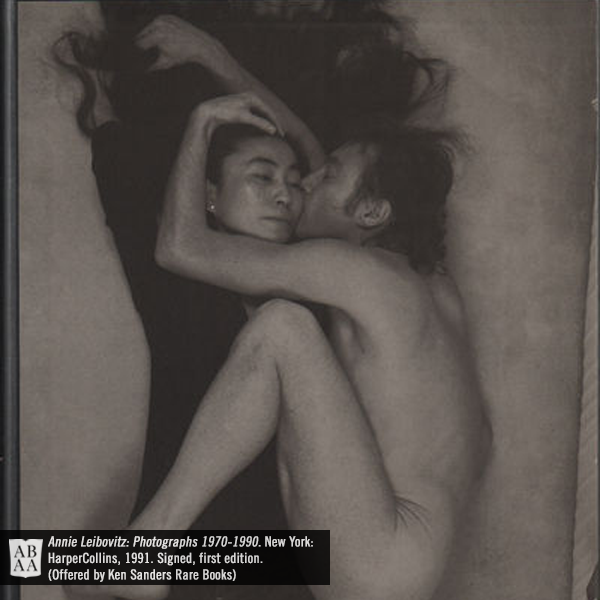 New York: HarperCollins, 1991. First edition, limited. Hardcover. Fine. SIGNED. Folio [34 cm] in grey cloth, housed in black cloth slipcase featuring large image of Leibovitz's famous John Lennon and Yoko Ono Rolling Stone cover photo. Light shelfwear to slipcase; light bump to front board lower corner, else book itself is As New. Specially bound and slipcased first edition, signed by Leibovitz and hand-numbered Copy 187 of 300 on the limitation page.
Offered by Ken Sanders Rare Books.
by Jack Kerouac (Introduction by Allen Ginsburg)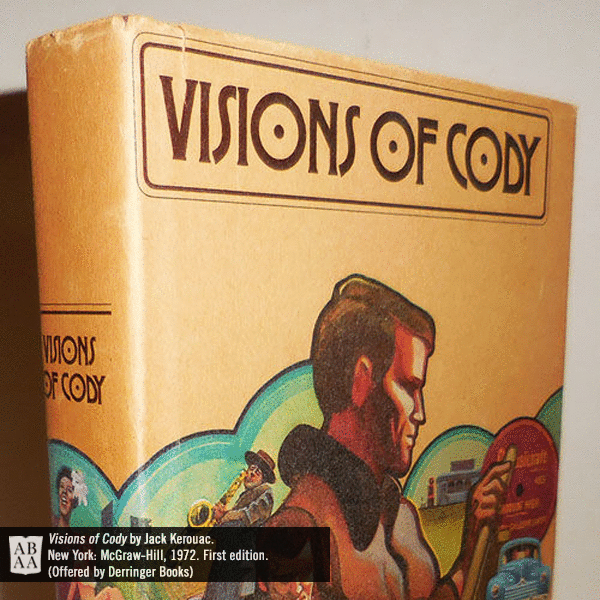 New York: McGraw-Hill, 1972. First edition. Hardcover. Near Fine/very good. 8vo. 398 pp. Introduction by Allen Ginsberg. A novel written in the early 1950's by Kerouac and published here for the first time after his death. Just short of fine in price-intact dustwrapper. From the library of poet Kenneth Irby. He has signed his name and indicated that he acquired this copy in January 1973 in Berkeley. He has done this at the top of the front flap of the dustwrapper.
Offered by Derringer Books.
Mary Poppins (Signed, First Edition)
by P.L. Travers
New York: Reynal & Hitchcock, 1934. A very good book in a very good dustjacket. First edition, signed by P.L. Travers on the front free end paper. Housed in a custom-made slipcase.
Offered by Bookbid.
The Ginger Man (First Edition, Signed)
by J.P. Donleavy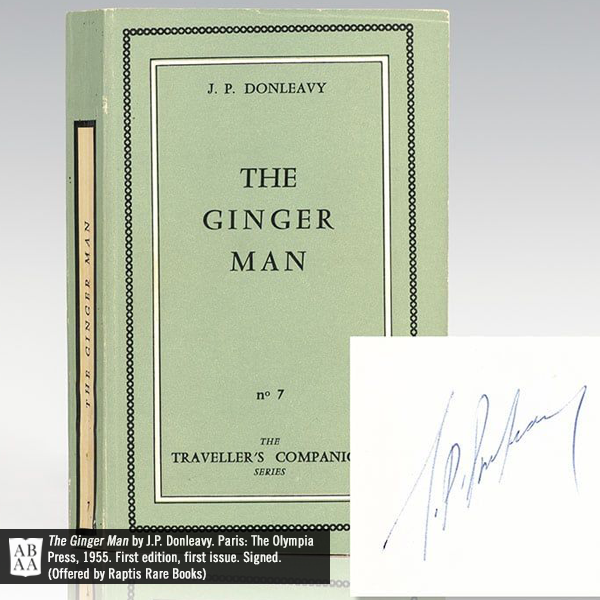 Paris: The Olympia Press, 1955. First edition, first issue with the words, Special Volume, Francs: 1.500 to the rear panel. Small octavo, original green wrappers as issued. Boldly signed by J.P. Donleavy on the front free endpaper. In near fine condition. Introduction by Arland Ussher. A nice example. The New York Times said "[t]here are a few novelists who are writing out of a sense of what the contemporary world is all about. The best of them is J. P. Donleavy," and the Scientific American called it "one of the books which reveals their quality from the first line. On every page there is that immediacy all good writing has." The Modern Library named The Ginger Man one of the 100 Best Novels of the Twentieth Century in 1998, and it has sold 45 million copies world-wide. Consequently, it has never been out of print, and it has been made into several theater and film adaptations.
Offered by Raptis Rare Books.
The Yellow Feather Mystery (The Hardy Boys Mystery Stories Book 33)
by Franklin W. Dixon
Grosset & Dunlap, 1953. First Edition. Hard Cover. Very Good/Good. First edition, second state (Carpentieri 1954A-2). Very good in good jacket. Tiny tear to jacket spine head, jacket faintly foxed. 1953 Hard Cover. We have more books available by this author!. 216 pp. "In trying to trace a missing will, detectives Frank and Joe Hardy trap a dangerous criminal who is willing to risk all -- including murder -- for money.
Offered by Yesterday's Muse.
Questions of Travel (First Edition)
by Elizabeth Bishop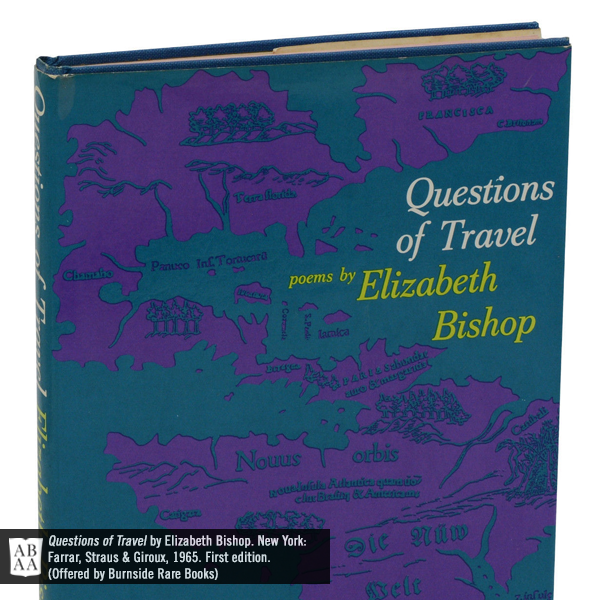 New York: Farrar, Straus & Giroux, 1965. First Edition. Hardcover. Very Good. First edition. 95 pp. Blue cloth with purple, silver and green spine lettering. Near Fine with gift inscription on front free endpaper, lettering a little rubbed, in price-clipped Near Fine dust jacket with crease to front flap, small laminate bubble to gutter of front panel.
Offered by Burnside Rare Books.
Freddy and the Perilous Adventure
by Walter Brooks (Illustrations by Kurt Wiese)

New York: Alfred Knopf, 1942. First edition. Cloth. Very Good/very good. 8vo. 245 pp. Stated first edition. A handsome very good copy in illustrated brown cloth binding in very good price-intact, first issue dustwrapper with $2,00 price on the front flap. With charming illustrations by Kurt Wiese. Two ducks out on adventure. Nice copy of an uncommon title.
Offered by Derringer Books.
CARTE De VISITE [CDV] PHOTOGRAPH [Albumen]
by Charles Dickens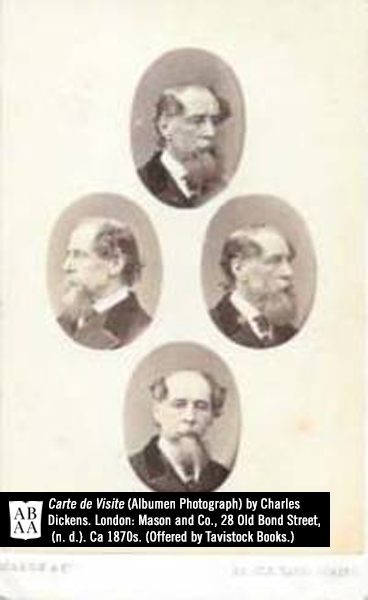 London: Mason and Co. 28 Old Bond Street, (n. d.). Ca 1870s. Photograph mounted on white card stock, rounded edges, photographer imprint underneath. Now housed in an archival mylar sleeve. Faint yellowing to photograph, otherwise VG+.. Verso with logo, etc, for the publisher. Carte with 4 oval images of Dickens, each with a differing aspect, e.g., from each side. 4" x 2-1/2"

Uncommon Dickens CDV, first time we've handled a copy.
Offered by Tavistock Books.