A selection of rare books and print ephemera newly listed or catalogued by members of the ABAA.
by H.G. Wells
London: William Heinemann, 1896. Pictorial ochre cloth, stamped in black and red. Frontis. Rear inner hinge cracked (but sound), some rubbing to cloth and small offset spots to lower cover, some shallow splashmarks along the top edge of the front free endsheet and pastedown, a bit of foxing to the tissue-guard, otherwise a very good copy. First UK edition, in the preferred state of the binding, with the blindstamped logo in the lower corner of the lower cover. The terminal catalogue is the 32pp. form beginning with THE MANXMAN and concluding with OUT OF DUE SEASON. Among Wells's most important works, functioning as both an imaginative entertainment, and as a cautionary tale about scientific progress unconstrained by ethics. The sourcework for three film adaptations of varying degrees of success.
Offered by William Reese Company.
Preliminary Cover Design for Penny Candy, by Edward Fenton
Gorey, Edward (illus.)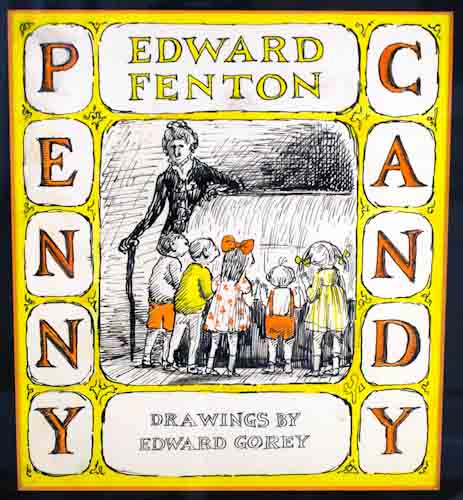 c. 1970. Watercolor and ink on paper, measuring 8 1/4 by 7 1/4 inches. Archivally matted and framed. Preliminary artwork for the cover design of Fenton's book, a fantasy story based on the English "Tinker Tailor" rhyme. A copy of the trade paperback edition of the book, which was published by Holt in 1970, is included in a sleeve affixed to the back of the frame. The key differences between this preliminary drawing and the finished work are most discernible in the five children standing in front of the candy counter: in the preliminary artwork, the children's clothing is colored, their arrangement is different, as is their height in relation to the counter. Gorey also used some ink flourishes to make the titling, which lines up vertically on either side of the central image, appear more like pieces of candy. This was not used in the published version. Gorey's watercolor work for published books seldom appears on the market. Very fine in an attractive black acrylic and resin frame.
Offered by Bromer Booksellers and found in their new catalog The Works of Edward Gorey. (This item is not listed on abaa.org.)
Contributions to Ornamentation (With 70 Original Artworks)
by STAUDIGL, FRANZ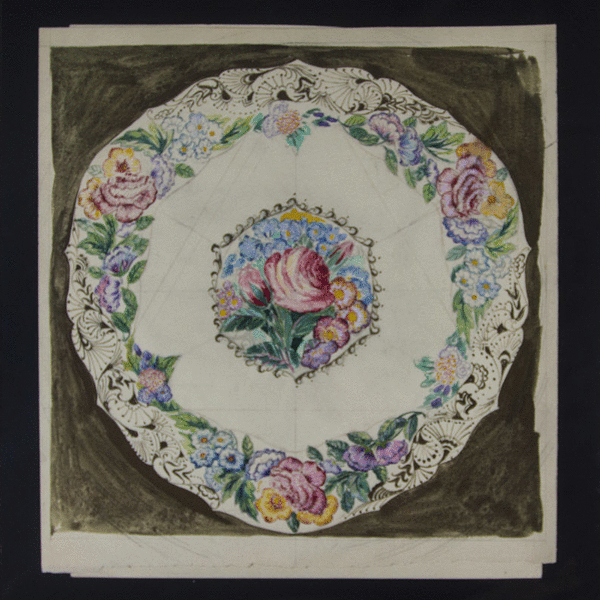 Vienna: NP, 1900. Original artwork. Convolute of 70 drawings, watercolors and gouaches with designs of the Austrian painter and architect Franz Staudigl. Staudigl is considered a headstrong, opinionated painter who objected to be identified with one particular style of art throughout his life. Being educated primarily at the "Die Graphische" and the Academy in Vienna, he was influenced by the old, in particular the Dutch masters. Travels to Holland, Bohemia, and Northern Germany are said to have had a distinctive effect on his work. The renown Galerie Heinemann in Munich, which was aryanized in 1938, showed 49 of his works in 1932 and in 1991 a memorial exhibition was staged in the Oberhausmuseum in Passau, the city he had moved to in 1914. With time Staudigl dedicated himself more and more to landscape painting.In the early 1910s Staudigl met Ernst Wahliss, the owner of the great porcelain business and manufacturer in Vienna, and subsequently received orders to create designs for porcelain and faience. In cooperation with the architects Karl Klaus and Charles Gallé he designed symmetric layouts and concepts influenced by the Wiener Werkstätte and participated in the Exhibition of Austrian Applied Arts at the Museum for Art and Industry in Vienna, introducing the "Serapis Line" of the porcelain manufacturer Ernst Wahliss.The forty two intricate color designs enclosed include thirteen designs created for the Serapis-Wahliss line by the porcelain manufacturer Ernst Wahliss whose son Gerhard Martin had acquired the company in 1907 after his father's death. The Serapis-Wahliss line was manufactured from white earthenware and decorated by hand with geometrically stylized natural forms. The designs in this collection are gouaches and watercolors, partly with relief gold. Of the 42 ornamental color designs four are signed "Staudigl," five stamped "Architekt u. Maler F. Staudigl, Wien, VIII. Bez. Albertgasse 1a," five with stenciled "FSTAUDIGL AM:R," twenty-three unsigned, one of them with a circular, blind-stamped trademark protection by the paper manufacturer Schoellershammer, two on black paper and three small design fragments.Twenty pencil drawings and sketches of nudes and movement studies, peasants, landscapes, including two charcoal drawings, two of them are self portraits of Staudigl, are included in this group. (View complete description...)
Offered by Eric Chaim Kline Bookseller.
by HAMSUN, KNUT (TRANSLATED FROM THE NORWEGIAN BY EUGENE GAY-TIFFT)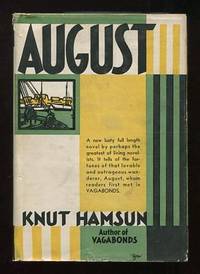 New York: Coward-McCann, Inc.. Near Fine in Very Good dj. 1931. First American Edition. Hardcover. NOISBN . [good solid book with minimal shelfwear to bottom edge, vintage bookseller's label (Paul Elder & Co., San Francisco) on rear pastedown; jacket a bit edgeworn and lightly soiled, with a handful of tiny nicks and edge-tears]. First American edition of this late work by the great Norwegian writer, recipient of the 1920 Nobel Prize for Literature. It's a continuation of the saga of the title character, introduced in Hamsun's 1927 novel "Wayfarers" (published in America as "Vagabonds"); his next book, "The Road Leads On" (1933), completed what's known as "the Wayfarers trilogy" or "the August trilogy." In this one, August, "the wild and unscrupulous, yet ever generous wanderer, returns after twenty years to his home in northern Norway." Jacketed copies of the American editions of Hamsun's books are surprisingly uncommon.
Offered by ReadInk.

Virgil Finlay designed bookplate for Oswald Train.
2 11/16" x 3" Image of a witch riding a book using her broom as an oar. Oswald Train, "(1915-1988) UK-born US fan (see Fandom) from 1935, when he became involved in the nascent Philadelphia Science Fiction Society, also attending the first (highly informal) Convention in 1936. A significant Small-Press publisher, he was the main figure behind Prime Press. In 1968 he founded Oswald Train: Publisher, which specialized in detective fiction, although it also released work by Lloyd Arthur Eshbach, A Merritt, P Schuyler Miller and Olaf Stapledon." This biographical snippet quoted from sf-encyclopedia.
Virgil Finlay (July 23, 1914 – January 18, 1971) was an American pulp fantasy, science fiction and horror illustrator. He has been called "part of the pulp magazine history ... one of the foremost contributors of original and imaginative art work for the most memorable science fiction and fantasy publications of our time." While he worked in a range of media, from gouache to oils, Finlay specialized in, and became famous for, detailed pen-and-ink drawings accomplished with abundant stippling, cross-hatching, and scratchboard techniques. Despite the very labor-intensive and time-consuming nature of his specialty, Finlay created more than 2600 works of graphic art in his 35- year career. The Science Fiction Hall of Fame inducted Finlay in 2012.
Very fine. Verso clean, never mounted. Penciled date 5/19/52 noted in the lower right-hand corner.
Offered by The Colophon Book Shop and found in their new catalog "List 240." (This item is not listed on abaa.org.)
To view more titles newly listed on abaa.org, click here...
To persue the latest catalogs of rare books and print ephemera from ABAA members, click here...