What caught the eye among this week's crop of new listings? Why a signed letter from P.T. Barnum, a bound set of the Harvard Law Review (1984-2004), and a signed Christmas card from (arguably) the most-famous Royal couple of the last century, Prince Charles and Princess Diana, among many other things...
Princess Diana and Prince Charles Signed Christmas Card
Royal Christmas card embossed with the Prince of Wales' feathers, Order of the Garter motto and the Spencer family arms with an affixed color photo of Diana and Charles seated and posing with young Prince Harry and Prince William, and their dog Murphy. Boldly inscribed in fountain pen, "To you both--from Charles and" and "Diana." In fine condition. Double matted and framed. The card measures 10.25 inches by 7.25 inches. The entire piece measures 15.75 inches by 13 inches. Rare and desirable signed by both Prince Charles and Princess Diana. Charles, Prince of Wales and Lady Diana Spencer were married on July 29th, 1981 at Saint Paul's Cathedral in London, the ceremony reached a global television audience of over 750 million viewers. The royal couple had two sons, princes Harry and William who became second and third in the line of succession to the British throne. As Princess of Wales, Diana became involved with dozens of charities including the Landmine Survivors Network, British Lung Foundation, British Deaf Association, Meningitis Trust, and the Malcolm Sargent Cancer Fund for Children, among a roster of others. Throughout her marriage to Prince Charles, she remained an object of worldwide interest; her death in a car crash in Paris in 1997 drew substantial media attention and extensive public mourning throughout the world.
Offered by Raptis Rare Books.
by Daphne du Maurier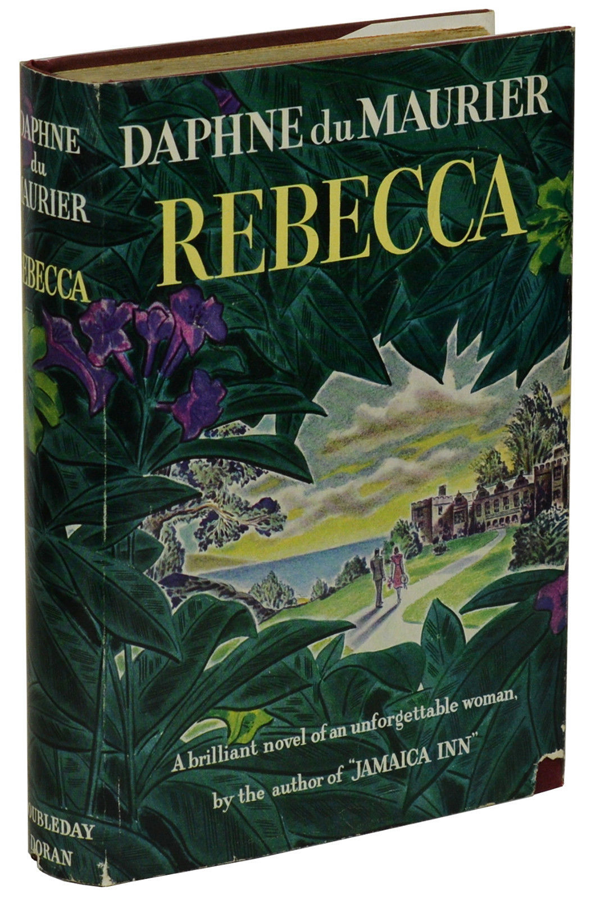 New York: Doubleday Doran and Company, 1938. First Edition. Hardcover. Very Good. First edition stated, first printing. Very Good with toning to pages, foxing to endsheets and news clippings pasted to front free end paper. Cloth lightly worn and silver band lightly rubbed. In a Very Good+ dust jacket with publisher's price of $2.75 intact; light rubbing and a small chip missing from the bottom corner of the front panel and another at the base of the spine. Scarce in the dust jacket.
Offered by Burnside Rare Books.
Of Mice and Men (First Edition)
by John Steinbeck
New York: Covici Friede, 1937. First edition. Fine/Near Fine. A Near Fine copy of the book in like dust jacket. The book has a bit of foxing to the closed text block, not entering the pages, otherwise an excellent copy. In a Near Fine dust jacket with the spine a bit toned and slight nicks at the spine ends. A true first printing with the textual points on p. 9 and 88 as well as the priced dust jacket (avoid any dust jacket that doesn't retain the original price, $2.00). One of just 2500 copies and becoming scarce in this condition.
Steinbeck's tragic novella portraying the life of two migrant farm-hands in California, unlikely friends cherishing the common dream of a better life. When George realizes that Lennie's childlike understanding of the world has led to irreparable violence, George ends Lennie's life as mercifully as he can before the arrival of a lynch mob. "If the story were callously told, the conclusion might be unbearable. But Mr. Steinbeck has told it with both passion and dexterity. The patient comradeship is developed in a series of homely episodes, conveyed in the vernacular of two lonely men blundering about their small world... Of Mice and Men is the dark side of an idyll" (Atkinson, contemporary NYT review). One of the author's most profound works. Fine in Near Fine dust jacket.
Offered by Whitmore Rare Books.
Barnum Sends A Note From "My Principal Wild Animal Keeper – By Which You Will See That The Tiger Has Two Single And Two Double Teeth Between The Tusks In Its Upper Jaw"
PHINEAS T. BARNUM (1810-1891). Barnum was the most famous showman of his time. He presented attractions which were enormously popular in their time, such as General Tom Thumb Jenny Lind's concert tour of America, the Feejee mermaid and Jumbo the elephant. He co-founded Ringling Brothers, Barnum & Bailey Circus. ALS. 1pg. 4 ½" x 7". October 18, 1886. Bridgeport, Connecticut. An autograph letter signed "P.T. Barnum" on the letterhead of his mansion Waldemere in Bridgeport. He wrote to the Editor of the Albany Evening Journal: "Dear Sir, In reply to yours of the 6th inst, I enclose a note from my principal Wild Animal Keeper – by which you will see that the Tiger has two single and two double teeth between the tusks in its upper jaw. Truly yours P.T. Barnum". It is accompanied by a letter from Hyatt Frost, who was one of Barnum's employees and worked as an animal importer: "Savannah Ga Oct 16/86 P.T. Barnum Esq – Dear Sir Yours of the 8th received to day and in reply will say that a Tiger has 2 single and 2 double teeth between the tusks up on its upper jaw. Yours truly F. Hyatt". Both letters have mounting remnants but are in fine condition. Most unusual Barnum content!
Offered by Stuart Lutz, Historic Documents.
ST. JEROME, Letter LIV To Furia [To Furia, On the Duty of Remaining a Widow], in the translation by CHARLES BONIN; illuminated manuscript in French with a full-page miniature by the Master of Spencer 6 (active c. 1490 to 1510)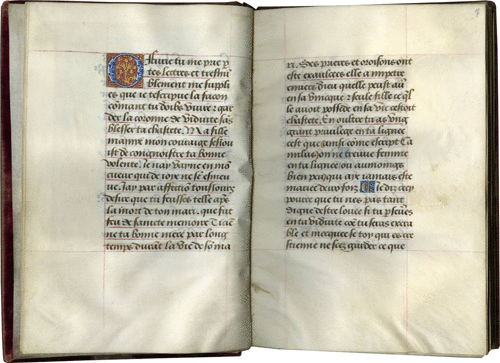 A UNIQUE DELUXE TRANSLATION OF ST. JEROME'S LETTER TO THE WIDOW FURIA WITH FRONTISPIECE BY THE MASTER OF THE SPENCER 6 FROM THE LIBRARY OF ANNE DE POLIGNAC.
Illuminated manuscript on parchment in French, France, likely Bourges, c. 1500-1510. Dimensions 210 x 135 mm. 63 folios, written in a lettre bâtarde on up to 17 lines, one three-line DECORATED INITIAL with gold floral decoration (f. 6v), ONE full-page miniature in a gold architectural frame (f. 5).
BINDING: Contemporary purple velvet binding over wooden boards, gilt edges, fitted book box, in good condition for a velvet binding of this date.
TEXT: This manuscript contains the only known copy of the French translation by Charles Bonin of Jerome's Letter LIV to Furia. Originally written by St. Jerome around 364/395 A.D., this epistolary work in twelve chapters presents a letter of guidance to a widow named Furia on the best means of preserving her widowhood.
ILLUSTRATION: Illustrated by an elegant frontispiece miniature divided by columns into two scenes depicting St. Jerome giving his epistle to a messenger on the right and the messenger handing it to the recipient, Furia, on the left. It is attributable to the Master of Spencer 6, who takes his name from a manuscript in the New York Public Library.
PROVENANCE: Manuscript copied in Bourges or the Berry region based on the prologue by the translator, Charles Bonin, and the miniatures attributed to the Master of the Spencer 6, an artist active in Bourges. Belonged to Anne de Polignac (1495-1554), a twice-widowed aristocratic woman, then by descent to Louis-François Auguste, Cardinal de Rohan-Chabot who sold it at auction in 1879. Later in the part of Eugène Paillet's library that was sold in 1887 to the Librairie Damascène Morgand.
CONDITION: very good condition with fresh colors and wide margins.
Offered by Les Enluminures.
by Bob Dylan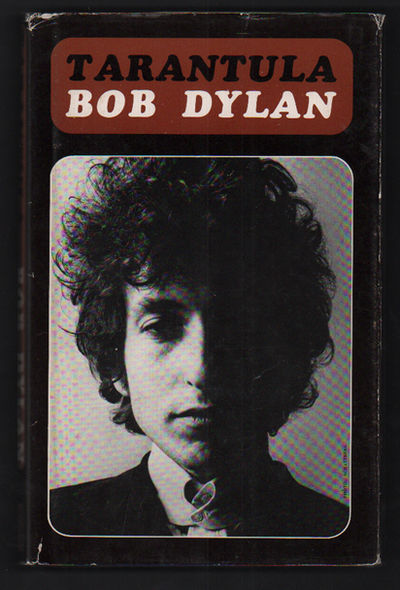 New York: The Macmillan Company, 1971. First edition. Hardcover. Good +/very good. 137pp. Octavo [22 cm] Black cloth over boards, with a remainder mark at the head of the text block, and some warping to the boards. In a dust jacket, with rubbing and light chipping to the edges. A first edition of Bob Dylan's first book.
Offered by Ken Sanders Rare Books.
Harvard Law Review, Vols 1 to 117 (1984-2004) in 142 Bound Volumes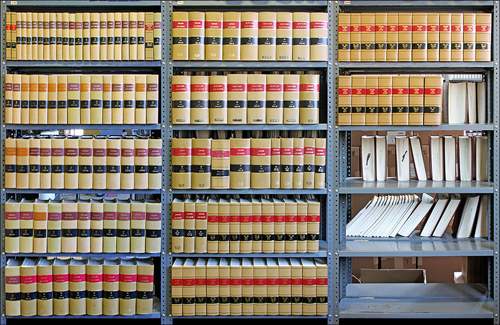 2004. Harvard Law Review. Cambridge, Mass.: Harvard Law School. Volumes 1 to 117 (1984-2004), in 142 bound volumes. Tan buckram with upper red and lower black spine labels. Some volumes with stamps on page edges and small bar code labels on back of rear covers. A desirable set in very good condition. Special $3,595. * The Harvard Law Review is a student-run organization formally independent of the Harvard Law School, which publishes eight issues per year/volume, containing articles by of legal scholarship by student editors as well as professors, judges, and practitioners and solicits reviews of important recent books from recognized experts. Individual volumes and standing order service available for future volumes as published.
Offered by The Lawbook Exchange.
To view more titles newly listed on abaa.org, click here...
To peruse the latest catalogs of rare books and print ephemera from ABAA members, click here...