More than 120 dealers from around the world rendevous every fall at the Hynes Convention Center in Boston's Back Bay to display their latest acquisitions to collectors. 2016 will see the 40th annual book fair in Boston, taking place over the weekend of October 28-30.
Here are some selected highlights of the items ABAA members will be taking to the Boston Book Fair this year.
A full-page document (see attached) signed by Thomas Cushing, submitted to the Senate and House of Representatives of the state of Massachusetts, dated Oct. 2, 1783, stating that when the British troops were in possession of Boston in the year 1775, he suffered the loss of "the greatest and most valuable part of his household furniture while he was attending his duty at Congress and his family were (sic) drove out of the Town of Boston, destitute of any furniture."
This letter was submitted to Congress as a request for compensation regarding losses incurred during the British occupation of Boston. (Offered by Old Editions Book Shop)
Moore, Clement C., The Night Before Christmas or A Visit of St. Nicholas.
New York: McLoughlin Brothers, 1888. First Edition. Near fine in heavy paper, printed wraps over a sewn binding. A quarto measuring 12 by 10 inches with minor rubbing to the fore corners of the front cover. Without a dust jacket. Unpaginated, but containing 18 pages counting the interior sides of the covers. Illustrated throughout with color chromolithographs by an unknown artist. An extremely clean and handsome copy with no writing, coloring, or damage to the pages or covers other than that which is noted above. (Offered by Town's End Books)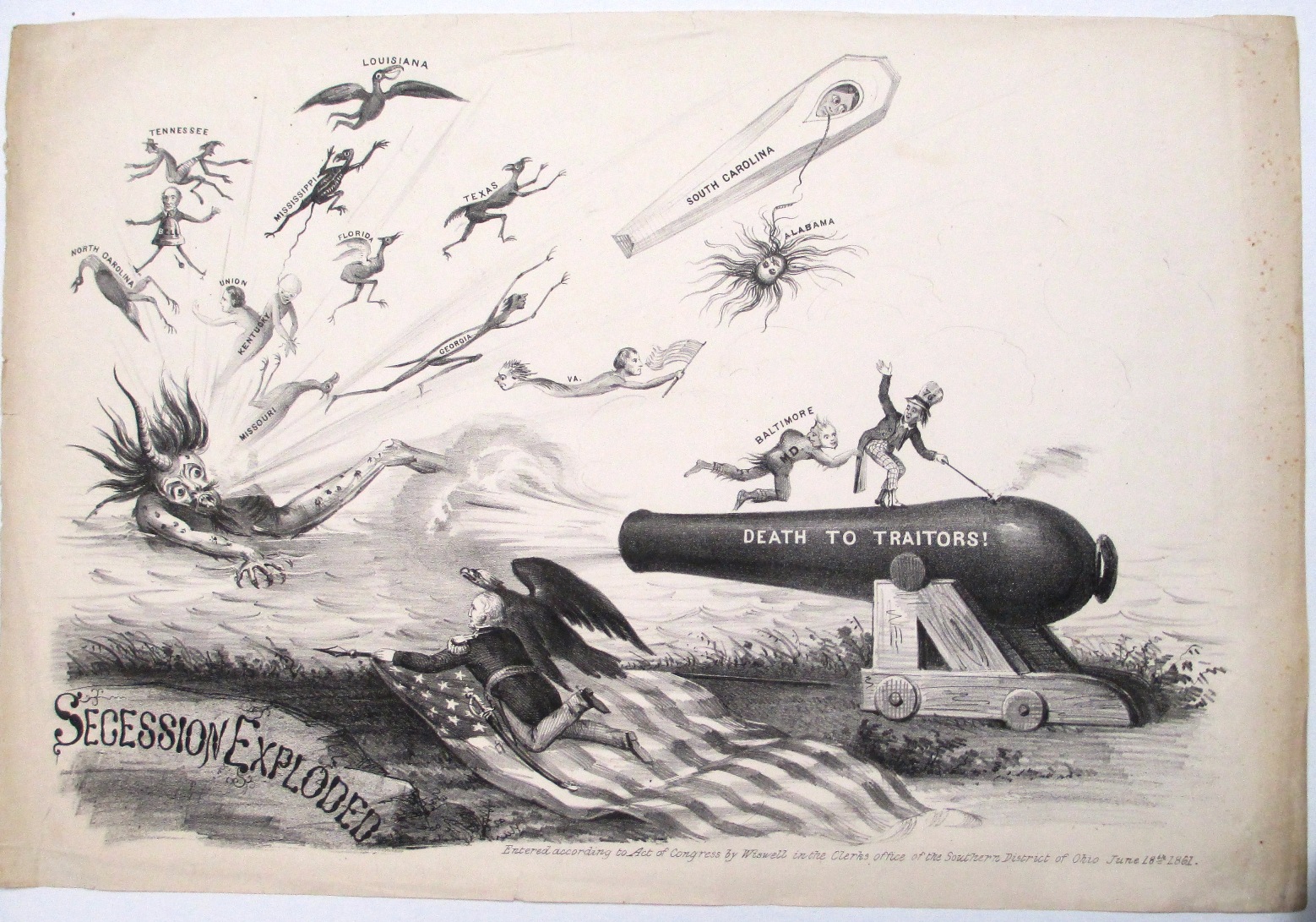 Wiswell, William: SECESSION EXPLODED... DEATH TO TRAITORS.
[Cincinnati: 1861]. Broadside lithograph on wove paper. 19-1/2" x 12-7/8". "Entered according to Act of Congress by Wiswell in the Clerks office of the Southern District of Ohio June 18th 1861." Light wear at the blank extremities, Very Good.
"This strongly anti-Confederate satire is a fantastical vision of the Union defeat of the secessionist movement. A hideous monster representing secession emerges from the water at left. He is hit by a charge from a mammoth cannon 'Death to Traitors!' operated by Uncle Sam (right). A two-faced figure representing Baltimore, whose allegiance to the Union was at least questionable during the war, pulls at Uncle Sam's coattails. The explosion sends several small demons, representing the secessionist states, hurling through the air. Prominent among them is South Carolina, in a coffin at upper right.
"Tennessee and Kentucky, two Southern states internally divided over the secession question, are represented by two-headed creatures. Virginia, though part of the Confederacy, is also shown divided--probably an acknowledgment of the Appalachian and eastern regions' alignment with the Union.
"Among the demons is a small figure of Tennessee senator and 1860 presidential candidate John Bell, with a bell-shaped body.
"In the foreground is a large American flag on which Winfield Scott, commander of the Union forces, and a bald eagle rest.
"Despite the imprinted copyright date, the print, according to the inscription on the Library's impression, seems to have been registered for copyright on June 14 but not deposited until July 10, 1861" [Reilly]. Weitenkampf, page 126. Reilly 1861-29. OCLC 299946766 [1- Lib. Cong.], 191120145 [AAS, Peabody Essex, Boston Ath.] [as of October 2016]. (Offered by David M. Lesser Fine Antiquarian Books)
Dumas, Alexandre; Burnham, I.G. (translator). Celebrated Crimes. London: H.S. Nichols, 1895.
Eight octavo volumes, contemporary full plum crushed morocco gilt, boards ruled in gilt, raised bands, spine compartments elaborately tooled in gilt with a fleur-de-lis motif, top edges gilt, other edges uncut. Title pages in red and black, text printed on vellum, all volumes illustrated with photogravures in two states throughout text.
Limited large-paper English edition of the elder Alexandre Dumas's true crime narratives, number 15 of 25 copies, printed on Japanese vellum with the photogravure illustrations in two states.
First published in French in 1839 and 1840, the collection includes essays on the Borgias, Martin Guerre, Mary Stuart, and Beatrice Cenci, as well as modern criminals such as the poisoner Antoine Derues and the assassin Karl Ludwig Sand. Most notable is the historical account of the Man in the Iron Mask, a real prisoner of the Sun King whose plight would inspire the final chapter of Dumas's d'Artagnan romances: "The imagination is fired at the thought of that enforced dumbness, of that lifetime of reflections which the features did not betray, of that isolation for forty years confined within double walls of stone and iron." A fine deluxe set, splendidly bound. (Offered by Honey & Wax Booksellers)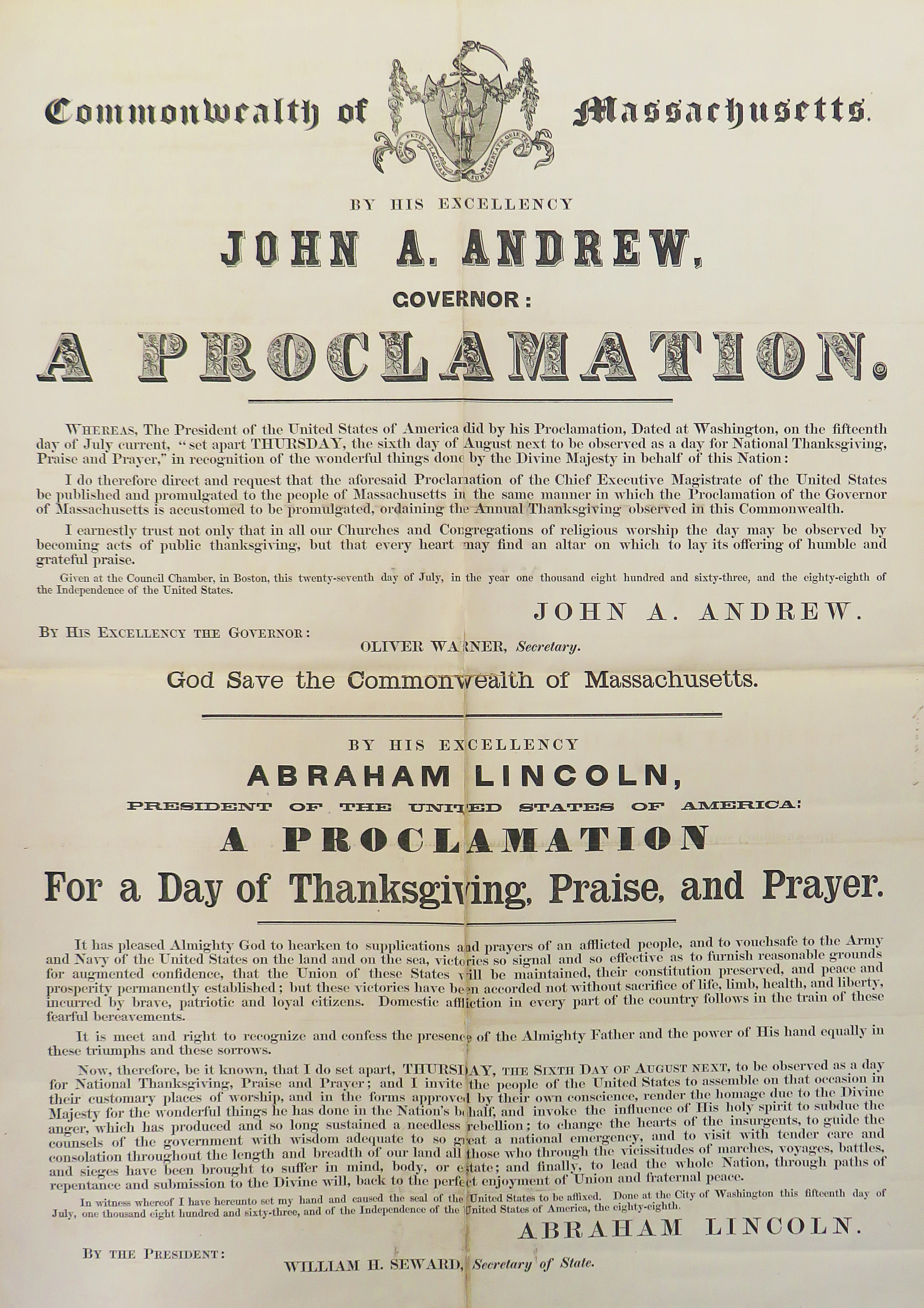 LINCOLN, Abraham. Proclamation of Thanksgiving.
(Massachusetts: n.p., 1863). Broadside. 28 x 20 inches. Mounted on cloth. Overall an excellent example of this rare and important broadside.
First printing of the first proclamation of Thanksgiving as a national holiday. This original broadside produced in Massachusetts is formatted in two halves, the top being Governor John A. Andrew's announcement of Lincoln's Proclamation dated July 27, 1863, and the bottom being Lincoln's actual proclamation dated July 15, 1863, announcing that August 6 shall be set aside as a National Day of Thanksgiving. Though the exact printing date is unknown, it can be assumed that it was printed within the week following July 27. Thanksgiving was observed as a holiday since colonial times and each state would set aside its own day for celebration. This proclamation was the first time that the holiday would be celebrated on a set day nationwide, making it the first observed Thanksgiving as a national holiday. Later the same year, on October 3, 1863, Lincoln made a second proclamation again announcing Thanksgiving as a holiday, but this time in November, a date closer to the time most states had been celebrating it in the past. This earlier proclamation is actually the first time Thanksgiving was given national status, but because the second proclamation was widely accepted, the knowledge of this earlier one has been somewhat forgotten, making this piece a rare and important document in the annals of American history.
Though this broadside is for the State of Massachusetts, no other broadsides from any other states announcing this date are known to exist. (Offered by B&L Rootenberg Rare Books)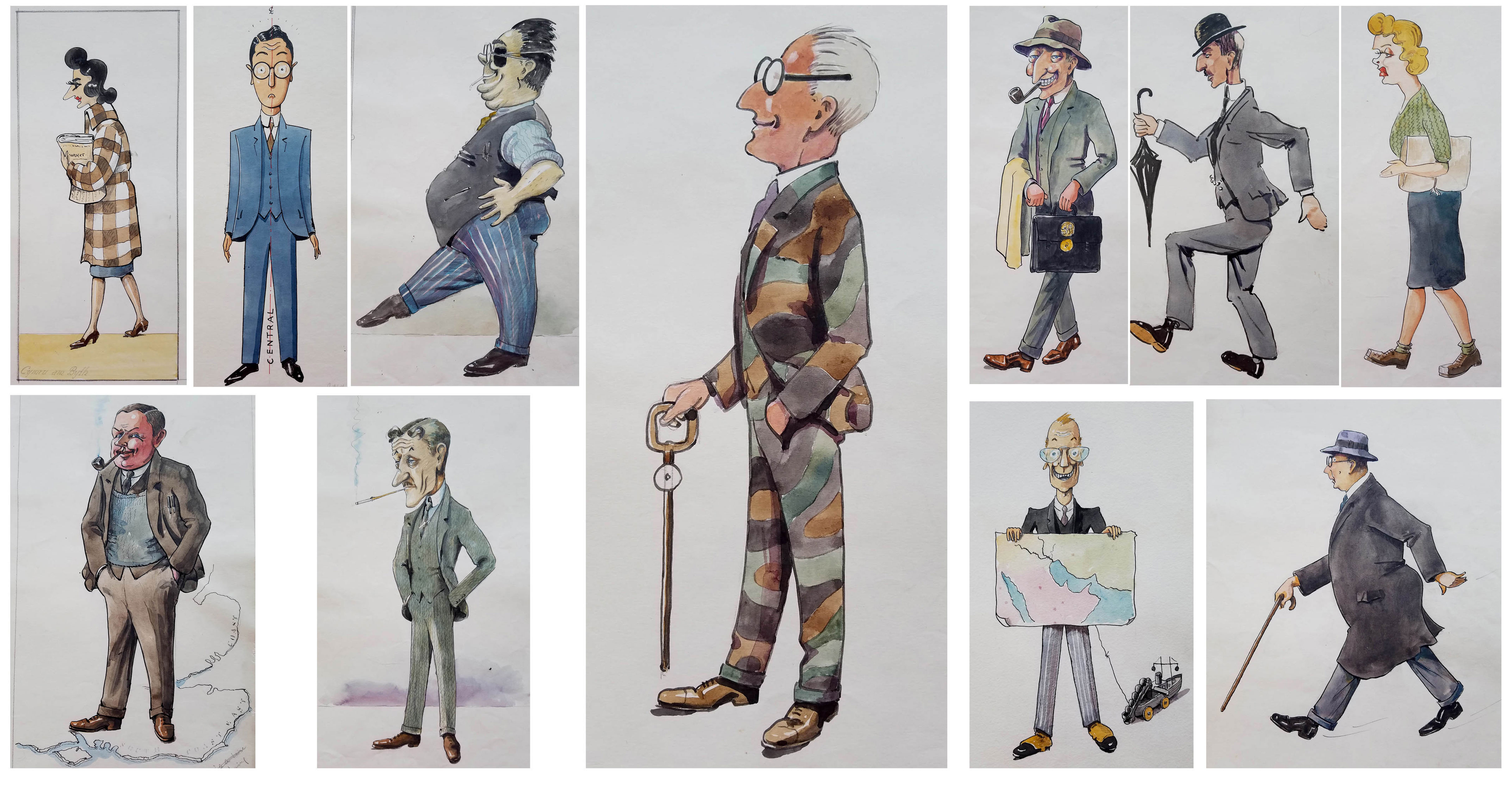 Portfolio of 30 watercolor caricatures made during the Second World War.
"We shall defend our island, whatever the cost may be..." -- Churchill.

Hitler's forces had swept through western Europe, and dominated the continent. The Soviet Union was allied with Germany. The United States was decidedly neutral in the early days of the war. And Hitler was threatening to invade the British Isles. The German strategy was to intimidate the English into surrender. The strategy failed, and it failed because of thousands of British citizens like those depicted in this portfolio. The new Prime Minister, Winston Churchill, was a last chance choice whom many thought disastrous. In fact, he inspired the nation -- exhorting and galvanizing ordinary people to be part of the effort to defeat Hitler. And they did.

Artist Graham Barry Clilverd had worked primarily as an architectural painter, engraver and etcher. Now his gifts were utilized by the Admiralty in Camouflage, Section C. He and many other quite ordinary people became unlikely warriors. This portfolio of his caricature drawings of his colleagues captures the very essence of Britain at war.

Here they are, a somewhat motley crew, responding to Churchill's clarion call -- civil engineers, artists, surveyors -- using their talents in defense of their island home.

Clilverd the artist. In his self-portrait he wears a suit fashioned of camouflage material and carries a gentleman's walking stick folding chair.

Atkinson, a bit of a dandy holds a paint brush while Clilverd sits on his walking seat in the background.

C. K. Johnstone-Burt -- a man in a hurry, dashing in topcoat and soft hat -- and Herbert Chatley, -- holding a map of the coastline and pulling a toy warship --civil engineers who oversaw the construction of the "Churchill Barriers" at Orkney, constructed to protect the Royal Navy's fleet.

F. R. Maude, surveyor, became the Chief Surveyor of Lands. A leering visage invites us to: "Come into the Garden ... and Survey the Land". (He wrote an attached note calling the likeness "very good" and praising the artist for capturing his "ugliness".)

All of the caricatures radiate good cheer and determination to get the job done. Their very ordinariness makes some of them difficult to identify. Clilverd has captured their spirit, their humor, and their strength. They are what defeated Hitler. They are England. England's war effort splendidly captured in this group of 30 caricature portraits. (Offered by Black Swan Books)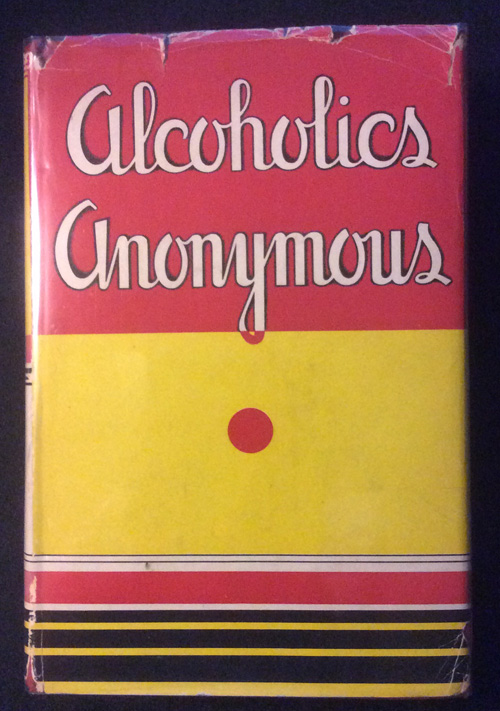 Alcoholics Anonymous: The Story of How More Than One Hundred Men Have Recovered from Alcoholism
First Edition, First Printing of the "Big Book" with dust jacket. New York City: Works Publishing Company, 1939. (Offered by Jeffrey H. Marks Rare Books)
FRENCH REVOLUTIONARY CALENDAR ON SILK – LEFEVRE, J. F.
Calendrier National, Calculé pour 30 ans et présenté à la Convention Nationale. Le 31 Décembre 1792. Paris: chez la Citoyenne Lesclapart, Libraire et M[archan]de dʹEstampes, Et à la Convention Nationale, [1792-1793]. Large broadsheet color-printed engraving with etching, PRINTED ON SILK (580 x 424 mm), incorporating copious engraved text, banner title at top flanked by chart of the fixed stars and a compass rose, eleven large allegorical figures and two cherubs, the text printed in black, blue, and red, the figures and title in mauve, green, blue, orange, yellow and brown, the colors evidently applied à la poupée, signed at the foot by the engraver P. Vallet (M. P. Vallet scripsit). In fine condition. The engraving mounted on thick paper. Provenance: from the collection of Jean Viardot. (Offered by Musinsky Rare Books)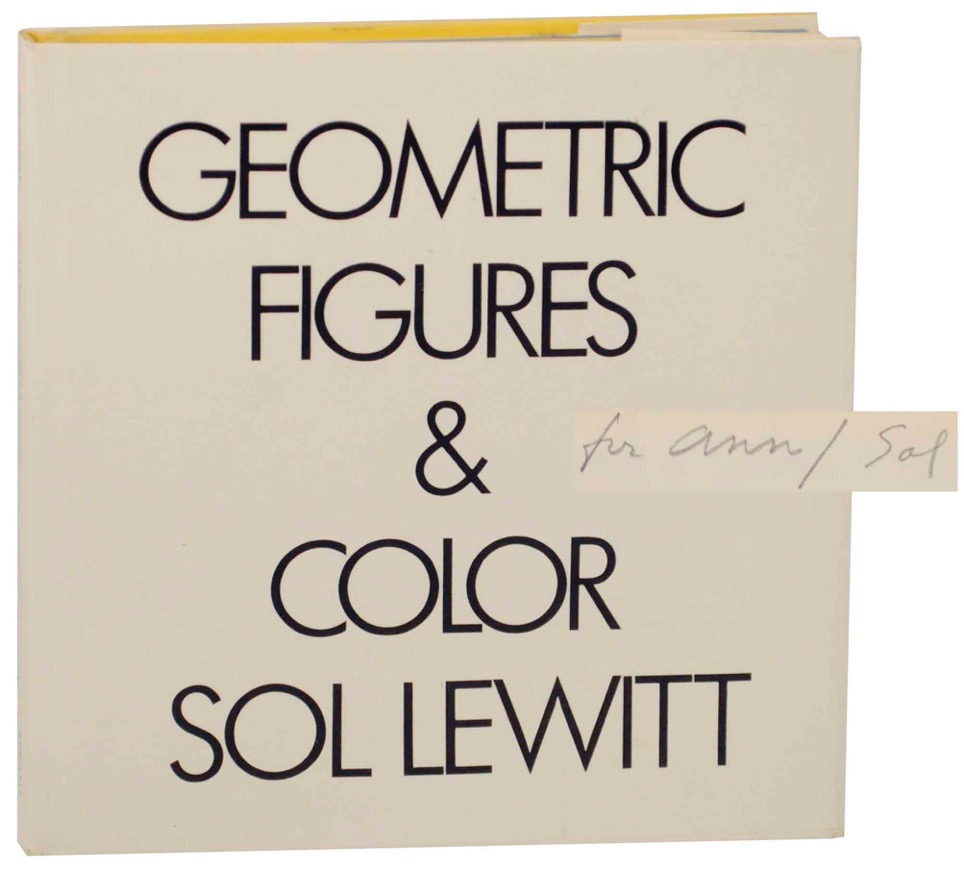 LEWITT, Sol. Geometric Figures & Color (Signed First Edition).
New York: Harry N. Abrams, Inc., 1979. First edition. Hardcover. First printing. A collection of color illustrations of Lewitt's various shapes in red, yellow and blue. A tight close to near fine copy in yellow cloth boards with a tiny shallow stain to the top of the front panel in a near fine dust jacket with some minute wear. Signed and inscribed by Lewitt on the front free endpaper in pencil. An uncommon book in cloth and even more so when signed. (Offered by Jeff Hirsch Books)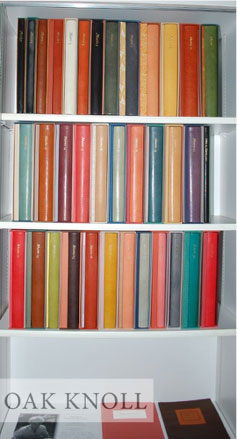 (Whittington Press) MATRIX, A REVIEW FOR PRINTERS AND BIBLIOPHILES. Issues 1-33, plus offprint indices for 1-5 and 1-10, and the index for 1-21.
Andoversford, England: The Whittington Press, 1981-2015, small 4to., original morocco backed (or vellum in some cases), all original slipcases present (original 1 and 2 were not issued with slipcases but these copies have specially made slipcases). Variously paginated.
This is a complete up-to-date set including all original volumes in de luxe version and also the de luxe reprint editions of volumes 1 and 2. The de luxe reprint editions were limited to 50 and 40 sets respectively; the limitations of the original volumes vary from a low of 30 copies for Matrix I to as many as 110 copies (Printing at the Whittington Press 1972-1994 56-63). Also included are offprint indices to volumes 1-5 and 1-10, and the de luxe version of the index to volumes 1-21. Filled with important articles on all aspects of private printing, historical printing history, book illustration history and all other subjects of interest to the book arts person. Illustrated with color, tipped-in illustrations, foldouts, broadsides, samples etc. The de luxe version contains many more specimens than are present in the trade edition. Becoming very difficult to find a complete set of this very interesting periodical especially in the deluxe version. Matrix 1 reprint has a slightly faded spine. This is a remarkable set in fine condition and one of only 30 possible sets of this important work. (Offered by Oak Knoll Books)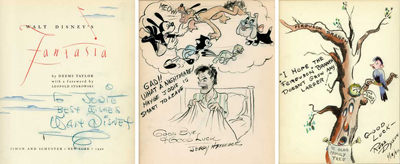 [ORIGINAL DISNEY ILLUSTRATIONS] Taylor, Deems. Walt Disney's Fantasia
New York: Simon & Schuster, 1940. 153pp. Quarto [33 cm] gray cloth with the title stamped in blue on the front board and backstrip. Good. Crayon scribbles to rear board and endsheets and pastedowns. Lacks the uncommon jacket. Hinges going.
A wonderful copy of the book that was published to accompany the movie, that is signed by thirteen people (including Walt Disney) that all worked at Walt Disney studios in the 1940s. All of the inscriptions are to Jodie [Ferguson] Brudge, who was a secretary at Disney Studios, and upon her leaving (to get married, raise family, etc.) she asked those that she worked with to inscribe her copy of Fantasia, and several did, and included some really lovely illustrations and many include warm and heartfelt inscriptions. (Offered by Ken Sanders Rare Books)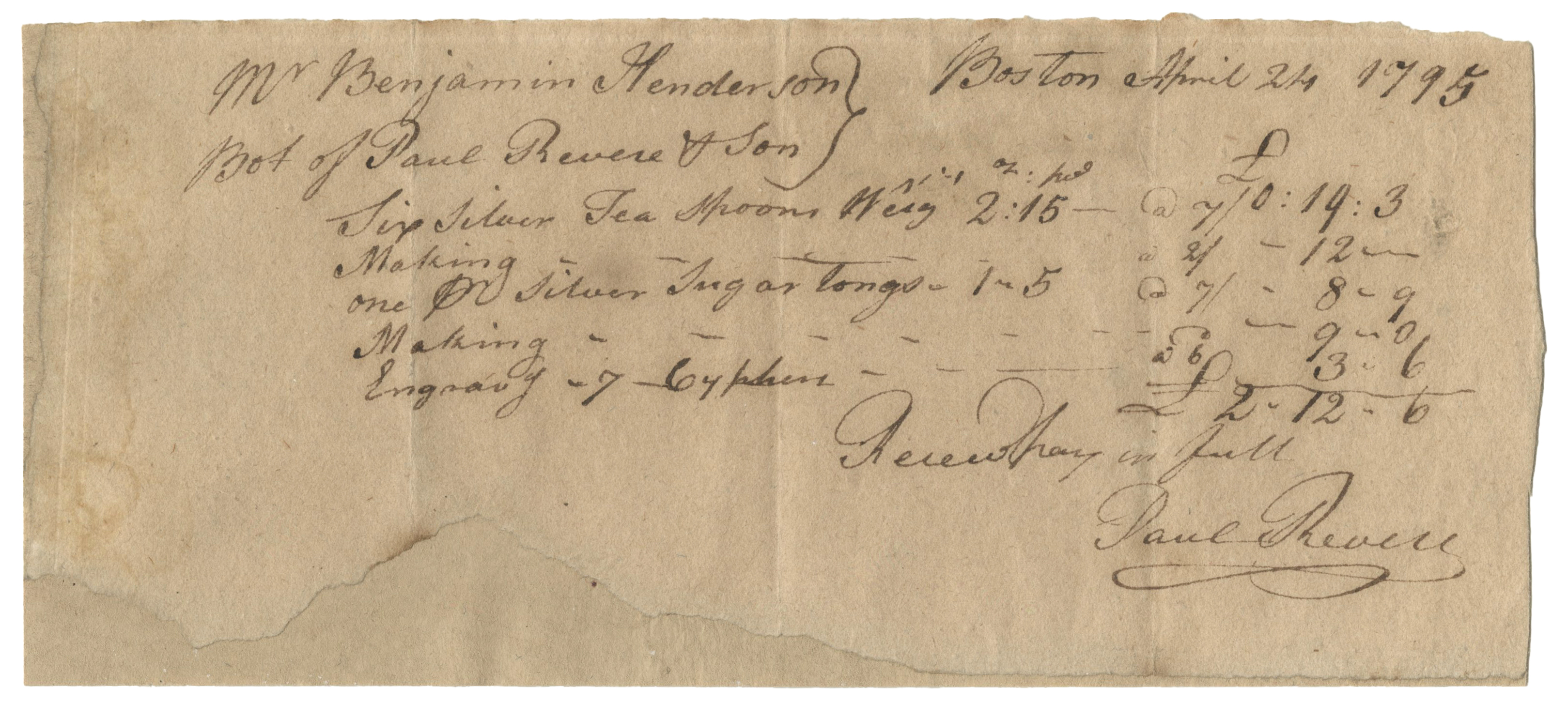 PAUL REVERE. Autograph Document Signed twice (once in text). Receipt for Payment. Boston, April 24, 1795
Legendary Boston revolutionary Paul Revere still has to work his day job in the early republic, here signing a receipt for a payment made on silver goods and engraving services. Entirely in Revere's hand and signed once within the text and again at the closing, it is docketed in an unknown hand on verso, "Col. Paul Revere his acct. paid 1795." (Offered by Seth Kaller, Inc.)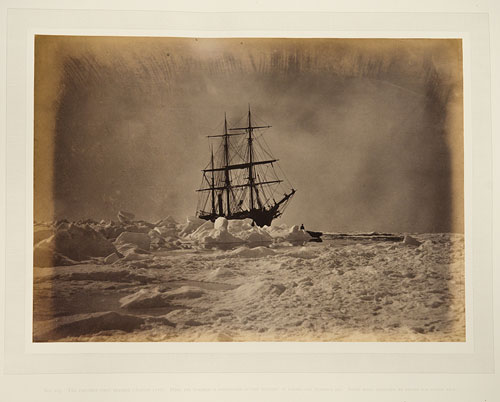 BRADFORD, William (1823-1892). The Arctic Regions. Illustrated with photographs taken on an expedition to Greenland by William Bradford. With descriptive narrative by the artist.
London: Chiswick Press for Sampson, Low, Marston, Low and Searle, 1873.
Large folio (23 7/8 x 19 inches). Mounted on linen guards throughout, half-title, title in red and black, dedication leaf. 141 mounted albumen prints from wet collodion negatives, by John Dunmore & George Critcherson (one as a vignette on the title, one double-page, 24 full-page and 115 of various sizes on the text). Original brown publisher's morocco by Leighton, Son & Hodge, after a design by Bradford, the covers elaborately blocked in gilt and black with a large centrally-placed vignette, titled "The Arctic Regions" within elaborate neo-gothic floral borders and panels, expertly rebacked to style, the spine in six sections with raised bands, marbled endpapers, gilt edges, edges and joints expertly repaired. Housed in an oatmeal cloth box, morocco lettering piece.
The greatest of all the illustrated books on the Arctic and a major photographically-illustrated book.
American marine painter William Bradford, inspired by Elisha Kane and Lord Dufferin's accounts of the Arctic, spent five seasons between 1861 and 1867 sketching along the coast of Labrador. In 1869, with the patronage of Le Grand Lockwood, he sailed as far north as Baffin Island and Melville Bay on a purpose-built arctic steamer The Panther, commanded by Captain John Bartlett and manned by a hand-picked Newfoundland crew.
The expedition took place during the summer of 1869 "solely for the purposes of art", although Bradford and his companions did find time for hunting (see photograph facing p.64). Bradford sketched and drew, and, according to recent scholarship, possibly took some of the photographs. Technical advice on the running of the expedition was provided by Dr. Isaac Hayes, an old Arctic-hand, who had first gone North with Elisha Kane's expedition of 1853-1855. Accompanying Bradford were photographers John Dunmore and George Cricherson, from the well-regarded James Wallace Black Studio in Boston.
"The three-month summer trip to the far North was a complete success. Not only did the expedition yield Bradford enough sketches and photographs to furnish him with motifs for years, but the published account of the journey became one of the nineteenth century's most spectacular photographically illustrated travel books ... The book was subsidized by Queen Victoria herself, along with several other members of the British Royal family, and there is no doubt that the volume is one of the most sumptuous of the century" (Parr and Badger).
Looking at the photographs it is easy to imagine the hardships that this pair must have endured. Using relatively primitive large-format plate cameras in highly hostile conditions, Dunmore and Critcherson managed to capture the majestic beauty of the region. As Bradford wrote in his preface "They were indefatigable in their efforts to overcome the obstacles which were constantly presented, and which appeared really to have no end." Their photographs "may be counted not only amongst the earliest, but also the best polar photographs ... they conveyed both the harsh grandeur of the landscape through which they travelled, and the rigours of polar travel. They also contributed to, indeed largely invented, that staple of Arctic expedition photography, the tiny ship struggling through towering sheets of ice -- the classic, but nevertheless compelling cliche of man against the elements" (Parr and Badger).
Although no limitation is given, fewer than 300 copies of the work are thought to have been published. Contemporary advertisements reveal that even with the patronage received the publisher's price was an extraordinary 25 guineas. Of the extant examples, the large work is often found in very poor condition, with significant edge fading, as well as offsetting from facing images. The present set, from the library of noted collector Richard Manney, is in lovely condition, with strong contrasts and colors to the images.
Parr & Badger, I, p. 31; Amherst/Shepard, American Painters of the Arctic (1975) pp. [9-10], no.34; Gernsheim Incunabula of British Photography (1984) 570; Grolier Truthful Lens 24; Van Haaften Original Sun Pictures NYPL Bulletin 80 (1977) 258. See also Horch Photographs and Paintings of William Bradford, The American Art Journal 5 (1973) 195-216. (Offered by Donald A. Heald Rare Books)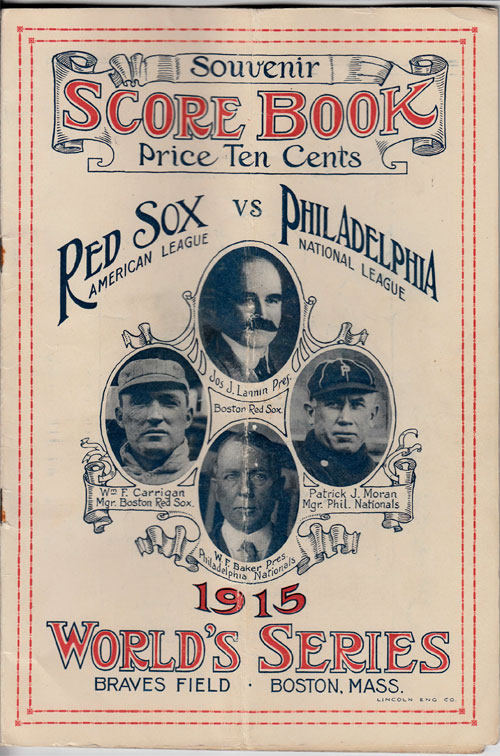 Souvenir program and scorecard for the 1915 World Series between the Boston Red Sox and Philadelphia Phillies, won by Boston in five games. Noteworthy for being Babe Ruth's first fall classic, the series featured several Hall of Famers, including Tris Speaker, Harry Hooper, and Grover Cleveland Alexander. This copy was printed for the games at Boston's Braves Field and preserves the completed scorecard for Game 3, which Boston won 2-1. (Offered by Brattle Book Store)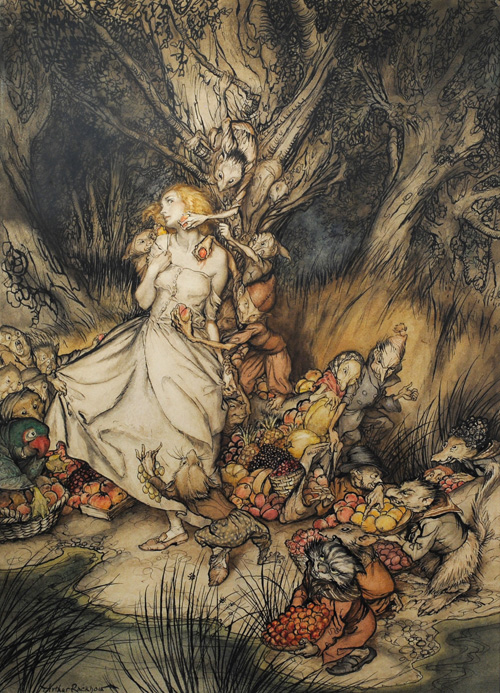 New to market! Original watercolor drawing by British artist Arthur Rackham for the illustration "White and golden Lizzie stood" for Goblin Market -- one of Rackham's most evocative and startling illustrations with every feature that Rackham was famous for -- the amazing detail, half real half fantastic creatures, trees with faces and limbs, a beautiful Pre-Raphaelite girl with golden hair, all composed into a painting of the highest quality, in perfect condition. This picture was purchased from Rackham in 1935 and had never been sold by the original owner. (Offered by John Windle)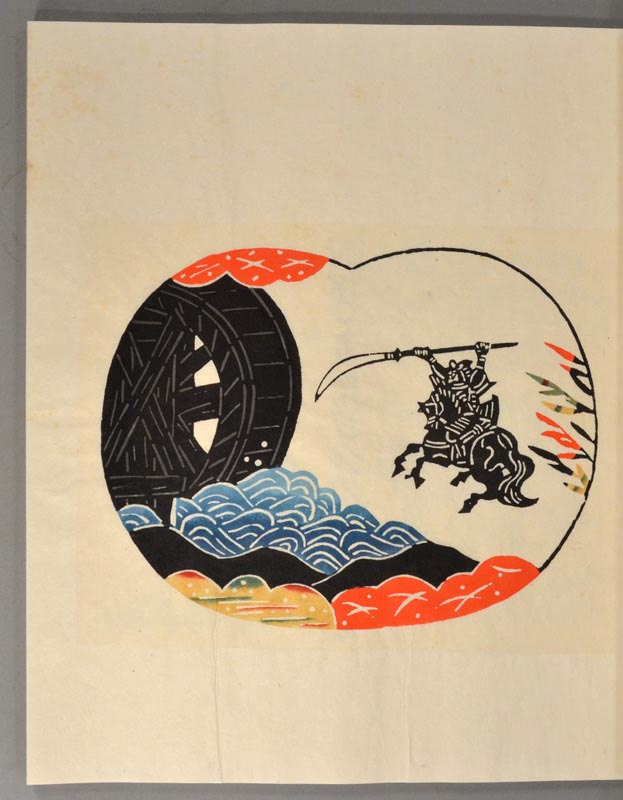 A Japanese Don Quixote! Illustrated and signed by artists Keisuke Serizawa, Shinpan Ehon Don Kihoute is a large color stencil printed "ehon" based on the story of Don Quixote, done as a "new version" in 1976, 40 years after Serizawa's original version. The scale and the images are quite different from the first version. This is number 157 of an edition of only 185 copies. With 31 full-page illustrations, this work is a monumental masterpiece of post-war Japanese livre d'artiste book production. (Offered by Boston Book Company)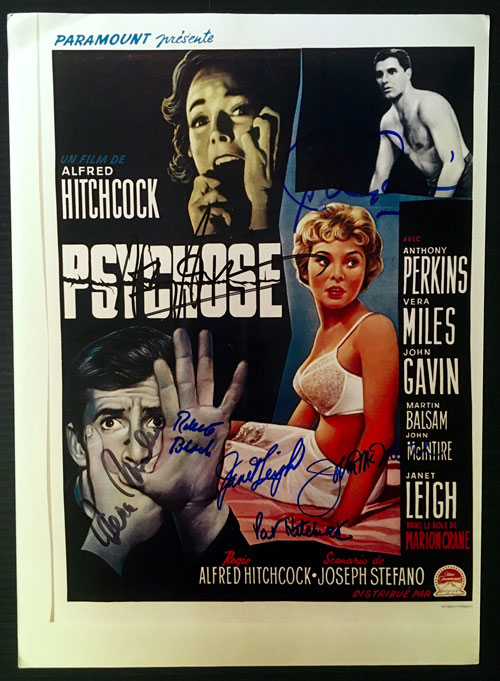 Multi-signed photos and posters from the 1960s and 70s American horror films The Exorcist, Texas Chainsaw Massacre, and Psycho. Various prices. (Offered by Appledore Books)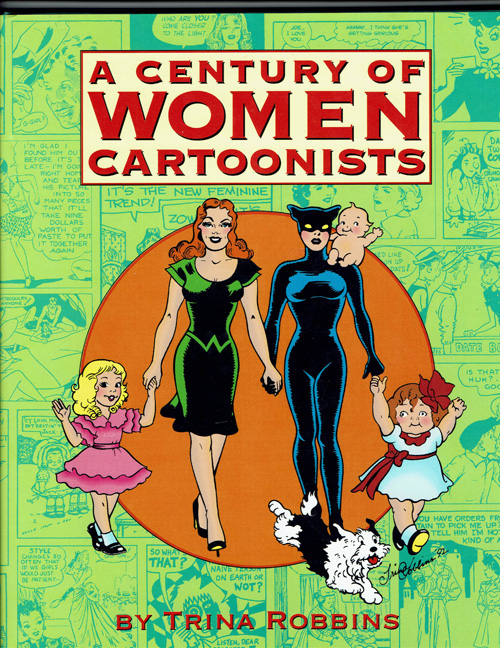 Signed First Edition of A Century of Women Cartoonists, published by Kitchen Sink Press in Northampton, Massachusetts, 1993. This is number 416 of 500 signed and numbered copies. Signed by the author Trina Robbins, and cartoonists Marty Links, Marie Severin, Ramma Trackin, Dale Messick, and Hilda Terry. (Offered by Boomerang Booksellers)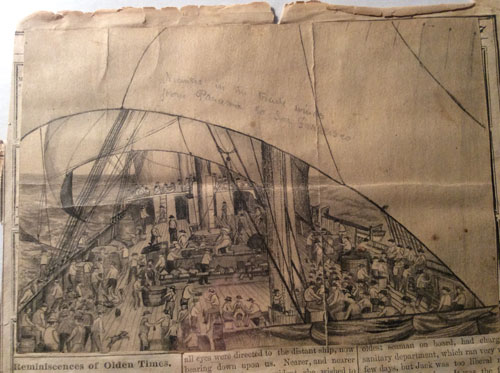 (Image: "Niantic in the trade winds from Panama to San Francisco." 6.625 x 4.625 inches. Certainly one of a very few extant images of the Niantic filled with '49ers on its final voyage.)
Archive of 26 original drawings and accompanying account by Daniel W. Nason (also "Nayson") printed in "The Villager" (Amesbury, MA) documenting his journey by ship and by land from New York to Panama to the gold fields of California in 1849.
Fourteen separate sheets housed in mylar sleeves (plus an additional five unrelated sheets), with cut-out text from The Villager (later the Amesbury & Salisbury Villager, a newspaper) and original drawings mounted on newsprint. The sheets, now chipped and worn at edges, likely were part of a family scrapbook or album that has been disbound. Some of the original drawings, including three showing California scenes, are also chipped with closed tears, amateurishly repaired. The condition of the more than two dozen drawings ranges from fair to very good. Overall, the archive requires the attention of an expert conservator.
Born in Epping, NH in 1825, Daniel Nason sailed for California in 1849. He remained in California until 1852, working the gold fields and occasionally sending documentary drawings East for publication. Examples of Nason's published pictorial work appear in three numbers of the first volume of Gleason's Pictorial and Drawing-Room Companion: No. 11, p. 165 ("A California Cabin"); No. 15, pp. 228-229 (four drawings of Panama); No. 20, p. 316 ("South Mines, Jamestown, CA"). At some point after returning to New England Nason became a journalist. His reminiscences as a '49er were serially printed decades later under a feature entitled "Reminiscences of Olden Times." According to Groce & Wallace, in 1891 Nason gave a portfolio of his drawings to the New England Association of California Pioneers in Boston, of which he was a member. (Records of the association now held by the Peabody Essex Museum do not indicate the existence of this portfolio.)
Summary of Nason's journey to the California gold fields as recounted in his "Reminiscences of Olden Days," and published in "The Villager."
Daniel W. Nason joined a number of other young men from Amesbury and Salisbury, Massachusetts to make the transcontinental journey to California. In his account, he states that passage from Boston to San Francisco cost $200.00; he claims also that by making the purchase, the passenger became part owner of the vessel and cargo. However, Nason did not leave from Boston, but instead went to New York to make passage to Panama aboard the steamer Crescent City under the command of one Capt. Stoddard. There were approximately 600 passengers aboard the steamer when the ship left New York harbor on February 5, 1849 bound for Chagre (or Chagras) on the east coast of Panama. There are signed drawings both of the Crescent City and of Chagres Village in the archive. From Chagre the 49ers traveled by riverboat and overland to Panama City (now Panama Viejo) on the west coast. (There's also a drawing of men on horseback making their way through the Central American jungle.) After reaching Panama City on February 24, the hopeful group had to wait for the arrival of other ships to take them up the coast to California. That did not occur for Nason until more than two months had passed. During that time, Nason became familiar with Panama City and the environs, and made a number of documentary drawings of churches and ruins in the area. There is also an elevated view of Panama City. A few of Nason's Panama drawings others were printed by Gleason's in 1851, including the view of Panama City (or one very similar to it). On April 8, 1849 the American whaling ship Niantic made anchor offshore from Panama City. The ship's commander, Capt. Henry Cleaveland, ordered the whaler converted for passenger use. Nearly a month later, on May 2, the Niantic sailed for San Francisco, first tracking south all the way to Ecuador, then west past the Galapagos, before catching the trade winds and tacking north. The Niantic finally arrived in San Francisco on July 5, 1849, at which time most of the crew deserted for the gold fields. The ship then was grounded and converted, temporarily, into a warehouse before later becoming a hotel.
In San Francisco the new arrivals pitched their tents in "Happy Valley," a protected area near sand hills. Nason briefly describes the rapidly growing community and need for additional buildings, lumber and skilled labor to keep pace with demand. He also describes the need for civil authority and the emergence of the first "organized" police force in the city. A little more than a month after arriving in California, Nason set off for the gold fields by way of a schooner to Sacramento, at the time little more than a huge camp. He and his company engaged the services of a teamster to haul their equipment to the "diggings" – where the account breaks off. However, from the drawings in the archive and one that was later printed in Gleason's, we know Nason spent time at Georgetown and Mameluke Hill, both pictured. By 1852, he was done with gold hunting and returned East. (Offered by John Waite Rare Books)
---
Intermission
(Yes, this list is long, so here's a little latin rythym and some scenes from the Boston Book Fair in previous years by way of a short break.)
Now, onwards to more fabulous featured items...
---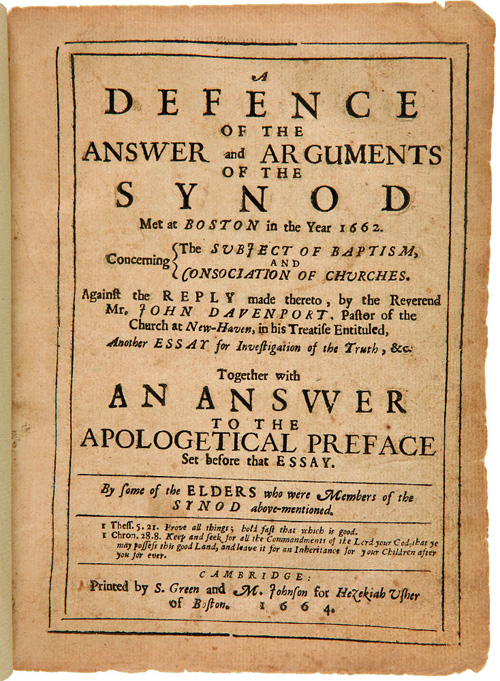 The First American Prose Book, a Foundation Stone of American Church History

Mather, Richard, and Jonathan Mitchel: A DEFENCE OF THE ANSWER AND ARGUMENTS OF THE SYNOD MET AT BOSTON IN THE YEAR 1662. CONCERNING THE SUBJECT OF BAPTISM AND CONSOCIATION OF CHURCHES....TOGETHER WITH AN ANSWER TO THE APOLOGETICAL PREFACE SET BEFORE THE ESSAY. Cambridge [Ma.]: Printed by S. Green and M. Johnson for Hezekiah Usher of Boston, 1664. [2],46,102pp. plus the final blank. Small quarto. Modern calf, gilt leather label. Light marginal dampstaining to latter half of text. A few leaves trimmed close, affecting marginal notes in some places. Minor toning and foxing. Very good.

A very important early American imprint, the first prose book of over one hundred pages produced in the British North American colonies. It is the longest and probably one of the only obtainable works from the first quarter century of printing in America.

This work is of the greatest importance as a document of New England church history. The Synod of 1662 was largely concerned with the question of baptism and the church membership of children. Holmes notes: "...afterwards, church bodies were strained between Synodists and anti-Synodists for half a century or more...Like a red thread in a tapestry, the question of baptism runs through the whole history of the Protestant movement in Europe, in England, and in America. Puritans with strict views, like those held by the Rev. John Davenport of New Haven, administered baptism only to the 'infant seed' of church members of regenerated life who were in full Communion; that is, only to children of persons who had experienced conversion and could give an account of spiritual transformation...."

This system of belief worked very well in the first generation of New England settlement, but by the 1650s increasing numbers of the second generation and new immigrants could not qualify themselves to partake of Communion. Thus, these parents were unable to confer church membership on their children. Moderating forces suggested a relaxation of the rules of church membership, a position Richard Mather took as early as 1645. The subject was hotly debated until the synod of 1662, when Jonathan Mitchel and Richard Mather led the way to what is known as the Half-Way Covenant. This opened the way for church membership for the children of professing Christians in good standing in the community.

This liberalization of the rules for church membership was abhorrent to the more conservative elements in New England. John Davenport, a leader of the conservatives, was joined by Increase Mather - the son of Richard and a student of Mitchel - in attacking the decision of the Synod. Davenport and Mather called for a return to the stricter rules for admission to church membership in a pamphlet attacking the Half-Way Covenant. The present work is the reply of Richard Mather and Jonathan Mitchel. In it, they restate the arguments they had presented two years before, and elaborate upon them. But Holmes says, "If strict logic were the only thing to be considered, the unbending Davenport and his young disciple were correct. But the altered state of the church needed compromise. It seemed to the Synodists the lesser evil to admit unregenerate persons to a modified half-way membership, than yield to the pressing alternative of admitting them later to full membership and to the Communion. Mather, after the death of his father, saw this and he reversed his position."

This work, a dispute between Richard Mather and his son, Increase, ties together two views of New England theology from its most famous family. It is of further interest for its printers, the Green family, the third printers in British America, and for its publisher, Hezekiah Usher. To find a 17th-century American imprint of this early date and importance is extremely difficult today. No copies appear in auction records for the past thirty-five years.
~EVANS 89. CHURCH 588. HOLMES, MINOR MATHERS 39. HOLMES, INCREASE MATHER 90. DEXTER 1949. WING M1271. ESTC W19818. (Offered by William Reese & Company)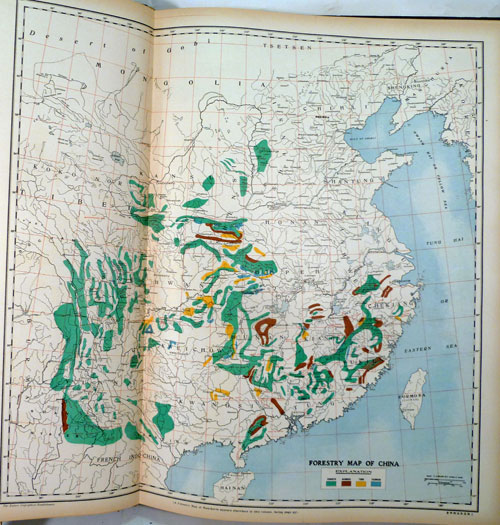 Dingle, John Edwin (Editor). The New Atlas And Commercial Gazetteer Of China A Work Devoted To Its Geography & Resources And Economic & Commercial Development. Containing 25 Bi-Lingual Maps, With Complete Indexes, And Many Coloured Graphs. Compiled and Translated from the latest and most authoritative surveys and records by the staff of the Far Eastern Geographical Establishment, Shanghai, China.
Shanghai: North China Daily News & Herald Ltd, (1917). First edition. Elephant folio, 53.5 x 38.7 cm. 18 colored graphs and diagrams ; 26 colored maps and two half page colored maps -- all are color lithographs. The largest, most comprehensive atlas of China in English so far published to that date. It contains detailed surveys of Chinese geography, commerce, economics and education, a trade research section, and sections on Chinese production, railways, communications, forestation, geology, fauna and flora. The commercial section presents detailed information on China's exports and imports: the opium, silk, tea and treasure trades. Also of special note is a a list of the "Principal commodities of the World's economic and commercial development of China." -- Maps: no. 1. Chihli. -- no. 2. Shantung. -- no. 3. Honan. -- no. 4. Shansi. -- no. 5. Shensi. -- no. 6. Kansu. -- no. 7. Szechwan. -- no. 8. Hupeh. -- no. 9. Hunan. -- no. 10. Kiangsi. -- no. 11 Anhwei. -- no. 12. Kiangsu. -- no. 13. Chekiang. -- no. 14. Yunnan. -- no. 15. Kweichow. -- no. 16. Kwangsi. -- no. 17. Kwangtung. -- no. 18. Fukien. -- no. 19. Manchuria. -- no. 20. Sinkiang. -- no. 21 Mongolia. -- no. 22. Tibet. -- no. [23] Forestry map of China. -- no. [24-25] New productions map of China. -- no. [26] Railway map of China. Inset: Sketch map of Manchuria. Preface to the Second edition, "The New Atlas and Commercial Gazetteer of China seeks to give information that is essential to the business-man in regard to a country that comprises nearly a sixth of the earth's surface, a country that has the world's largest and most heterogeneous population in the world, a country which less is known than in regard to any similar area in the world." Institutional stamp and bookplate. Interior contents clean and bright. Orig. publisher's gilt lettered, blind stamped black morocco. Very good. (Offered by Roy Young Bookseller)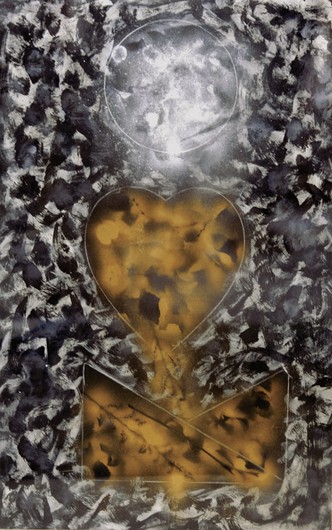 The Golden Triangle - The Gold Heart
by William Burroughs
1988. An original Burroughs painting, which became part of the Seven Deadly Sins exhibition at The Writer's Place, Kansas City, Missouri, in 1993. Acrylic and spray paint on poster board: a gold triangle and heart spray-painted against a background acrylic image of black, blue and gray. Signed by Burroughs. 20" x 32". Mounted and framed to 24" x 36". Fine. (Offered by Ken Lopez Bookseller)
[ANGLING] – HOOPER, WILLIAM, Tackle-Maker. Important Intelligence to all Lovers of Angling, in the British Empire, and Challenge to the World. Hooper, Loughboro', most respectfully presumes to Communicate to the Royal Family, the Nobility and Gentry, That he has brought, to equisite [sic.] Perfection, his celebrated, unequalled, or Imperial Transparent, Inimitable, Incomprehensible, and Infallible Fishing Lines. . . The Best Fishing Tackle in the World. . . Lines to take every kind of River Fish, from the diminutive Prickle Back, to the Noble Salmon. [Loughborough, England:] [Alpheus] Buck, Typ. [circa 1815]. Broadside, 12 x 7 inches, printed on one side within a Greek key border, with a large Royal coat-of-arms at head and printed in a fine variety of types; the border slightly cut into, various newspaper clippings, some dated 1818 and 1819, pasted to the blank verso.
A splendid little broadside, apparently unrecorded, in elegant type and florid language, and with an appeal "that Ladies may participate in this fascinating Amusement conducive to Health, presenting a grand field to Genius. . . and for which every Lady who drives her Curricle is already qualified."
William Hooper's will was proved in March 1824, where he was described as a draper and "Fishing Tackle Manufacturer." This broadside also notes that Hooper's wares are available from "Mr. Preston, Hair Dresser, Leicester, Mr. Thornly, Perfumer, Shardlow, Derbyshire, &c." and that "every Line bears [Hooper's] Name on a coloured Label." ( Offered by Stuart Bennett Rare Books)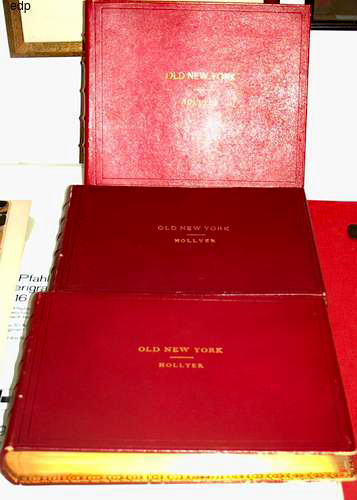 Hollyer, Samuel. OLD NEW YORK - VIEWS BY S. HOLLYER
New York, 1905, 1909 & 1912. 3 Volumes, oblong 4to., bound in full red morocco leather, gilt, with elaborate dentelles, marbled endpapers and with all edges gilt. Volume I with title page, descriptive table of contents, 65 engraved view plates with the images averaging about 3 1/2 x 5 1/2 inches, and an engraved self-portrait of Hollyer, each plate signed and titled by Hollyer in pencil; Volume II, as above, with 45 plates; Volume III, as above with 31 plates; comprising the complete series of 141 views, and collating with the three volume set in the Museum of the City of New York. The internals pristine, minor rubbing at some of the extremities, and a 1/4 x 3/4 inch scuff to the leather on the rear cover of Volume I, else a Very Fine copy of this very important and extremely rare set of historical views of New York City landmarks.
OCLC locates no complete sets. It identifies the New York Public library as having a copy of Volume I with 65 plates, and Central Connecticut State University as having Volumes I and II with 110 plates. The Museum of the City of New York has a complete bound set, and the New York Historical Society has a complete set of the plates, unbound.
Samuel Hollyer, 1826-1919, was born in England and worked as an engraver in both England and the US. In his career of almost seventy years, he did portrait engravings of literary figures, landscapes, and book illustrations. The Old New York views are the work for which he is primarily remembered, as they picture many structures which had already vanished when he published his work, or which are no longer standing now, and for which his engraving is now a primary record. "Samuel Hollyer's Old New York views were created at the turn of the twentieth century to recall sites and scenes in the city and the Hudson River Valley that had largely disappeared in the previous three centuries. The images are historically important sites, houses, taverns, churches, forts, theaters, and public buildings (NY Historical Society Guide to Samuel Hollyer's Old New York Views 1901-1912, NYHS, NY 2003, NYU Libraries, publisher)." (Offered by Edward T. Pollack)
Durrell, Lawrence. Justine.
Paris: Éditions Corrêa, Buchet/Chastel, 1957. First edition in French, translated by Roger Giroux. Published in the "Le Chemin de la Vie" series overseen by Maurice Nadeau. 278, [10] pp. Original paper wrappers with original glassine. Pages slightly browned, still a fine copy. With a preface in French by Henry Miller. This copy inscribed by Durrell to Henry Miller, "Henry dear / Here she is at last! What a translation and what an overwhelming preface. Bless you! I am quite overcome with joy / Larry / Dec. 20 '57 / Sommieres" With Miller's signed bookplate on the inside front cover. It is unnecessary to comment on the significance of the relationship between these two titans of twentieth-century literature, friends for forty-five years. A superlative association. (Offered by Triolet Rare Books)
The Intersexes: A History of Similisexualism as a Problem in Social Life.
by MAYNE, Xavier (pseud. of Edward Irenaeus Prime-Stevenson)

(N.p.: Privately Printed, 1908). First Edition. One of 125 numbered copies, this being copy no.114. Octavo (25cm); maroon cloth and pebble-grained morocco, with titles stamped in gilt on spine; marbled endpapers; top edge gilt; xii, [2], 641, [9]pp. Extensively annotated in at least three distinct hands - two in ink, one in graphite - the most pervasive of which is certainly contemporary with time of publication. Mild wear to joints, spine bands, and board edges; mild bump to upper and lower edge of front board; faint, shallow dampstaining to right margin of title page and 4 preliminary leaves; brief repair to upper right corner of dedication page; Very Good+.
A key work of early 20th-century homosexual literature, pseudonymously written by Edward Irenaeus Prime-Stevenson (1858-1942). "Of Prime-Stevenson's works, The Intersexes is the most substantial... the work takes its title from the English translation of sexuelle Zwischenstufen, the term Magnus Hirschfeld, the most prominent German sexologist and homosexual rights advocate of tHe early twentieth century, used in his writings... Dedicated to the memory of Krafft-Ebing, whom Prime-Stevenson had met and been encouraged by, The Intersexes serves as a kind of guidebook - a layman's sexological Pilgrim's Progress - for homosexuality. Whether homosexual or not, readers, Prime-Stevenson assumes, are in need of assistance in understanding people whose "similisexual instinct defines a series of originally intermediary sexes... rather than mere aberrations, degeneracies, psychic tangents, from the male and female" (p.x)... Increasingly, he emphasizes contributions to Western culture, the arts in particular, that homosexuals, especially male homosexuals, have made: "in the more aesthetic professions [the Uranian's] work has been the wonder of the world since it began" (p.81); he includes numerous lists of notable male and female homosexuals who were either "complete or partial" Uranians (Breen, Margaret S. "Homosexual Identity, Translation, and Prime-Stevenson's Imre and The Intersexes." CLCWeb: Comparative Literature and Culture 14.1 (2012).
The present copy is heavily annotated in three distinct hands. The first of these consists strictly of editorial changes (in pencil), the second offering a few underlined passages and brief interactions with the text (in ink). The most pervasive round of annotations (in black and red ink) are contemporary with the time of publication, reflecting someone with deep insight into the subject matter and showing meaningful interaction with the text and in many areas expanding on Prime-Stevenson's work or translation. While this copy bears no ownership markings, we can infer that the owner was likely acquainted with the author based on his annotations to the title page; "Edward Irenaeus Prime-Stevenson" has been written directly beneath the printed pseudonym, and the lower margin provides some insight into the place of publication - "Georg & Co. / Librairie de l'Université / Geneva, Switzerland."
Rare; we find no examples for sale in the trade (August, 2016) or in the auction record; OCLC finds 19 copies, of these, only eight in the U.S. (LC, Northwestern, Duke, OSU, Yale, Cornell, U.Michigan, U.Wisconsin Madison). (Offered by Lorne Bair Rare Books)

CURIO, Johannes (ed.); CRELLIUS Jacobus bound. De Conservanda Bona Valetudine, Scholae Salernitanae, opusculum: Cum Arnoldi Novicomensis...enarrationibus: accuratius jam & emendatius edita per Joannem Curionem, & Jacobum Crellium. Item, De Electione meliorum meliorum simplicium, ac specierum medicinaliu, rhythmi M. Othonis Cremonensis. De moderatione cibi & potus, item somni & vigiliarum, loci aliquot, ex Philippi Melanthonis De anima libro. Polybii De victus salubris ratione privatorum, tractatus [Joanne Guinterio Andernaco interprete]. Of maintaining the good health, Schola Salernitana, little work : When Arnold Novicomensis ... enarratione: Curio, carefully now, and the more correct issued by the John , and James, the Crellium. Also, On the Election of the best to the best of the simple, and the species of medicinal , rhythms of M. Otho of Cremona. On the direction of the food & drink, sleep & watch item, a number of the place, from the book of the De anima of Philip Melanchthon . The private nature of a healthy diet of Polybius, Tractatus [Joanne Guinterio Andernaco interprete].
Frankfurt: Chr.Egenolff, 1553. [8], 146, [6] leaves (last leaf blank). With woodcut printer's device and numerous fine text woodcuts by H.S. Beham and Hans Schauffelein. 2 contemporary inscriptions on title-page with first line erased (resulting in a tiny hole not affecting the text), the second line being "Hanno veranus" (inscription on back paste-down partly erased but with date "1556" visible); the second inscription is difficult to make out but in the same ink but different hand. Contemporary blind stamped pigskin decorated with portrait and ornamental rolls with initials "M I G" and date "1556" on front cover.

1- Famous collection of dietetic advice and codes of conduct which, because of its popularity, was an important source of information on the food, wine, medicine, and hygiene of the period. The editor, Johann Curion (d. 1561), was born at Rheinberg in the Cologne Electorate. He studied medicine at Erfurt and went on to teach medicine there up to the year of his death. Curio, with the help of Jacob Crell, completely revised Arnaud de Villenueve's textbook, The School of Salernes, Schauffelein, depiction people eating, drinking, bathing, botanical illustrations, wine making, meats and vegetables, medical illustrations of phlebotomy, complexions, fevers, dentistry, urine glasses, foods, ets. which were first included in the 1545 Frankfurt edition. In addition to the commentary by Curio there are additional texts on leading a healthy life by Otho Cremonensis; Melanchthon (on moderation in eating and drinking), Polybius, Johann Guenther and Hippocrates.

2-Second edition of this collection of gastronomic, medical and herbal texts edited by Johan Placotomus which first appeared in 1551 by the same printer: "Avec un important traite sur la Biere" (Oberle). The works are presented in both prose and neolatin poetry. The first work is Eobanus Hessus' popular dietary didactic poem mentioned in the title which is greatly expanded with extensive commentary by Placotomus. This is followed by Georg Aemilius' treatise ("De natura et viribus cerevisiarum" : pp. 71-109) which deals with beer and mead, its ingredients, methods of brewing, and the various types of beers and beers special to various regions and their cities: Prussia; Hamburg, Goslar, Lubeck, Brunschweig, Rostock; Thurigia, Freiburg, Worms, Wittenberg, etc. This is followed by a section on drunkenness and its cure, starting with an epigram by David Milesius Nissenus, followed by commentary by Placotomus; next is Baptista Fiera's catalogue of herbs and foods presented in verse, identifying their medical and culinary uses. The final work deals with fruits and vegetables in verse by Walafried Strabo.
The work is illustrated with 23 fine woodcuts; the half page woodcuts are by Hans Schauffelein who may have done the smaller woodcuts as well. The fine illustrations depict subjects dining, drinking, planting fruit trees, drunkenness, various meats, fish cheese, onions, butter making, bread, fruits and vegetables, wine, beer, vinegar, etc.
Johann Placotomus (Brettschneider: 1514-1577), a German Physician and educator, had attended the University of Wittenberg where he made the acquaintance Melanchthon and Luther while attending lectures by Georg Rheticus and Erasmus Reinhold. He tood advanced degrees at the University of Leipzig where he took a doctorate in medicine in 1543. In the following year he became the first professor of medicine at the University of Konigsberg. He later moved to Gdansk as city physician and eventually ran the city pharmacy as well.

A very interesting volume containing the two most popular gastronomic, pharmaceutical and medical works intended for the general public. While the texts were often published elsewhere only the Frankfurt publisher, Egenolff, had access to these beautiful woodcut illustrations. The volume is bound in its fine original blindstamped pigskin binding. (Offered by LizzYoung Bookseller)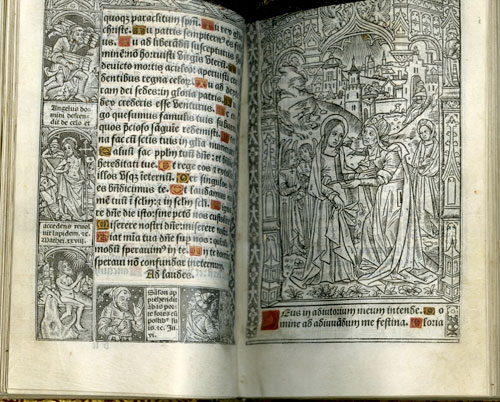 Book of Hours printed on vellum (1500)
Printed by Philippe Pigouchet, 116 (of 122) leaves with 17 large cuts and 26 small cuts of saints and the life of Christ and an intricate border on each page. In an attractive later red morocco binding (ca. early 17th century). A very finely printed book of hours printed as the middle class began to gain its footing in the world and demand something like the fine books of the nobility - and with the advent of the printing press, they were able to get it for the first time. (Offered by Pazzo Books)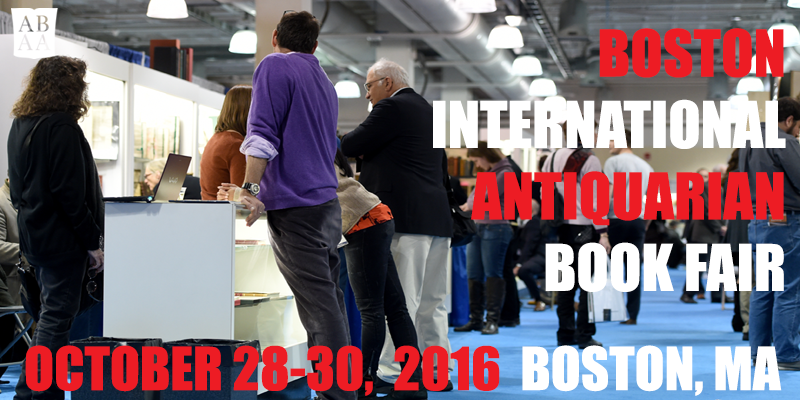 Click here for more information on the 2016 Boston International Antiquarian Book Fair...