We asked ABAA members to let us know which items they were particulaly excited about bringing to the upcoming Boston International Antiquarian Book Fair and they responded with a breath-taking selection of truly spectacular association copies, signed books, art, and idiosyncratic ephemera from all corners of the globe. You'll find the items below in the booths of Boston's Hynes Convention Center begining November 10.
Leaves From a Mislaid Album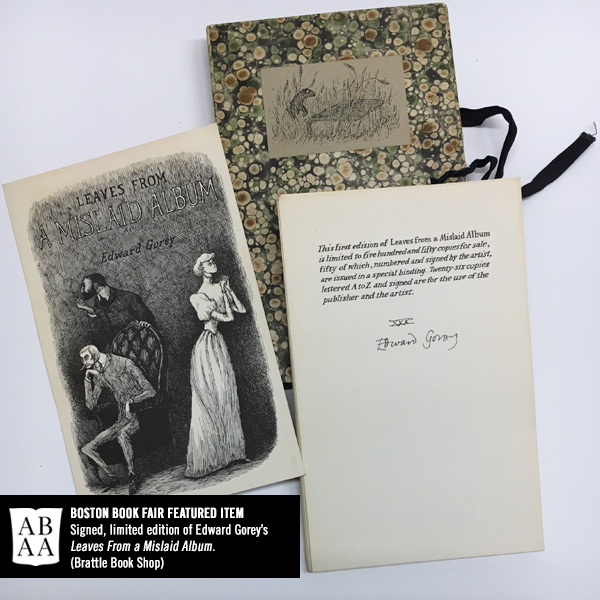 Signed, limited edition of Edward Gorey's Leaves From a Mislaid Album, published by Gotham Book Mart in 1972. The publication is a portfolio of prints with no set order in which they should be viewed; images printed for Leaves consist of macabre character portraits which invite the viewer to invent stories based on the attitude and body language of the subject.
Offered by Brattle Book Shop. Booth #215
Edgar Allan Poe's Tales of Mystery and Imagination. Illustrated by Arthur Rackham.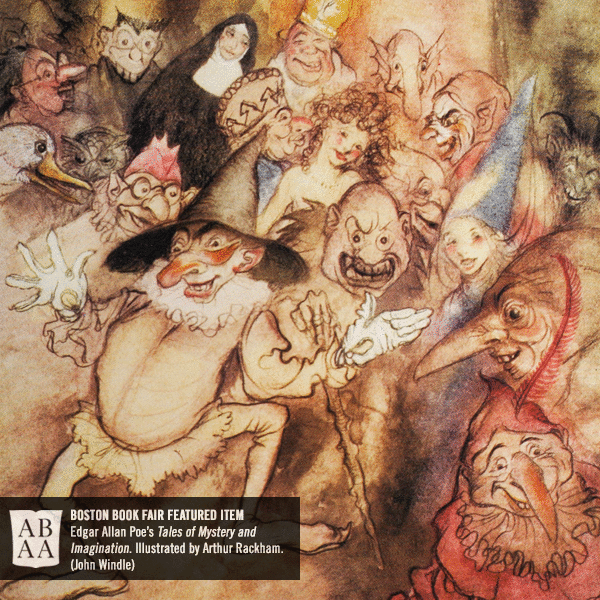 Edition de luxe, limited to 460 copies, signed by Rackham, printed in London in 1935. Surely the best illustrated edition of Poe's masterpiece ever published. Unusually dark subject matter for Rackham, he confessed to his model Marita Ross "that his pictures were now so horrible that he was beginning to frighten himself!"
Offered by John Windle, Bookseller. Booth #413
TWENTY-SIX POEMS, ONE OF TEN COPIES PRINTED ON JAPAN VELLUM, WITH ORIGINAL PEN-AND-INK DRAWINGS BY DYLAN AND CAITLIN THOMAS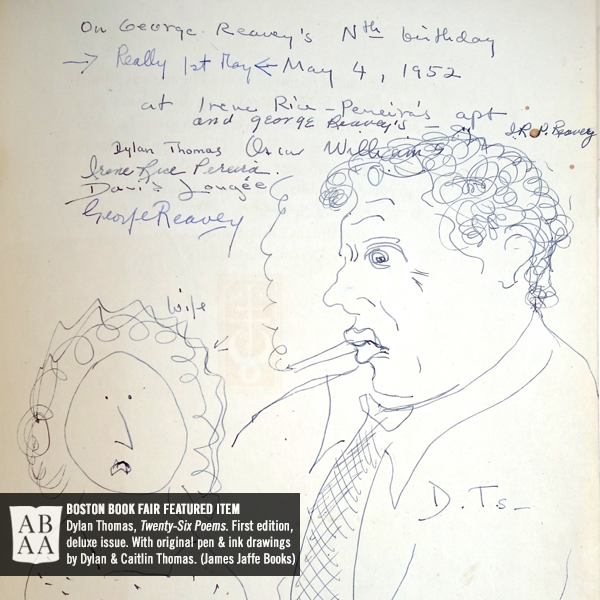 THOMAS, Dylan. Twenty-Six Poems. 4to, original quarter vellum & boards, publisher's slipcase. (NY & London: James Laughlin & J. M. Dent & Sons Ltd., 1949). First edition, deluxe issue. One of only 10 copies printed on Japan vellum, out of a total edition of 150 copies printed by Hans Mardersteig at the Officina Bodoni in Verona, Italy, and signed by Thomas. The ten copies on Japan vellum were divided between the publisher and the poet, the present copy being copy number five [V], one of the poet's own copies, bearing his ownership signature and address on the rear endsheet: "Dylan / Boat House / Laugharne / Carmarthenshire / Wales." The bibliographer suggests that: "the vellum copies preceded the hand-made paper issue by about two days." Rolph B13. Schmoller 94. Barr 48 (regular issue). Twenty-Six Poems is a selection of Thomas's best poems, including "I see the boys of summer", "After the funeral", "The hand that signed the paper", "There was a saviour", "Ballad of the Long-Legged Bait", "Deaths and Entrances", "Fern Hill", "A Refusal to Mourn", "In my craft and sullen art", and "In Country Sleep", among others. Presentation copy, inscribed on the front free endpaper by Thomas to the Asian American poet José Garcia Villa: "To José Garcia Villa from Dylan Thomas". Thomas's inscription is followed on a later blank page by a pen-and-ink drawing by Thomas bearing the caption "Who is Love" and the inscription "from Dylan with affection, May 1953." In addition, at the back of the book, there is a pen-and-ink portrait of José Garcia Villa by Caitlin Thomas, which is signed "Villa by Caitlin". Most importantly, there is an additional pen-and-ink drawing by Caitlin on the page facing the colophon, a picture of "Dylan & me", with the figure of Caitlin labeled "wife", and the figure of Thomas labeled "D. T.s". Above the drawing is an inscription in Caitlin's hand reading "on George Reavey's Nth birthday, May 4, 1952 at Irene Rice-Perieira's and George Reavey's apt." The date is subsequently corrected: "Really 1st May". At the time Reavey and his wife, the artist Irene Rice-Pereira, lived on West 15th St. in New York. Below the inscription are the signatures of those who were present at the party, including Dylan Thomas, Oscar Williams, Irene Rice-Pereira, and David Lougée ["one of Dylan's first American friends" – John Malcolm Brinnin, Dylan Thomas in America (Boston: Little, Brown & Co., 1955), p. 278].
Caitlin joined Dylan for his second tour of America in 1952, and the inscriptions and drawings in this book, with the exception of Thomas's ownership signature and address at the back, probably all date from the birthday party at Reavey's house in May 1952, when Caitlin would have drawn the self-portrait of herself and Dylan, and the portrait of Villa, and when their friends signed the book. It is possible, of course, that Dylan could have met
Villa again in May 1953, separately, and added the drawing and inscription to him then, but it seems more likely that he simply misdated the inscription at the time of Reavey's party the previous year.
Caitlin did not accompany Dylan on his third tour of America in April/May 1953, and only returned to America on November 5, during Dylan's fourth tour, after learning that Dylan had been hospitalized in New York. Thomas died on November 9, without having awakened from a coma, while Caitlin was recovering from a nervous breakdown at the River Crest Sanitarium on Long Island. Originally attributed to acute alcohol poisoning, the cause of Thomas's death is now believed to have been severe bronchopneumonia, which went undiagnosed and untreated – that is to say, mistreated – at the time.
When Thomas was admitted to St. Vincent's Hospital on November 5, "the simmering rivalry between Dylan's local friends flared into open hostility. On the one hand was a definite inner circle centred on these three [John Malcolm Brinnin, Ruthven Todd and Liz Reitell, John Malcolm Brinnin's assistant, with whom Thomas was having an affair] and the Slivkas [David and Rose]; on the other, a group, headed by George Reavey and Oscar Williams, who felt excluded. As well as being closer to Caitlin, they considered they had known Dylan longer and were the true guardians of his interests, literary and otherwise." – Andrew Lycett, Dylan Thomas: A New Life (Woodstock & NY: Overlook Press, 2003), p. 370.
Disentangling the truth from contemporary or posthumous accounts of the last years of Dylan Thomas's life is almost impossible, not least because so fraught with grief, bitterness and guilt. But John Malcolm Brinnin and Ruthven Todd's pre-emptive attempts to establish official narratives of Thomas's last days were, to use Caitlin's most lenient and succinct critique of Brinnin's Dylan Thomas in America, "one-sided" and "limited", and failed – or simply refused – to acknowledge the good intentions, and the good works, of the couple's other friends, especially Oscar Williams. Todd in particular completely misrepresented Williams' character and impugned the generous role he played in helping Dylan and Caitlin, a role that is well documented in later accounts. As Lycett points out: "Among his (Thomas's) circle, she (Caitlin) took to Oscar Williams, who not only had expressed interest in her writing but also seemed to understand how important it was to her as an impecunious mother in Laugharne that he sold Dylan's work for quick, ready cash." – Lycett, p. 325. The Thomases were constantly imploring Williams to raise more money for them. In October 1951, Dylan wrote to Williams: "Please, old crazy friend, get me a lot of dough bloody, bloody quick." And Williams was always trying to do just that, primarily by arranging for periodical publication of Thomas's poems, but also raising money through public appearances and the sale of manuscripts and worksheets that Thomas gave him to sell. And the money that Williams succeeded in raising, often without taking a commission, was considerable. "In the first few months of the year (1953) Thomas earned more than a thousand pounds in income that passed through his agents, and in other sums that came direct from Oscar Williams. . . . On 3 March Thomas was sending Williams the 'Prologue' drafts to see what he could raise on them." – quoted in Paul Ferris, Dylan Thomas: The Biography. New Edition. (Washington, DC: Counterpoint, 2000), p. 276.
At the time Twenty-Six Poems was published, Villa (1908-1997) was an associate editor at New Directions, whose publisher James Laughlin co-published this book, and who also published Villa's second book, Volume Two, in 1949. Laughlin was delighted with Villa when he first met him: "Marvelous little guy. Like an affectionate squirrel. . . . He worships Cummings, which puts him in good with me." – Ian S. MacNiven, "Literchoor Is My Beat": A Life of James Laughlin, Publisher of New Directions ((N. Y.: Farrar Straus Giroux, 2014), p. 196. However, Laughlin and Villa parted bitterly in 1951. Although neglected today, Villa was a highly regarded poet during the 1940s and 1950s, lavishly praised by a number of leading figures of the day such as Edith Sitwell. After leaving New Directions, he became the director of the poetry workshop at the City College of New York from 1952 to 1960, and from 1964 to 1973 he lectured at the New School. Although his "comma poems" are largely dismissed today, José Garcia Villa's love poems are widely admired. Villa and Thomas befriended each other during Thomas's extended visits to the city. Villa lived in Greenwich Village and was one of Dylan Thomas's regular drinking companions at the neighborhood White Horse Tavern, one night rescuing a discarded self-portrait by Thomas from the waste paper basket.
Villa also owned copy number 106 of the regular issue of Twenty-Six Poems, inscribed to him by Thomas.
Although Dylan Thomas's impromptu impulse to add caricatures of himself and his friends to copies of his books is familiar to collectors, Caitlin's impromptu drawings are less well known. However, Ferris notes her "own brand of wild caricature" and mentions her impulse, "unnervingly, in her more uncommunicative moods, (to) take out her notebook and begin sketching everyone around her." – Ferris, p. 324.
A fabulous copy of Dylan Thomas's rarest book. (Offered by James S. Jaffe Rare Books). Booth #101
Nantucket and Martha's Vineyard, from the Atlantic Neptune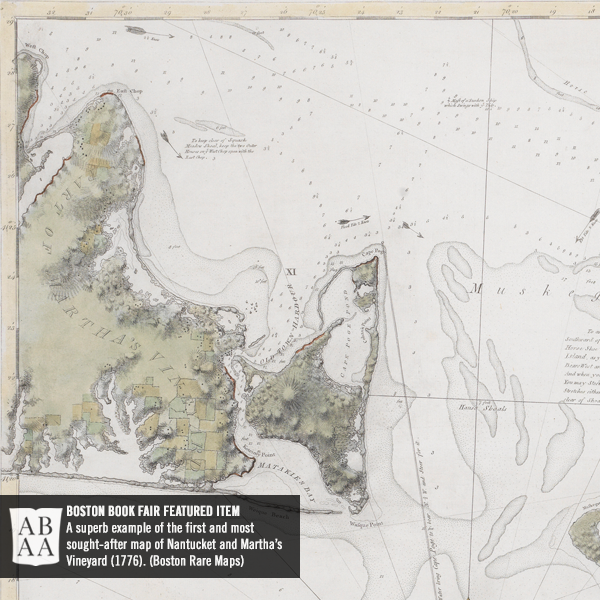 I[oseph] F[rederick] W[allet] Des Barres Esq., [Nantucket and eastern Martha's Vineyard]. London, 1776/Decr. 1st, 1781
Engraving and etching on two joined sheets of laid paper bearing "J.B." watermark, 29"h x 41 1Ž2"w at neat line plus generous margins, wash color (probably original). About excellent, with fresh, vivid color. Minor marginal splits at seam and a couple of edge tears, all mended.
A superb example of the first and most sought-after map of Nantucket and Martha's Vineyard, hurried into print in 1776 for use by British navigators during the opening months of the American Revolution.
Offered by Boston Rare Maps. Booth #416.

Facsimile Of The Illustrated Arctic News (1852)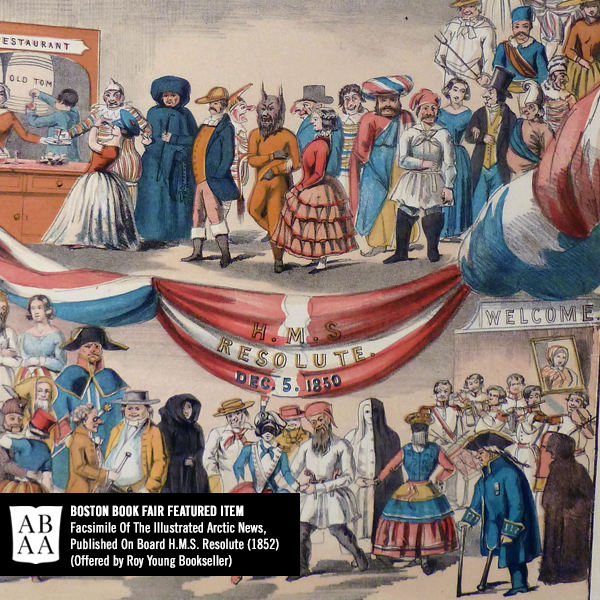 Osborn, Sherard & George F. McDougall (Editors). Facsimile Of The Illustrated Arctic News, Published On Board H.M.S. Resolute Capt'n Horatio T. Austin. C.B. In Search Of The Expedition Under Sir John Franklin Dedicated By Special Permission The Lords Commissioners Of The Admiralty, By Their Lordships Very Obedient Servants, Lieut: Sherard Osborne, & Mr. Geo: F. McDougall. London: Ackermann & Co., 1852.
57 pages. Folio, 48 x 30 cm. Fifty seven lithographed pages with lithographed text in two columns, "With on full page chromolithograph `Grand Bal Masque'/H.M.S./Resolute/ Dec. 5,1850. Extra red applied by hand." [ABBEY TRAVEL 639]. There are one or more vignettes on every page, seven are hand colored. The first published edition of a manuscript newspaper issued on board a Franklin search vessel which found evidence of the expedition at a winter camp and graves on Beechy's Island. The 'newspaper' was produced (in acknowledged imitation of the Illustrated London News) by Osborn and McDougal with contributions from various other generally pseudonymous sources. The text gives a first hand insight into the life of the expedition: the daily routine, eye-witness accounts of the finding of the first evidence of Franklin's Erebus and Terror expedition, the various theatrical entertainments devised to ward off the tedium of the Arctic winter. SABIN 23609. "A curious and amusing production, lithographed with plates." Contents clean and fresh, chipping to text fore-edges. Orig. blind blocked blue imitation morocco cloth, front cover lettered and decorated in gilt. Very good.
Offered by Roy Young, Bookseller. Booth 106
Shoso Hangacho Jerenshu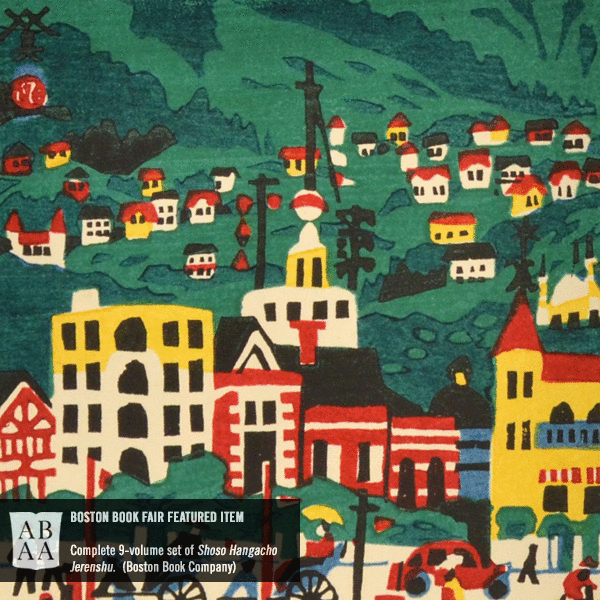 A rare complete 9-volume set of Shoso Hangacho Jerenshu, Tokyo: Aoi Shobô, 1941-3, 1 of 250 copies. How this set was ever created on such exquisite paper during wartime rationing is doubtless a story in itself. Takei Takeo, Onchi Kôshirô, Oda Kazuma, Henmi Takashi, Hiratsuka Un'ichi, Kawanishi Hide, Kawakami Sumio, Sekino Jun'ichirô and Maekawa Sempan each contributed 10 original prints to their own volume, making a total of 90 original prints in the set. Even individual volumes are hard to find; so a set in such lovely overall condition is highly unusual. All are enclosed in a custom cloth chitsu clasped case.
Offered by Boston Book Company. Booth #123
HIP HOP: The Illustrated History of Break Dancing, Rap Music, and Graffiti.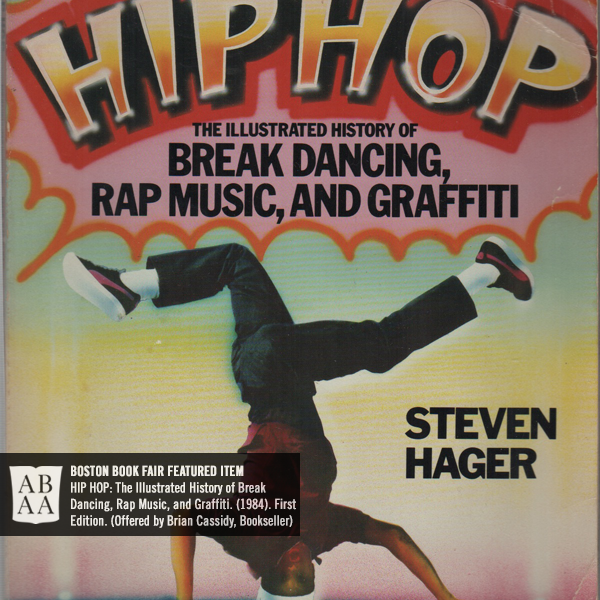 HAGER, Steven. HIP HOP: The Illustrated History of BreakDancing, Rap Music, and Graffiti. New York: St. Martin's Press, (1984). First Edition. Large 8vo. Perfect-bound photographic wraps. Very good. Mild edgewear, light surface scratches; a bit thumbed throughout; still solidly very good, and better than typically seen. 112pp. Illustrated throughout in B&W. Very good. Wraps.

Scarce early and important survey of hip-hop culture. One of the first of its kind in a series of mass-marketed books on hip hop to appear in the mid-80s. Discusses the origins of deejaying in the Bronx, pioneered by Afrika Bambaataa and the Zulu Nation. Also looks extensively at early graffiti culture through figures such as Zephyr and Keith Haring. "What is hip hop? Most simply, it is an inner-city subculture that has created its own graphic art, dance, fashion and musical styles."

Offered by Brian Cassidy, Bookseller. Booth #516
IT GOVERNED THE CONDUCT OF KNIGHTS IN SPANISH AMERICA INCLUDING LOUISIANA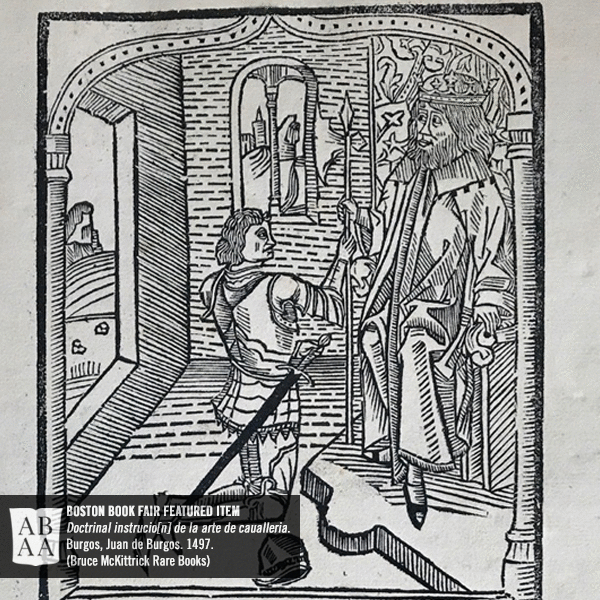 Doctrinal instrucio[n] de la arte de caualleria. Burgos, Juan de Burgos 1497. Small
Folio (284 x 201 mm.). TITLE WITH XYLOGRAPHIC TEXT AND A LARGE WOODCUT OF A KNIGHT AND HIS ENTHRONED LORD (150 x 125 mm.); Gothic type, four-line floriated white- and black-line woodcut initials (a few guide letters), SECOND RECTO PRINTED IN RED AND BLACK with an eight-line white-line initial.
Jansenist crushed red morocco (Chambolle-Duru), gilt-lettered spine title, red morocco doublures with a gilt mask roll frame, two sets of marbled endleaves, all edges gilt, yellow and green silk marker. $85,000.00
ONE OF THE EARLIEST THEORETICAL TREATISES ON CHIVALRY TO BE PRINTED and the first such indigenous to the Iberian peninsula. "All that the noble needs to know can be found in the Doctrinal de los caualleros" (Fallows).
Compiled in 1444 at the request of the powerful courtier Diego Gómez de Sandoval, it covers war, revolt, rewards, punishments, moral obligations, privileges, challenges, duels, tournaments and vassals. Cartagena's introductory interpretative essay to each of the four Books seeks to define the role of the noble, the knight and, by association, the vassal in Castilian society. The Doctrinal is the factual counterbalance to widely held literary and social chivalric fantasies and "forms an integral part in the education of the future monarch" Queen Isabella (1451-1504), who inherited her manuscript copy from her father Juan II (Fallows). She and King Ferdinand may well have owned a copy of this edition. "The advice contained in the Doctrinal de los caualleros was heeded...THE BOOK SERVES AS A CORNER-STONE FOR THE ABSOLUTISM OF THE CATHOLIC MONARCHS" (Fallows).
Royal counselor, diplomat, jurist, historian, translator (of Cicero and Seneca), statesman, humanist and converso, Alfonso de Cartagena here advocates for monarchical government, peninsular political consolidation and a military system powerful enough to complete the expulsion of Muslims from the Iberian peninsula, the long unrealized Reconquista. He utilizes the Siete Partidas, Fuero-Juzgo, Fuero de la Leyes and the Ordonnances of Alfonso XI, of Alcalá, Valladolid, Madrid and Segovia for his text. He devotes considerable attention to the theory of just war and its specific relevance to Castilian knights in battle — what constitutes appropriate action, how it may be taken and by whom. His advice is concise, practical and sound.
He disfavors jousts, whose elaborate scoring system he details, and criticizes sword tourneys, as both are pursued for personal honor and vainglory, not the common good. These exercises should only take place within the strict confines of the formal military orders, like the Order of the Band, whose rules he gives in full. He also reviews the hierarchy of cash compensation (erecha) for battle wounds — payment proportional to the gravity of the injury — from 5 maravedis for a transfixed limb to 50 maravedis for a severed thumb (precluding further use of edged weapons) to 150 maravedis paid to the family of a dead knight.
The Doctrinal not only served the knightly and noble classes but also jurists, clerics and military commanders. Cartagena himself urges knights in times of peace to have books read to them at dinner. In 1455, the Count of Haro (1399-1470) ordered the Doctrinal be read by wounded or retired knights residing in his hospital at Medina de Pomar near Burgos. Testifying to the respect for the text, the dedications of the surviving 15th-century manuscripts divide fairly evenly between Diego Gómez de Sandoval and Álvaro de Luna, the leaders of the two chief factions then vying for control of the Castilian throne. On the Iberian peninsula the Doctrinal was by far the most widely read theoretical vernacular treatise on chivalry in the 15th and 16th centuries.
The second, and first native printer in Burgos, Juan de Burgos produced twenty-two books between 1489 and 1499. THE SPLENDID TITLE WOODCUT was used once more (the 1505 Livy). The two examples in U.S. libraries belonged to towering bibliophiles: Archer Huntington (Hispanic Society) and Lessing Rosenwald (Library of Congress). THIS IS THE FIRST ILLUSTRATED EDITION and the second overall (first 1487).
A nice copy (extreme outer edge of two letters on the title invisibly restored), from the libraries of industrialist baron Achille Sellière (1813-73; Catalogue (1887) 22) and banker barone Horace Landau (1824-1904) with his bookplate. My thanks to Dr. Noel Fallows for his time and assistance.
Klebs, Incunabula scientifica et medica 47.2; Lyell, Early Book Illustration in Spain 88 & fig. 69; Almirante, Bibliografía militar de España 130-1; Montandon, Bibliographie des traités de savoir-vivre II: 117; Serrano, Les conversos Don Pablo de Santa María y Don Alfonso de Cartagena 240; Fallows, The Chivalric Vision of Alfonso de Cartagena...the Doctrinal de los Caualleros 4-46 & 68,3 & 70-1; Haebler, Bibliografía Ibérica 126; Vindel, El Arte tipográfico en España durante el siglo XV VII: 122,48; Kurz, Handbuch der iberischen Bilddrucke des XV. Jahrhundert 27; ISTC ia00537000; Goff A- 537.
Offered by Bruce McKittrick Rare Books, Inc. Booth #224
The First Edition, The Only Known Copy
MAYR, Georg. Ain kunstreich un[d] bewert Kochbuch.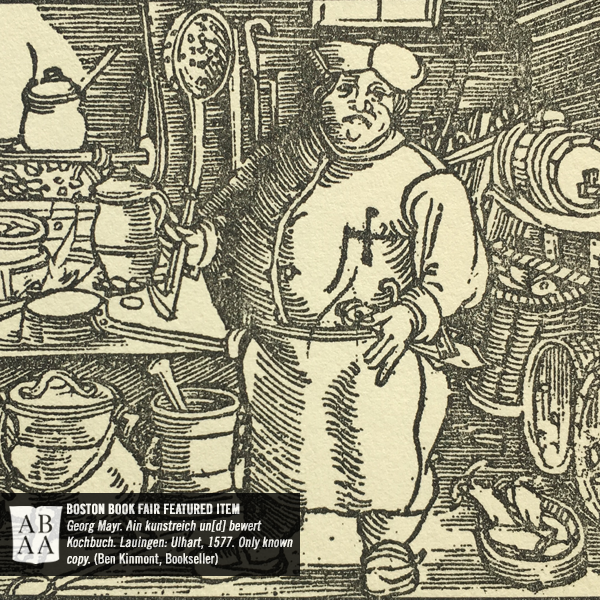 Lauingen: Ulhart, 1577. 4to. One large woodcut illustration on the title page, title page printed in red and black ink. 78, [10] ll. (final leaf blank). 19th -century drab boards, black and gilt lettering piece on spine (label a bit chipped along edges), lightly rubbed, occasional light marginal dampstaining, early 5mm ink cross in manuscript on title page woodcut, 5mm hole (possibly a natural paper flaw) on title page affecting woodcut, early paper repair to A iii (not affecting text), clean marginal paper tear on B ii(not affecting text), natural paper flaw to corner of Si , light foxing and occasional spotting.
THE FIRST EDITION OF ONE OF THE RAREST AND MOST INTERESTING COOKBOOKS WE HAVE EVER HANDLED.
When one thinks of important 16th -century German cookbooks, one normally thinks of the seminal Ein new Kochbuch by Marx Rumpolt (1581). Mayr's cookbook predates it by four years. Additionally, to put it into context, before Mayr, the two most important German cookbooks were the Küchenmeisterei (first ed.: 1485) and the German edition of Platina (first and only ed: 1542). Mayr's Ain kunstreich un[d] bewert Kochbuch has more than four times as many recipes as the Küchenmeistereiand two times as many recipes as Platina. It was the most ambitious cookbook that had ever been published in Germany.
Regarding its rarity today, it is interesting to notethat even Henry Notaker was unable to locate a copy of the first edition of Ain kunstreich un[d] bewert Kochbuch when he was writing his exhaustive Printed Cookbooks in Europe, 1470-1700. "In his dedicatory epistle to Mrs. Helene Braun, wife of doctor Timotheus Jung,signed 1577, [Mayr] says that the manuscript, a result of contributions from ladies in the town, has been given him by a friend. In spite of all the cookbooks published, he has agreed to make the manuscript ready for printing." – Notaker (when writing about the second edition) p. 241. Because the five hundred and seventeen recipes are presented in a uniform style, Notaker believes that Mayr must have rewritten all of the recipes provided to him.
The recipes are organized into the following sections: starters; pepper dishes; soups; puddings; milk dishes (for fasting days); fish; crayfish; poultry; fried dishes; sauces; jellied meats; baked goods; side dishes; tarts (both savory and sweet); pastry; stewed fruit pastes; and a final chapter on wine, vinegar, and beer. Interestingly, there are four recipes specified as Bohemian; onefor an English flat bread; two Dutch recipes (one for cabbage and another for ham with rosemary); and a baked dessert from Nürnberg. Other recipes include those to make rose sugar; waffles; marzipan (made with almonds, sugar, and rose water); chicken cooked in a red loaf;carp served in a yellow broth;a lamb lung appetizer; cheese donuts (made with saffron); and a pig's head served with a sauce made from sweet wine, honey, cherry juice, ginger, and grapes. There are also a few recipes for ones health: Müss fürain Krancken, Ain purgier Wein, and Getrank für Trüsen (made with wormwood).
On the title page the author describes himself as a notary and school master in Augsburg.
The woodcut is by Hans Weiditz and depicts a chef in his kitchen; in front of him are four pots cooking on his fireplace stove, kitchen utensils sit haphazardly on all sides, and various foods and barrels surround him. A good copy of an exceptionally rare early cookbook.
Offered by Ben Kinmont, Bookseller. Booth #320
COMPLETE SET OF CANTERBURY PILGRIMS, SOLD BY THE ALLEY WORKSHOPS CIRCA 1925
The Canterbury Pilgrims. Oxford: The Alley Workshops, circa 1925.
Twenty-nine hand-colored portraits of Chaucer's pilgrims on horseback, measuring between 2.5 and 3 inches high, mounted on flat wooden figurines and set in wooden bases. Light wear to figurines, two bases supplied in facsimile.
Complete set of hand-painted toy figurines representing the pilgrims in Geoffrey Chaucer's Canterbury Tales, from the "verray, parfit gentil Knyght" to the bawdy Wife of Bath to the figure of Chaucer himself, calmly pointing the way ahead. In 1922, Oxford mapmaker Cecily Peele opened the Alley Workshops, a whimsical literary-themed gift shop, with a specialty in "wild and tame toys": "From advertisements published in the early 1920s, it is clear that the Workshops' principal target audience was the growing number of financially independent female students" (Barron Maps). This set of Canterbury pilgrims includes all the characters mentioned in Chaucer's prologue:
At nyght was come into that hostelrye
Wel nyne and twenty in a compaignye,
Of sondry folk, by aventure yfalle
In felaweshipe, and pilgrimes were they alle,
That toward Caunterbury wolden ryde.
The portraits are based on illuminations in the fifteenth-century Ellesmere manuscript of The Canterbury Tales, now at the Huntington Library. A delightful and unexpected survival.
Offered by Honey & Wax Booksellers. Booth #407

De Baralt, Blanche Z. Cuban Cookery Gastronomic Secrets of the Tropics, with an Appendix on Cuban Drinks.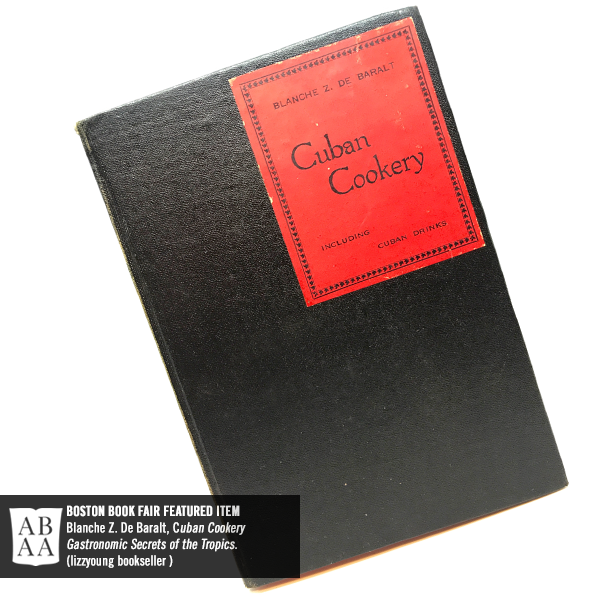 Havana: Hermes, 1931. First Edition. 150 pages. 19 x 13 cm. First Cuban Cookbook printed in English. Illustrated with line drawings by Conrado Massaguer. Includes fifty-three cocktail and refrescos with what was believed to be the first printed recipe for the Cuban Mojito, labeled here as the 'Cuban Mojo.' (First - Juan Lasa's rare 1929 Libro de Cocktail "Mojo de Ron") Blanche Zacharie de Baralt was born in New York, educated in Paris, and was the first woman to receive a doctorate from the University of Havana. Baralt later published a memoir in 1945 about her life in New York and her association with Jose Marti, a Cuban national hero. A near perfect copy of this scarce Havana imprint. Orig. black boards with red and black title on cover. Near fine. Hardcover.
Offered by lizzyoung bookseller. Booth #108
SEVENTY CANTOS. Pound, Ezra. (Signed by T. S. Eliot.)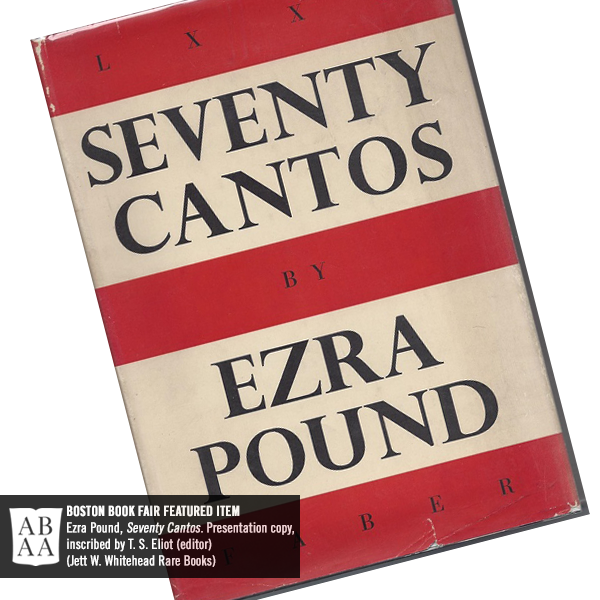 London: Faber and Faber, (1950).

1st English edition, full black cloth with gold lettering on spine, with printed dust jacket. (Gallup A61b.) A presentation copy, inscribed by T. S. Eliot upon publication, to Elisabeth Jungmann (Lady Beerbohm). Eliot was the editor of the present volume, as well as the publisher at Faber when this volume was issued. The inscription reads: "for / Elisabeth Jungmann / from T. S. Eliot / Sept. 1950" in blue fountain pen ink on the first FEP. At the time of publication, Elisabeth Jungmann was serving as Max Beerbohm's secretary and confidante, living in Genoa, and a neighbor of Ezra Pound. Soon after, Elisabeth Jungmann married Max Beerbohm. The relationship between Eliot and Pound is legendary, and both men enjoyed a mutual friendship as well with the Beerbohms. Far beyond just an interesting association copy, the present volume links two of the most influential early modern poets who edited and championed each other's work. Minimal wear to jacket not withstanding, a fine copy. Truly unique and one of a kind.
Offered by Jett W. Whitehead Rare Books. Booth 508.

The Newgate Calendar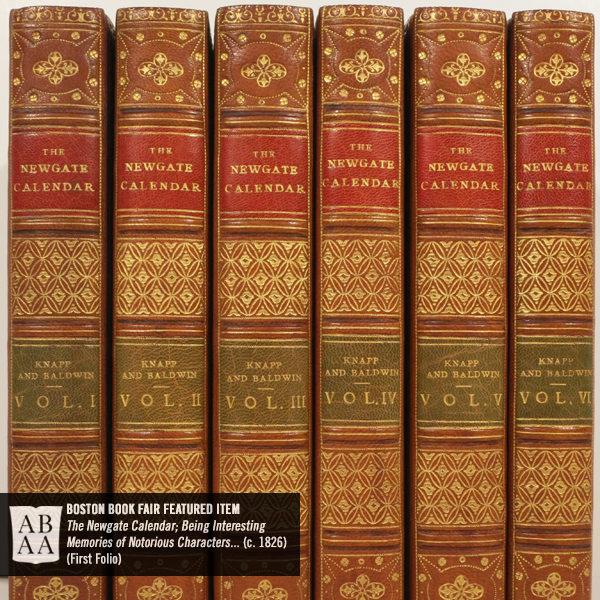 Knapp, Andrew and William Baldwin, Attorneys at Law. THE NEWGATE CALENDAR; BEING INTERESTING MEMORIES OF NOTORIOUS CHARACTERS, WHO HAVE BEEN CONVICTED OF OUTRAGES ON THE LAWS OF ENGLAND, DURING THE EIGHTEENTH CENTURY, BROUGHT DOWN TO THE PRESENT TIME.
London: J. Robins and Co., n.d. [c. 1826]. Commonly found in four or five volumes (as indicated on some of the title pages), this set expanded with the sixth volume. Six volumes. 8vo. Illustrated with 6 vignette title pages and 58 (of 60) engraved plates. Bound for Lauriat by Bayntun in full frown straight-grained morocco with marbled endpapers, the text block edges stained yellow, the spines with red and green title labels gilt, the spine panels densely gilt, the covers with rolled gilt rope borders, dentelles in blind. The spines just a bit lighter than the sides, else fine, the contents with occasional spotting, altogether nicely presentable. Sometimes called "The Malefactors' Bloody Register", the title continues: "With Occasional Essays on Crimes and Punishments, Original Anecdotes, and Observations on Particular Cases; the speeches, Confessions, and Last Exclamations of Sufferers, to Which is Added, A correct Account of the various Modes of Punishment of Criminals in different Parts of the World.".
Offered by First Folio. Booth 405

COBURN'S RAREST BOOK - WITH SIX ORIGINAL PLATINUM PRINTS - INSCRIBED TO HENRY JAMES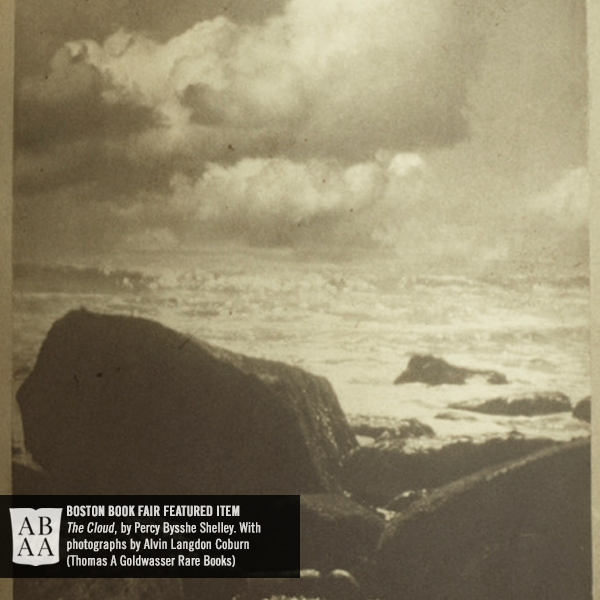 (Coburn, Alvin Langdon). The Cloud. By Percy Bysshe Shelley. With photographs by Alvin Langdon Coburn. Los Angeles: C.C. Parker, 1912. First edition. Quarto, 9 1/2 x 13 inches. [31] p. (on double leaves), [6] leaves of plates. Number 28 of an intended but not completed edition of 60 copies, signed by Coburn. The book contains six original 7 x 5 inch platinum prints, printed by Coburn. Text printed in brown ink on french-folded sheets of Strathmore Japan paper. Original canvas backed boards, paper label on front cover. Marginal dampstaining on the first few pages does not affect any text or image. In the rare original heavy paper dust jacket, printed on the front only, expertly restored. The only book of Coburn's illustrated with original prints. OCLC locates only five copies.
Inscribed on the colophon "To Henry James with best wishes from Alvin Langdon Coburn 2. VIII. 1912". James responded to the gift, in a letter written on August 18, saying the clouds are very artful and beautiful, and the publication most elegant and charming. Coburn, he said, has combined photography remarkably with aviation. A couple of his pictures, James believed, could have been taken only from an "aeroplane." Coburn was James's preferred photographer and James commissioned him to provide the 24 frontispiece photographs for James's Collected Works (the New York Edition,published 1906-7). Coburn devotes a chapter of his autobiography to that collaboration.
Coburn arranged for publication of "The Cloud" at the time of his exhibition of 50 California photographs at the Blanchard Gallery in Los Angeles. He was an acknowledged master of the gum-platinum print technique, of which he wrote "In the gum-platinum process the first step was to make a platinum print, which could be either in the normal silver grey colour, or toned to a rich brown by the addition of mercury to the developer. The finished print was then coated with a thin layer of gum-bichromate containing pigment of the desired colour. I found Vandyke brown especially suitable owing to its transparency, and by having the underlying platinum print in the grey, a very pleasant two-colour effect was produced. The bichromated print was replaced behind the original negative, great care being taken to get it accurately in register. It was then re-exposed and developed in the usual way. It was in the nature of platinum prints that the shadows were somewhat weak; by superimposing a gum image they were intensified. The whole process added a lustre to the platinum base comparable to the application of varnish, at the same time preserving the delicacy of the highlights in the platinum print." Coburn, p. 18. Coburn wrote "Clouds are especially good subject matter for the photographer.... The patterns of moving clouds and water are never the same from now to all eternity, and these patterns are ever moving to our continual delight. I have made hundreds of photographs of clouds and never tire of them. Once I made a little book illustrating Shelley's Ode 'The Cloud' with six original platinum prints. Only sixty copies were to be printed and even all these were not made. I only know of one surviving copy in addition to my own, so this is doubtless my rarest book!" Alvin Langdon Coburn Photographer. An Autobiography (Gernsheim ed., Dover, 1978), p. 46.John Szarkowski wrote in "Looking at Photographs: 100 Pictures from the Collection of the Museum of Modern Art" (New York: Museum of Modern Art, 1973): "Clouds were a particularly good subject for an artist like Coburn who sought the broad poetic view of things. Granted that no two clouds are the same; nevertheless, their meanings (except to farmers and meteorologists) were sufficiently imprecise and generalized to allow Coburn to use them as abstract visual elements. Coburn used the skies as children and poets use them, and as Leonardo used stained old walls: as an analogue model of imaginary worlds".
Offered by Thomas A Goldwasser Rare Books. Booth 101
Maria Lowell, Poems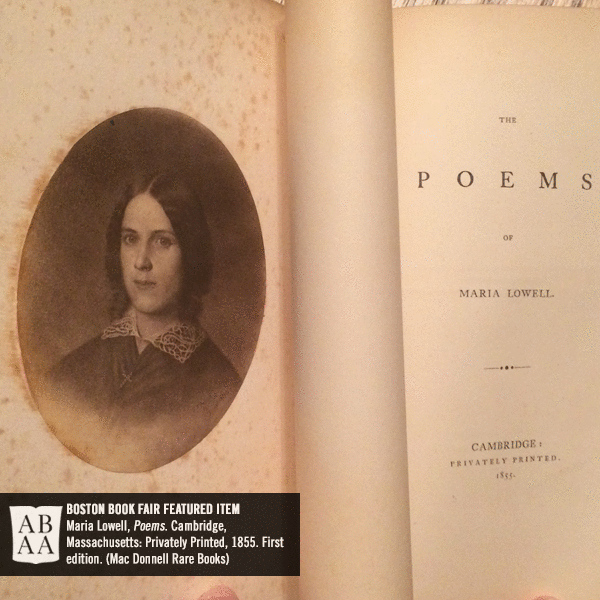 Lowell, Maria. POEMS. Cambridge, Massachusetts: Privately Printed, 1855. First edition, one of only fifty copies printed. Original cloth, gilt. James Russell Lowell's young wife was a poetess, and when she died in 1853 he was at first suicidal, but he gathered her poems into a volume and had fifty copies printed for their family and friends, including a mounted photograph of her opposite the title-page, an early use of an original photograph in an American book. Reading her poems, it is obvious that had she lived, her poetry might have rivaled those of Elizabeth Barrett Browning.

Offered by Mac Donnell Rare Books. Booth 523.
THE HOLY GRAIL FOR ARTHURIAN INTEREST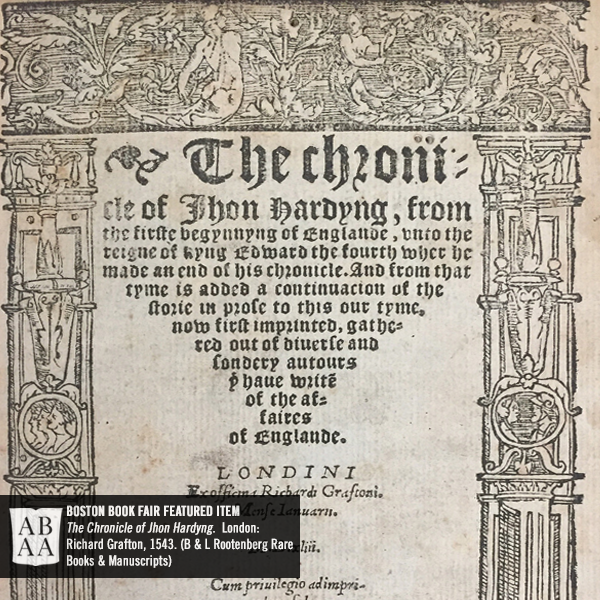 HARDYING, John. The chronicle of Jhon Hardyng, from the first begynnyng of Englande, unto ye reigne of Edwarde ye Fourth where he made an end of his chronicle. And from that tyme is added a continuacion of the storie in prose to this our tyme, now first imprinted, gathered out of diverse and sondery autours and have write of the affaires of Englande. London: Richard Grafton, 1543. 4to. Eighteenth-century full calf.
Eighteenth-century full calf, rebacked, edges rubbed; some small wormholes in the text and on the fore-edge, but generally an excellent copy.
Three bookplates: (1) From the library of George Thomas Robinson (British architect, 1829-1897), with his engraved armorial bookplate with motto "Virtute non verbis"; (2) engraved armorial bookplate of George Arnold ("One of the gentlemen of his Majesty's most honorable privy chamber); and (3) Charles Edward Harris St. John (1843-1917).
First edition of this acclaimed chronicle in verse, the first of two editions printed in the same month and year. Our copy contains the passage relative to Edward IV on the verso of Fol. V of the Continuation: "for the kyng was a man that loued bothe to see and feele a fayre woman." Though the later edition contains a more substantive account of the reign of Henry VIII, this passage as well as the cause of the quarrel between Edward IV and the Earl of Warwick was suppressed. The Chronicle covers the history of Britain and England from its mythical foundation by the Greek princess Albina and her twenty-nine sisters to the end of Henry VI's minority. Among other things, Hardyng details the origins of British history in the myth of Troy and the subsequent founding of empires by those escaping the doomed city. The work is also one of the best sources for information on King Arthur, mingling historical narrative with aspects of the myth of the Round Table and Holy Grail. Indeed, apparently Hardyng's Chronicle is one of the major sources of Sir Thomas Malory's Morte d'Arthur.
Offered by B&L Rootenberg Rare Books & Manuscripts. Booth 409
Schmied Illustrated Book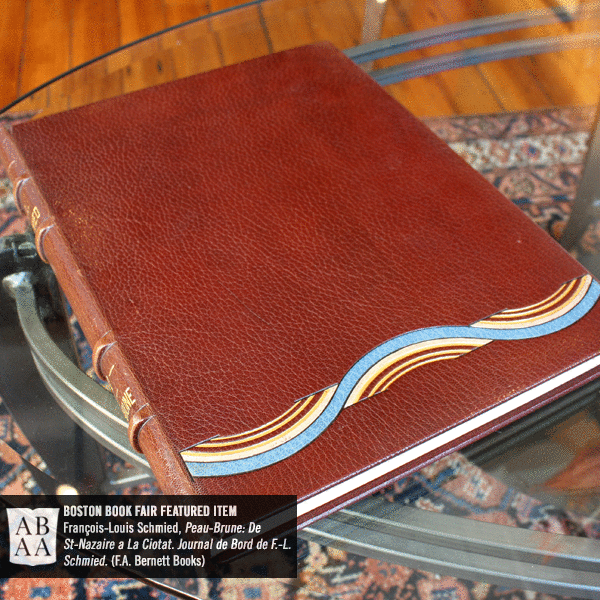 Schmied, François-Louis. Peau-Brune: De St-Nazaire a La Ciotat. Journal de Bord de F.-L. Schmied. Exquisite unpag. example of Art Deco book design, detailing a 3-month journey the artist undertook with Jean Dunand aboard the schooner Peau-Brune, sailing from St. Nazaire in Brittany, around the Iberian Peninsula and through the Strait of Gibraltar, to the town of La Ciotat on the coast of Provence, fashioned as a logbook with chronological entries related to specific dates, table of contents. Illustrated throughout with approximately 100 beautiful engravings in brilliant colors from various points along the trip, including two full-page plates depicting the ship under sail, both signed by Schmied. Large 4to. Full leather with raised spine, gilt and polychrome wave decoration to front and rear covers, gilt tooling to inside covers with laid blue silk "endpapers", fitted slipcase. Spine slightly shaken, first signature loose in places. N.p. (Lyon) (Société des XXX de Lyon) 1931. From a limited edition of 135 copies, signed by Schmied in several places.
Schmied was an important Art Deco painter, illustrator, and bookbinder particularly known for his beautiful limited edition books. He first gained notoriety with his commission to engrave and print the illustrations of Paul Jouve for Rudyard Kipling's The Jungle Book in 1919. He went on to create several additional pioneering works of books design throughout the 1920s and 1930s, including Les Climats and Le Cantique des Cantiques. His volumes were always expensive to produce and printed in very limited editions, usually no more than 200 copies. He sold his books by bringing sheets of works in progress to Parisian art fairs, with the hopes of getting wealthy art and book collectors to buy a subscription. Once the Great Depression took hold, the economic climate could no longer support the cost of Schmied's books, and he was forced to close his workshop. A gorgeous feat of Art Deco book design; as of March 2016, WorldCat locates five holdings in North America.
Offered by F.A. Bernett Books. Booth 201.
The first European historical study of Black Literature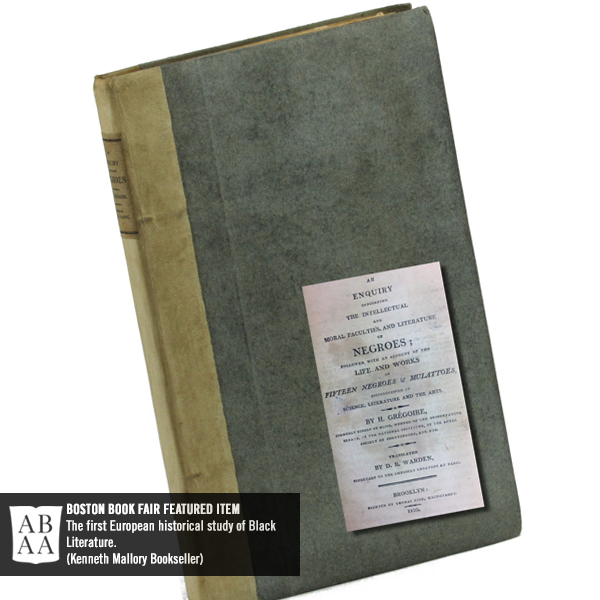 Gregoire, Henri, An Enquiry Concerning the Intellectual and Moral Faculties, and Literature of Negroes; Followed With An Account of the Life and Works of Fifteen Negroes and Mulattoes Distinguished in Science , Literature and the Arts. Translated by D.B. Warden.
Brooklyn: Thomas Kirk, 1810. Hardcover. vii [actually viii], [9]-253[2]pp. Recently rebacked in contemporary boards with some repairs to edges of a few leaves, All four end sheets present though with some loss at the edges. A very good example. Very good.

'An Enquiry...', the first European historical study of Black Literature was authored by Abbé Henri Gregoire, a French former bishop who had once taught Alexander Dumas. Grégoire, a humanist and abolitionist, was strongly motivated by a desire to strike back at Thomas Jefferson's hypocrisy concerning slavery. First published in Paris in 1808 then translated and published in America in 1810, Gregoire's book is an an important contribution to the study of Afro-American historicity and heavily influenced later works on the subject.
Offered by Kenneth Mallory Bookseller. Booth 304.
Charles Baudelaire, Les Fleurs du Mal (Presentation copy)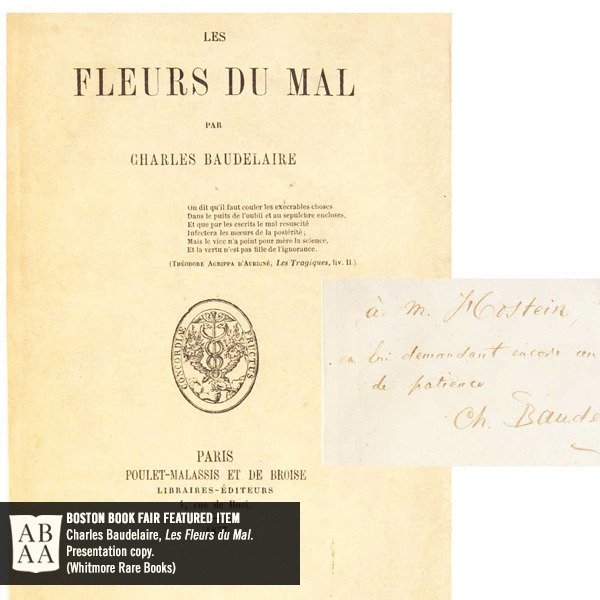 Paris: Poulet-Malassis et de Broise, 1857. First edition. First issue with the running title misprint "Feurs" on p. 31 and 108, p.45 misnumbered 44, and the misprint "captieux" on p. 201. It is complete with the six pièces condamnées whose removal was ordered only six weeks or so after publication (Les Bijoux, Le Léthé, A celle qui est trop gaie, Femmes damnées, Lesbos and Les Métamorphoses du vampire).

Inscribed by the author on the half-title, "à M. Hostein, en lui demandant encore un peu de patience, Ch. Baudelaire." Ink a bit faded. Hippolyte Hostein was a writer and the director of the Théâtre de la Gaîté in Paris from 1849 to 1858. Baudelaire had proposed a play to Hostein, a melodrama based on his poem Le Vin de l'assassin, where a worker kills his wife so that he can descend into drink without interruption or criticism. The part of the wife was meant for Marie Daubrun, an actress at the Gaîté with whom Baudelaire had fallen in love. Baudelaire never wrote the play, and perhaps he sent this book as an apology for still not producing his text (see F.W.J. Hemmings, Baudelaire the Damned, 2011).

12mo (189 x 122mm.), half-title, later crushed brown morocco by L. Peeters of Antwerp, top edge gilt, others uncut, original yellow printed wrappers in their second state (with the five typographical faults uncorrected and with the price of 3F. on the backstrip) bound in, marbled paper slipcase, small area of loss to lower corner of upper wrapper. This copy has bound at the end two facsimiles of the lower wrapper, in state A and state B, together with a printed note regarding Vicaire's research into the two states (now superseded by Carteret's bibliography)..

Important association copies have brought much more (including a large paper copy inscribed for Delacroix at Sothebys in 2007 for 603,000 euro), but these appear to be the closest comps from the auction record going back the last 15 years (and after parsing through the French descriptions): 127,000 euro in 2012 at Piasa (for Edmond About); 168,000 euro in 2011 at Vernator and Hanstein (for Edmond Texier); 169,000 euro in 2007 at Sothebys (for Philarete Chasles); and $102,000 in 2004 at Sothebys (for Monsieur Fowler). Many of these copies bound without wrappers (and many sold when the euro was much higher than it is today).
Offered by Whitmore Rare Books. Booth 417
ALAN TURING'S GROUNDBREAKING WORK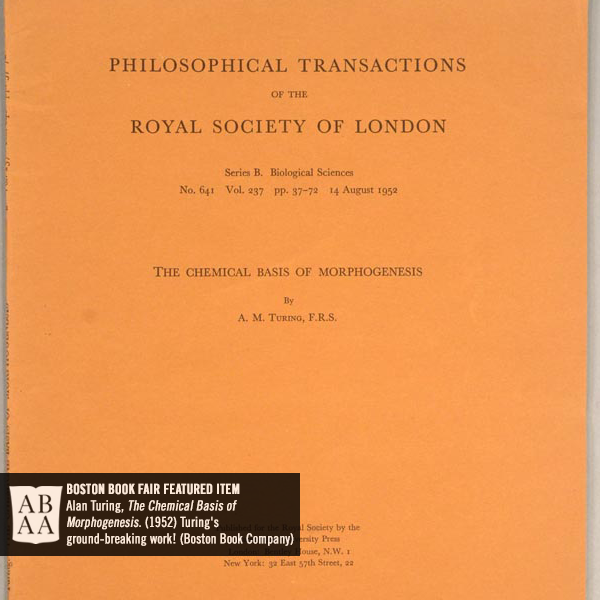 TURING, Alan. THE CHEMICAL BASIS OF MORPHOGENESIS. A fine offprint from the Philosophical Transactions of the Royal Society of London, Series B. Biological Sciences, No. 641, Vol. 137, pp. 37-72, 14 August 1952. Publisher's brick wrappers, title information to upper wrap and spine, with "Price Eight Shillings" on cover. In this, Alan Turing's most heavily-cited work, the pre-eminent mathematician, computer scientist, and hero of WW II turned his brilliant mind towards morphogenesis (the process by which a single cell develops into the complex, asymmetrical organisms found in nature ), proposing a model of pattern-formation that proved seminal in not only biology but also across many scientific fields. He explains the asymmetric pattern-formation of living organisms from the simple to the complex. This ground-breaking work has formed the basis for a broad array of advances in biology, from models of tumor growth, epidemic spread, and evolutionary biology, to the shapes of neuronal dendrites and neuronal polarization. Outside of the biological sciences, this paper has inspired advances in areas as diverse as the behavior of sensor networks, image processing, economic geography, spatial ecology, and machine learning models for computer vision.
Offered by Boston Book Company. Booth #123
Eager for more? You'll find a few more featured items on this page...