An announcement from the Northern California Chapter of the Antiquarian Bookseller's Association of America:
Announcing the Winners of the inaugural California Young Book Collector's Prize.
The quality of all of the applications made it extremely difficult to choose the winning candidates, and the committee would like to extend its sincere thanks to each and every applicant who took the time and effort to apply.
Our third place award went to Megan Messinger, from Pomona. Her collection "is an attempt to bring together my two great loves" – medicine and theater. While these two interests may seem very far apart, Megan has found a place where they merge: in the staging of violence. A former fight choreographer and teacher of stage combat, the merging of medicine and theater has deepened her understanding of "the place of violence in society; why it is staged the way it is, both now and in the past; and how performances of violence and medicine are two sides of the same coin."
The second place award was given to Jessica Jordan of Palo Alto. Jessica's collection revolves around the love of the artwork, and illustrations, of an interracial couple – Leo and Diane Dillon. The couple faced many barriers when they first began to build their life and joint career together; but by the time of Leo Dillon's death in 2012, they had become known as two of "the world's pre-eminent illustrators for young people". The Dillons were the only consecutive winners of the Caldecott Medal (in 1976 for Why Mosquitoes Buzz in People's Ears and in 1977 for Ashanti to Zulu: African Traditions). As Jessica stated in her essay, "Not working from a set bibliography makes collecting Dillon covers an adventure – I have to trust my eye for identifying their distinct style."
First place was awarded to Matthew Wills, of La Jolla, whose collection is on the theme of "Anti-Confucian Propaganda in Mao's China". In Matthew's words: "[As an] historian and bibliographer, I research the history of book publishing and propaganda in Chairman Mao's China. In particular, I study books that show the Communist state's hostility to China's Confucian traditions." For a time the state-controlled publishers printed "hundreds of propaganda books critiquing Confucian ideas", and it is these primary source materials which constitute the foundation of Matthew's collection, which has approximately 700 unique items, including editions in different languages, comic books, and even five volumes printed in Braille.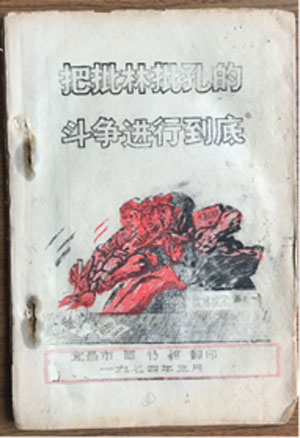 An informally published mimeographed collection of drawings lambasting Confucius; the drawings, made by a working group at a city library, feature extreme caricatures of Confucius.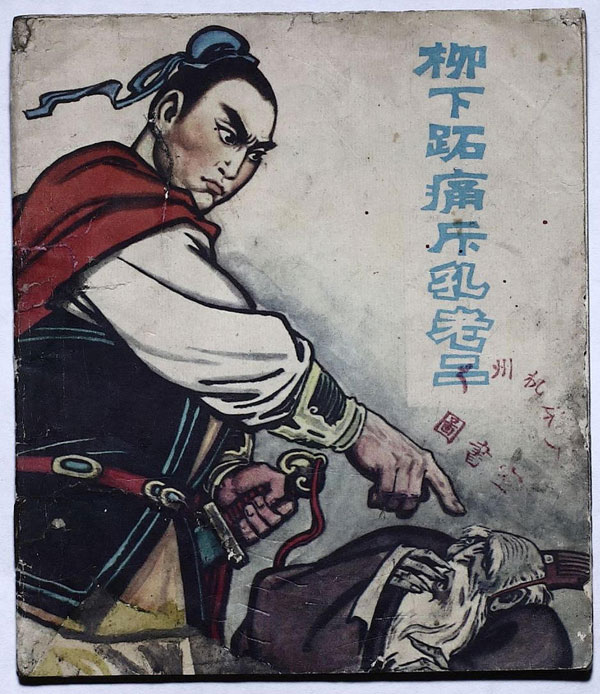 Liu Xiazhi Denounces Old Kong Number 2.
Matthew Wills' collection will be on display at the 52nd California International Antiquarian Book Fair, February 8-10, 2019. In addition, Matthew will receive $500 with the intention that it be spent at the fair, plus a stipend to help with travel expenses/insurance. He will also receive one-year memberships to The Book Club of California and the Bibliographical Society of America, as well as a one-year subscription to The Book Collector. Our second and third-place winners will receive $250 and $100 prizes respectively, as well as a one-year membership in The Book Club of California.
Please join us in congratulating the winners, and be sure to visit the special exhibits area of the Book Fair to view Matthew's collection!
This was the first year of what is envisioned to be an annual competition; the prize for next year will be awarded by the Southern California Chapter of the Antiquarian Bookseller's Association of America.
---
FEATURED ITEMS:
Young People's Poetry Week / La Semana de la Poesia Infantil y Juvenil 2002
by Diane and Leo Dillon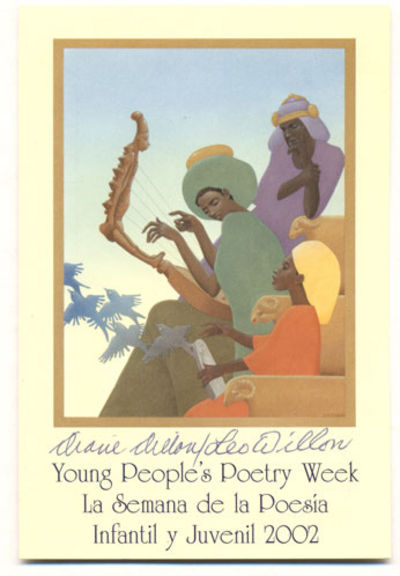 The Children's Book Council, Inc. Promotional postcard. Ephemera. SIGNED. 15 cm x 10 cm. Fine condition. Signed by Diane and Leo Dillon, a husband and wife team of illustrators, on the front of the card. The Dillons were awarded two consecutive Caldecott Medals for Why Mosquitoes Buzz In People's Ears and Ashanti To Zulu: African Traditions.
Offered by Ken Sanders Rare Books.
Deathbird Stories: A Pantheon of Modern Gods
by Harlan Ellison (Illustrated by Diane & Leo Dillon)

New York: Harper & Row, 1975. First Edition, First Printing. Hardcover. Octavo, 334 pages, VG/VG; DJ, white and purple pictorial spine, purple/black/white lettering to spine: mild overall wear to DJ, "$8.95" and "0275" to front flap, DJ protected by mylar; quarter-bound, purple cloth spine, black matte paper boards, gold lettering: mild overall wear to boards, mild bumping to head and tail, mild creasing to spine, gold lettering to spine faded yet clear and legible; light wear/age-toning to text-block, deckle fore-edge; interior clean; First Edition stated to copyright page, full number line to verso of last unnumbered page; shelved Front Counter. Dupont.
Offered by Second Story Books.