Promotional literature is an underappreciated area full of fascinating ephemera and colorful images of a golden age that may never quite have existed except in the minds of civic boosters and advertising executives. Now that the campaign for tourism dollars is largely fought online, the tools of promotional literature are changing; but collectors can find a fascinating bric-a-brac of tri-fold brochures, postcards, glossy pamphlets, and colorful posters if they know where to look. Elizabeth Svendsen of Walkabout Books in Laguna Hills, CA, specializing in the literature of travel and adventure, is an enthusiastic collector of California promotional material.
I'm new here in the Golden State. I didn't come here for the climate, or for my health, or to chase dreams of wealth by mining for gold or growing oranges or olives or grapes. Mine is a typical 21st century tale—my spouse got a new job, and I packed up my Ohio-based book business and came along for the ride. But ever since I arrived and started poking around in bookstores, antique malls, and the many wonderful flea markets in the greater Los Angeles area, I've been captivated by the literature and images that drew people here a hundred or more years ago. Once people arrived, it seems they couldn't stop showing off how lucky they were to live in a place where every day is warm and sunny and—as long as there's water—flowers and fruit grow in abundance all year round.
Every town—from rural farming community to growing urban center— had its boosters, who praised the "unusual evenness and invigorating excellent of the climate," the "enchanting vistas of valleys, oceans, and peaks," or the "flower gardens unrivaled the world over." They promised "rich land, open to purchase and settlement at very cheap price" and a chance to live "where great accomplishments are swiftly being succeeded by greater ones." According to a 1914 brochure promoting the San Joaquin Valley, as long as you have just a little money to start, "energy, ambition, determination and intelligence will carry you through to an assured success. "
---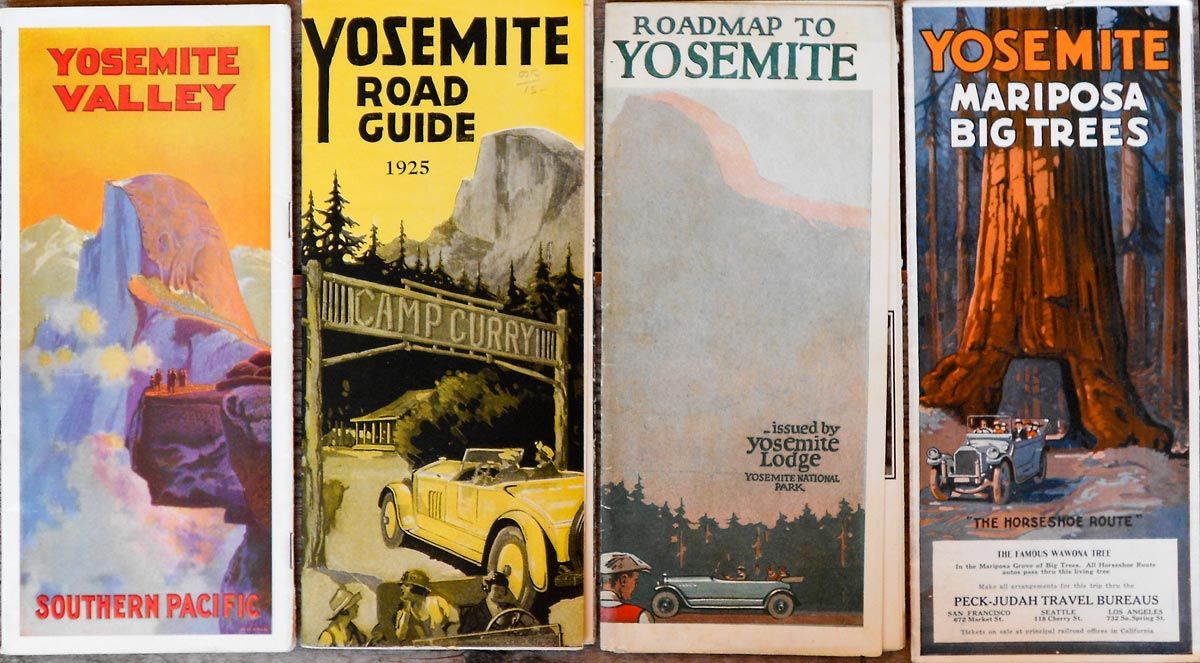 Four Maps of Yosemite 1910 -1925
California: Southern Pacific and others, 1910 - 1925. printed in colours on white or tan paper. Fine. Approximately 9 x 4 inches folded. Four items, Illustrated. (Offered by Randall House Rare Books)
---
Local realtors and chambers of commerce issued colorful brochures filled with superlatives, but also with a wealth of detail on crop yields, land prices, and availability of pasture, lumber, minerals, and other natural resources. Most also included descriptions of the town's primary institutions and businesses, and today they provide historians with a valuable snapshot of these developing communities at a particular moment in time.
Another important producer of promotional literature was the railroads, which sought to boost both settlement and tourism along their newly completed lines. Railroad promotionals provided information on agriculture, resources, and investment opportunities, but also emphasized scenery ("rugged grandeur, desolation so immense, so magnificent that its starkness is breath-taking"); accommodation ranging from upscale resorts and spas to hotels catering to budget travelers; tourist attractions; and opportunities for hunting, fishing, hiking, sailing, and swimming. The railroads were particularly important in promoting tourism to the National Parks, both in California and elsewhere.
The extravagant claims of promoters were backed up by equally impressive graphics. As KD and Gary Kurutz explain in their wonderful book California Calls You (an essential reference for collectors):
"From the earliest California promotional booklets and posters, artists developed a symbolic shorthand to express ideas and myths about California: the poppy, the orange, the color gold, the palm tree, and the redwood tree. These symbols appear repeatedly in California promotional publications and, although they became hackneyed through repetition, they were effective in quickly conveying a message. The mission ruins, a crumbling arch, particularly with a modern backdrop, suggested California's rich past and promising future… Various depictions of fruit represented California's fertility, a grizzly bear its wildlife. Scenes combining snow capped mountains, orange groves, oil wells, and happy families became common…. One can easily imagine the appeal of such sun-soaked scenes to a winter-bound Midwestern farmer."
Stunning, colorful images of California's attractions can be found on posters, postcards, pamphlets, brochures, fruit crate labels, trade cards, and other forms of advertising—and all of these are ripe fields for collecting.
The early twentieth century also saw the proliferation of books promoting Golden State—many with pictorial bindings that rival the more ephemeral items in color and design appeal. A single two-year period (1914-15) saw the publication of George Wharton James' California Romantic and Beautiful, Thomas Murphy's On Sunset Highways, A Book of Motor Rambles in California, Edwin Markham's California the Wonderful, and Mary Austin's California, the Land of the Sun.
One of the great things about collecting California promotional literature is that you can develop a nice collection of visually appealing items at a relatively low cost. While certainly there are rare items that go for several hundred dollars or more, there is a tremendous variety of interesting material on the market in the $25-$200 range. Many dealers don't list the ephemeral items online, but save them to bring them to book fairs where they can best be seen and appreciated. One more reason to attend the 49th Annual California Antiquarian Book Fair in a few short weeks!
Enjoy these California promotional items currently listed by ABAA members...
---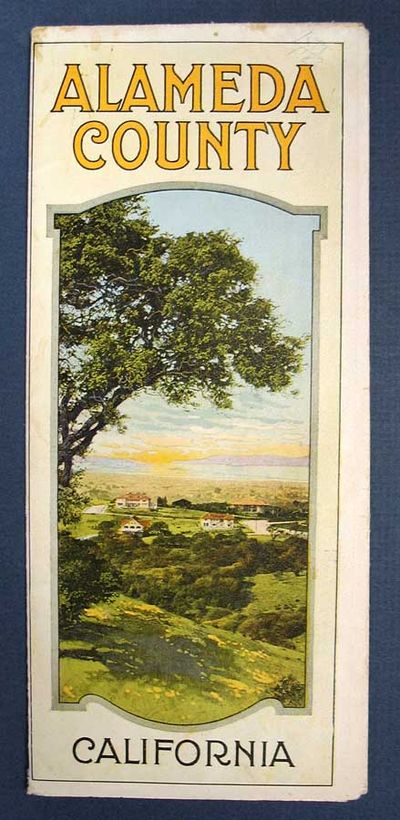 Oakland, Cal: Kelly-Davis Co, 1914. Printed self-wrappers. Short splits along folds at edges, otherwise a VG - VG+ copy. 1 sheet of linen-like paper, folded 4x into 16 panels. 2 columns of statistics & ~ 48 column-inches of descriptive text. Color map, 20 accompanying color images of divers cities & scenes, surrounded by color drawings. 18-5/8" x 31-3/4". Folded: 9-3/8" x 4". (Offered by Tavistock Books)
---
Los Gatos, Gem City Foothills, California
Los Gatos, CA: Chamber of Commerce, 1915. Original wrappers. Small 8vo. [2]-31-[1] pp. Photo-reproductions; map inside rear cover. Poem with the same title by W. Drummond-Norie. Color illustrated staplebound wrappers in near fine condition. (Offered by Carpe Diem Fine Books)
---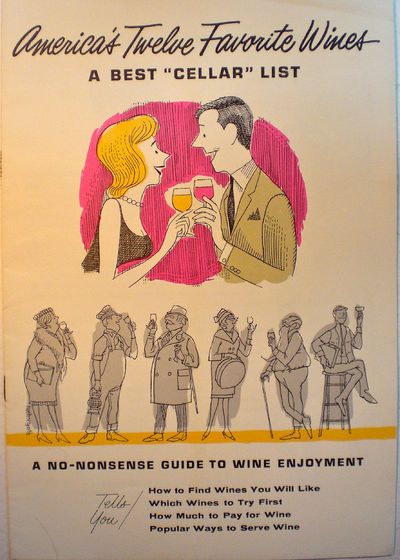 AMERICA'S TWELVE FAVORITE WINES / A BEST "CELLAR" LIST
San Francisco: Favorite Wines, Undated, but surely 1950s. Quarto,unpaged, (12pp, including covers). This delightful publication, with the purpose of promoting California wines, is "a no-nonsense guide to wine enjoyment." (Offered by Barbara Farnsworth, Bookseller)
---
One of the featured items for sale at the 2016 California Antiquarian Book Fair focuses on Pasadena in the late-19th Century...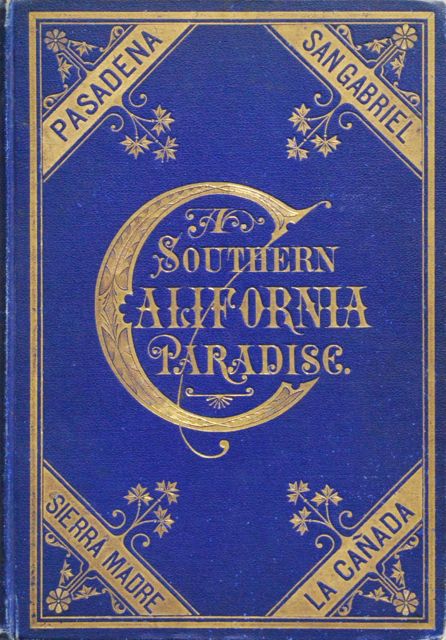 FARNSWORTH, R. W. C. (1872-1955), editor. A Southern California Paradise, (In the Suburbs of Los Angeles.) Being a Historic and Descriptive Account of Pasadena, San Gabriel, Sierra Madre, and La Canada; With Important Reference to Los Angeles and All Southern California, and Containing Map and Illustrations.
Pasadena: R. W. C. Farnsworth, 1883. Ownership signature of Seth Sackett, Hermosa, La Plata County, Colorado" on first blank leaf. Very Good. (Offered by John Howell for Books)
---

Learn more about the 49th annual California International Antiquarian Book festival...