Alice is 150 years old, so of course, she deserves to be celebrated all over the world. Among the fetes is a special exhibit at the 49th California International Antiquarian Book Fair in Pasadena, CA (February 12-14, 2016).
Lewis Carroll's Alice's Adventures in Wonderland is arguably one of the most-influential children's books. It certainly has inspired a diverse group of writers, artists, filmmakers, collectors, and the like.
Among those collectors are Dr. George Cassady and his wife Linda, who donated and endow The G. Edward Cassady, M.D., and Margaret Elizabeth Cassady, R.N., Lewis Carroll Collection at the University of Southern California. Named for his parents, the collection includes more than 3,000 rare books, manuscripts and objects created by or about beloved children's author, mathematician, and writer Charles Dodgson (1832-98), better known by his nom de plume Lewis Carroll. Highlights from their collection will be featured at the upcoming book fair, including rare Alice books, the novel in translation, and a variety of artists' interpretations from Salvador Dali's surrealist Alice to Mary Blair's 1951 concept drawings for Walt Disney Studios.
Of course, the most beloved illustrations of Alice were those created by John Tenniel in black and white for the first edition. Although most people think of Alice's puffed sleeve dress with pinafore as being blue, did you know that this was not the original color of the dress? The first colored versions of Tenniel's illustrations were for The Nursery Alice, published in 1890, in which Alice's dress is yellow. [You can view some of the images here.]
Tenniel's illustrations are so iconic they are collected as works of art. Carroll gave Tenniel the exact measurements for each image as they were to fit on the page around the text.
Many people also don't know that the true first printings of Alice were suppressed "owing to concerns about production quality of the illustrations with only about 50 copies with a Macmillan imprint escaping into the world," according to One Hundred Books Famous in Children's Literature (2014), published by The Grolier Club [as part of an exhibition of the same name curated by ABAA-member Chris Loker of Children's Book Gallery]. The subsequent printing was published in November 1865, but dated 1866 for the Christmas market, with 2,000 copies printed and immediately sold out.
Read more about the exhibition One Hundred Books Famous in Children's Literature...
---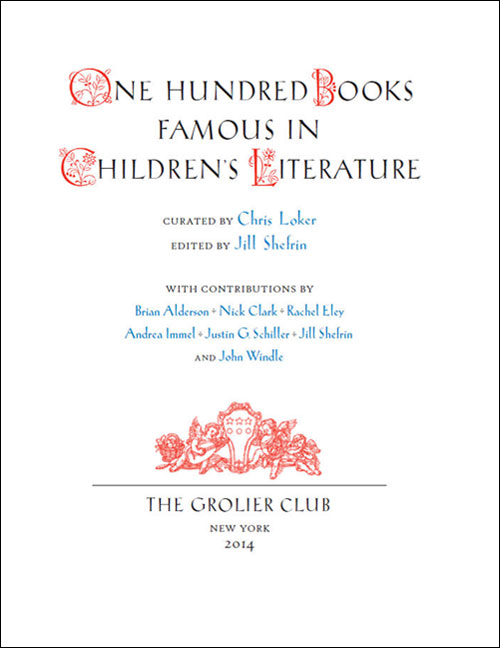 ---
Rarely do true first editions come to market. Christie's auction house sold a rare first issue of the first edition (1865, Clarendon Press for Macmillan) with annotations by Carroll for $1,542,500 in December 1998. Of the 50 first issue copies, it's believed that only half now survive. However, the unused sheets from that print run were sent to the United States and used by D. Appleton & Co., for the American edition of the following year.
Alice has now been translated into 174 languages, according to Alice In A World Of Wonderlands: The Translations Of Lewis Carroll's Masterpiece, published last year by Oak Knoll Press.
With so many expressions and interpretations of Alice through the past 150 years, it's clear the story strikes a chord. For me, it's a deeply implanted memory of my mother reading Alice to my sisters and I by candlelight on a stormy Nebraska evening when the power was knocked out. My love of the book, which now lives on my own bookshelf, emboldened me to try out for and earn the role of Alice in a 6th grade production of the stage adaptation. I can still recall the words, taken to heart, from my solo: "I give myself very good advice but a very seldom follow it. That explains the trouble that I'm always in."
---