If someone says "Children's Books" to you, what is the first thing that comes to your mind? Picture books? Perhaps here is the better question… what author first comes to mind? I would venture to bet that at least 90% of you come up with the same name. However, did you know that the name you come up with is not his true name? (Probably most of you do, since you are members of the book world or bibliophiles and would know something like that… but humor me!)
Theodor Seuss Geisel was born on March 2nd, 1904 to a German family in Springfield, Massachusetts. His father ran a family-owned brewery in Massachusetts (well, until the Prohibition did away with that). Geisel went to school in Massachusetts until he went to Dartmouth College in New Hampshire, graduating in 1925. During his time at Dartmouth, Geisel first showed skill and interest in humorous literature as rose to the role of editor-in-chief of the literary magazine the Dartmouth Jack-O-Lantern before graduating. Unfortunately, one college incident threatened to end his early literary career – when Geisel was caught drinking gin (the Prohibition was in effect) in his dorm room with some of his friends. In punishment for this crime, Geisel was forced to resign from his position at the magazine. In order to continue publishing his work at the Jack-O-Lantern, Geisel began writing under the pen name "Seuss", his middle name. The beginning of Dr. Seuss was underway.
Once graduating from Dartmouth, Geisel began his PhD studies at Lincoln College, Oxford, to earn a degree in English Literature. Though he left Oxford without a degree in early 1927, Geisel was still able to begin his living publishing humorous cartoons. He accepted a job at the humor magazine Judge and 6 months after he began working at the magazine he first published work under his pen-name "Dr. Seuss." Geisel's cartoons gained popularity throughout the end of the 1920s and the entirety of the 1930s, largely due to his help with advertisements of popular brands like General Electric and Standard Oil – adverts that helped him and his wife maintain financial stability through the Great Depression. Due to help from a friend (despite his popularity), Geisel was able to begin publishing humorous poems with the Vanguard Press. In 1940, he published a poem under the title "Horton Hatches an Egg" – a poem that has, to this day, sparked further books, movies, animated films and even musical productions.
Throughout the 1940s and WWII, Geisel created hundreds of political cartoons criticizing Hitler and Mussolini and strongly supported the US war effort. Shortly after the war, Geisel and his wife Helen moved from New York to La Jolla, California and he returned to writing children's books. Between 1950 and 1960 Geisel published many of the works he is most well-known for today, such as Bartholomew and the Oobleck (1949), If I Ran the Zoo (1950), Horton Hears a Who! (1955 – a more in-depth work on his original poem), If I Ran the Circus (1956), The Cat in the Hat (1957), How the Grinch Stole Christmas (1957) and Green Eggs and Ham (1960). In 1954, William Ellsworth Spaulding challenged Geisel to write a book with 250 words chosen by the education division of Houghton Mifflin of words that all 1st graders ought to know. The result contained 236 of the 250 words and was Geisel's famed The Cat in the Hat!
Though Geisel (surprisingly) never won a Newbery or Caldecott award, he was awarded an honorary doctorate from Dartmouth (1956), a Laura Ingalls Wilder Medal in 1980, and the Pulitzer Prize in 1984 (for his "substantial and lasting contributions to children's literature"). Geisel also never had children of his own (perhaps he was too busy teaching and entertaining everyone else's children!), but will forever be remembered as one of the fathers of Children's Literature!
Selected Dr. Seuss Highlights from ABAA Members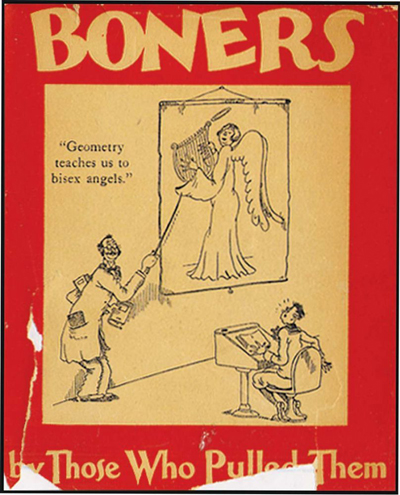 SEUSS. (SEUSS,DR.) illus. BONERS: being a collection of schoolboy wisdom
NY: Viking 1931 (1931). 12mo, red cloth, 102p., fine in chipped dust wrapper with a closed tear. First edition of SEUSS'S FIRST BOOK! Illustrated with many humorous black and whites by Seuss to accompany funny mistakes made in the classroom by aspiring scholars. (Offered by Aleph-Bet Books, Inc.)
---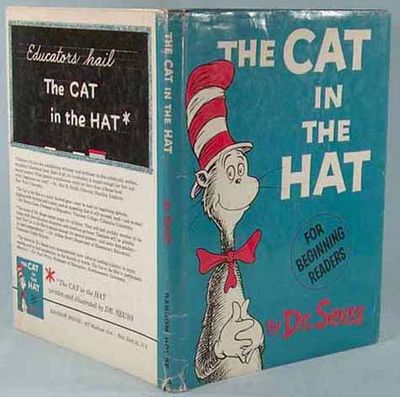 New York: Random House, (1957). First edition, third variant issue. This copy in glazed boards with dust jacket priced 195/195 and without the Beginner Books listed as a series. A very small bit of wear at the corners and edges of the boards else fine and bright in a dust jacket that is wrinkled at the inner flap and has a little edge wear. Overall near fine. (Offered by Boston Book Company)
---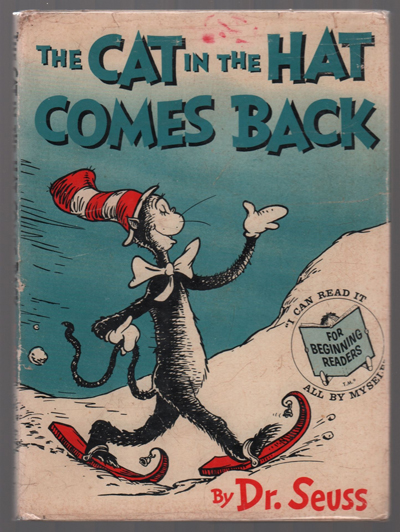 New York: Random House, 1958. First edition, first printing stated [Younger & Hirsch, 11]. Hardcover. 63 pp. Very good, in very good first issue jacket. Light wear and foxing at board edges and extremities. Heel of spine, corner tips just showing. Blank bookplate affixed to front pastedown - appears to have been placed there to cover a few blotted out markings. Rear free endpaper has a few blue pen markings. Text block is near fine, with no marks, tears or wrinkles. Jacket lightly worn with foxing at edges. A few very short edge tears, small pink stain at top of front panel. (Offered by Stick Figure Books)
---
New York: Random House, 1949. Later printing (cf. Younger & Hirsch 3). INSCRIBED by Seuss in the lower corner of the blank page facing the t.p.. Red pictorial glossy boards. Pictorial eps. Red dust jacket which replicates binding design. VG (po bookplate [inscription recipient] to ffep/lower corners bumped)/Gd (worn, stained & soiled/closed tear & pc missing from top edge of front panel/front flap split along fold, with tape repair to back side/pc). DJ now housed in a protective mylar sleeve. Unpaginated. Illustrated in color by the author. (Offered by Tavistock Books)
---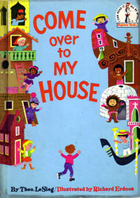 New York: Random House Beginner Books (1966). Younger & Hirsch #14, Pgs. 46-7. Glossy illustrated boards, some light soil and edge rubbing, internally clean, bright and crisp; matching dust jacket with slight darkening at edges and along spine, slight wear, price intact. The reader gets to learn about all of the fun things that can be done in different types of houses all over the world as they are invited to "Come over to my house. / Come over and play!" Seuss's text is delightful and Erdoes illustrations are tons of fun. Very scarce Seuss title.. First Edition. Very Good/Very Good. (Offered by E.M. Maurice Books)
---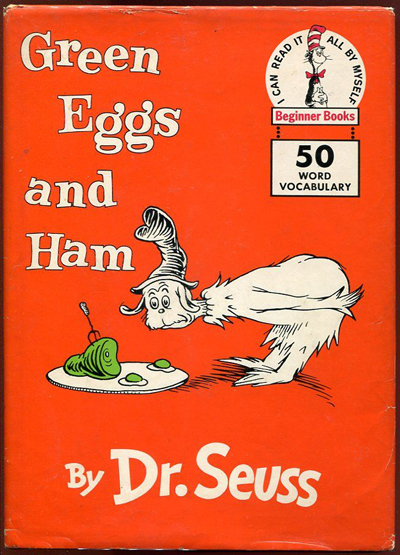 New York: Random House, 1960. 1st. Hardcover. Collectible; Very Good/Very Good. A lovely copy of the 1960 1st edition, 2nd issue (with the printed-on "50 word vocabulary" box --Younger & Hirsch, pgs. 75-77). Clean and VG+ (with one very small chip at the spine crown) in a bright, price-intact, VG+ dustjacket, with very light wear at the spine ends and very light soiling to the rear panel. Octavo, wonderfully illustrated thruout by Dr. Seuss. (Offered by Appledore Books)
---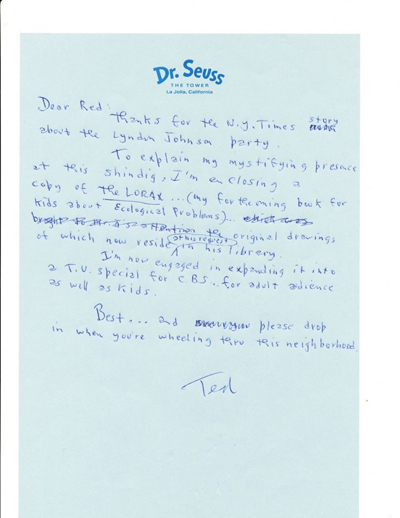 Autograph Letter Signed, on his personalized "Dr. Seuss," blue stationery, 4to, address printed as "The Tower, La Jolla, California," n.d. ca 1970-71
Geisel writes in his print style handwriting referring to a "N.Y. Times" story about the Lyndon Johnson party. "To explain my mystifying presence at this shindig, I'm enclosing a copy of The Lorax...(my forthcoming book for kids about Ecological Problems)... the original drawings of which now reside at his request in his library. I'm now engaged in expanding it into a T.V. Special for C.B.S. for adult audience as well as kids...." He signs, "Ted." The book is not included. The animated musical based on Geisel's "The Lorax" aired on CBS on Feb. 14, 1972. The story formed the basis for the 2012 film, "Dr. Seuss' The Lorax," described as a "computer-animated 3D musical fantasy comedy film." According to "The Man Who Was Dr. Seuss: The Life and Work of Theodor Geisel," by Thomas Fensch, Ladybird Johnson's secretary had met Geisel who described this forthcoming "The Lorax." She suggested because of the environmental nature of the book, that it could help Ladybird Johnson's campaign in cleaning up the environment and would he consider contributing the manuscript to the Lyndon Johnson Presidential Library in Austin. Geisel then called President Johnson offering to donate both manuscript and artwork for "The Lorax." His offer was accepted. (Offered by Schulson Autographs)
---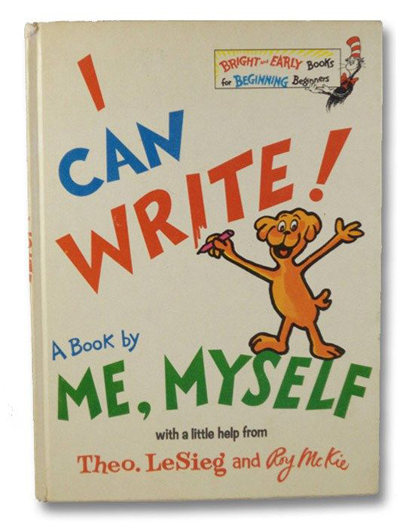 I Can Write! A Book by Me, Myself, with a Little Help from Theo. LeSeig and Roy McKie: A Bright & Early Book (Bright and Early Books for Beginning Beginners)
Unpaginated. Original pictorial cloth, pictorial endpapers. A scarce title by Theodor Seuss Geisel, better known as Dr. Seuss. The pseudonym used for this title is simply the author's last name reversed. Younger & Hirsch 40.
First edition. Bound in original cloth, not glazed boards. All first edition points detailed by Younger & Hirsch present. Neat pencil writing on provided lines, boards slightly toned, tiny surface tear to top spine edge, bookstore sticker on rear endpaper. Random House, New York, 1971. First Edition. Very Good/No Jacket - Pictorial Cover. (Offered by Yesterday's Muse, Inc.)
---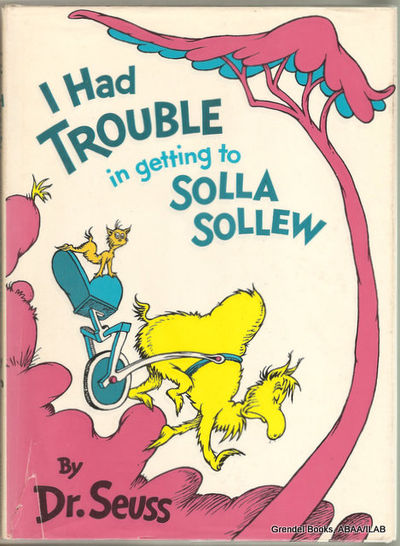 I Had Trouble in Getting to Solla Sollew
NY: Random House. Near Fine in Near Fine dust jacket. 1965. Hardcover. First edition (lists to this title and FOX IN SOCKS on rear panel of dust jacket. Near fine in a near fine (two inch closed edge tear in lower corner of front panel, a few other tiny chips and closed edge tears), price clipped dust jacket. A bright, clean, and relatively well preserved copy. (Offered by Grendel Books)
---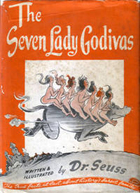 Seven Lady Godivas (with Book Mark!)
New York: Random House (1939) Pictorial cloth covers, one page with 3 marks not affecting text or illustration, else fine in a pictorial dust jacket with overall dusting and light foxing, archivally mended tears and small chips to top of spine and corners. Seuss's first book for adults is just as whacky and fun as his titles geared for children, great color illustrations throughout in black, red and teal. A presentable copy of an early and scarce Seuss title.. Stated First Printing. Near Fine/Good. Small 4to. (Offered by E.M. Maurice Books)
---
500 HATS OF BARTHOLOMEW CUBBINS
NY: Vanguard (1938). Large 4to (9 x 12"), cloth backed pictorial boards, slight soil in gutters else fine with absolutely no rubbing of the boards, with a price clipped dust wrapper (dw slightly chipped). Early printing of Dr. Seuss's second book (endpapers revised, Mulberry Street is $1.00 on dw flap -it was raised to $1.25 in 1939). THIS COPY IS SIGNED BY SEUSS on the blank side of the end paper! Illustrated throughout in black and white with Bartholomew's red hat being the only color (besides the red pictorial endpapers). Bader (p. 304) calls it "folkloric fantasy of a spoofing sort with a happy open end." A nice copy. (Offered by Aleph-Bet Books, Inc.)
---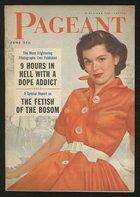 Pageant -- June 1956, Vol. 11, No. 12
Chicago: Hillman Periodicals / Alex L. Hillman. 1956. First. Magazine. 162pp. Pictorial wrappers. Near fine with a bit of toning. A scandalous issue of this general interest magazine with the 16-page article "9 Hours in Hell with a Dope Addict" with accompanying graphic photos and the 11-page article, "The Fetish of the Bosom" with sadly no accompanying photos. And if that wasn't enough, this issue also includes an eight-page excerpt from Dr. Seuss's book, On Beyond Zebra. (Offered by Between the Covers Rare Books)
---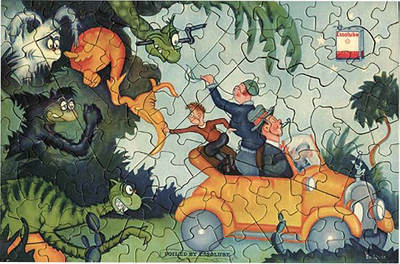 FOILED BY ESSOLUBE: A JIG-SAW MELODRAMA
This is a marvelous large 150 piece full color jig-saw puzzle, circa 1930's COMPLETE IN ITS ORIGINAL PICTORIAL ENVELOPE! (envelope creased and frayed) Pictured in the puzzle are three people in a car who are successfully fighting off the Zero-doccus, the Karbo-nockus, the Moto-munchus, the Oilio-gobelus and the Moto-raspus with the caption reading "Foiled by Essolube." The envelope is illustrated in black line and on the back, the cast of characters is explained. The main character on the front of the envelope is a precurser of the Cat In The Hat. Measuring 17" wide by 11 1/2" high, this is a fantastic and very rare Seuss item. (Offered by Aleph-Bet Books, Inc.)
---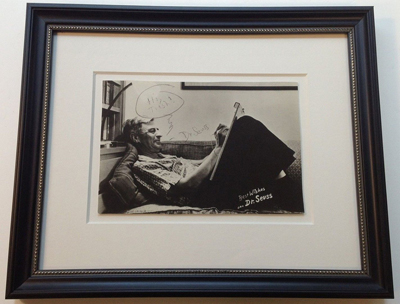 1970. unbound. 4 x 6-inch black-and-white photo of Seuss reclining on a sofa and sketching on a large clipboard -- no place, no date, circa 1970. Inscribed in a speech bubble, "Hi, Trish!" and signed "Dr. Seuss" just below and to the right. Float-mounted, matted in white, and set in black frame with tiny decorative gold dots measuring 8.75 x 10.75 inches. Fine condition. (Offered by Argosy Book Store)
---

This is just a small sampling of the many items by Dr. Seuss currently offered by ABAA members. We invite you to browse the full list here...
---
Anyone interested in collecting books by Dr. Seuss will want to refer to the definitive book on the subject, First Editions of Dr. Seuss Books: A Guide to Identification, co-written by ABAA member Helen Younger of Aelph-Bet Books.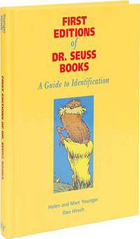 First Editions of Dr. Seuss Books: A Guide to Identification
by (SEUSS, DR.) YOUNGER, HELEN, MARC YOUNGER AND DAN HIRSCH
Saco, Maine: Custom Communications. 2002. First. First edition. Pictorial boards. Fine, an as new copy, issued without dustwrapper. Signed by two of the authors (Helen and Marc Younger). What the book world has been waiting for -- a complete and easy to use guide to identifying the first editions of Dr. Seuss, very attractively illustrated in color. One of only 1000 copies, and destined for scarcity. With errata slip laid in. (Offered by Between the Covers Rare Books)