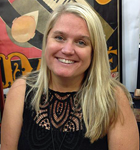 ABAA-member Jennifer Johnson of The Book Shop in Covina, CA, has been awarded a Young Antiquarian Scholarship by the Hungarian Antiquarian Booksellers' Association to attend the International League of Antiquarian Booksellers' (ILAB) Congress in Budapest in September, 2016.
ABAA-President Mary Gilliam writes of Johnson that "Ever since joining the Association, Jen has been very supportive of, as well as involved in, Association activities, e.g, serving on the Southern California Book Fair committee, and organizing the now ever-popular Poker Tournament, which has raised ~ $15,000 for the ABAA Woodburn Educational Fund."
"Jen represents the next generation of booksellers, and epitomizes the type of bookseller to whom we wish to entrust our beloved trade; e.g., along with [her husband, Brad Johnson], they broke new ground in terms of identifying and compiling archives, one example of which is their Heavy Metal catalogue of 2014, the first of its kind, which sold en masse to an institution who also recognized their vision of documenting a modern day musical movement."
Johnson said she is "honored and proud to be selected and can't wait to share my experiences with everyone."
A native of Nebraska and a graduate of Pepperdine University, Johnson is a former newspaper reporter and public relations executive. She became an associate member of the ABAA in 2010 and a full member in 2016. The ILAB Congress takes place in Budapest, Hungary from September 21 to 23, 2016.