Maxwell Perkins was the most famous editor of the golden age of American letters, working with Ernest Hemingway, Thomas Wolfe, Marjorie Kinnan Rawlings, F. Scott Fitzgerald, and many others.
Rather than attempt to compress his mammoth career into two hours, the new film Genius, starring Colin Firth and Jude Law, focuses on Perkins relationship with Thomas Wolfe, perhaps his most gifted author, but also his greatest challenge.
ABAA members offer many interesting items connected to Maxwell Perkins and his stable of famous authors, from glamorous first editions and rare books, to unexpected ephemera like mundane letters between the editor and various literary executors.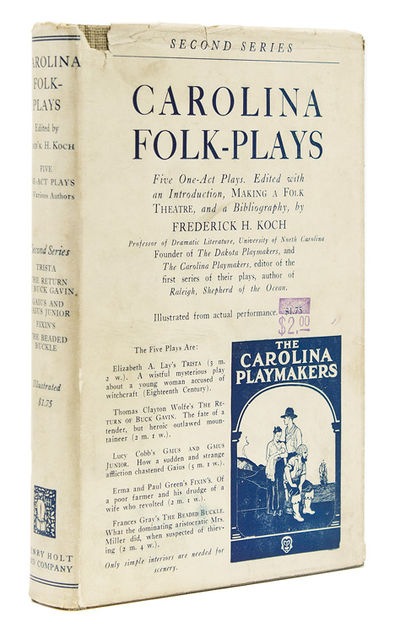 Carolina Folk Plays: Second Series. Edited with an Introduction on Making a Folk Theatre by Frederick H. Koch
New York: Henry Holt and Company, 1924. First edition. Thomas Wolfe's first appearance in a book, following the separate publication of his "Crisis in Industry.". 8 photographic illustrations including one which shows Wolfe portraying Buck Gavin, two woodcuts by J.J. Lankes and another by Mary De B. Graves. xxxiv, 173, [8, ads] pp. 1 vols. 8vo. Original buckram, lettered in green. Fine in pictorial cream dust jacket, with small loss on top of front panel, with price change on front cover from $1.75 to $2.00. In blue cloth box and chemise.
Contains Thomas Clayton Wolfe's first play. Written for his dramatic writing course, the "Carolina Playmakers" taught by Frederick H. Koch. When it was produced in March 15 and 16, 1919 Wolfe played the hero, and with a photo of Wolfe in this role as Buck Gavin. Plays by Elizabeth A. Lay, Lucy M. Cobb, Erma and Paul Green and Frances Gray are included as is an appendix of a selected bibliography and list of productions of the "Carolina Playmakers" and a selected bibliography of "The Dakota Playmakers."Inscribed by Frederick H. Koch Raleigh 1924 on the front free-endpapers. (Offered by James Cummins Bookseller, Inc.)
---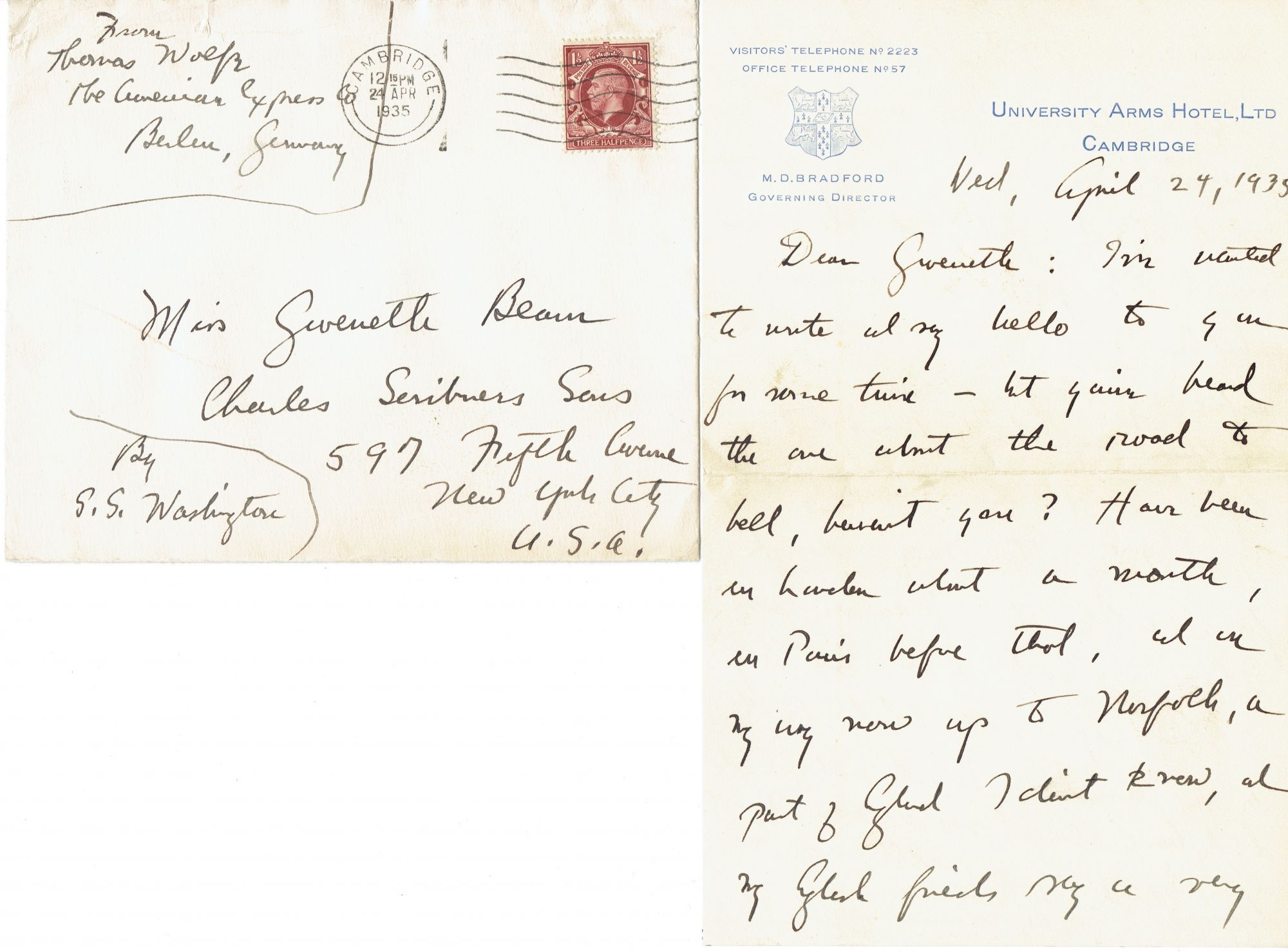 by Thomas Wolfe
1935. Condition is quite fine, corners sharp, envelope mildly worn as one would expect but quite well-preserved and intact. 1 page, double-sided letter hand-written by Thomas Wolfe on University Arms Hotel letterhead and postmarked Cambridge, but addressed from The American Express, Berlin. Dated April 24, 1935. The letter is written to Miss Gweneth Beam, secretary at Charles Scribner's Sons. A light-hearted, brief letter touching on Wolfe's travels in Europe and the state of his finances; as he says, "I hope to God you are selling a few copies of that book or I'm sunk..." This letter was not published in The Letters of Thomas Wolfe. (Offered by The Captain's Bookshelf)
---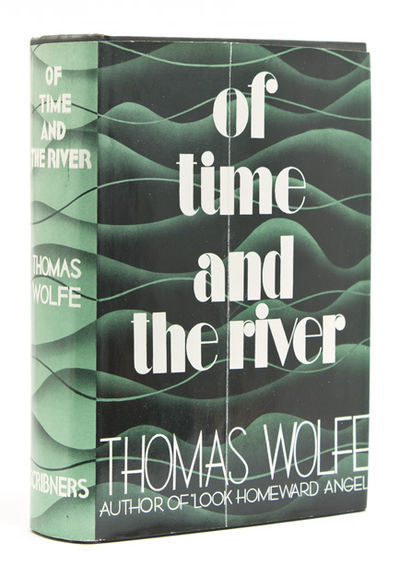 Of Time and the River. A Legend of Man's Hunger in His Youth (Signed, First Edition)
by Thomas Wolfe
New York: Charles Scribner's Sons, 1935. First edition. 912 pp. 1 vols. Thick 8vo. Dark blue cloth. Fine in near fine dust jacket with fold down middle of front panel, spine very slightly sunned. Inscribed, "For Hazel Abrams. Sincerely, Thomas Wolfe, Hollywood. - Sept. 3, 1935." (Offered by James Cummins Bookseller, Inc.)
---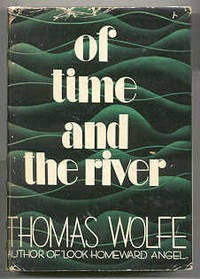 Of Time and the River (First Edition)
by Thomas Wolfe
NY: Charles Scribner's Sons, 1935. First edition, first prnt. Scribner's "A" and colophon on the copyright page. Minimal shelfwear, beginning toning on endpages; dustjacket with internal toning and tape repair (not immediately apparent on the exterior), minor edgewear, mostly at spine ends and corners, creases. A very nice tight and clean copy with bright dustjacket. Near Fine condition in a Very Good dustjaclet with a Durafold mylar cover. (Offered by Revere Books)
---
From Death to Morning (First Edition)
by Thomas Wolfe
New York: Charles Scribner's Sons, 1935. First edition, first printing. Publisher's red-brown cloth, lettered and ruled in gilt; in the original pictorial dust jacket with a red-orange gradient to the front panel. A fine copy, with a hint of wear to the spine ends, some minor offsetting to the front pastedown and the free endpapers, bookseller's plate to the rear pastedown, otherwise bright and fresh papers; unclipped dust jackets, with some light wear to the extremities, minor chipping to the spine ends, a hint of light rubbing and scattered faint spotting, short closed tear to the front panel, else fine. Overall, a near fine and attractive copy.
From Death to Morning is a collection of 14 short stories by Thomas Wolfe, including "The Face of the War," "The Bums at Sunset," "Only the Dead Know Brooklyn," and "The Web of Earth," among others. Although he had previously published Look Homeward, Angel (1929) and Of Time and the River (1935), this volume represents Wolfe's first anthology of shorter texts. As the dust jacket notes, "These stories reveal in Mr. Wolfe qualities as a writer unsuspected by the thousands who have read his longer works" since "they show what perfection he can achieve within a restricted compass." Although it was only his third published volume, From Death to Morning was also one of the last to be published before the author's death in 1938 at the age of 37. 1st Edition. Hard Cover. Near Fine/Dust Jacket Included. (Offered by B&B Rare Books, Ltd.)
---
Look Homeward, Angel (Signed, First Edition)
by Thomas Wolfe
New York: Charles Scribner's Sons. 1929. First. First edition. Spine lettering worn but readable, a very good copy in worn, good only first issue dustwrapper (with the Wolfe portrait on the rear panel) lacking the bottom couple inches of the spine, with several other modest chips and tears, and several internal tape repairs. This copy is Inscribed by the author: "To Fidelia E. Stark with warmest thanks. Thomas Wolfe Oct 30, 1929."
Also laid in is a four-page carbon manuscript (folded, small breaks at the folds, else near fine), unsigned, but almost certainly by Maxwell Perkins, dated April 17, 1929 entitled "Selling Points: Look Homeward, Angel by ThomasWolfe." The "Selling Points," in the third person, recounts the editorial process in detail, and enumerates the literary wonderment of the book. A modern classic, the author's first book, and generally considered his major achievement, a breathtaking autobiographical novel. An inscribed copy, with an intriguing manuscript account of the birth of the novel. (Offered by Between the Covers Rare Books)
Four-Page Autograph Letter Signed [and] Christmas Card with Autograph Note Signed to Katherine Jackson
Four page Autograph Letter Signed sent from London on March 29, 1935 with its original mailing envelope [with] a printed Christmas Card with an undated Autograph Note; Both the letter and card are Signed ("Tom Wolfe"), with a third Signature ("Thomas Wolfe") on the return address of the envelope. Folded for mailing, else fine.
Katherine Jackson was the daughter of Christian Gauss, the Dean of Princeton College, who was lifelong friend and mentor of F. Scott Fitzgerald. She herself was an accomplished and well-known editor at Scribner's Magazine, working with legendary editor Max Perkins, and later at Harper's Magazine, where she wrote the "Books in Brief" column from 1944 to 1969. The position placed her in contact with many of the most prominent writers and scholars of the day, many of whom she befriended, including Thomas Wolfe.
The four-page ALS to Jackson is a heartfelt message composed in London in March of 1935. Wolfe felt isolated from America and he describes a restless night in Paris in which he "was in a bad state" and "could get no sleep [so] I walked the streets all night long until it seemed I had lost the secret of sleep." He explains that he has felt better since arriving in England and that next he's off to Denmark and then Russia. He requests information from the young editor about his forthcoming book Of Time and the River so he can "continue the brawl with Max [Perkins] on more even terms when I come back." He closes by explaining that he has had no news from home but for "two cables and a letter from Max --- but for his sake, and for Scribner's, and for my cure, and because I don't want to disappoint all of you whose generous belief and good wishes mean so much to me -- I hope and pray to God it has gone well."
The undated Christmas Card (likely from 1935) has a printed greeting that Wolfe has added to with a note: "Dear Mrs. Jackson: --- I haven't your address with me at present so am leaving this on your desk -- I wish you and all the Jacksons the happiest and the most successful kind of New Year --- Tom Wolfe. "The friendship hit a road bump the following year after Jackson told Wolfe that it was not prudent to publish stories in magazines as opposed to books, causing a stir between Wolfe and editor Maxwell Perkins, who later had to smooth Wolfe's ruffled feathers and have a talk with Jackson. The details of this incident are described in a retained carbon copy of letter to her parents from early 1936 that is included here.
Wonderful correspondence from Wolfe illustrating his lively working relationship with Max Perkins and Scribner's editors. (Offered by Between the Covers Rare Books)
---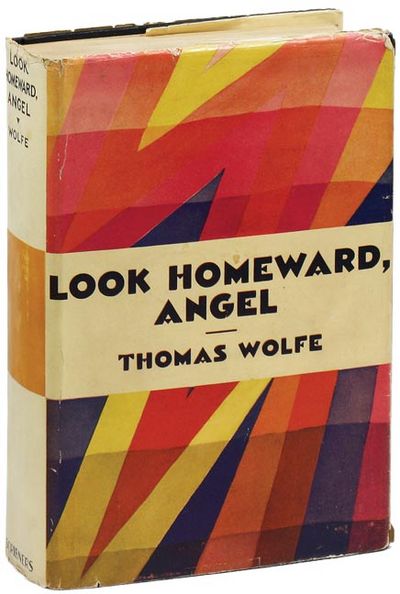 Look Homeward, Angel (First Edition)
by Thomas Wolfe
New York: Charles Scribner's Sons, 1929. First Edition. First State of the text, meeting all requisite points. Octavo (20cm); navy blue cloth, with titles stamped in gilt on the spine and front panel; dustjacket; 626pp. A few very faint stains to the boards, with minor offset to pastedowns and endpapers; Very Good+ to Near Fine. The First Issue dustjacket is unclipped, with a few very shallow chips to the edges and cornertips, and light wear overall; Very Good+. An attractive, unrestored copy of Wolfe's first novel. Housed in a custom slipcase. (Offered by Lorne Bair Rare Books)
---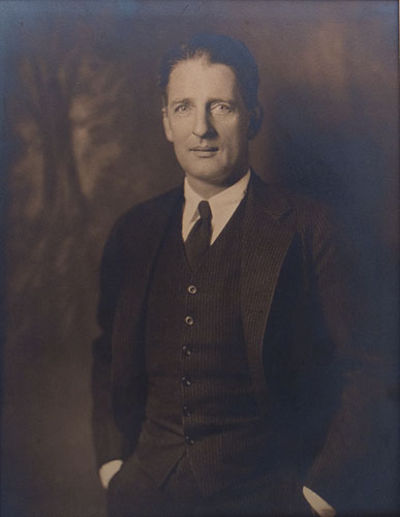 Photograph of Maxwell Perkins by Inco NY
New York: Inco., 227 East 45th Streeet. In original folder. (Offered by James Cummins Bookseller, Inc.)
---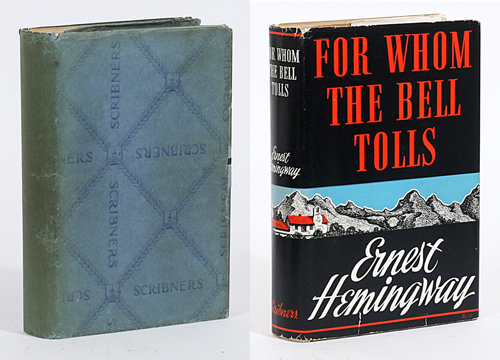 For Whom the Bell Tolls (First Edition)
by Ernest Hemingway
New York: Charles Scribner's Sons. 1st Edition. Hardcover. Very Good/Very Good. FIRST EDITION of arguably Hemingway's greatest work, with extremely scarce Scribner's outer jacket over the original dust jacket.
"In February 1939, with his marriage to Pauline essentially over, Hemingway took his fishing boat, the Pilar, to Havana, where, living in his favorite room in the Hotel Ambos Mundos, he began writing what would be received as his finest novel, For Whom the Bell Tolls. In April Gellhorn rented and made habitable a property outside of Havana, "La Finca Vigia," where she and Hemingway set up their writers' workshop. He worked steadily on his Spanish Civil War story of an American dynamiter, Robert Jordan, and his epic task of destroying a bridge behind Republican lines… "At the end of July 1940 Hemingway delivered his completed typescript of For Whom the Bell Tolls to Max Perkins. The novel appeared on 21 October to ecstatic reviews; four days later Paramount Pictures offered Hemingway $100,000 for the film rights" (American National Biography).
First issue: Without photographer's name on back panel of dust jacket. New York: Charles Scribner's, 1940. Octavo, original cloth, original dust jacket, original Scribner's printed outer jacket. Book with toning to pastedowns, dust jacket with a little edge wear; outer jacket with toning to spine and wear to fold and edges. An exceptional copy: the outer jacket has kept the dust jacket extremely bright and fresh; the outer jacket is the only such example we've seen on the market. (Offered by Manhattan Rare Book Company)
---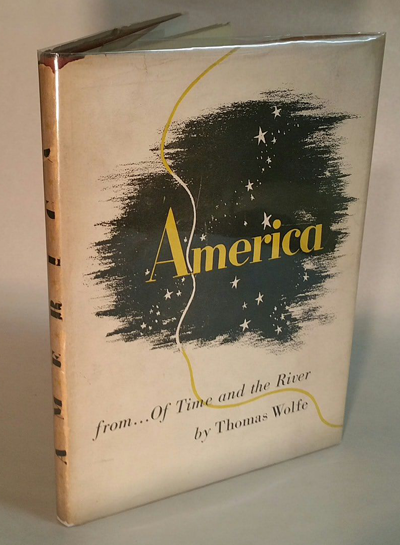 AMERICA (excerpted from Of Time and the River)
by Thomas Wolfe
Chicago: Privately printed; Norman Press, 1942. 30 pages of text. Original maroon hardcover binding with minor sunning to the spine and minor shelfwear. The unclipped dustjacket has tiny chips at the spine extremities, minor darkening of the spine, and slight shelfwear and soiling; protected in archival mylar. Illustrated with three color illustrations by Joseph Trautwein. From the colophon "A limited edition has been printed at the Norman Press on Linweave Early American paper. Bound by the John F. Cuneo Company in Holliston's Zepplin cloth...conceived as a project by a class in Typography and Design conducted at the Harrison Commerical Art Institute[Chicago]...The text is clean and unmarked. Text selected and excerpted from Wolfe's "Of Time and the River." First separate edition. . First thus edition. Hardcover. Very good+ condition/Good+ condition. (Offered by Kurt Gippert Bookseller)
---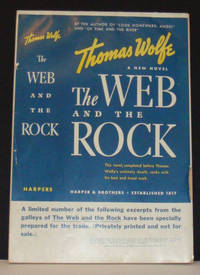 by Thomas Wolfe
New York: Harper & Brothers, 1939. FIRST EDITION. Hardcover. Advance promotional galleys. Galley sheets bound in pad form, glued at top edge with glossy cover reproducing the spine and front panel of the completed dust jacket, with the statement across the bottom: 'A limited number of the following excerpts from the galleys of The Web and the Rock have been specially prepared for the trade. (Privately printed and not for sale.)' See Johnston A7.1.a (note). One shallow chip along right-hand edge, a few tiny edgetears, otherwise a sound, near fine copy. Scarce. (Offered by Robert Dagg Rare Books)
---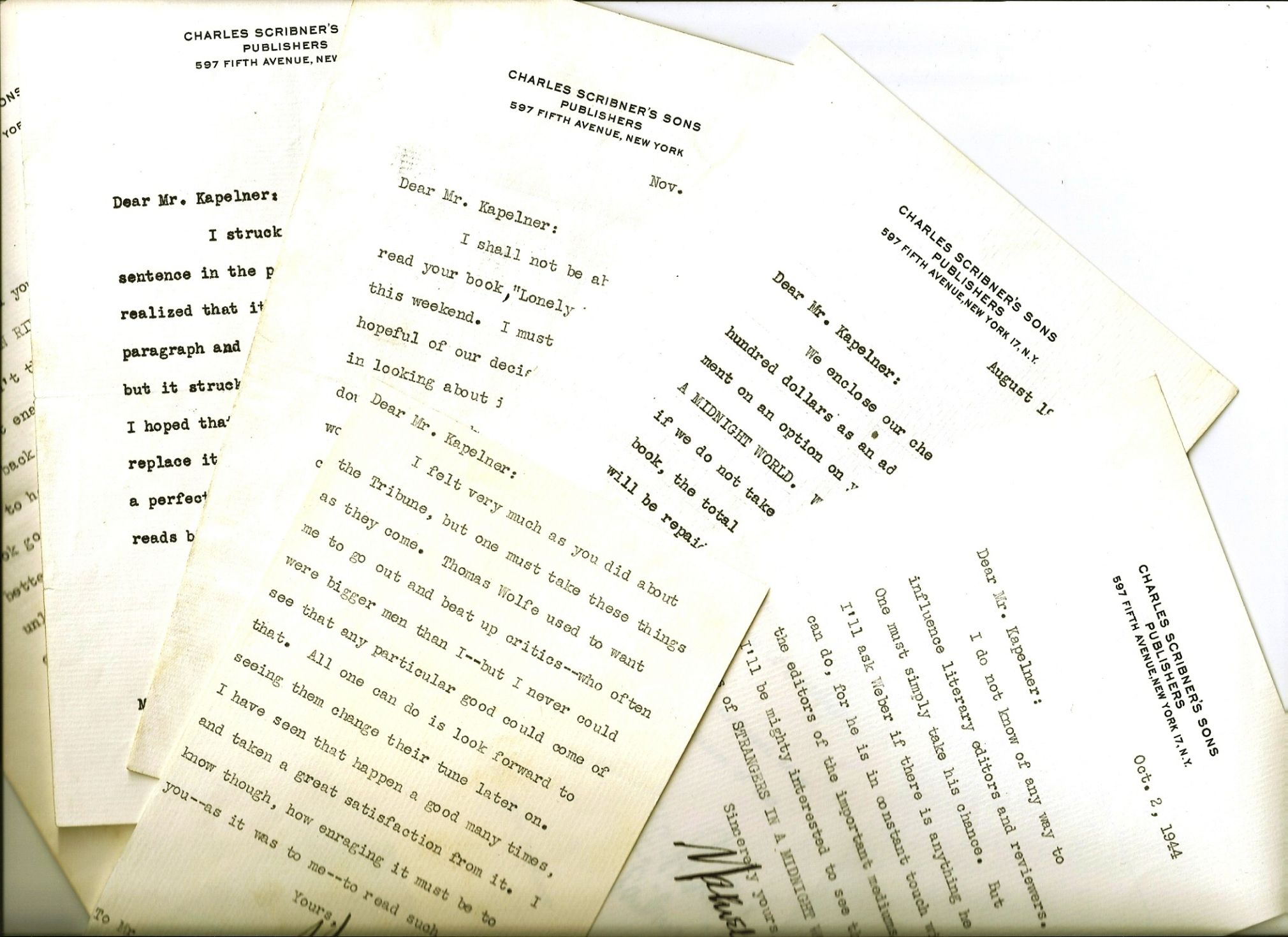 ARCHIVE consisting of 27 TYPED LETTERS SIGNED (TLSs) to novelist Alan Kapelner
by Maxwell Perkins
Letters. Near Fine. A sizable group of 27 TYPED LETTERS SIGNED (TLSs) dating from 1942 to 1946 to novelist Alan Kapelner, who died in 1990, one of the last discoveries of famous Scribner's editor Maxwell Perkins. Perkins, who died in 1947, worked on the first novels of Ernest Hemingway, F. Scott Fitzgerald, and Thomas Wolfe. Kapelner published two novels, LONELY BOY BLUES in 1944, which earned acclaim for its evocation of New York City and which is on several neglected books lists, and ALL THE NAKED HEROES in 1960. Braziller, the publisher of the latter book, touted its author as Maxwell Perkins's last discovery. Nearly all of the letters here are single page on Charles Scribner's Sons stationery and SIGNED in full. The correspondence begins with requests to see Kapelner's manuscript [LONELY BOY BLUES] as well as politely declining the author's requests for a job at Scribner's. Some selections: "I should never think of making a decision on a book of such ability without reading it carefully,- and what's more, I am certain that I shall personally enjoy it greatly." "Thomas Wolfe used to want me to go out and beat up critics--who often were bigger men than I-- but I never could see that any particular good could come of it." Several of the letters deal with specific advice about LONELY BOY BLUES, tentatively titled IN AT THE KILL. Wonderful archive from arguably the most important editor of the twentieth century whose advice resulted in often substantial changes in the final versions of THE GREAT GATSBY, LOOK HOMEWARD ANGEL, THE YEARLING, and FROM HERE TO ETERNITY, among others. Hemingway dedicated THE OLD MAN AND THE SEA to Perkins. (Offered by Charles Agvent)
---
Genius, starring Colin Firth as Maxwell Perkins and Jude Law as Thomas Wolfe, opens today, Friday, June 10.