Many people now collect J.K. Rowling's Harry Potter books. In fact, the major book collectors of tomorrow will likely bond over their memories of midnight-release parties and argue the merits of Mary GrandPré versus Thomas Taylor's cover illustrations.
My own book shelves host two complete sets (so far), one American (hardcover) and one British (paperback), and one set-in-progress (the illustrated editions). My children are lobbying for the addition of a set of the American paperbacks illustrated by Kazu Kibuishi, because the spines of each form an image of Hogwarts Castle when displayed in sequence (known as a "linked-spine binding" in the trade). Naturally, the hardcovers are no longer in great shape, having been read by every family member multiple times, but replacing them with pristine copies is stangely unappealing. It's in-part their hard-earned imperfections that make these books so beloved by us.
---
20th Anniversary Covers by Brian Selznick
To mark the end of Harry Potter's 20th-anniversary celebrations, Scholastic released new paperback editions with covers by Caldecott Award-winning illustrator Brian Selznick (The Invention of Hugo Cabret) on June 26, 2018. Unlike the previous edition, which featured the linked-spine binding by Kazu Kibuishi, the Selznick covers form a mural when shelved in order face-out (see animation below). Another exciting aspect of this edition is the addition of a map of Hogwarts at the beginning of each book!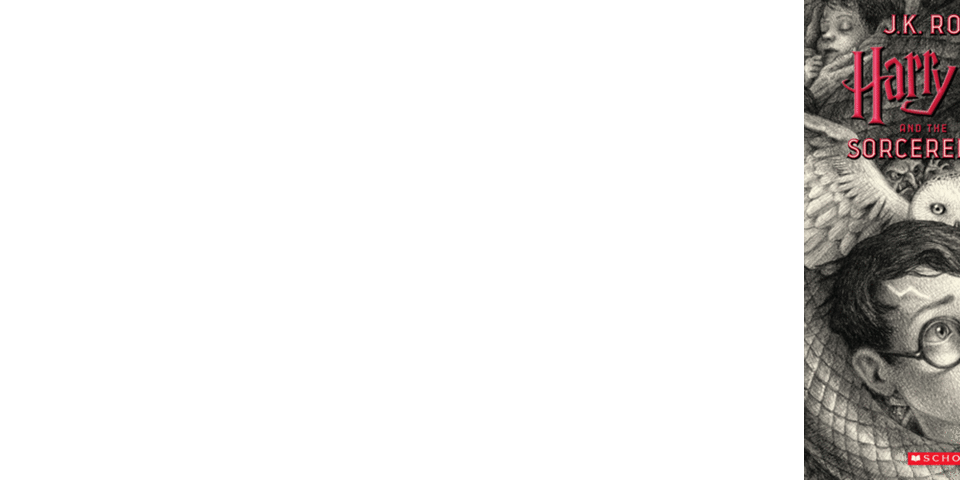 ---
The Harry Potter phenomen is credited with many things, such as making reading cool again, but I believe it also introduced a generation to the idea of collecting books. The curious thing is, these young collectors may not use the word collector to describe themselves, referring to themselves instead as fans of X, Y, or Z. They express their allegiance in online memes and label themselves as being on one "team" or another of their particular fandom. Twilight fans ("Twihards") were Team Jacob or Team Edward, Hunger Games fans align with Team Peeta or Team Gale, and Pokemon Go players must choose between teams Mystic, Instinct, and Valor as they progress through the game. But however they choose to refer to themselves, people are collecting books, cards, stickers, and toys related to their favorite fandoms with enthusiasm.
---
Harry Potter and the Sorcerer's Stone (First American Edition)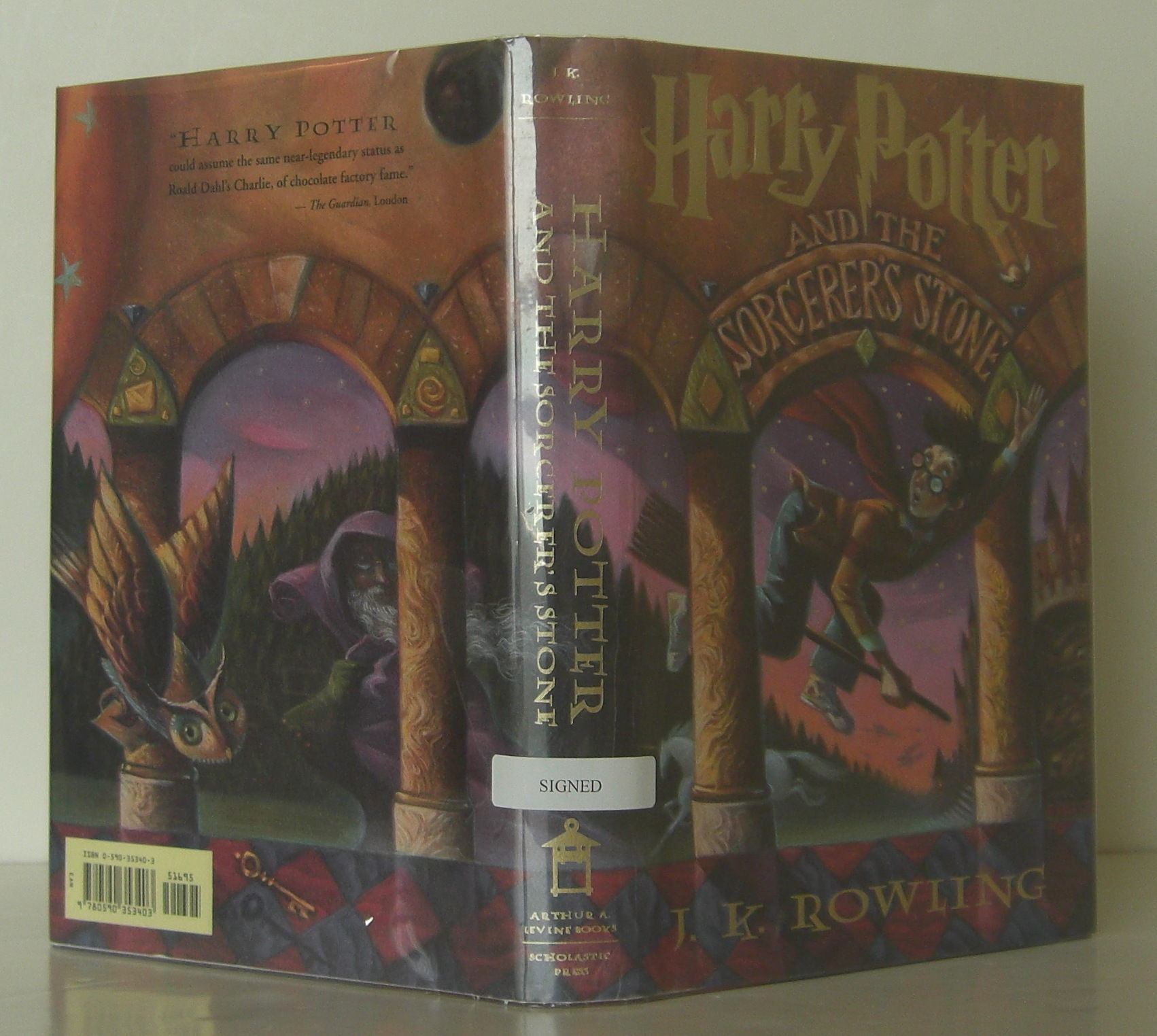 Scholastic, 1998 A near fine first edition, first printing, with a complete row of numbers to 1 on the copyright page, signed by Chris Columbus who directed the first two Harry Potter movies, and with a bookplate signed by the illustrator, Mary Grand Pre laid in. First issue dust jacket with the Guardian blurb on the back panel, not the Publisher's Weekly blurb. Laid in is material from the Los Angeles Times 2013 Festival of Books where Columbus signed this book. Housed in a custom-made collector's slipcase.. Signed by Illustrator(s). 1st Edition. Hardcover. Near Fine/Near Fine. (Offered by Bookbid Rare Books)
---
Different Covers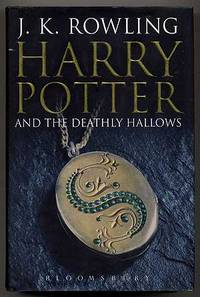 One of the attractions of the Harry Potter books — besides the fact that these are excellent stories that fans love to re-read — is the many different covers and editions available. Over time, the books were released in two sets of covers in the UK (the familiar cartoon illustrations of Thomas Taylor, and more sober designs for "adult" readers who felt a bit silly about reading "children's" books, despite the rather obvious fact that most other adults were already reading them, and after the series finished new editions of the books were published in many countries with brand new illustrations.
American versus British English
A curious difference between the British and American editions is that the words, as is usually the case, were Americanized (most-notoriously, the title of the first book) and the spelling of some common words were changed. But not all the changes were so obviously justified. In the British editions, the head of the Ministry of Magic is referred to as the Minster for Magic, but in the American edition, the position becomes the Minister of Magic. Similarly, the Divination teacher's name is Sybill in the UK and Sibyll in the US.
Some people get a kick out of spotting the Britishisms, although if you don't have the time or inclination to compare editions yourself there's a great crowd-sourced list of the differences in each of the books online…
---
Autographed Copies
Rowling's outsize success means that first editions of her later novels, which were printed in huge runs, are never going to be rare (and hence more expensive), but her relative lack of public appearances (as it quickly became too difficult logistically to send her on a conventional author tour) means that books bearing her signature are much-less common, and thus highly sought after.
First Editions
The first three Harry Potter Books came out in Great Britain long before they were published in the United States. Book one was published on June 26, 1997, and the American edition did not arrive until September 1, 1998, almost a year later. Book two was published in the UK on July 2, 1998, and in the US on June 2, 1999. By the third book, American publishers were very conscious that many fans in the U.S. were simply ordering the U.K. editions rather than waiting, and they reduced the gap to three months, with the British edition being published on July 8, 1999, and the American following on September 8, 1999. Thereafter, the books were published simultaneously in all major markets.
As J.K. Rowling is a resident of the U.K., the true first editions are considered the British editions, even when the editions were published simultaneously.
True first editions of the first Harry Potter book (Philosopher's Stone) are scarce! There were only 500 hardback copies of the first edition published by Bloomsbury, and of these 300 copies were sold to libraries. The remaining 200 copies were used as review copies for media. Stories circulate of journalists who tossed the book in the trash, thinking it just another undistinguished children's book. How wrong they were!
Those first editions also had a minor misprint in the text: "1 wand" was listed twice in the list of required school supplies for first years on page 53. The back cover also had two differences from the paperback cover and subsequent printings. Most-glaring was a typo in the book's title: listing it as "Harry Potter and the Philospher's Stone." Hogwarts was also referred to as "Hogwarts School of Wizardry and Witchcraft." (Mugglenet has collated an extensive list of points to watch out for when evaluating any potential first editions of the Harry Potter books.) All errors were corrected in subsequent printings. There is a flurry of slightly hysterical articles about these typos anytime a copy comes up for auction.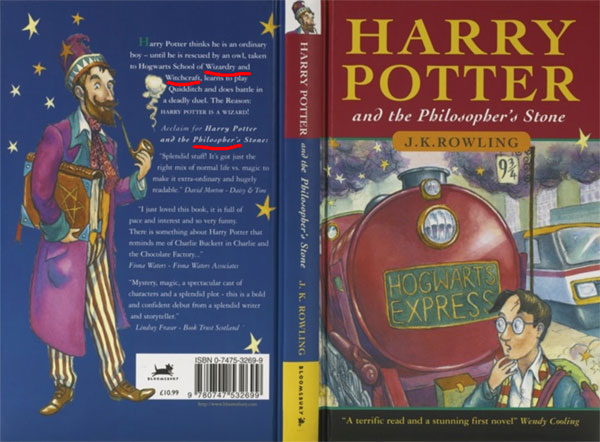 A true first edition of Philosopher's Stone is the Holy Grail/Ditto/Blue Snaggletooth (pick your favorite metaphor depending on what else you collect) for Harry Potter collectors. To find one that wasn't part of a library's collection is rare, to find one signed, rarer still. Note: the first edition was a hardcover without dust jacket. The third printing of Philosopher's Stone added a dust jacket.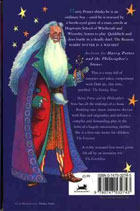 Trivia: Who is that young wizard on the first edition back cover (and spine)? Fans complained that the wizard did not match the description of any wizard in the story, and often dub this the "young Dumbledore" cover, in part because it was replaced by an illustration that was clearly the "old Dumbledore" on later editions. However, illustrator Thomas Taylor eventually shared the whole story on his blog, reporting that he was asked to provide an image of a generic wizard for the book's cover, and so he did, using his own father as a model.
---
Harry Potter and the Philosopher's Stone (Signed)
by J.K. Rowling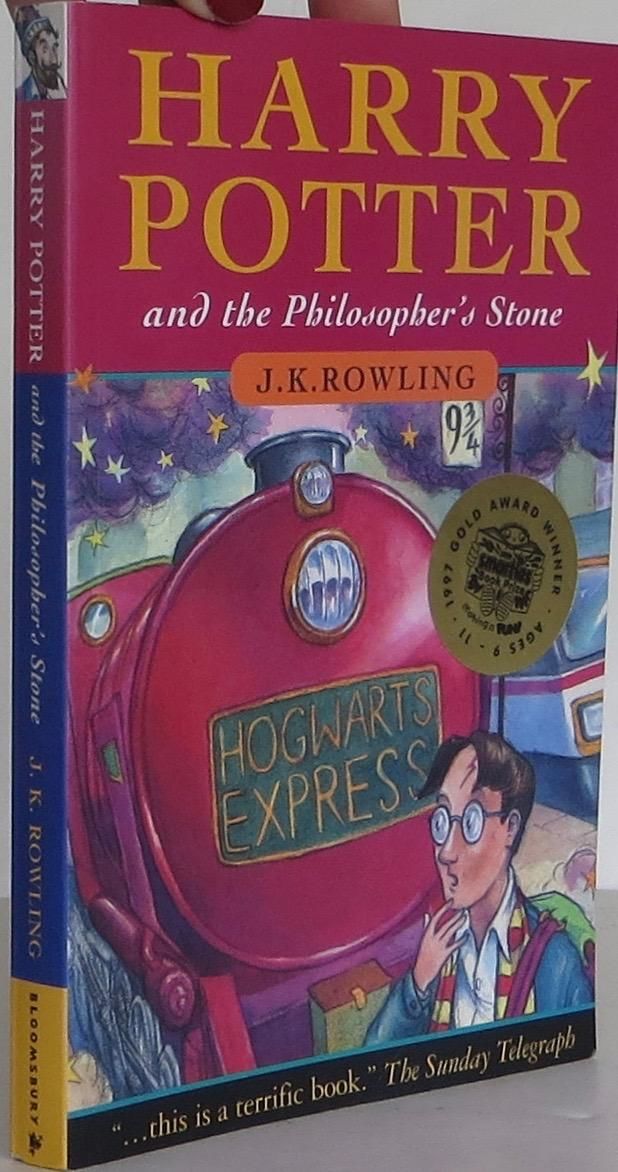 Bloomsbury, 1997. 5th or later Edition. Soft cover. Fine/No Jacket. Near fine 18th printing as stated on copyright page, number list ends in 18. Inscribed by J.K. Rowling on half-title: "To Hayley, J.K. Rowling." Very, very light edgewear. Housed in custom-made slipcase.
Offered by Bookbid.
---
The first few books received relatively small print runs in the UK, but they kept being reprinted as the Harry Potter phenomenon gathered speed. First printings are, or course, the most conventionally desirable. Venerable British antiquarian booksellers Peter Harrington Books made a helpful video that lets those of us who can only dream about owning a first edition of Philosopher's Stone see the Holy Grail itself, and explains the points that distinguish the true first edition.
The American editions received larger print runs, although still small compared to the last few books in the series. There are still some quirks that distinguish early American editions.
The first state of the re-named Harry Potter and the Sorcerer's Stone carried a quote from the British newspaper The Guardian on the back cover. This was soon replaced by a quote from Publishers's Weekly (the Bible of the U.S. book trade). Originally, neither the spine of the book nor the dust jacket carried a number indicating series order. At some point, this series number was added, and from the third book in the series onwards the number was printed on both the dust jacket and the book's spine (for U.S. editions). I have a later printing of the first book where no number appears on the jacket, but it is printed on the spine of the book, and a second printing of The Chamber of Secrets first American edition with no numbers at all; but these are only curiosities, and not particularly valuable.
The changing design of the books means that those of us who purchased and read the books as they were first being published will have a set of hardcovers that is not quite regular in appearance, with the early books not bearing numbers and the later all having a series number printed on the dust jacket. Still it could have been much worse; a pet peeve of many collectors is when a publisher radically changes the cover design of a series part-way through. It's usually done as something of a "Hail Mary" when a series' sales are much lower than expected, but the publisher has already contracted for several more books. (American fans of Terry Pratchett endured several uninspiring cover designs before his Discworld series finally began to gain traction stateside with The Fifth Elephant in 2000. Of course, the fact that the British editions had long enjoyed iconic covers probably resulted in many American Pratchett fans simply ordering the British editions instead of waiting for the uninspired US versions, even though that was a little more challenging in the pre-internet days.)
---
HARRY POTTER AND THE ORDER OF THE PHOENIX. Book Expo America edition limited to 5000 copies.
by J.K. Rowling
New York, NY: Scholastic Inc., 2004. Book. Very good+ condition. Paperback. First Edition. 12mo - over 6¾ - 7¾" tall. xviii, 870 pages of text. Original paperback edition with a continuous cover illustration (front/spine/rear) after a painting by Mary GrandPre that is only on the covers of this special paperback edition and the hardcover Collector's Edition. There is a tiny tear and a tiny bump to the lower edge of the front cover, and minimal shelfwear; protected in custom-fitted archival mylar. Issued for attendees of Book Expo America 2004, this was printed in June of 2004 in an edition of 5000 copies, and it is the first and only printing of this edition. The text is clean and unmarked.
Offered by Kurt Gippert Bookseller.
---
Book Club Editions
In the UK, copies sold through book clubs are easily identified by the words "Ted Smart" appearing in place of the Bloomsbury colophon on the spine. The books are very similar to the regular Bloomsbury editions in all other respects, but should not be confused with genuine first editions.
In the US, copies sold through the Scholastic Book Club or school book fairs did not have the same embossed foil on the words Harry Potter, among other differences.
Advance Review Copies
In the UK, "preview" copies distributed to the trade are called proof copies, and in the US are known are Advance Reader Copies (ARCs). The print runs for both were very small, and if you come across one in good condition they are both fascinating — as they contain notes about the marketing plan before it was an international hit -- and highly desirable.
---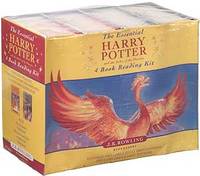 The Essential Harry Potter and the Order of the Phoenix 4 Book Reading Kit
London: Bloomsbury. 2003. First. British four book set containing two adult first editions and two children's first editions and four sets of bookmarks, bookplates, do not disturb signs, and stickers. Packaged in an open top box and wrapped in plastic. Near fine with some wear to the plastic and one moderately bumped corner presumably affecting one of the books. A title printed into the millions but a set that is particularly difficult to find.
Offered by Between the Covers Rare Books.
---
Foreign Language Editions
Being wildly popular, the Harry Potter books have been translated into many of the world's languages, and some collectors enjoy building up a collection of the different translations. The different cover designs are reason enough for add at least some foreign language editions to your collection. One Harry Potter collector has set himself the goal of acquiring copies of all the translations of the books, and at the time of writing appears to be close to achieving this…
First State
There are many different points that determine if a book is a true first state or not. The Potter Collector website linked above is a great resource, as is Peter Harrington's video, although there's no substitute for professional experience, and anyone who believes they own or are about to purchase a first edition of any of the Harry Potter books should seek professional assistance and advice from an ABAA member. (Don't for example, confuse a book club edition published by Ted Smart for a first edition published by Bloomsbury!)
A word of caution regarding websites that claim to list all known points for any book, not just the Harry Potters. Book dealers build up a enormous body of knowledge about their chosen specialities. Some choose not to share or publish that knowledge -- after all, in a business where your expertise is your competitive advantage, why give that advantage away for free? So, while those websites are generally useful places to start to acquire your own knowledge, they are highly unlikely to be the last word on the subject.
Why not visit a rare book fair and meet some ABAA members who share an interest in Harry Potter or any other area you collect? Book dealers are always happy to meet collectors and talk about your areas of interest. Develop a good relationship with some dealers and they may even call you first when a book you're interested comes into their hands.
Associated Material
Besides the books themselves, there is a plethora of non-book merchandise to collect -- but we'll leave Funkos, Legos, and other non-book items out of this article. One non-book category that we should touch on is the publisher's marketing materials for the Harry Potter series. From the ARCs discussed above, to bookmarks, posters, and display material encouraging readers to pre-order the books (and pick them up at one of the legendary midnight release parties), there are a great many odd pieces of Harry Potter-ephemera to round out a collection.
ABAA-member Ken Lopez, Bookseller recently offered these two intriguing items from the pre-publication publicity push for what was eventually entitled, Harry Potter and the Goblet of Fire.
(n.p.): (n.p.). 2000. Promotional baseball cap for the transformative fourth book in the Harry Potter series: Harry Potter and the Goblet of Fire. The working title was simply "HP IV," and offered here is a promotional green baseball cap with HP IV embroidered in gold on the front and the publication date (07-08-00) on the back: note the use of one Gryffindor color (gold) and one Slytherin color (green). Reportedly, the book was then titled Harry Potter and the Doomspell Tournament, then Harry Potter and the Triwizard Tournament, before emerging as Harry Potter and the Goblet of Fire. The hat is adjustable. Fine. No Binding. Fine.
Harry Potter and the Doomspell Tournament Easel Display Card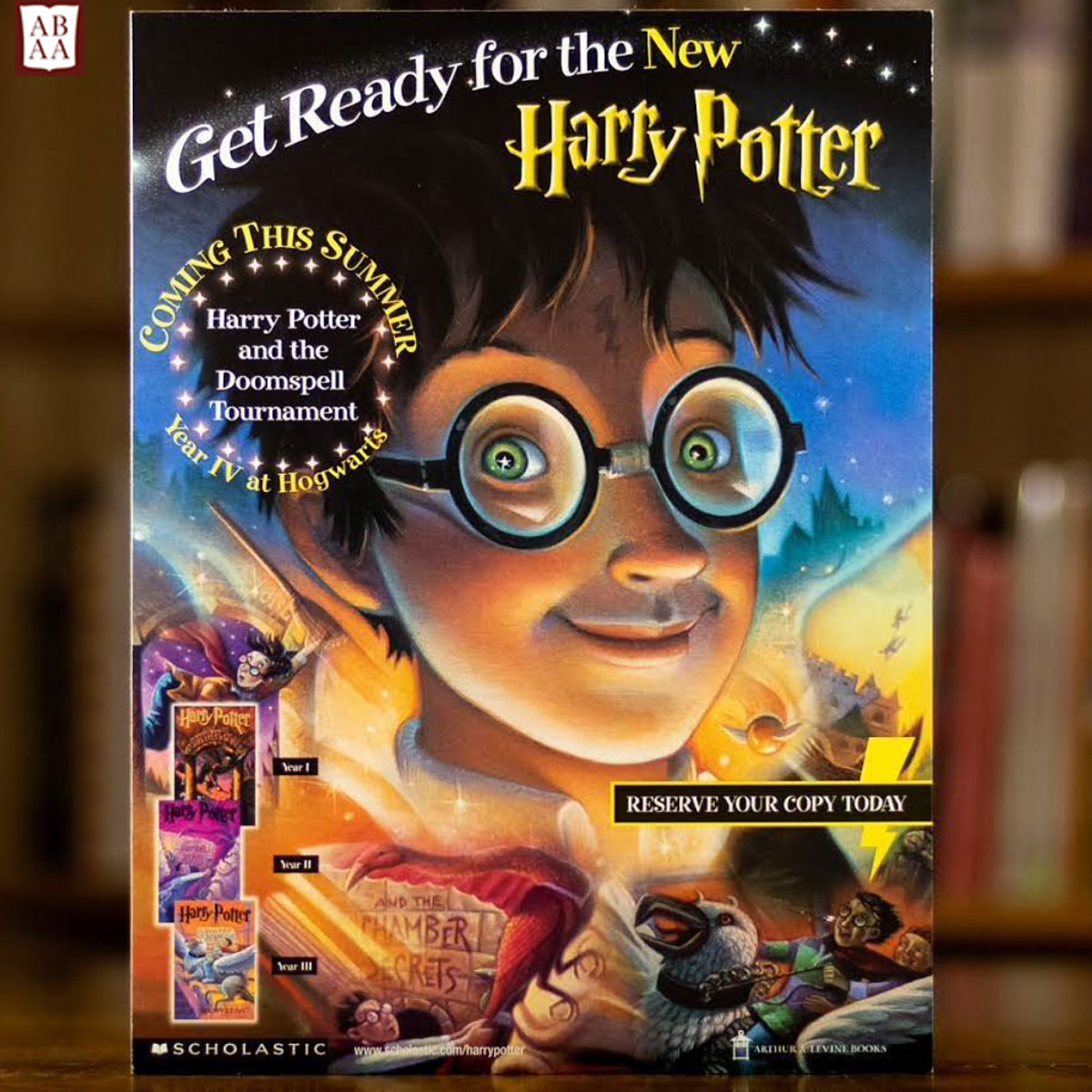 NY, Scholastic, (2000). An advance publicity item for the transformative fourth book in the Harry Potter series, featuring the short-lived name Harry Potter and the Doomspell Tournament.
Harry Potter and the Goblet of Fire was nearly twice as long as the preceding book; it was the first to be released on the same date in the U.K. and the U.S.; the first to have a Saturday release date so as not to conflict with the school day; the first to have a multi-million copy U.S. print run; and it was the first book in the series to not have an uncorrected proof or advance reading copy issued. Its title was intended to be kept a secret until publication day (July 8, 2000); a feat that was made somewhat easier as Rowling herself wavered on the title until at least March or April. The working title was simply "HP IV." However, Rowling's first intended title for the book leaked out, and offered here is a printed easel display card encouraging readers to pre-order their copies of Harry Potter and the Doomspell Tournament. Reportedly there followed a period during which the title was to be Harry Potter and the Triwizard Tournament.
Harry Potter and the Goblet of Fire won the 2001 Hugo Award, the only Harry Potter novel to do so. The Doomspell Tournament easel card is 9" x 12", apparently unused; it has one small nick in a lower corner near a small portrait of Buckbeak the Hippogriff, else fine.
Offered by Ken Lopez, Bookseller.
Beware fake signatures!
Like any popular author, there is always a risk of fake signatures being added to Harry Potter books listed on unregulated online marketplaces — and so-called "Certificates-of-Authenticity" are generally not worth the paper they're printed on when the seller issuing them is no more than an anonymous username on eBay. ABAA members guarantee the authenticity of what they sell, and many are also qualified appraisers, who can authenticate books and signatures. The bottom line is, be wary of buying anything sight-unseen, and seek professional assistance if you are looking to purchase expensive signed or first editions of Harry Potter or any other books.
Beware Also Crazy Fake Harry Potters
Authors whose books become world-famous brands don't just have unauthorized editions or translations to contend with in international markets, but often completely fake books that bear little resemblance to the real thing. Take these Chinese fakes, for example: alledgedly the contents were the text of The Hobbit with some of the character names replaced by Harry Potter characters, but as I don't read Chinese I can't confirm that story -- but the covers are fabulous! Authors may be horrified by such things, but to collectors particularly outrageous bootleg copies can be a thrilling addition to their library!
Hali Bote yu huang jin jia [Harry Potter and the Golden Armor]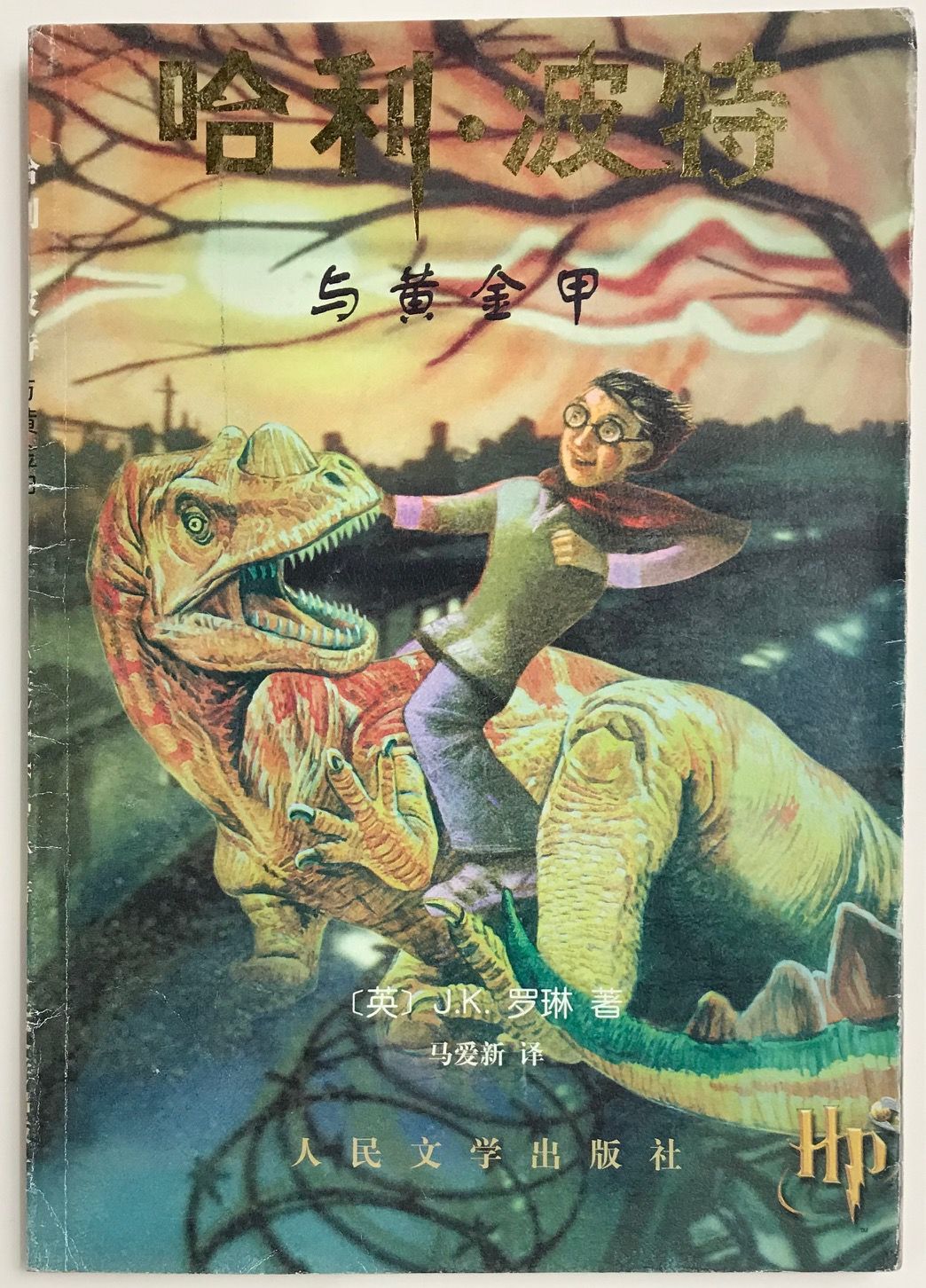 Beijing: Renmin wenxue chubanshe, 2000. 170p., paperback, cover art depicting Harry riding a dinosaur.
An entirely fraudulent Chinese entry in the Harry Potter series; not an unauthorized translation, but a whole new book ghostwritten with Rowling's name, with the English publication information for Harry Potter and the Chamber of Secrets and the ISBN for the Chinese translation of that title. In 2007, the NY Times published an article by Howard French on the topic of fake Harry Potter books. French wrote that "Chinese readers could not wait for the official release of 'Harry Potter and the Deathly Hallows,' the much anticipated seventh and concluding book in the series, a little more than a week ago. And they did not have to. A book with the same title came out a full 10 days before the official worldwide English-language release on July 21 - a wholly unauthorized version that bears nothing in common with the instant best seller written by J. K. Rowling." There are at least a dozen different books of this type, masquerading as official Rowling titles and making use of her characters, produced to cash in on Pottermania in a country without strong intellectual property protections.
Offered by Bolerium Books.
Hali Bote yu bi shui zhu [Harry Potter and the Waterproof Pearl]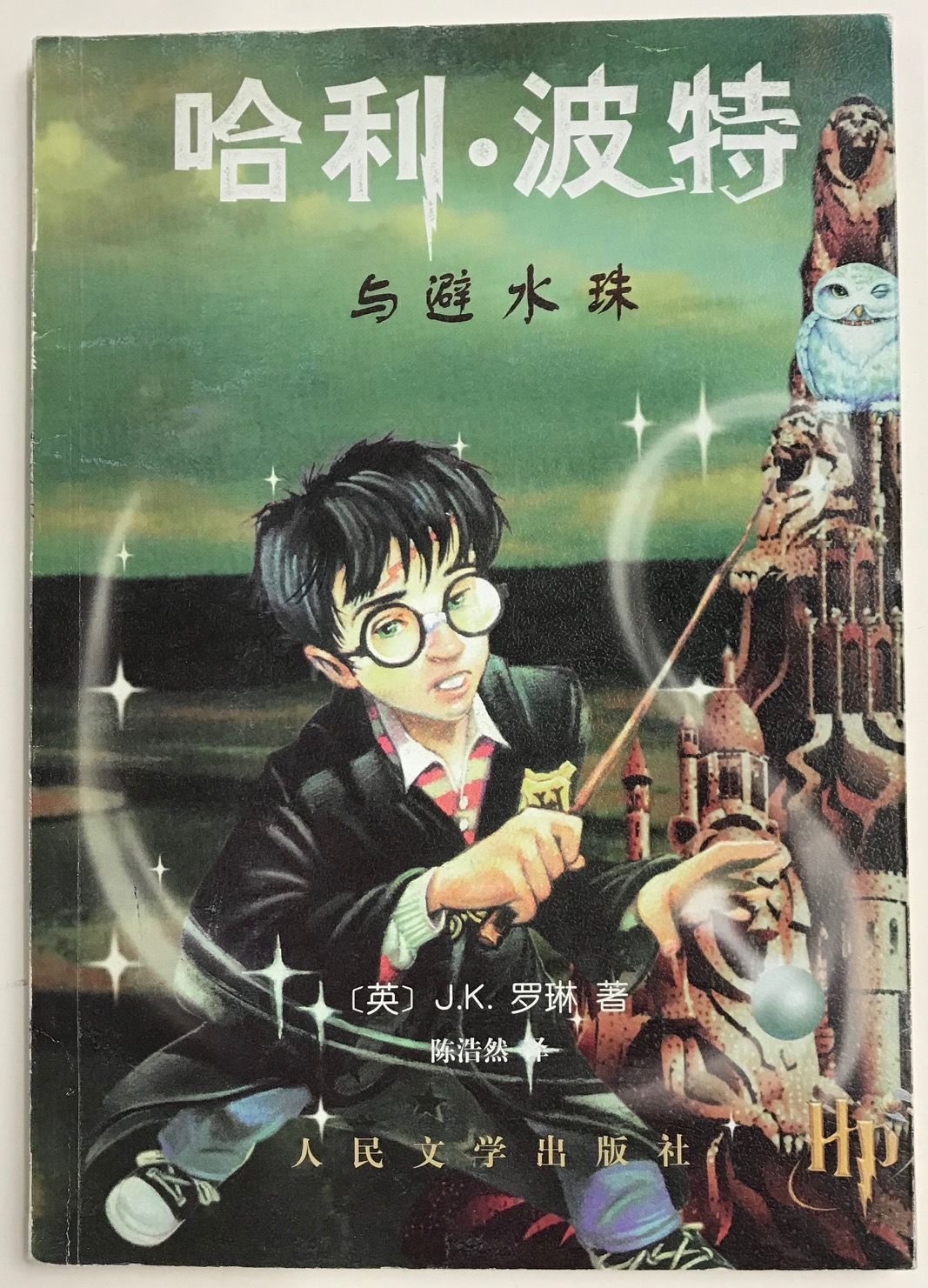 Beijing: Renmin wenxue chubanshe, 2000. 190p., paperback, cover art depicting Harry wielding a photoshopped pearl.
An entirely fraudulent Chinese entry in the Harry Potter series; not an unauthorized translation, but a whole new book ghostwritten with Rowling's name, with the English publication information for Harry Potter and the Chamber of Secrets and the ISBN for the Chinese translation of that title.
Offered by Bolerium Books.
Footnote: The Legend of Rah and the Muggles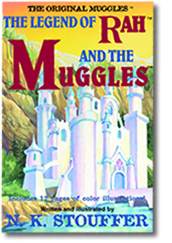 In 1999, the novelist N.K. Stouffer alledged that she has coined the term muggle in her 1984 book, The Legend of Rah and the Muggles. Furthermore, she had published some activity books about characters named Larry and Lily Potter. However, Rowling fought back against the allegations in court, and won handsomely when, according to wikipedia, the "court found in Rowling's favour, granting summary judgment and holding that 'no reasonable juror could find a likelihood of confusion as to the source of the two parties' works'. During the course of the trial, it was held that Rowling proved 'by clear and convincing evidence, that Stouffer has perpetrated a fraud on the Court through her submission of fraudulent documents as well as through her untruthful testimony', including changing pages years after the fact to retroactively insert the word "muggle". Her case was dismissed with prejudice and she was fined $50,000 for her 'pattern of intentional bad faith conduct' in relation to her employment of fraudulent submissions, along with being ordered to pay a portion of the plaintiffs' legal fees." Ouch!
Does The Legend of Rah and the Muggles merit a place in anyone's Harry Potter collection? Well, that's up to the individual. But, for what it's worth, I did once own a copy, but kept it only until I'd read it and realised just how bad it was.
Selected items from ABAA-members' inventory....
---
Harry Potter and the Chamber of Secrets (Deluxe Edition)
London: Bloomsbury, 1999. First Deluxe Edition, first prnt. Cover art by Thomas Taylor. Issued without dustjacket. All edges gilt, satin pagemarker. Printed by Clay's, Ltd. Unread copy in Fine condition.
Offered by Revere Books
Harry Potter and the Deathly Hallows (Signed, First Edition)
by J.K. Rowling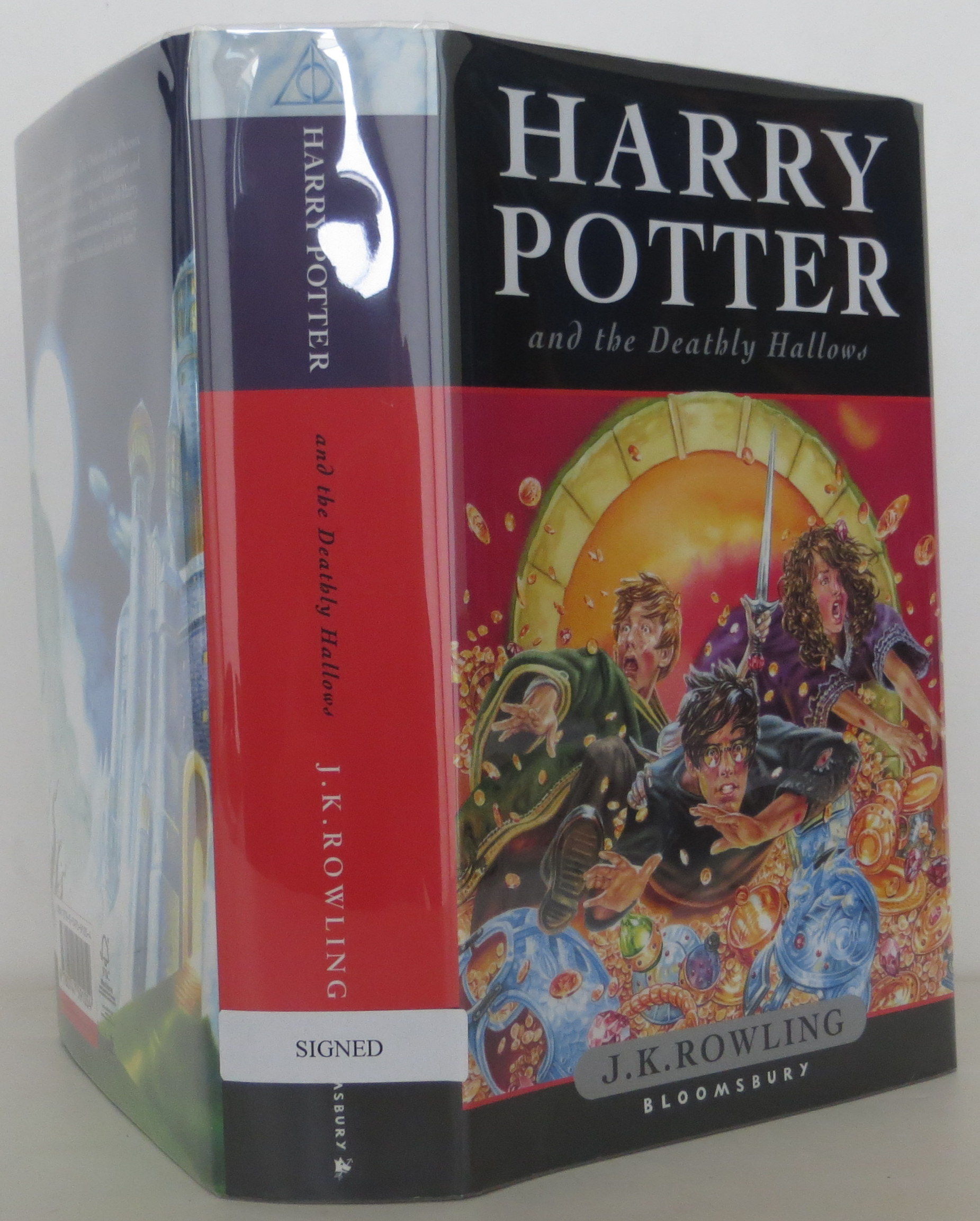 A fine first edition in a fine dust jacket, inscribed by J.K. Rowling to Jenny, with her authentication hologram on the title page. Housed in a custom-made collector's slipcase.
Offered by Bookbid Rare Books.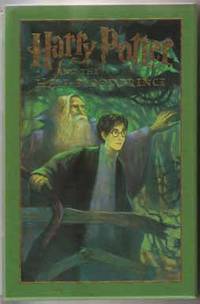 Harry Potter And The Half-Blood Prince - US Deluxe Edition
by ROWLING, J. K.
New York: Scholastic. As New in As New dust jacket. 2005. Deluxe Edition. Hardcover. 0439791324.
A fascinating US deluxe edition in Very Fine condition in alike slip-case, never taken out of its original shrink-wrap; The sixth book in J. K. Rowling's Harry Potter series. "The war against Voldemort is not going well, Dumbledore is absent from Hogwarts for long stretches of time, and the Order of the Phoenix has already suffered losses. Harry searches for the story of the boy who became Lord Voldemort..... " (from the dust-jacket). The Deluxe Edition features the exclusive Full-Color Artwork and Illustration Showcase.
Offered by Books Tell You Why, Inc.
Harry Potter Books 1 - 7: Special Edition Boxed Set
by ROWLING, J. K. BRIAN SELZNICK (COVER ART)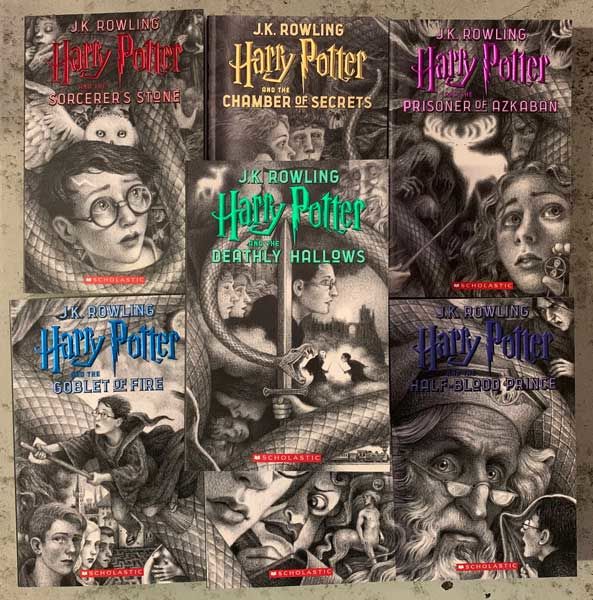 Arthur A. Levine Books, 2018. 20th Anniversary Edition: later printing. Paperback. New. Marie GrandPre. 309pp; 341pp; 435pp; 734pp; 870pp; 652pp; 759pp. Octavo [20cm]; illustrated wraps with slipcase. This collectible new boxed set contains the complete bestselling Harry Potter series, books 1-7 by J.K. Rowling, brilliantly redesigned by Caldecott Medalist Brian Selznick. A perfect gift to introduce a new reader to this beloved series, as well as a gorgeous addition to any fan's bookshelf. -- from publisher.
Offered by Ken Sanders Rare Books.
Note: all items listed on abaa.org are unique. If you click on a title and final an "item not found" message, the item has been sold.