Vladimir Nabokov's Lolita is one of the most-celebrated and most-notorious novels of the twentieth century. Its path to publication did not run smooth, and there are many different editions and translations worthy of the collector's attention.
1955: The Olympia Press Two-Volume First Edition
The multi-lingual Nabokov (he grew up speaking Russian, English and French at home) finished Lolita in 1953, but it was rejected by all the major American publishers for fear that its subject matter would prove too controversial. He turned to the Olympia Press in Paris, then notorious for essentially publishing pornography, for the first publication of his famous novel.
---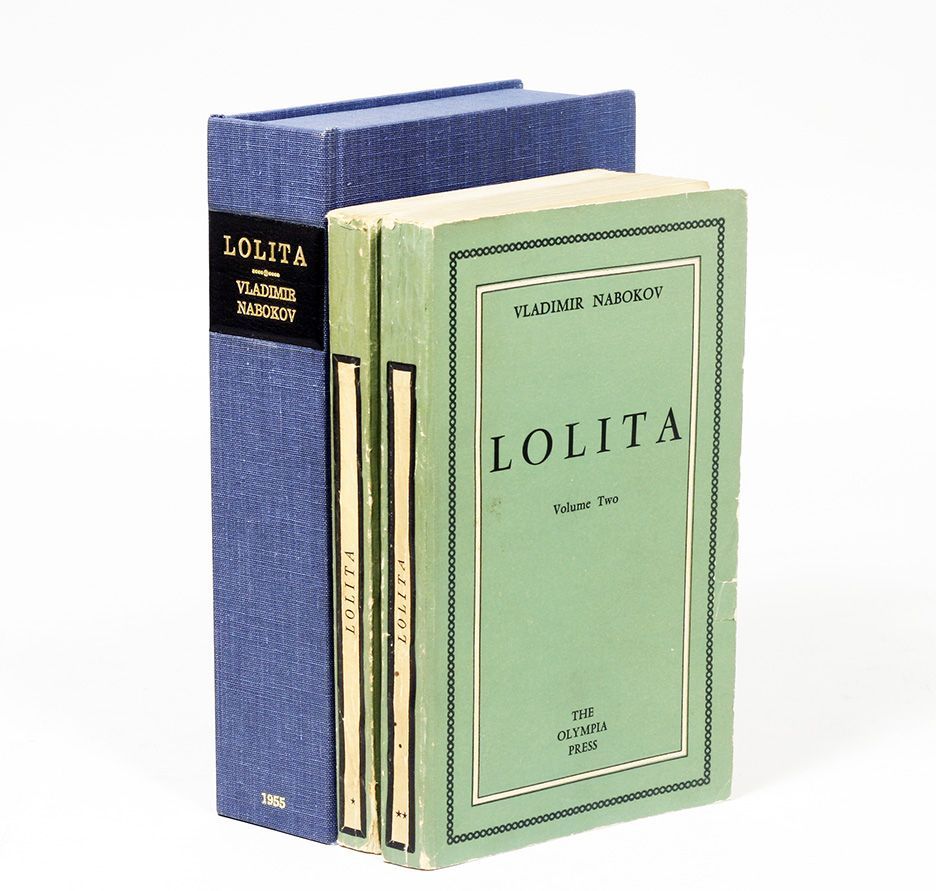 Paris: Olympia Press. Very Good. FIRST EDITION of one of the most important novels of the twentieth century. WITH IMPORTANT PROVENANCE: From the Bureau Littéraire Clairouin, Nabokov's literary agency who was instrumental in its publication. "Vladimir Nabokov is an artist of the first rank, a writer in the great tradition ... [and] Lolita is probably the best fiction to come out of this country (so to speak) since Faulkner's burst in the thirties. He may be the most important writer now going in this country. He is already, God help him, a classic" (Critic Conrad Brenner, in 1958). Controversial since its conception, Lolita was rejected by American publishing houses until finally accepted by the avant-garde Olympia Press in Paris and published in a fragile two-volume format. First issue, with 900 Francs on rear wrappers and no evidence of later price sticker. WITH IMPORTANT PROVENANCE: with stamp of the Bureau Littéraire Clairouin, Nabokov's literary agency, on front free endpaper of each volume. Nabokov on the Bureau Littéraire Clairouin and the publication of Lolita: "Lolita was finished at the beginning of 1954, in Ithaca, New York. My first attempts to have it published in the US proved disheartening and irritating. On August 6 of that year, from Taos, New Mexico, I wrote to Madame Ergaz, of the Bureau Littéraire Clairouin, Paris, about my troubles. She had arranged the publication in French of some of my Russian and English books; I now asked her to find somebody in Europe who would publish Lolita in the original English. She replied that she thought she could arrange it. A month later, however, upon my return to Ithaca (where I taught Russian Literature at Cornell) I wrote to her saying I had changed my mind. New hopes had arisen for publication in America. They petered out, and next spring I got in touch with Madame Ergaz again, writing her (Feb. 16) that Sylvia Beach 'might perhaps be interested if she still publishes.' This was not followed up. By April 17 Madame Ergaz had received my transcript. On April 26, 1955, a fatidic date, she said she had found a possible publisher. On May 13 she named that person. It was thus that Maurice Girodias, [founder of The Olympia Press], entered my files…" (Nabokov in Strong Opinions). Paris: Olympia Press, 1955. Octavo, original green paper wrappers; custom box. Two volumes. A little edgewear and a few spots of soiling, usual spine creases. An excellent copy with an important provenance of the rare first issue. (Offered by Manhattan Rare Book Company)
---
Lolita first appeared in Paris in 1955 in a two-volume edition of 5000 copies. Nabokov's joy was tempered by the shoddy attention to detail exhibited by the publisher, as the book was riddled with typos, and because of the publisher's notoriety the novel initially received almost no reviews, good, bad, or indifferent. Of more concern however, was the dual copyright assigned to the novel, in both Nabokov's and Olympia's names. This would involve Nabokov in years of legal wrangling before publishing the official French translation with Gallimard (oddly, translated into French by Eric Kahane, the brother of Olympia Press publisher Maurice Girodias.
A note on the first and second issues:
The true first printing of Lolita was published as a two book soft cover set by the Olympia Press, in 1955. The price on the rear wrappers says "Francs: 900."
The second issue (not state) had a sticker placed over the 900 F price raising the price to 1200 F. (Although, there is at least one copy online of a stamp, not a sticker increasing the price, also to 1200 F.)
The second "edition" of the book, also from Olympia, states second printing and the price on the back is now 2400 F. (Curiously, this tradition of raising the price of sought-after books has rather been lost in the mists of time. Today, a huge success will be discounted 50%.)
(For more info on the differences between first editions, issues, and states, see this detailed article...)
Graham Greene declared Lolita one of the best three novels of the year, belatedly launching a spate of high-profile reviews which either praised the book or condemned it. The furore caused the British authorities to reflexively ban the book and begin seizing all copies being brought into the country. Then, as now, official book banning was a powerful publicity tool, and this made the book notorious and it sold quickly.
The French also banned the book in 1956. Many of the original 5000 copes were exported to the US and UK.

Search for other copies of the 1955 first edition of Lolita from Olympia Press...
1958: Putnam Publish the First American Edition
Putnam eventually decided to take a risk and publish the novel in the US in 1958, where despite the American authorities not banning it Lolita swiftly became a best-seller. Nabokov was able to correct the typos that had plagued the Olympia edition. A British edition followed in 1959, although that was more-controversial, and the co-owner of the Nabokov's publisher, Wiedenfeld & Nicholson, Nigel Nicholson, lost his seat in Parliament over issue -- however the financial windfall kept his company secure for many years.
---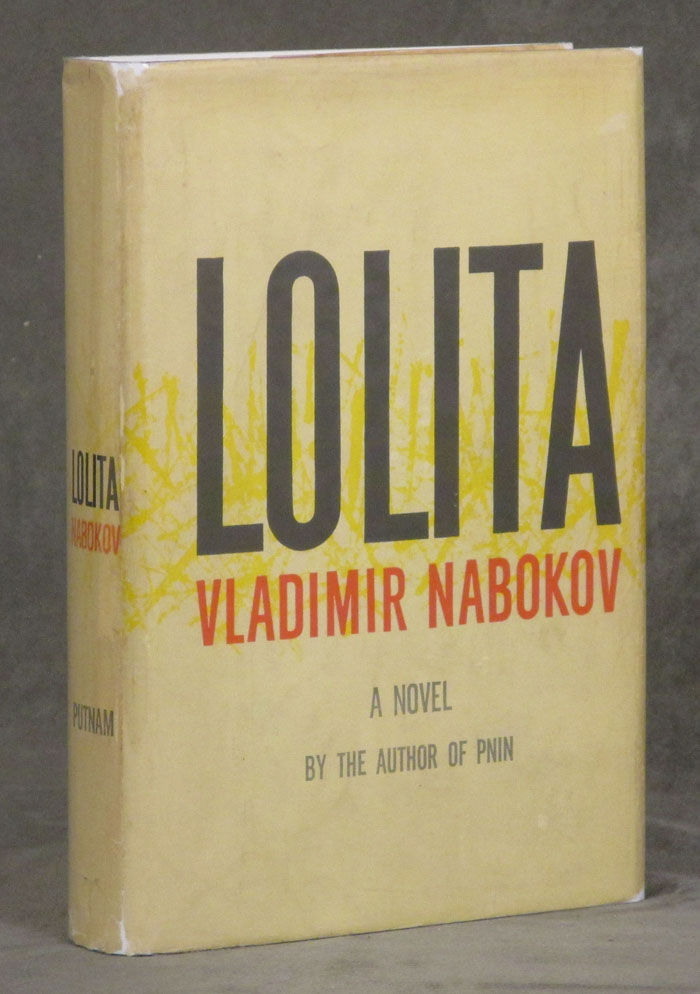 Lolita (First American Edition)

Search for copies of the 1958 First American Edition of Lolita...
---
Early translations appeared, and in Sweden swiftly disappeared, as Nabokov became aware that the Swedish translation omitted much of the novel and focused instead on passages of erotic tension, and moved to withdraw the translation. Nabokov himself translated the book into Russian, although this translation was published years later (1967) in New York by Phaedra Publishers. Nabokov's father had been an official in the Russian government-in-exile in 1919, so his son would not have been welcome back in the USSR.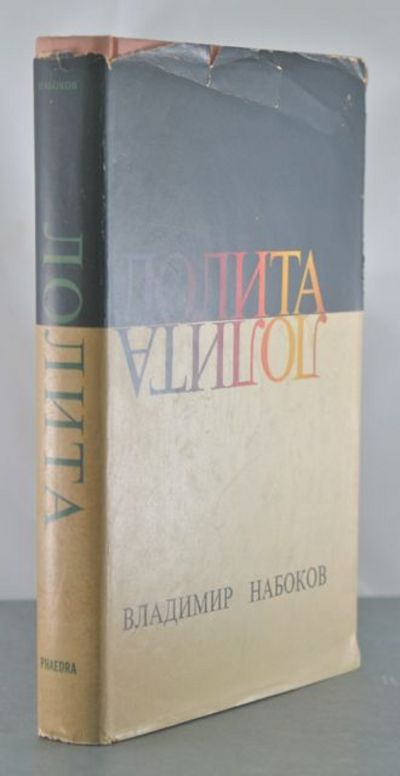 Phaedra. Hardcover. New York, August, 1967. The first edition in Russian of Nabokov's masterpiece. This copy is from the library of Marina Ledkovsky, Nabokov's niece. Nabokov translated the work himself. Putnam was not interested in publishing the work due to doubts about its commercial potential. A bright near fine copy with two interior pages slightly misbound by the publisher and sticking out of the top of the pages by a couple of millimeters. Jacket is very good minus with a triangular chip of about an inch to the top of the rear panel, tears with loss along four inches of the top edge (including the head of spine) and some closed tears and smallchips at seams. An attractive copy. Very Good. 1967. First Edition. (Offered by Auger Down Books)
All of these early editions are of interest to collectors, as much for the tangled story of Lolita's various publications, as for the novel's importance in literary history. Just last week, it was once again listed among the 100 best novels of all time.
---
Also of Interest: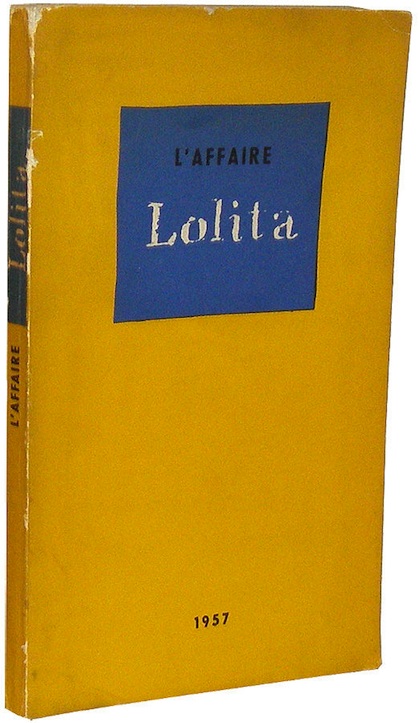 L'Affaire Lolita: Défense de l'Ecrevain
by Maurice Girodias
Paris: The Olympia Press, 1957. Limited edition of 5,000 numbered copies. Publisher's yellow paper wrappers, blue title panels to the front wrapper and spine, lettered in black and yellow. About near fine, with some light rubbing to the extremities, a hint of toning to the spine, minor soiling to the wrappers, else fine. A clean and pleasing example of a scarce title.
L'Affaire Lolita is a pamphlet regarding the publication and censorship of Vladimir Nabokov's 1955 novel Lolita, which tells the story of Humbert Humbert, a professor of literature with a penchant for pre-teen "nymphets." Despite the fact that it was originally published in Paris by the Olympia Press, Lolita was banned in France in 1955; at the behest of the British government, who had also banned the novel, the French authorities seized twenty-five of the Olympia Press' works, including Lolita. Shortly thereafter, Maurice Girodias, founder of the press, dubbed the controversy "l'affaire Lolita" in reference to the 1890s Dreyfus Affair and what the French press had dubbed "l'affaire Miller" when Tropic of Cancer was banned several years prior. Girodias published this pamphlet in order to garner support for his protest of the ban - a lawsuit which he ultimately won. Specifically, this volume includes Girodias' article "L'affaire Lolita," an essay by Nabokov, selections from Lolita, and selected other essays, all of which are printed in French.. 1st Edition. Soft Cover. Near Fine. (Offered by B&B Rare Books, Ltd.)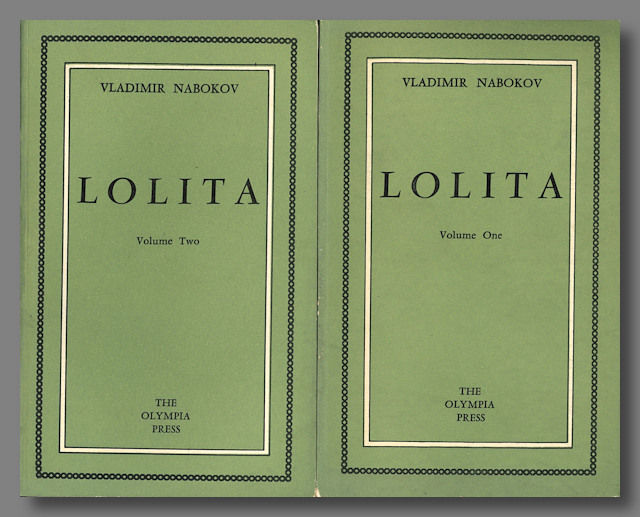 Paris: The Olympia Press, 1955. Two volumes. Wrappers, printed in green and black. A 4cm tear in the rear wrapper of volume one has been carefully and professionally repaired, a very faint shadow of the fastidious removal of the price increase sticker appears in the lower corner of each rear wrapper, minor wear at the toe of the spine of volume one, otherwise an excellent set. Enclosed in a cloth clamshell box. First edition. One of approximately 5000 sets printed. The sourcework for Stanley Kubrick and James B. Harris's 1962 adaptation to the screen, and the 1997 remake directed by Adrian Lyne based on a screenplay by Stephen Schiff. As in all copies, pp. 11 and 12 in the first volume were omitted from the pagination. (Offered by William Reese Company)
---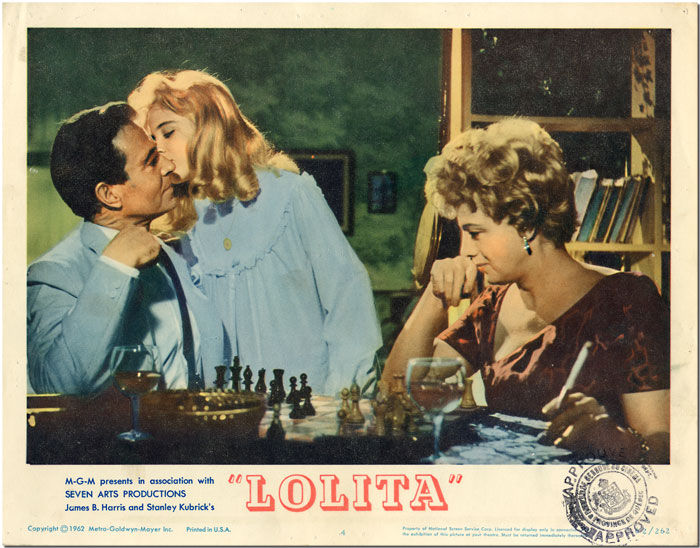 Original Studio Color Loby Card for Lolita
Culver City, Metro-Goldwyn-Mayer/7 Arts, 1962. Original 11 x 14" color lobby card (#4 from the set). Large P. de Quebec censor's stamp in lower right corner, soft crease at one tip, tack holes in corners, otherwise very good. A highly characteristic scene from Stanley Kubrick and James B. Harris's adaptation to the screen of Nabokov's novel. In this particular image, Sue Lyon kisses James Mason goodnight, interrupting the chess game he is engaged in with Shelley Winters. (Offered by William Reese Company - Literature)

Search for more memorabilia from Stanley Kubrick's film adaptation of Nabokov's Lolita...
---
by Vladimir Nabokov
Mcgraw-Hill, 1974. First Edition. Hardcover. Very Good/Very Good. New York: McGraw-Hill, 1974. First edition. Hardcover. 213 pp. Very good, in very good unclipped jacket. Spine slightly skeweed. Jacket a bit toned and curled at edges, one small closed tear at head of spine. (Offered by Stick Figure Books)

Browse for other copies of Lolita: A Screenplay...
---
Collectors interested in associated works and Nabokov's larger life may also be interested in the group of young writers at Cornell University who looked to Nabokov for inspiration during this time, a group which included future luminaries like Thomas Pynchon, Joanna Russ and Richard Farina. If not for Lolita and Nabokov's playful personality, their own fiction might have been very different.
---