ABAA members will be exhibiting at the upcoming Brooklyn Book Fair in Greenpoint, September 8-10, 2017. Although not sponsored by the ABAA, this is a fast-growing book fair which attracts an eclectic range of active collectors.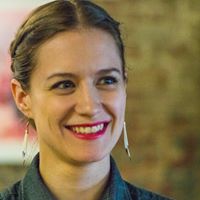 This year, ABAA associate member Rebecca Romney (you might know her from the History Channel's "Pawn Stars") will give a talk on "The ABC's of Starting a Rare Book Collection," and will sign copies of her newly published book, Printer's Error: Irreverent Stories from Book History.
Some of the highlights ABAA members are bringing** to the fair include:
One of the Largest Private Collections of Vintage Luggage Labels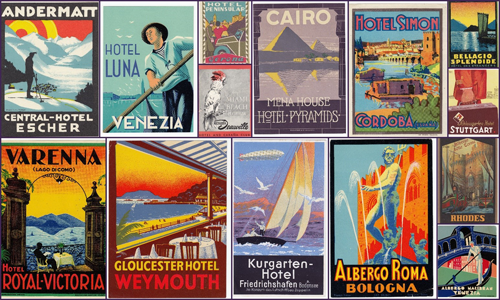 Sheryl Jaeger (Eclectibles) will be showcasing labels from the private collection of Jane Goodrich, world traveler and co-founder of Spectrum Publishing. This collection of 3,550 labels, dating from the 1920s to World War II, includes colorful labels from such wonderful old hotels as the Luna House in Venice, the Grand Continental Hotel in Cairo, the Mayfair Hotel in London, and many, many more.
---
"The Black Album" — Powerful and evocative postcard images of Nazi war crimes
"The Black Album" is a very rare booklet, published in Tel Aviv by the Anti-Nazi League of Palestine in April, 1940, six months after the Nazi invasion of Poland. Its goal was to make public the already great extent of Nazi crimes in Europe -- particularly in Poland, only a few months after the country's brutal and total conquest. Taken by anonymous individuals, both military and civilian witnesses, the booklet's ten perforated photographic postcards were intended to be sent individually by citizens to friends, acquaintances, newspapers, church organizations, and others all over the world, alerting them to what was happening to Poland's Jewish population .
It is not known exactly how many of these booklets were published or how many exist today. Printed on the inside of the cover is an introduction, added by non-sectarian Anti-Nazi League members, that includes the phrase "Hitlerism means the return to savagery of the Middle Ages." Each of the postcards details a specific Nazi abuse -- harsh labor, death from hunger or cold, forced cleaning of streets and sidewalks by Jewish victims, hangings –and carries a title such as "Death in Hitler's Steps, "Nazi Hangman at Work." The introduction and descriptions are in Hebrew, English, and French.
Offered by Kurt Sanftleben of Read 'Em Again Books.
---
DE GAIS'DO A'GO NAH (trans: printed in) 1842 at the Buffalo-Creek Mission Press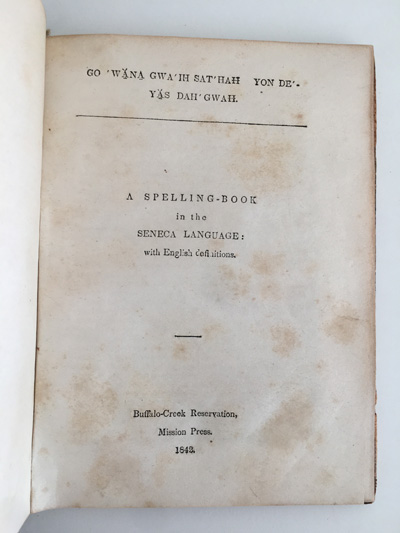 [ASHER WRIGHT] Go 'Wana Gwa'ih Sat'hah Yon De' Yas Dah'gwah. A Spelling-Book in the Seneca Language; with English Definitions. Buffalo-Creek Reservation Mission Press, 1842. Tall 12 mo. 17 x 12.5
cm. 112 pp. Early marbled boards and calf, binding rubbed with loss to spine; internally, some general foxing or offsetting or toning, p. 51 with l.r. corner stain not affecting text, minor marginal tear to t.p.. First Edition of the First Book Printed on the Seneca Mission text and a great rarity of Buffalo imprints. The title page states it is a spelling work but it is in actuality a grammar and dictionary of the Seneca language. An interesting note from the author at the end of the introduction stresses the the reasons for the typographical simplicity and irregularities of the production giving many details about the affordability of type "for our little establishment". The
paper is of poor quality and the acidic ink occasionally bites into the paper, which in addition to the small print run, probably accounts for the reasons few copies have survived. Rev. Asher Wright, the
author, states in the preface that he "sought for the pure Seneca in contradistinction from the Idioms of Mohawk, Cayuga, Onondaga, etc., and for Seneca as spoken by the old men, whose habits were formed
previous to the introduction of English ideas, and modifications of ideas, among the people. It is not pretended that there is no room for future improvement." References: Ayer Indian Linguistics Seneca 32. (Offered by Adam Weinberger Rare Books)
---
Walt Whitman, November Boughs (Presenataion Copy!)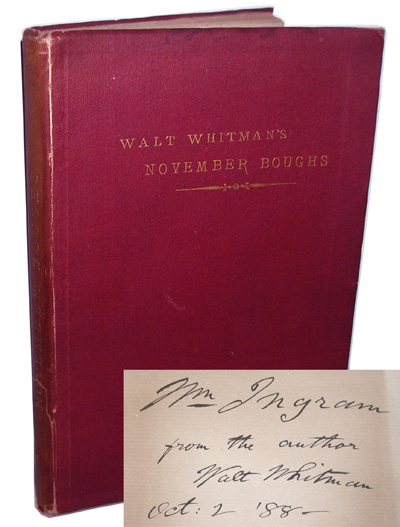 Philadelphia: David MacKay, 1888.
First edition, first issue. Presentation copy, inscribed by Whitman on the front free endpaper to his close friend, William Ingram: "Wm Ingram / from the author / Walt Whitman / Oct: 2 '88--". Publisher's flexible dark red cloth boards, lettered in gilt. One of approximately 100 special copies printed for Whitman for presentation (binding A). Spine ends lightly worn, tear to lower with a minor repair, a few small spots, light offsetting to pastedowns and endpaper, else very good or better. BAL 21430. Having published Specimen Days 6 years prior, Walt Whitman published November Boughs in 1888. A collection of new poems plus articles he had previously published, it contains insightful self-critique of his own work and what he believed would be his literary legacy. Notably, Whitman cites his magnum opus Leaves of Grass, acknowledging the public's lack of understanding of it, their outrage at its subject matter, and its failure to become a best-seller. The articles also reflect his views on society, namely his support of the working class and Native Americans, and lessons learned from his harrowing yet rewarding encounters working as a nurse during the American Civil War. Published when he himself was turning 70 years old, the poems in November Boughs are grouped under the heading "Sands at Seventy." They reflect his acknowledgment of his old age, but also his hope to continue writing until the very end, whenever that would be. (Offered by B&B Rare Books)
---
Medicine Show (1977 Signed/Limited Serigraph), Joe Brainard
1977. A crisp, near-pristine copy of this 1977 Joe Brainard serigraph titled "Medicine Show", SIGNED AND DATED BY JOE BRAINARD in a light pencil at the lower right corner. Measuring 27"x19 3/4", #70 of 100 copies issued. Framed in a recent dark wood with clear archival glass. A very attractive presentation. Near Fine.
Offered by Appledore Rare Books.
---
Catcher in the Rye -- Signed, First Edition (We kid you not!)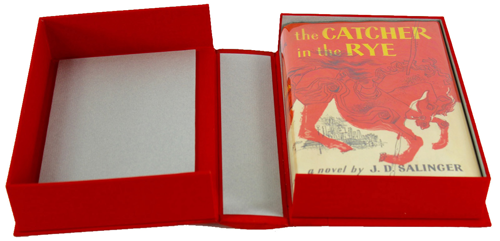 Signed Book "J. D. Salinger", The Catcher in the Rye first edition, Boston: Little, Brown 1951, Octavo, original black cloth, original dust jacket, in red custom clamshell box. First edition, later printing of Salinger's seminal classic, inscribed by the famously reclusive author "To Pearl Bsharah, with best wishes from J. D. Salinger, The New Yorker, April 13, 1959." Signed or inscribed copies of this classic are exceedingly rare - only a handful are known. This copy is 14th printing, in later-issue dust jacket. Interior fine; slight chipping to spine ends.
Offered by University Archives.
The Brooklyn Antiquarian Book Fair takes place at the Brooklyn Expo Center in Greenpoint, September 8-10, 2017. You'll find at least 49 ABAA member dealers among the exhibitors!
** All items subject to prior sale!