We're debuting a new recurring feature this week, in which I detail the top items that caught my eye as I perused new listings on the website and new catalogs announced by members. This is no more than a reflection of my idiosyncrasies, interests, and unfailing ability to be distracted by colorful photos and vintage adverts, but hopefully they will highlight the range of amazing books and other items you will find when you examine our members' listings carefully.
Let's lead off with something I think is utterly spectacular: an original copy of Alexander Hamilton's infamous "Reynolds Pamphlet" (featured in the latest catalog from Nick Aretakis).
From the catalog copy: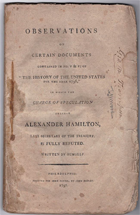 The Infamous "Reynolds Pamphlet," in Which Alexander Hamilton Admitted to Adultery in Order to Preserve His Public Virtue
Hamilton, Alexander: OBSERVATIONS ON CERTAIN DOCUMENTS CONTAINED IN NO. V & VI OF "THE HISTORY OF THE UNITED STATES FOR THE YEAR 1796," IN WHICH THE CHARGE OF SPECULATION AGAINST ALEXANDER HAMILTON, LATE SECRETARY OF THE TREASURY, IS FULLY REFUTED. Philadelphia: Printed for John Fenno, by John Bioren, 1797. 37,[1],lviii pp.
Gathered signatures, string-tied as issued. Early ink ownership signature on titlepage. A few small closed tears in the foredge of the titlepage, old stains along the gutter. Light, even tanning, occasional foxing. Two and a half-inch closed tear in the first text leaf, intruding into the text but with no loss. Final four leaves with an old stain. A good copy, in original, unsophisticated condition. Untrimmed. In a cloth chemise and half morocco and cloth slipcase, spine gilt. The first edition of the infamous "Reynolds pamphlet," in which Alexander Hamilton describes his affair with Maria Reynolds and admits to paying off a blackmailer. In the pamphlet Hamilton took the extraordinary step of admitting to adultery in order to clear his name of financial scandal. Hamilton's decision to admit to a private indiscretion in order to preserve his public honor and his reputation as a selfless public servant was a traumatic event in his life. While successful in its purpose, it destroyed any hope of a political career on the national stage, and provided salacious ammunition for his enemies.
Awesome! Wow!, as King George might say.
Interested? Read the whole description in Nick Aretakis' newly released July 2017 New Acquisitions catalog (item #12), then contact the member directly. (This item is not listed on abaa.org.)
---
It's back-to-school season, and all over the country high-schoolers are frantically trying to finish their summer reading. I walked into my favorite coffee shop today and spotted one of my daughter's friends deep in Richard Wright's classic Native Son -- granted, not a signed, first edition, like this beautiful copy offered by Raptis Rare Books, but surely it's a good thing that new readers are still being introduced to classic literature?
Native Son (Signed, First Edition)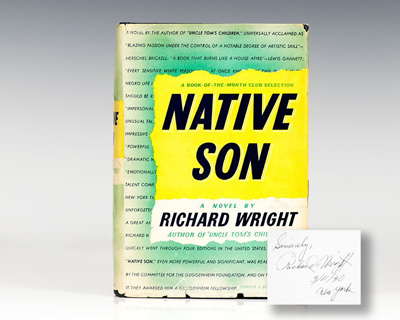 New York: Harper & Brothers, 1940. First edition, first issue binding with "A - P" on the copyright page. First issue green and yellow jacket, with price of $2.50 present and no blurbs on the spine. Octavo, original blue cloth, titles to upper board and spine in red and gray. Fine in a near fine first issue dust jacket with a few small closed tears. Signed and dated by Richard Wright in the year of publication on the front free endpaper. Housed in a custom half morocco clamshell box. Uncommon in this condition and signed. Richard Wright's ground-breaking novel Native Son tells the story of 20-year-old Bigger Thomas, an African American living in utter poverty in Chicago's South Side ghetto in the 1930s. "The day Native Son appeared, American culture was changed forever. It made impossible a repetition of the old lies [and] brought out into the open, as no one ever had before, the hatred, fear and violence that have crippled and may yet destroy our culture" (Irving Howe).
Interested? Learn more... (This item is listed on the ABAA website!)
---
Ken Sanders Rare Books' latest catalog is a fascinating collection of "Medical Motley" and contains this eye-catching "treatise on men's sexual health," which suggests that in 1900 "real men" were all living an exceedingly promiscuous lifestyle and likely to be suffering from one or more venereal diseases! The fact that this pamphlet is named "in honor" of a famous British surgeon of the time is a wonderful example of marketing's dark arts. The catalog also contains numerous such pamphlets for female health, and the differences in presentation and style are striking!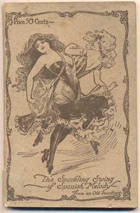 Dr. Joseph Lister & Co. Be a Man
From the catalog description:
Chicago, IL: Dr. Joseph Lister & Co., circa 1900. 72pp. Sextodecimo [16.5 cm] in stapled wraps. 2" tear to front wrap at foot, 1.5" tear to rear wrap at foot, foxing and light wear to wraps; interior is unmarked. B&W illustrations.
This treatise on men's sexual health is an advertisement for the mail-order services of Dr. Joseph Lister & Co., "specialists in the treatment of all diseases peculiar to man, including syphilis, blood poison, and skin diseases" (not affiliated with the famous British surgeon, but named "in honor" of him). Sections on gonorrhea, syphilis, "self-abuse," piles, etc. are interspersed with testimonials ("Saved from Suicide or Murder," "Restored to Perfect Manhood," "As Fat as He Ever Was," etc.). Last seven pages are a health questionnaire to be completed and mailed in. Discreet front cover is illustrated with pretty Spanish dancers, no title.
Interested? Check out Ken Sanders' Rare Books' Medical Motley catalog (page 7). (This item is not listed on abaa.org).
---
A 1753 Account of a Solar Eclipse
Spotted on Rootenberg Books' Instagram account: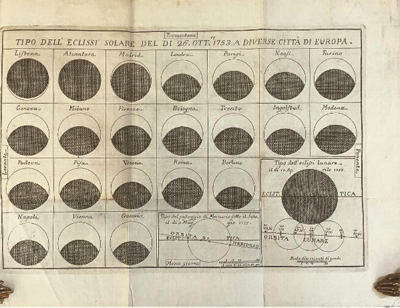 A total solar eclipse is coming to North America this week, the first in decades. In celebration, we can look to the description of a rare hybrid solar eclipse that was tracked across Europe in 1753 by the Jesuit astronomer Leonardo Ximenes in his work "Notizia de' tempi de' principali fenomeni del cielo".

Florence: Viviani, 1752. 8vo. 104 pp. A large folding plate depicting a solar eclipse, woodcut initials, head- and tailpieces. Contemporary paste-boards.An excellent copy. First edition of Ximenes' astronomical observations according to Cassini's tables to determine the solar ecliptic longitude. This was Ximenes' first published work. His observations were recorded in Florence during the years 1752-1753 and described the solar eclipse of October 26, 1753 in twenty-two different European towns.
Offered by B&L Rootenberg Rare Books. (This item is not listed on abaa.org.)
---
Rabelais Rare Books' "Fresh Arrivals" newsletter highlights an early vending machine from the late 1920s. I'm a sucker for vintage ads and excitement about technology and the belief in a better future that they reflect. The "VendOmeter" must have seemed as cutting edge in its day as $500 juicers do to certain people these days.
From the Catalog:
a cold orange drink from an early coin-op machine
The Vendometer Corporation. The Story of VendOmeter: The Self-Serve, Electric-Refrigerated, Orange Drink Vending Machine [and] VendOmeter News. Vol. 2. January-February 1928. Nos. 1-2. New York: The Vendometer Corporation, 1927-1928. (16 x 9 cm.), tri-fold and (28 x 21 cm.), 8 pages.
Small promotional brochure and issue of the VendOmeter News periodical. Founded in 1927, the Vendometer Corporation produced a refrigerated drink vending machine that served Oranade, "a pure fruit orange drink." Brochure describes the convenience and sanitary functionality of the vending machine and includes a raffle ticket to win a refrigerator at the 1927 Trenton Fair. The magazine includes photographs and the history of the company, specifically the development of four models of their coin-operated machine. In the 1920s electric refrigeration techniques were in an early stage of development, as chlorofluorocarbon refrigerants were first synthesized then but not publicly announced until 1930. Some minor rubbing to magazine wrappers, otherwise very good.
[OCLC locates no copies, but an archive of related material to the Vendometer Corporation can be found at the New York State Library].
Interested? Check out Rabelais Books' Fresh Arrivals newsletter #54… (This item is not listed on abaa.org).
---
There are two places collectors need to keep an eye on to review the latest offerings from ABAA members as they happen.
New Arrivals -- Where the most-recent books listed on abaa.org appear.
New Catalogs -- The latest books cataloged by members (these items are not usually listed on abaa.org).
Bookmark those links and check them out regularly to see the latest items offered by our members. Good luck!
More highlights next weeek...