Over eight years ago, Vagabond Books, located in Pasadena, CA, got a call from a woman named Ellen. She explained that she was the Propmaster for a new show, Mad Men, on AMC and asked if we could find contemporary books for them.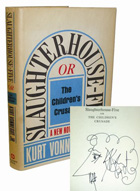 For the past seven seasons, we have provided hundreds of vintage hardcover and softcover books for the show including: The Godfather, Slaughterhouse Five, Wall Street Jungle, Valley of the Dolls, Portnoy's Complaint, six Jewish Prayer books from 1969 for a funeral, Sally's school books, children's books, and Betty's Freud paperback for college.
The producers required that all the books be historically correct, tied specifically to the year portrayed in the show, and in like-new condition. Every year we sold them many boxes of books published in the year they were filming.
This arrangement led us on many fun and interesting adventures to locate books for them. For example, the opening shot for season six shows Don Draper reading a paperback copy of Dante's Inferno sitting on the beach in Hawaii. The first few immortal lines of this classic were read to the viewers in a voice-over that established the motif for the entire season. Unable to locate the exact copy required for this scene through the usual channels, we finally located the as-new 1969 paperback in a library bookstore in Atascadero, CA, only a couple of days before shooting began.
Naturally the books we provided had to look new. Except for Nursery Friends from France. It was Betty's when she was growing up.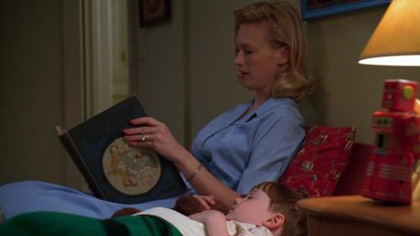 The one collectible copy of an easily recognizable hardcover book that we provided was Thomas Pynchon's The Crying of Lot 49 in a fine dustjacket, naturally. Pete is reading it on the train.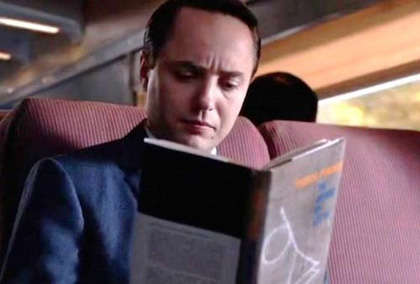 Notice the first issue dustjacket.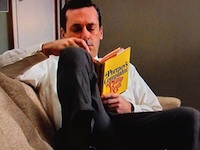 The books published in 1969 in hardcover were easy to find since many of them now are collectible: The Godfather by Mario Puzo, Slaughterhouse Five by Kurt Vonnegut, and Portnoy's Complaint by Philip Roth.
Surprisingly, the hard part was finding once-popular culture books, especially the paperback titles that were made to be read and discarded such as A Guide to New York City from 1970. We found that one on eBay for the crazy price of $50 but the producers wanted it. Don gave it to Diana this season. We also found out in our research that yearly guides to NYC were not published until late in the seventies.
The paperback "beach reads" are now 50 years old and more difficult to find that the first editions.
We had a hard time finding as-new 1970 paperbacks like The Godfather and Such Good Friends. We used this as an excuse to drive up the coast of California and scout books for them. Again the gods smiled on us and we found two boxes of books for the show and three boxes of books for our business.
Each season the production company would send us a list of needs and we would fill in the rest.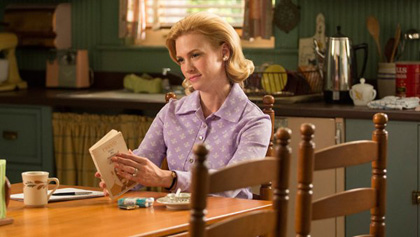 A needed book was one that they featured in a particular scene not just on a shelf in the background, i.e., a 1970 paperback by Freud. They emailed the photo of the particular edition that they wanted and they wanted five as new copies. We had to buy over a dozen copies online just to find the five perfect ones.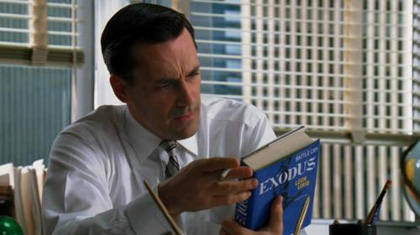 Don is actually reading a mint first edition of Exodus.
We appreciate the importance that books played in this show, which regularly reminded the large audience of viewers to read books. The New York City Library has a blog on their website "The Mad Men Reading List," which collects the featured books: www.nypl.org/blog/2010/09/13/mad-men-reading-list and if you want more information on books on Mad Men go to www.vagabondbooks.com...

We are sad to see this great show end. We will miss the thrill of seeing our old books on new episodes, but happily we'll still be able to see them on re-runs for years to come.
Who knows, maybe someday soon people will be collecting "The Books Seen on Mad Men"?