Editor's Note: Barbara Rootenberg was honored by the ABAA's Women's Initiative during a reception in Pasadena this February. What follows is a speech given by her granddaughter, third-generation bookseller Madison Rootenberg Schwartz.
I grew up knowing my grandparents' house was different. While most kids were going over to their grandmas to eat cookies and watch cartoons (not to stereotype, but you get the idea), my grandma was teaching me how to hold 16th-century books and understand which medical device cured a headache in the 18th century. The full suit of armor in the entryway never intimidated me, as well as the monkey skulls lining her desk. That, is my grandparent's house.
My grandma is a powerhouse. She is the one who taught me not to be shy, and to always speak my truths, loud and clear. She taught me to always stand up for what I believe in, and ask for what I want.
Her seminal work with the ABAA can be seen from the onset - knowing she was stepping into delicate territory dealing in science and medicine before women were deemed "knowledgeable enough" to do so. Not only was she one of very few women book dealers 50 years ago (few enough to count on one hand) she was paving a path for women in books to succeed.
She was the first to put out a list of stolen books through the ABAA newsletter (pre computers and email, she likes to remind me). She became president of the chapter in 1984 and chairperson to the LA book fairs at the Ambassador Hotel. In 1982, the ABAA was faced with an ordinance stating that all booksellers at the book fair would have to have proof of authenticity for each individual item, and be fingerprinted, in order to "control the transfer of stolen materials", placing the ABAA in the same category as swap meets, flea markets, and junk shops. My grandmother presented her case in front of the City Council, fortunately winning, and continuing to maintain the high standards of the ABAA. My grandmother had the Mayor issue a proclamation declaring Rare Book Week in Los Angeles. And finally, my grandmother modernized the fairs with Sunday Discovery Day. This is just a shortlist of accomplishments, among many, to show my grandmother's dedication and passion.
I came of age in a world where gender equality was an issue and unfortunately continues to be. When my grandma started her business 50 years ago, she and a few other women blazed a trail through what was considered a male-dominated industry. It is because women like my grandma had the audacity to not just ask, but to demand the ability to participate. I'm sure it wasn't easy, but I also have a feeling she was doing it not for the point of moving toward gender equality (although that was a significant plus!) but because of her love of books and the book business.
People regularly ask me if I knew I always wanted to do this. The answer goes beyond that, because I always knew I was supposed to do this. It is an honor, and a privilege, to be the third generation bookseller for Rootenberg Rare Books. She is the strongest, most badass woman I know, please welcome my grandmother, Barbara Rootenberg…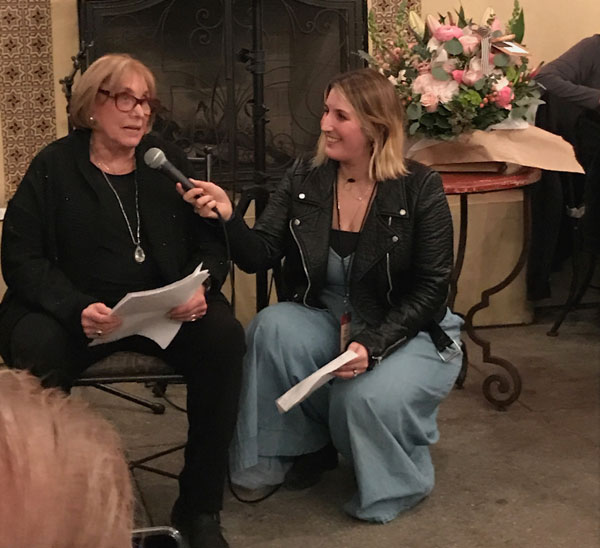 Barbara Rootenberg & Madison Rootenberg Schwartz