"Grab Every Book That Grabs Back":
Notes from the 2017 Honey & Wax Book Collecting Prize
This summer at Honey & Wax, we asked young women across the United States to tell us what books they were collecting. Their answers kept us talking well into September. We were so impressed with the submissions to our first book collecting prize that we granted awards to six women collectors under the age of thirty this fall: one $1000 prize winner and five honorable mentions of $200, all recently profiled in The Paris Review.
When we announced our inaugural contest, we fielded questions from two groups: women older than thirty and men, both wondering why they were not eligible. While we wholeheartedly encourage collecting by everyone, all the time, we targeted this particular contest with intention. These were our thoughts.
We capped the age of contestants at thirty because our goal was to encourage young collectors. No young collector, no matter how creative and motivated, is likely to assemble a collection that compares to one built over three or four decades. We could guess the age of our contestants with considerable accuracy from their essays alone: not from the quality of the writing, but from the depth and focus of the collections, which invariably improve over time. Even five years is a great advantage. It came as no surprise that five of our final six contestants were 27 or older, at the high end of the range.
We limited the prize to women because we've observed that the women who regularly buy books from us are less likely to call themselves "collectors" than the men, even when those women have spent years passionately collecting books. The popular image of the book collector in the United States is still, even now, monotonously male. (Run a Google image search for "book collector," and scroll.) We want to see more women openly identifying as book collectors, and this prize provides a direct financial incentive for them to do that, as well as a way to celebrate the collections they're building. "I already feel more like a real collector just by applying for this prize," one contestant wrote, and that transformation is one we want to encourage widely among young women with the potential to build original collections.
Our 48 contestants hailed from 21 states and the District of Columbia, and ranged in age from 15 to 30. They were librarians and scientists, stage directors and graphic designers, high school students and college professors. While our first year's submissions don't constitute a statistically representative sample, there were a few common themes – and a few surprises – that rare book dealers and collectors may find interesting.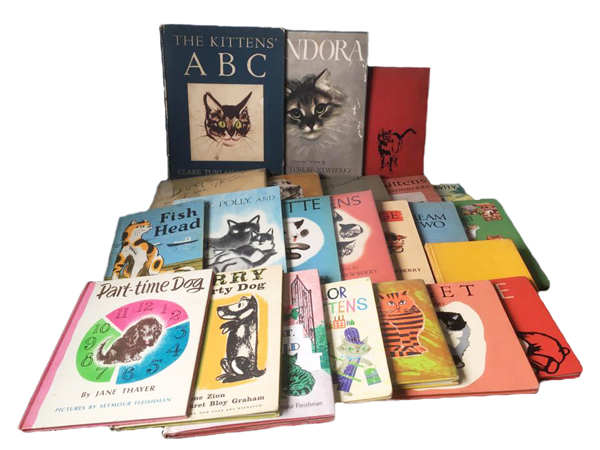 Collection of children's books with illustrated cats and dogs from Erika Hapke, 29, Massachusetts.
Filling a Gap:
Our contestants approached their collections from many angles. Some were organized by author (Louisa May Alcott, Antoine de Saint-Exupéry, Neil Gaiman), others by genre (dictionaries and lexicons, true crime, cyberpunk). Many focused on elements of book design, from fin-de-siècle pictorial bindings to vintage Penguins to the dust jackets of Chip Kidd. Others were looking to recreate a particular historical moment, often tied intimately to place: the bucolic English countryside, the Bedzin ghetto in Nazi-occupied Poland, Los Angeles in the age of Manson. We were particularly struck by a pervasive concern with climate change and environmental disruption, which emerged in a variety of forms, from ecological classics (Walden, A Sand County Almanac, Silent Spring) to postwar USDA agriculture yearbooks promoting DDT to contemporary biopunk novels.
Many contestants were moved to start collecting because they felt something missing from the history they were reading in school or on the job. Astrophysicist Margaret Landis, 27, of Tucson, AZ, saw a gap and built a shelf to fill it: "reading narratives of women in the history of physics opened my understanding . . . . Somewhere along the way women, especially women of color, had gotten left (or taken) out, but I was finding books and ways of putting them back in." Graphic designer Annie Szafranski, 27, of San Diego, CA, directly connected her search for out-of-print books on visual communication to her anxiety over "histories disappearing, like links from a government website." Micaela Beigel, 22, of Brooklyn, NY, put the mandate most succinctly: "to fight the erasure."
Collection of geisha programs, 1970-2000, from honorable mention Caitlin Downey, 22, Wisconsin.
Collecting as Self-Discovery:
Many of these young women started collecting books as a way to to explore aspects of their own identities: as a feminist, a music fan, a woman of color, an activist, an international adoptee, a person with autism, a lesbian, a neuroscientist, an environmentalist, a first-generation American, and more. They describe the work of collecting as a process of self-discovery and empowerment, and their bookshelves as monuments to that process. Emily Rankin, 28, of Austin, TX, wrote that her collection on queer performance and theatricality "represents not only my life's work to date, but my growing awareness of who I myself am."
A number of contestants noted that the work of arranging, organizing, and documenting their books provided opportunities for self-discovery as well. Some of the most rewarding moments, for us, were the flashes of insight in certain essays, when a writer suddenly glimpsed the direction her collecting might take. As Allison Manley, 28, of Chicago, IL, notes, it's the difference between "grab-every-book-I-see" and "grab-every-book-that-grabs-back."
We were surprised to find such a positive preference for brick and mortar bookshops: some contestants went so far as to consider online searches unsporting, although most regularly pursue books both in person and on the Internet. Madeleine Foote, 25, of Washington, DC, sets strict rules for her collecting, in line with Penguin publisher Allen Lane's dictate that no paperback should cost more than a pack of cigarettes: "I only purchase books in person and, since cigarettes are not my vice, I've picked the price of a cup of coffee as my cut off for what I will pay for a single volume." Immersion in the moment, openness to surprise, and the pleasure of scouting remain central to the collecting experience, and several contestants included notes on where they found each of their books. Joanna Buffum, 29, of Jay, ME, recalled the moment she found Wynifred Staples Smith's Pines and Pioneers: "I have very vivid memories of this purchase: it was the only book for sale in the shop, displayed alongside hiking and snowmobiling trail maps in the old log cabin store, heated with a wood burning stove and smelling of dust and burnt coffee." For many, collections double as calendars, and bibliography became a kind of autobiography.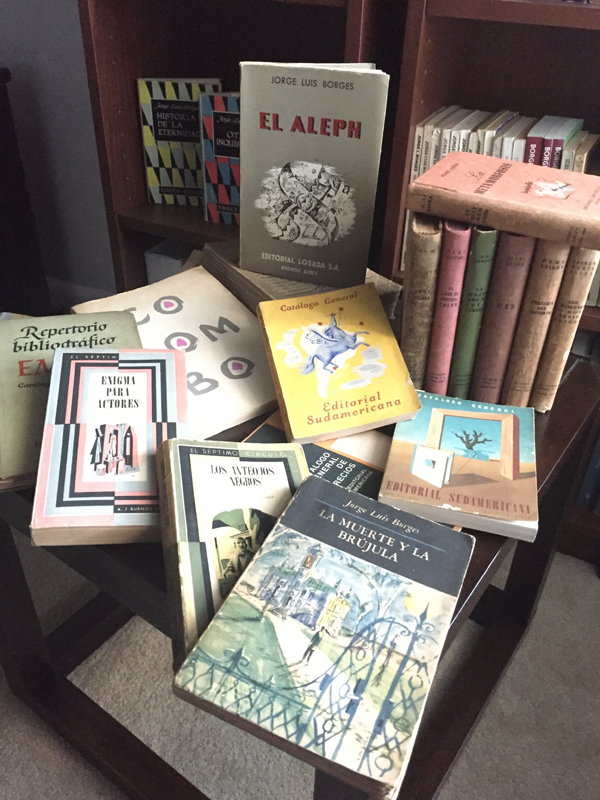 Collection of Borges and his circle from honorable mention Nora Benedict, 29, New Jersey.
Connection and Community:
Many contestants wrote warmly about formative books they received as gifts, often as children, books that inspired them to start collecting. Brittany Long, 27, of East St. Louis, IL, recalled that "my grandmother stoked the fire but she left it up to me to tend to the flame." In turn, it's no surprise that many see their collections as a way to connect with future generations. Vivian Tsai, 19, of Holmdel, NJ, writes that her collection "is for my younger self, my cousins, and all the elementary schoolers I've connected with . . . to place in their hands when I want to tell them that they are not alone."
Quite a few of the contestants regularly document and share their book collections online, on personal blogs, message boards, and social media. Others use their collections as a way to connect in person. Olivia Montoya, 25, of Canaan, CT, a collector of zines, participates in zine fests and teaches zine workshops "hoping to inspire those looking for a way to express themselves artistically, connect with other people, and get their voices into the world in a safer environment than the Internet."
Cynthy Buffington of the Philadelphia Rare Book & Manuscript Company made an interesting point about these collectors' impulse to share. Traditionally, she observed, book collections are shared when they are largely complete: the Grolier exhibit, the auction catalog, the institutional acquisition. A surprising number of our contestants, however, have been actively sharing their books early and often, perhaps an inevitable shift in an age of social media. For many, the desire to share their growing collections is as intense as the hunt itself, and part of our goal in awarding the prize is to provide another way for young women to do that.
All six of the collections we honored this year have a public-facing aspect. Jessica Kahan's winning collection of romance novels of the 1920s and 1930s is featured on her blog, thegoodbadbook, while Caitlin Downey's collection of geisha programs from postwar Kyoto is documented on Flickr. Sherese Francis's archive of writing from Southeast Queens is part of a mobile library shared with the community at local events, and highlights of Ashley Rose Young's collection of historic Creole cookbooks are on display at the Southern Food & Beverage Museum. Samantha Montano collects forgotten first-hand accounts of disasters in order to expand the teaching literature of emergency management, while Nora Benedict's collection on modernist publishing in Buenos Aires will eventually join the Borges collection at the University of Virginia.
Collection of natural disaster records, from honorable mention Samantha Montano, 27, Maine.
Looking Ahead:
We were inspired by the response to the first year of the prize, and thrilled to honor our winners, but we were most encouraged by the knowledge that 48 young women collectors across the country sat down one weekend with their books, writing essays and bibliographies and wish lists. That was no small or pointless task. We know that for many of them, that effort focused their attention, sparked their curiosity, and deepened their commitment to their projects. Our goal for next year is to promote the prize more widely, and get young women from all 50 states thinking critically about the directions their book collecting might take.
As Julia Callahan, 29, of Brooklyn, NY, wrote: "My collection breathes – I'm patient." So are we. Submissions for the 2018 Honey & Wax Book Collecting Prize are due June 1, 2018.
--Heather O'Donnell and Rebecca Romney
From the collection of the 2017 Honey & Wax Prize Winner, Jessica Kahan, 29, Ohio.
Books from the collection of the 2017 Honey & Wax Prize Winner, Jessica Kahan: 'Romance Novels of the Jazz Age and Depression Eras.
Note:
2017 Honey & Wax Prize Winner Jessica Kahan was among the winners of the 2012 National Collegiate Book Collecting Contest, sponsored by the ABAA, the Fellowship of American Bibliophilic Societies (FABS), the Grolier Club, and the Center for the Book and the Rare Books and Special Collections Division (the Library of Congress), with the support of the Jay I. Kislak Foundation.
---