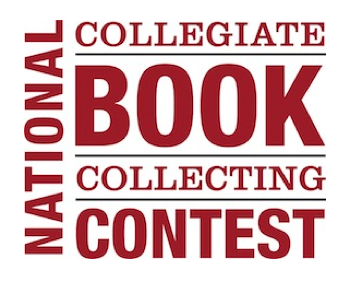 The National Collegiate Book Collecting Contest
The Antiquarian Booksellers' Association of America (ABAA), the Fellowship of American Bibliophilic Societies (FABS), the Grolier Club, and the Center for the Book and the Rare Books and Special Collections Division (the Library of Congress) have jointly assumed leadership of the National Collegiate Book Collecting Contest, with major and exclusive support for the Kislak Prize from the Jay I. Kislak Foundation.
Established in 2005 by Fine Books & Collections Magazine to recognize outstanding book collecting efforts by college and university students, the program aims to encourage young collectors to become accomplished bibliophiles. The magazine conducted the annual competition program for three years before turning over leadership to the new collaboration of institutional partners.

Competitions are held at more than three dozen colleges and universities across the United States. Some contests have been conducted for decades, dating back to Swarthmore College's first competition in the 1920s. All college or university prizewinners are encouraged to enter. Student collectors whose institutions do not offer a book collecting contest also may enter. All entries for the 2019 competition must be submitted by June 13, 2019.

The Antiquarian Booksellers' Association of America promotes ethical standards and professionalism in the antiquarian book trade, encourages the collecting and preservation of rare books, and supports education and research. The Fellowship of American Bibliographic Societies was formed in 1993 as a national organization of member book collecting groups.

The Center for the Book in the Library of Congress was established in 1977 to promote books, reading, literacy and libraries, as well as the scholarly study of books. The Jay I. Kislak Foundation, based in Miami, FL, is engaged in the collection, conservation, research and interpretation of rare books, manuscripts, maps and cultural artifacts.
The awards ceremony details will be released ar a later date.