Rounding up the rare book news for August...
Ernest Hemingway Look-Alike Competition
Yes, there really is an Ernest Hemingway look-alike competition. This is the guy who won it this year...
Lost Colony Relocated?
A clue to the lost colony is discovered in a repaired map...
---
Featured item: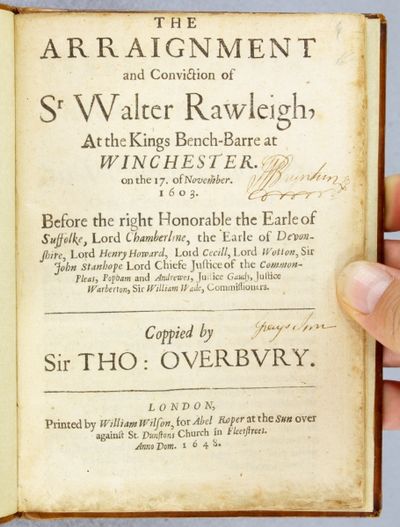 THE ARRAIGNMENT AND CONVICTION OF SR VVALTER RAWLEIGH, AT THE KINGS BENCH-BARRE AT WINCHESTER. ON THE 17. OF NOVEMBER. 1603 . . . COPPIED BY SIR THO: OVERBVRY
London: Printed by William Wilson for Abel Roper, 1648. FIRST EDITION. Hardcover. 191 x 133 mm (7 1/2 x 5 1/4"). 1 p.l. (title), 38 pp.
This is a rare copy of a text relating to the accusation, in 1603, that Raleigh had conspired with fellow courtier Baron Cobham to facilitate a Spanish invasion to prevent James Stuart from inheriting Elizabeth's throne.
An educated poet, courtier, explorer, buccaneer, and one-time favorite of Queen Elizabeth, Sir Walter Raleigh (1552?-1618) lived a life full of adventure and controversy. Among many other things, he had an important intersection with American history as the person who attempted to found Roanoke Colony in Virginia in 1587.
This is a rare book: since 1978, ABPC records just one other copy at auction. (Offered by Phillip J. Pirages Rare Books)
---
For the Love of Font
The Paris Review indulged in a spot of fontification this week:
Civil War throgh Japanese Eyes
An 1872 history of the United States published in Japan was recenlt acquired by the LSU Libraries' Special Collections Department. The book sheds new light on Japanese impressions of 19th Century life in America and the recently completed Civil War.
Was Shakespeare High?
The discovery of cannabis resin in some old pipes in Stratford-upon-Avon has ignighted a new round of Shakespearen theorizing and second-guessing. This time, the speculation is that the Bard may have been high when he wrote at least some of his plays. (But, anyone who's ever seen A Midsummer Night's Dream has probably considered just this question...)
World's Oldest Multi-Color Printed Book Digitized
Cambridge University boasts an extremely rare and delicate copy of a 17th-century Chinese text on Calligraphy, The Manual of Calligraphy and Painting (Shi zhu zhai shu hua pu). It was regarded as so delicate that nobody was allowed to open it. Now, thanks to digitization, the book can be enjoyed by anyone...
Murder of Khaled al-Asaad, Keeper of Palmyra, Condemned
And finally, a story that reminds us that the study and protection of ancient relics can sometimes be a dangerous occupation that demands the utmost bravery: world-renouned scholar and expert on Palmyra, Khaled al-Asaad, was beheaded by ISIS in Syria, reportedly because he refused to lead ISIS to caches of Palmyra artefects that had been hidden to prevent their destruction...
---