A selection of featured items from among those offered by ABAA members, including very rare inscribed, pseudonymous novels by Agatha Christie, a first edition H.G. Wells, rare Robert McCloskey, and an unusual piece of Titanic memorabilia.
---
Titanic
Among the various anniversaries and milestones that occur in September is the 30th anniverary of the discovery of the wreck of the Titanic. While this discovery ended any notions of attempting to raise the famous ship (as explored in Clive Cussler's bestselling 1976 thriller Raise the Titanic), it did reignite a slumbering fascination with the world's most infamous shipwreck -- a fascination that's lead to the world's #1 blockbuster movie, a new museum in the city that built the Titanic, and innumerable novels and books about the voyage. One interesting item among our member's offerings is this copy of the 1912 official report on the sinking: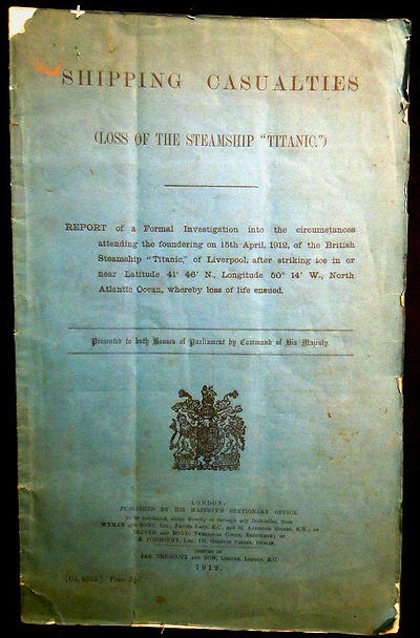 Shipping Casualties - Loss of the Steamship "Titanic": Report of a Formal Investigation into the Circumstances Attending the Foundering on the 15th April, 1912, of the British Steamship "Titanic", of Liverpool, After Striking Ice In or Near Latitude 41 46' N., Longitude 50 14' W., North Atlantic Ocean, whereby loss of life ensued
London. His Majesty's Stationery Office. Printed by J. Truscott and Son. 1912. Bound in imprinted blue wrappers. Housed in archival clamshell box. Tall 8vo. The First Edition. The British inquiry into the sinking of the Titanic was headed by a former judge, Lord Mersey, and, although some have suggested it was a whitewash, his report is described by the British historian Richard Howells as "the most sober and detailed documentary account available" and by American writer Stephen Cox as "a monument of intelligent and well-grounded diversity of judgment." Mersey found that the entire passage had been made at high speed but not maximum speed and that the Captain had not been ordered by the owners to break the transatlantic record as was being alleged. He acquitted Captain Smith of negligence. He regretted that there had been no proper boat drill (because the law did not require it) and that some of the half-empty lifeboats had not sought to save the passengers in the water. He regretted that the Leyland liner Californian, under Captain Lord, stopped by ice between five and ten miles away, had failed to respond to the distress rockets. Had it done so, it might have saved lives. The Board of Trade required sixteen lifeboats for all vessels over 10,000 tons and the Titanic had twenty but still not enough for the number of passengers. The inquiry recommended that in future there should be sufficient lifeboats for all those on board all ships, watertight bulkheads, a twenty-four-hour wireless service on all ships, regular boat, fire and watertight door drills, and the reduction of speed on the receipt of ice warnings.
Various usual chipping to thin paper covers at edges and spine.Small coloured smudge to front cover. Previous owners ink inscription to top of Title Page. Internals nicely preserved, albeit some usual dog-earing throughout. A delicate but extremely sound, clean copy of this extremely rare relic of the Titanic disaster. (Offered by Heldfond Book Gallery Limited.)
---
Charlie and the Chocolate Factory
It's the 99th anniversary of Roald Dahl's birth in 1916 this week. No doubt next year will see a swarm of articles, new biographies, and features about his work. But, savvy collectors already know that his seminal books, such as the beautiful copy of Charlie & the Chocolate Factory below, are vital parts of any well-rounded collection of children literature.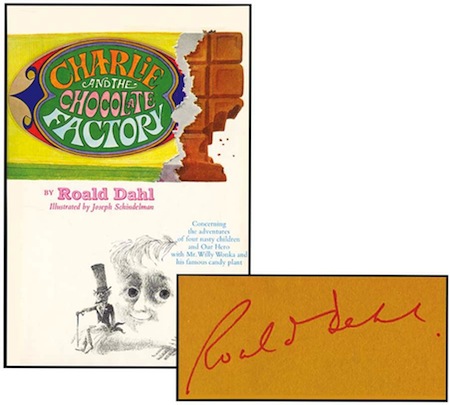 Charlie and the Chocolate Factory
by Roald Dahl (Illustrated by Joseph Schindelman)
NY: Knopf (1964). 8vo, red cloth blind stamped on cover, [162]p, Fine in near fine dust wrapper only slightly creased at top of spine. 1st edition. (correct printing info). Illustrated in black & white by Joseph Schindelman. THIS COPY IS SIGNED BY DAHL on the endpaper! An outstanding copy. (Offered by Aleph-Bet Books, Inc.)

Search for other signed books by Roald Dahl...
---
The Time Machine
While updating an article about the Books Featured on Downton Abbey in preparation for the new season (season 6 starts in the UK in late September, and in the US in January), I came across this lovely copy of H.G. Wells' The Time Machine, and learned about an embarassing misprint that denotes the first issue of this influential novel.
(Not sure what a first issue is? Read this informative article for a full explanation...)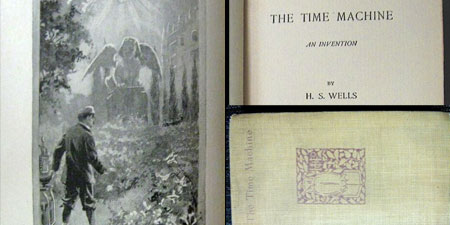 The Time Machine by H.G. Wells
Holt, 1895, first edition (first issue with the authors name misspelled as H.S. Wells on the title page), inner hinges starting, else a g/vg copy with somewhat different text than its later English counterpart. SIGNED by the author (just below the names of the previous owners?) on what appears to be a tipped in page. The author's first novel, a round trip to the year 802,701 and beyond. Most certainly a highspot of modern literature and needless to say, a cornerstone book in the building of a science fiction library. A very scarce book. (Offered by Fine Books Company)
---
Lentil
Robert McCloskey -- author and illustrator of many famous and beloved picture books -- is another famous birthday that falls within the first week of September. While classics like Blueberries for Sal and Make Way for Ducklings are common, his first book is quite difficult to find, especially in the first edition.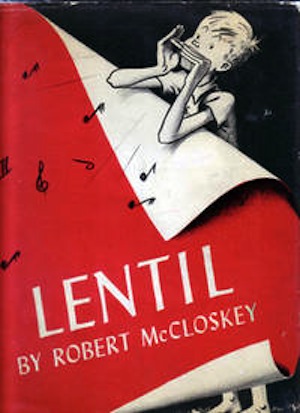 New York: Viking, 1940. (May 1940). Buff cloth boards pictorially stamped in red, small nick at bottom of front board, in pictorial dust jacket with wear at all folds, chips at extremities, cello tape repair at bottom of dust jacket on reverse, faint red writing on front panel. Classic American picture book about Lentil, a boy from Ohio would love to be able to sing, but can't; instead he plays the harmonica. Believe it or not, this turns out to be good news for his entire town. McCloskey's first book, written by him and illustrated in his very recognizable style. An important book and very difficult to find in the first edition. First Edition. Pictorial Cover. Near Fine/Good. (Offered by E.M. Maurice Books)
---
Agatha Christie's Pseudonym
September 15 will see the 125th anniversary of Agatha Christie's birth in 1890. One of the most-prolific authors of mysteries and suspense novels, her novels of Miss Marple and the Belgian detective Hercule Poirot are the backbone of any mystery collection. However, not everyone knows that she also published six non-mystery novels under the pseudonym Mary Westmacott -- and managed to keep this a secret for over twenty years! These Mary Westmacott novels were often based on her own experiences and early life. They include the book Christie considered "the one book that has satisfied me completely," Absent in the Spring.
This excellent collection of association copies of five of the Mary Westmacott books is currently available:
UNIQUE COLLECTION OF FIVE SIGNED or INSCRIBED AGATHA CHRISTIE FIRST EDITIONS: GIANT'S BREAD (1930), ABSENT IN THE SPRING (1944), THE ROSE AND THE YEW TREE (1948), A DAUGHTER'S A DAUGHTER (1952), THE BURDEN (1956)
by Mary Westmacott (pseudonym of Agatha Christie)
London & New York, 1930. [Christie, Agatha] Westmacott, Mary. GIANT'S BREAD. NY: Doubleday, Doran, 1930. First American Edition, first printing. A Very Good, firm copy in original publisher's cloth, illustrated title labels to spine and front cover. SIGNED BY AGATHA CHRISTIE on the front-free endpaper using her pseudonym. [With:] [Christie, Agatha] Westmacott, Mary. THE ROSE AND THE YEW TREE. London: William Heinemann, (1948). First Edition. A Very Good copy in original publisher's cloth. INSCRIBED BY AGATHA CHRISTIE on the front-free endpaper using her pseudonym: "To C. F. from M. W. Nov. 1948." [With:] [Christie, Agatha] Westmacott, Mary. THE BURDEN. London: William Heinemann, (1956). First Edition. A Very Good or better copy in original publisher's cloth, which has been married to a price-clipped FINE ORIGINAL DJ. INSCRIBED BY AGATHA CHRISTIE on the front-free endpaper using her pseudonym: "To Charlotte, with love from Mary Westmacott." [With:] [Christie, Agatha] Westmacott, Mary. ABSENT IN THE SPRING. London: Collins, 1944. First Edition. A Very Good copy married to a Very Good example of the scarce original publisher's dust jacket (price-clipped), ASSOCIATION COPY.
From the collection (book-label to each front paste-down) of Charlotte "Carlo" Fisher (1895-1976). Charlotte Fisher, initially hired to serve as nanny to Christie's daughter Rosalind, was pressed into service as a part-time shorthand secretary during the earliest days of the author's career. To quote from Christie's autobiography, Charlotte Fisher was "friend and secretary and governess and dogsbody and everything else for many years. (She) is still one of my best friends." The six "Mary Westmacott" novels (of which we offer five) were those which Agatha Christie wrote to explore feelings that had no place in her mystery tales. Quoting Christie's daughter Rosalind at the time of her mother's centenary in 1947: "The Mary Westmacott novels have been described as romantic novels but I don't think that is really a fair assessment. They are not 'love stories' in the general sense of the term, and they certainly have no happy endings. They are, I believe, about love in some of its most powerful and destructive forms." Agatha Christie wasn't in the habit of inscribing her non-mystery novels; until Carlo Fisher's copies were discovered, contemporary presentation copies were unknown and we can find no auction records for any other contemporaneously signed or inscribed Mary Westmacott books. Here we have five "Carlo Fisher" copies, all with her book-label and four of which are either signed or inscribed. A unique opportunity for the Christie collector to say the least. More information or photos on request.. Signed by Author. First Edition. Hard Cover. Very Good. (Offered by Lakin & Marley Rare Books)
---
Confused by Jargon?
Consult the ABAA Glossary whenever you come across a peice of book terminology you are unfamiliar with...