Friday, October 16 marks 161 years since the birth of Oscar Wilde. In that time be became the toast of the literary scene in 19th-century London, an international pariah, and finally, decades after he died, one of the most well-known poets and dramatists in history. No well-rounded collection of rare books should be without some of Wilde's work. Below, we collect some of the most-interesting items by Oscar Wilde currently being offered by ABAA members.
Signed Books
Anything with an author's signature is almost always more highly prized that something without a signature, and the general rule of thumb is the more writing by the author the better. (For example, a book annotated or inscribed by the author with a personal message would likely be more interesting to collectors than one with a simple signature.) There are several signed books and other items by Wilde currently available on abaa.org: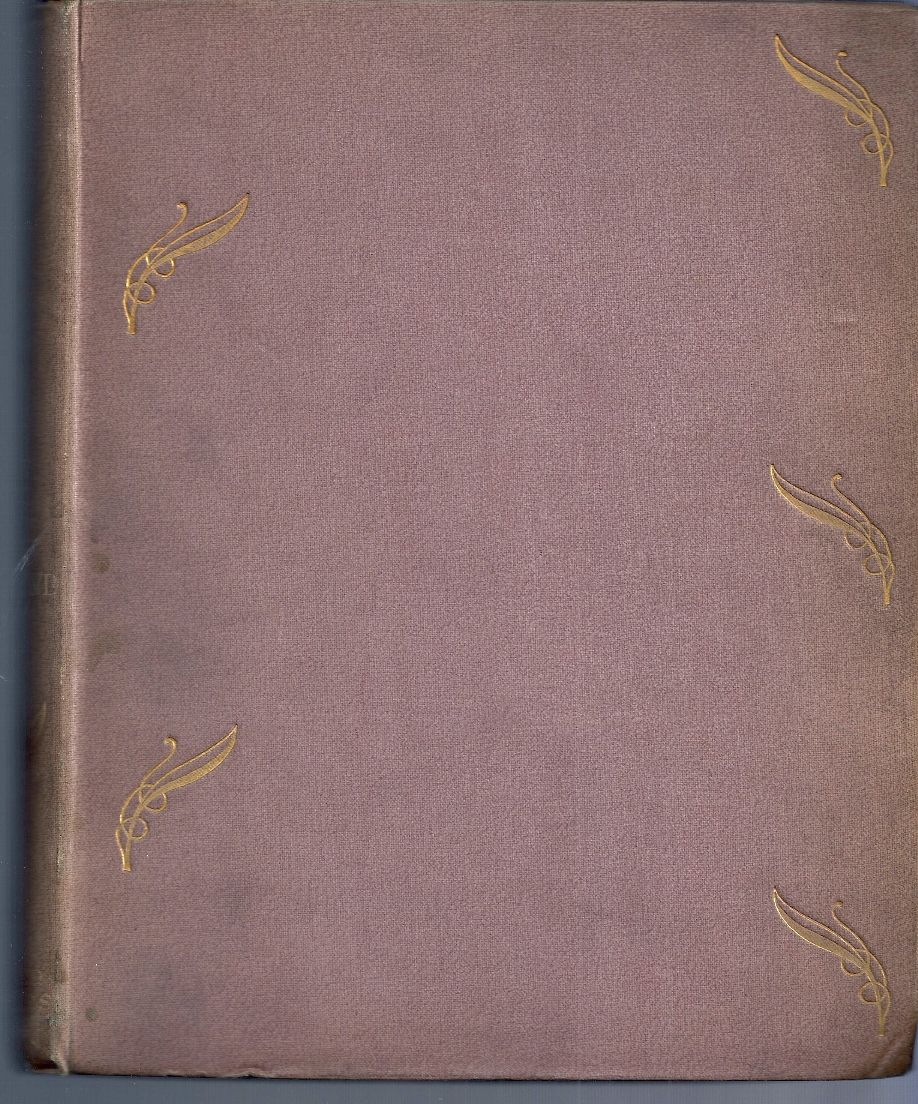 London: Leonard Smithers and Co., 1899. First Edition. Hardcover. Slight browning to the endpapers, as customary, otherwise a clean copy with mild bumping to the corners and spine tips, some fading to the spine with a rather faint stain, and mild soiling to the covers. Near Fine. Small quarto (7-1/4" x 8-7/8") in original gilt-stamped and decorated lavender cloth with gilt designs by Charles Shannon. Copy #21 of only 100 SIGNED by the author. Wilde's third comedy, very scarce in the limited signed edition.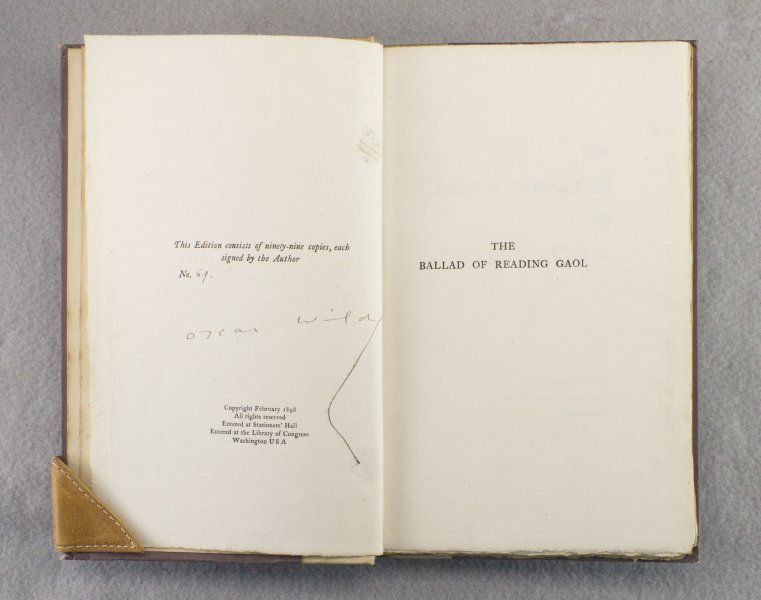 London: Leonard Smithers, 1898. Third Edition. No. 89 OF 99 COPIES, SIGNED BY WILDE n. Hardcover. One of Just 99 Copies, with Wilde Identified for the First Time as the Author. 230 x 145 mm. mm (9 x 5 3/4"). 4 p.l., 31 leaves. Original linen (ivory-colored backstrip, plum-colored sides), gilt titling on flat spine, gilt vignette after Charles Ricketts on upper cover, top edge rough trimmed, other edges untrimmed. Housed in a later, fleece-lined burgundy silk clamshell box with vellum spine label. Mason 374. Spine faintly and uniformly sunned (with three tiny dark flecks), vague mottling to lower cover on ivory linen, little signs of use to corners and edges, two dots of glue residue (from previously affixed paper description) on blank recto of limitations leaf (with slight show-through on the verso), light freckled foxing to endpapers, but each of these defects minor, and, all in all, a very pleasing copy--with unworn joints and very clean text--of a book difficult to find in better condition. Dubbed by Wilde the "Author's Edition" and appearing just two months after initial publication, this signed, strictly limited edition of "The Ballad of Reading Gaol" is the first printing of the work to acknowledge the author's real name. On our title page, the author is called "C. 3. 3." (a reference to his prisoner's number), just as he had been previously. But with the appearance of his signature on the limitation page, the author reveals his actual identity to the public for the first time in a printed edition. (Wilde's name would not actually be printed on copies of "Reading Gaol" until the seventh edition.) Our version is particularly sought after because of its signature and because of its small limitation.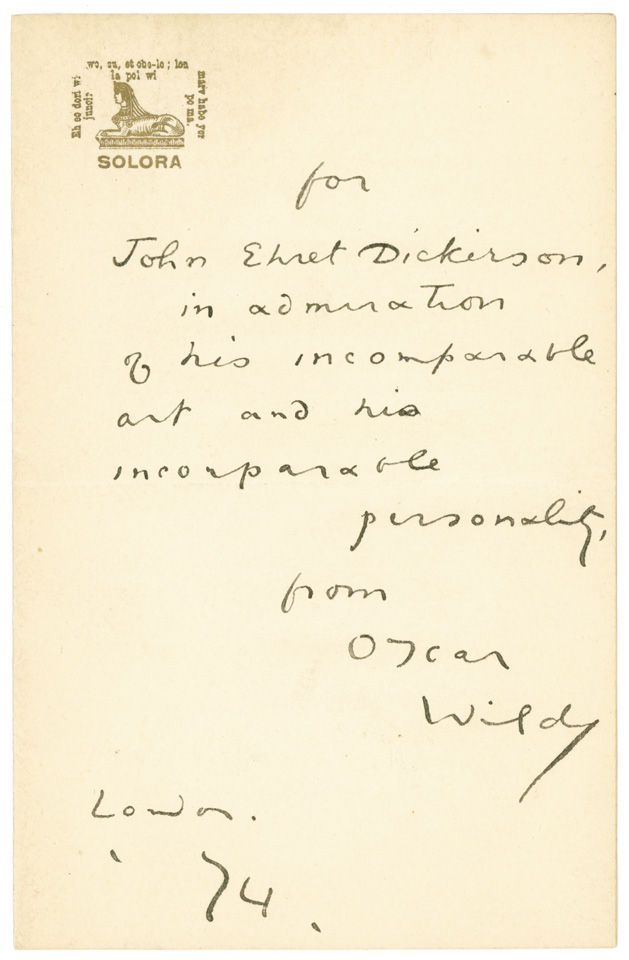 Autograph Note, signed ("Oscar Wilde"), to John Ehret Dickinson
London, 1894. One page (5 lines) on "Solora" stationery. Fine, with integral blank, on recto of which is the "shadow," or faint image, of a key. One page (5 lines) on "Solora" stationery. A note to John Ehret Dickinson (1860-1896), the grandson of the founder of the famous paper-making firm, and a friend of Wilde. Dickinson "had aesthetic tastes and deplored his family's connection with trade" (v. Holland/Hart-Davis, The Letters, p. 295, footnote) and the family firm provided paper for the endsheets of some of Wilde's books, including those for the deluxe issue of The Sphinx. Wilde often stayed at Dickinson's Hertfordshire country home, Abbots Hil.Reading in full: "For John Ehret Dickirson [sic], in admiration of his incomparable art and his incomparable personality, from Oscar Wilde. London '94."Two of Wilde's books, inscribed to Dickinson in 1888, were sold at Sotheby's in 1910. The wording of the note nearly exactly matches Wilde's inscription to the actress Mrs. Patrick Campbell in a first edition of The Sphinx (1894), and it is conceivable that Wilde penned this note to include in a presentation copy of that work. The offset "shadow" of a key also suggests that Wilde was returning a key, perhaps to Abbots Hill.The note is written on "Solora" stationery - heretofore unknown to us - which includes an image of the Sphinx at top left, surrounded on three sides by phrases in an unknown code or language, with "Solora" printed beneath.

London: Ward Lock, 1891. First. hardcover. fine. 8vo, re-bound in full purple morocco with gilt decorated spine, g.t., uncut. London: Ward Lock, (1891). First Edition. Fine. Portion of the original gray boards with 10 gilt butterfly designs by Charles Ricketts is bound in. Ricketts also designed the title page. First published in Lippincott's Monthly Magazine in July 1890, this first edition in book form contains six new chapters, many alterations and much additional material. It is inscribed by Wilde on the verso of the title page to Malcolm Brown.
Search for other signed books by Oscar Wilde...
---
First & Fine Press Editions
While first editions of significant works are always desirable, Wilde was no stranger to offering limited, fine press editions of his work, drawing on the finest illustrators and printers of the day.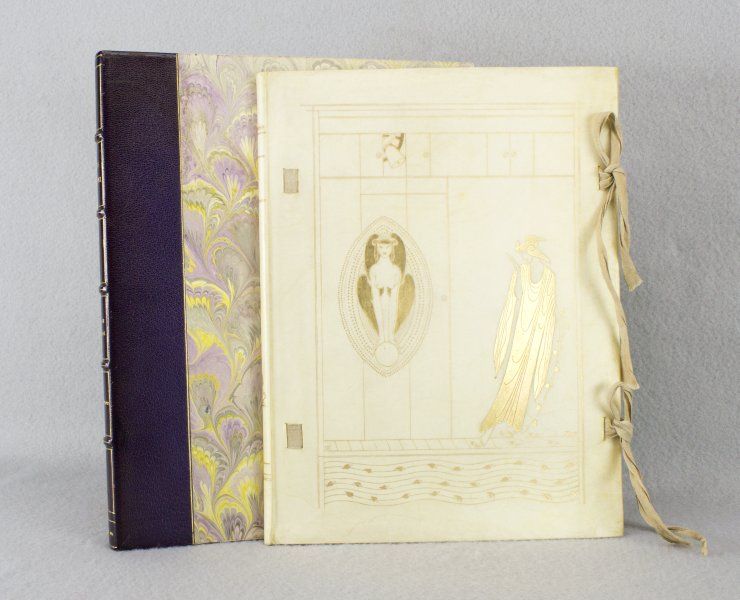 (Illustrated by Charles Ricketts)
London: [Printed at the Ballantyne Press for] Elkin Mathews & John Lane at the Bodley Head, 1894. ONE OF 25 LARGE PAPER DELUXE COPIES with extra ornamentation (along with 200 regular copies) n. Hardcover. The Sought-after Deluxe Version of Ricketts' Best Work as an Illustrator. 258 x 195 mm (10 1/4 x 7 3/4"). [36] pp. ONE OF 25 LARGE PAPER DELUXE COPIES with extra ornamentation (along with 200 regular copies). Original stiff vellum, covers with gilt pictorial designs by Charles Ricketts, flat spine with gilt tooling, ribbon ties, edges untrimmed. In marbled drop-back box inside matching purple morocco-backed slipcase. With one wood-engraved vignette, one woodcut initial, and NINE DRAMATIC SEPIA WOOD-ENGRAVED PLATES, ALL BY CHARLES RICKETTS, tissue guard between title and first page of text as called for. With publisher's advertisement laid in. Printed in black, red, and green. Ray 262; Mason 362; "Turn of a Century" 10. But for insignificant soiling to vellum A VERY FINE COPY, the leaves fresh and bright, the gilt glistening. This is a landmark in book production at the end of the 19th century, a tour de force of Decadent style, offered here in its rarely seen deluxe issue. In the poem, Wilde depicts the legendary Egyptian Sphinx as an erotically ravenous creature who has been the lover of many figures from classical antiquity, both gods and men. This was an important volume in the history of book design, as it represented the first work over which Vale Press founder Charles Ricketts (1866-1931) exerted complete control. Ricketts testified that the present volume contains his best work as an illustrator, and Ray calls it Ricketts' most original and consistent work, resulting in "a perfect whole, as harmonious as it is dazzling." The book was well received upon publication, with the "Pall Mall Gazette" noting that "the monsters of the Egyptian room at the British Museum live again in [Ricketts'] weird, sometimes repulsive, but at all times stately and impressive lines." Perhaps carried away by a flush of untempered enthusiasm (but in any case reflecting the same appreciation of the contemporaneous audience), "The Globe" said of Wilde's poem that it is "among the most remarkable works ever penned by a human hand." Ricketts' reputation as one of the most gifted contributors to the book arts of his time remains secure. Less secure are the chances of finding another copy of this volume in such desirable condition. ABPC records only five copies of the deluxe issue at auction since 1976.
(Illustrated by Aubrey Beardsley)
London / Boston: Elkins Mathews & John Lane / Copeland & Day, 1894. Beardsley, Aubrey. Small quarto. (x), 66, (2)pp., + 13ff. plates. First English and first illustrated edition. One of 125 copies on Japan vellum. In addition to the ten black & white plates listed at the front of the book, this copy contains all three of the suppressed plates. The first, "John and Salome," was replaced in the final book with "The Black Cape." The other two plates are earlier versions of "Enter Herodias" and "Toilette of Salome," which were deemed too risqué for publication and were altered. Although Wilde commissioned Beardsley to illustrate his translation of Salome, he was shocked by the end result and felt that the images overpowered his text. Beardsley mocked Wilde in several of the illustrations, depicting him as the "Woman in the Moon" and as a jester in "Enter Herodias." This copy was specially bound for Dr. Charles Carpenter, with his engraved bookplate, in gilt-decorated vellum, with brown leather onlays to the spine, gilt-stamped turn-ins, and blue marbled paper endpapers. An extremely fine copy of a book rarely encountered with all suppressed plates.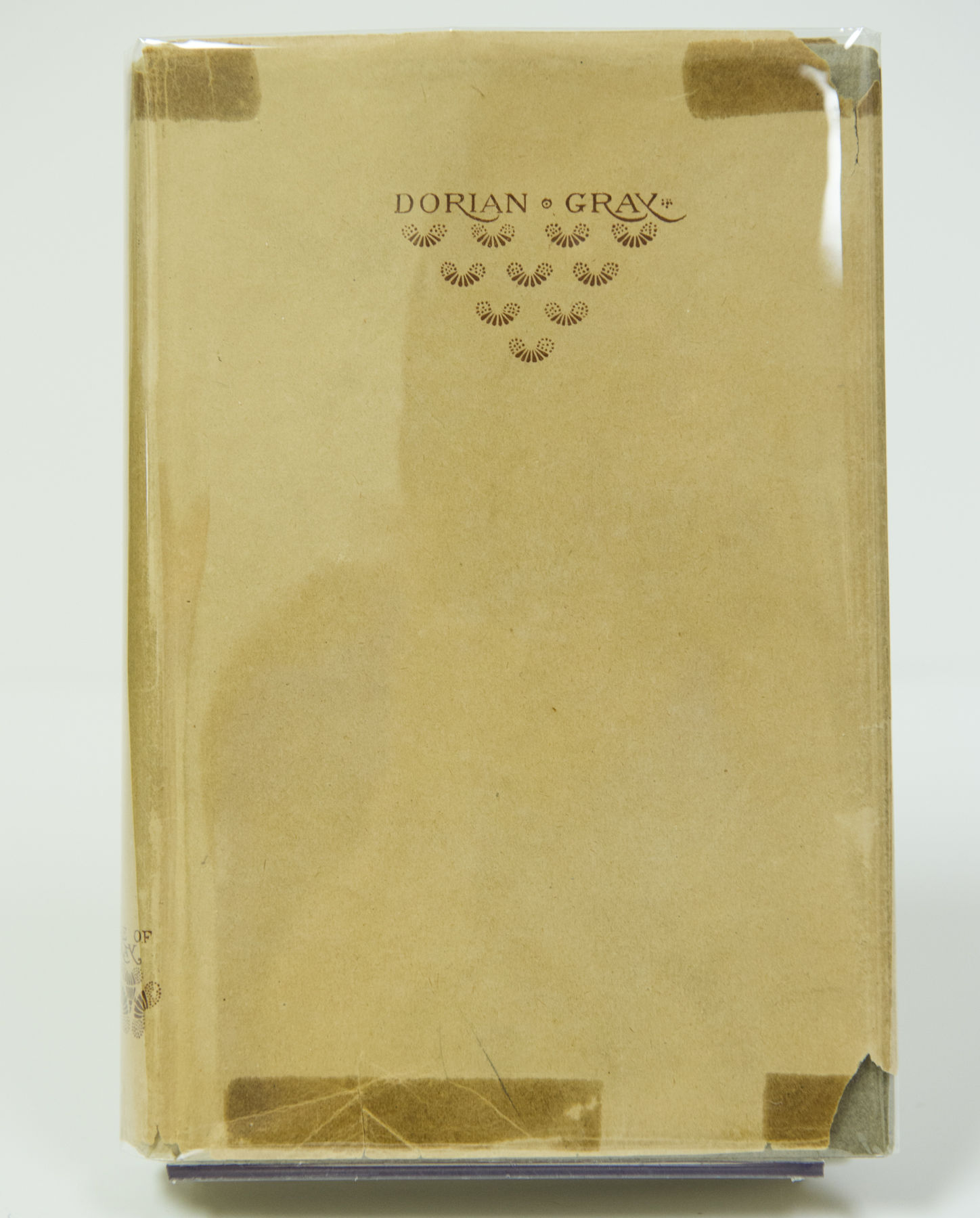 London: Ward, Lock, 1891. First English Edition; trade issue. Publisher's vellum-backed boards; an exceptional copy; fine in the rare dust jacket. There are some small chips and tears. Six old tape mends have been removed from inside the corners and edges of the dust jacket, leaving stains that have bled through to the surface. We have previously either had two copies in dust jacket, or a single example twice. Whichever is the case, it certainly is a rarity in dust jacket. In a custom quarter-morocco slipcase.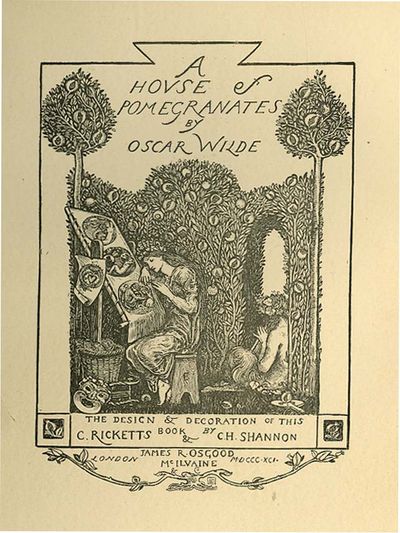 (Illustrated by Charles Ricketts & Charles Shannon)
RICKETTS, CHARLES. WILDE,OSCAR. HOUSE OF POMEGRANATES. London: James Osgood McIlvanie, 1891. 4to (7 x 8 1/2"), green cloth spine and decorative cloth boards, 158p., slight cover soil neat hinge repair else VG++ in attractive custom box. First edition of this famous book of fairy tales by Wilde, printed in an edition of 1000 copies on high quality paper. Magnificently illustrated by CHARLES RICKETTS with cover, title page, endpaper designs and with textual ornaments representing some of his finest work. Also illustrated by Ricketts' housemate & partner in the Vale Press, CHARLES SHANNON with 4 plates. Due to damage of the printing plates, theplates in all copies of this book appear faded (see Muir: Victorian Illus. Books p.191). This is an important children's book by an interesting trio. The stories Include The Young King, The Birthday of the Infanta, The Fisherman and His Soul and The Star Child.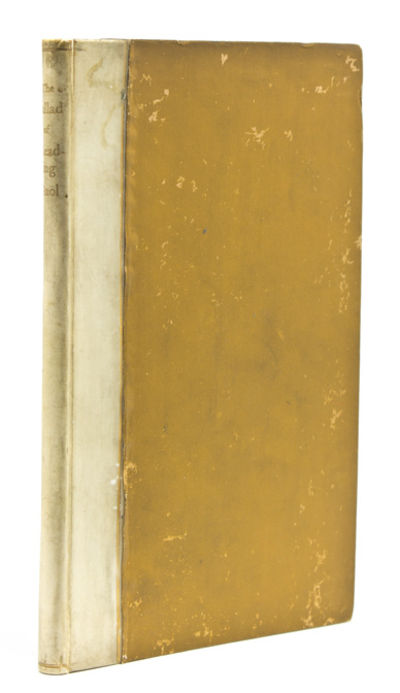 The Ballad of Reading Gaol, by C.3.3.
London, 1898. First edition, ONE OF 30 COPIES on Japanese vellum. 1 vols. 8vo. Cinnamon-colored cloth, vellum spine. Covers show slight insect damage and minor soiling, spine a bit soiled, otherwise a very good copy in a quarter blue morocco slipcase with chemise and with the bookplate and signature of actress LENA ASHWELL on the front pastedown.
One of 30 Copies of the Rare First. First edition of Wilde's legendary poem, written while he was in jail, in its rarest state - being one of only 30 copies printed on Japanese vellum. This copy comes from the distinguished library of the actress LENA ASHWELL (1872-1957), who as a young actress toured in Wilde's Lady Windermere's Fan in 1891, later becoming actor-manager of the Savoy Theatre. According to her biographer, Margaret Leask (Lena Ashwell: Actress, Patriot, Pioneer. Univ. of Hertfordshire Press, 2012), Ashwell was particularly troubled by the news of Wilde's arrest, and wrote later: "… the atmosphere of London was horrible and cruel. His plays were so very brilliant, and I had seen this when I was in Ladt Windermere's, so I felt that he was a friend and in desperate trouble." Later, during WWI, she is known to have pioneered the organization of entertainments on a large scale for the British troops in France. An excellent association copy of an essential Wilde rarity.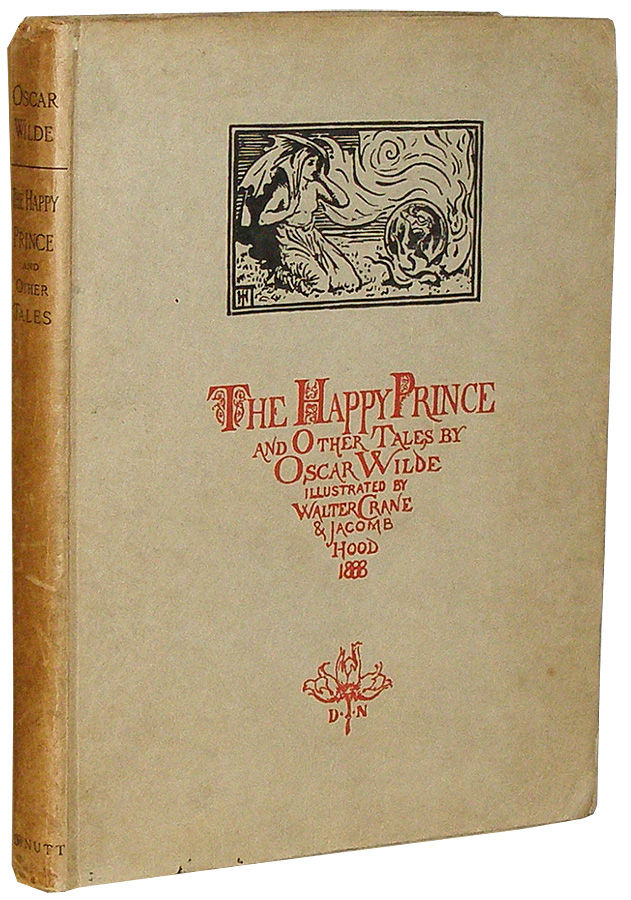 The Happy Prince and Other Tales
London: David Nutt, 1888 Illustrated by Walter Crane and Jacomb Hood. First edition. One of 1,000 copies. Paper covered boards, with an illustration by Hood to the front board in black, decoratively lettered in red. An excellent copy, with some light rubbing to the extremities, minor toning to the spine, a few tiny chips to the spine head, a few spots of light soiling to the otherwise bright boards, minor crease to the rear board, tiny split to the paper hinge inside the front cover, otherwise tight and sturdy binding with bright and clean pages. Overall, a lovely and unsophisticated copy of an extremely fragile book. Housed in a custom folding box. Mason 313. The Happy Prince and Other Tales is a collection of fairy tales and fables, including "The Happy Prince," "The Nightingale and the Rose," "The Selfish Giant," "The Devoted Friend," and "The Remarkable Rocket." Although they are primarily geared toward children, the stories in this volume are laden with Wilde's signature wit and have a melancholy and sometimes sarcastic undertone. This volume is beautifully illustrated in black and white by Walter Crane and Jacomb Hood. Specifically, Crane illustrated the full-page plates (including the frontispiece), and Hood created the in-text illustrations for the chapter headings and the front cover.. Illus. by Crane, Walter; Hood, Jacomb. 1st Edition.. Hardcover. Near Fine.
Search for other first edition books by Oscar Wilde...
---
Posthumous Publications and Artwork
Just because a book came out after the author died does not necessarily mean it is of no interest to collectors. Sometimes biographies, collections, or later adaptations can do much to enhance a reputation or spur interest.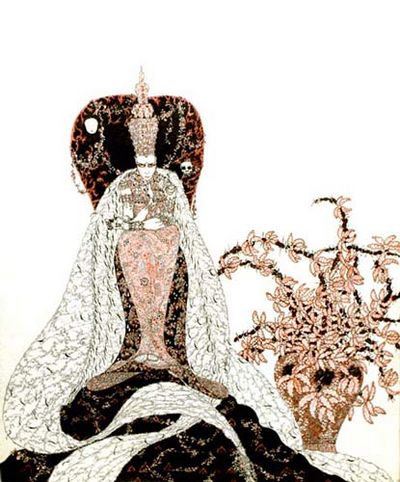 Herode (Original Illustration from French edition of Salome)
(by Alastair)
Paris, 1922. Alastair (Hans Henning Voight). Original illustration in red and black ink and pencil on paper. 11 7/8 by 9 1/2 in. This drawing first appeared in Fifty Drawings by Alastair, published by Knopf in 1925, and a similar version was used in the Paris edition of Wilde's text published the same year. Beardsley's popularity and sudden death created opportunities for other artists of the Decadent movement, such as Alastair and Erté. This drawing exhibits the understated menace of Beardsley, but with an eye toward texture. The detail in Herod's elaborate robe, and the plant and vase to his left exhibit a distinctly Asian aesthetic. Some glue residue on verso, else a very fine drawing by one of the most popular book illustrators of the first half of the twentieth century.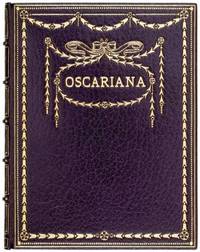 London: Arthur L. Humphries. Very Good. 1910. First. A finely bound collection of Wilde epigrams. Full purple crushed levant morocco; gilt borders, title and garlands; spine gilt, raised bands, gilt dentelles, silk endleaves; all edges gilt. Mounted head and tail-pieces. One of only 20 copies printed on Japan Vellum and bound in Levant morocco by Sangorski & Sutcliffe (& signed by George Sutcliffe on the limitation page). Marbled slipcase. This edition not noted in Stuart Mason's bibliography of Wilde which mentions only the trade edition and less limited edition (both in wraps). A brilliant & perfect copy.
Browse all items by Oscar Wilde...