Looking at the history of book banning worldwide, from Henry VIII's destruction of Catholic iconography and religious books during the dissolution, to Hitler's famous bonfires of any work deemed insufficiently Germanic in the 1930s, and up to today's over-zealous parents eager to shield children from whatever they imagine was absent in their own childhoods, some books simply appear to attract more negative emotion than others. These challenges usually cite the same few justifications: sex, violence, racism, or the presentation of facts or theories outside of mainstream belief.
To mark Banned Books Week, we pick out a selection of the most-frequently challanged books, and a couple whose publication spawned landmark freedom-of-speech cases.
Almost anything by Judy Blume
Before the young adult genre became best known for daring fiction that pushes the envelope, Judy Blume was one of the most-challenged authors in America because she wrote honestly about adolescent sexuality before it was trendy, with novels like Tiger Eyes, Forever, Are You There God It's Me, Margaret, Deenie, and Blubber appearing on the annual lists of frequently challenged books throughout the 1980s and 1990s.
Deenie by Judy Blume (First Edition)
Scarsdale, NY: Bradbury Press, 1973. First Edition. Hard Cover. Very Good+ binding/Very Good dust jacket. A clean First Edition with no marks of any kind. Like many of Ms. Blume's young adult novels, this one has been banned in schools for dealing openly with topics such as masturbation and sexuality. The dustjacket has a short closed tear and minor wear at the top of the spine. It is not price-clipped and is protected with a new mylar cover. Very Good+ binding / Very Good dust jacket. (Offered by Black Swan Books, Inc.)
---
Naked Lunch
William Burroughs' visionary tale of drugs and paranoia was hugely controversial in the late 1950s, and eventually became the subject of one of the landmark obscenity trials in US history. Today. the novel is as divisive as ever, although there are perhaps fewer readers over 21 who would acclaim it as great art.
The Naked Lunch by William Burroughs (Signed, First Edition)
Paris: The Traveller's Companion Series published by the Olympia Press, 1959. First edition, with first issue point of green border on title page, but with "Francs: 1500" crossed out and "New Price NF 18" added on back cover. 226 pp. 1 vols. 12mo. Green wrappers, fine in pictorial original wrapper with tiny chip on back cover. In custom green half morocco slipcase and chemise. First edition, with first issue point of green border on title page, but with "Francs: 1500" crossed out and "New Price NF 18" added on back cover. 226 pp. 1 vols. 12mo. Inscribed First. Inscribed on the title-page, "For Bob Wilson all the best from 1959. William Burroughs". (Offered by James Cummins Bookseller, Inc.)
---
Beloved
Winning the 1988 Pulitzer Prize for Fiction counts for nothing when it comes to book banning. Toni Morrison's book sought to portray the visceral horrors of life as a slave, so naturally people try to remove it from schools for being too violent and (Oh, the irony!) accuse it being racist.
Beloved by Toni Morrison (Signed, First Edition)
NY: Knopf, 1987 First edition, first prnt. Signed by Morrison on the title page. Tiny stain on front board topedge cloth; dustjacket with touch of wear on the spine topedge and faint beginning toning (not immediately apparent). Near Fine condition in a Near Fine dustjacket with an archival cover. Signed by Author. Hardcover. (Offered by Revere Books)
---
The Satanic Verses
Famed as the novel that resulted in a death sentence and years of living in hiding for its author, Salman Rushdie, the controversary has rather overshadowed the critical reputation of The Satanic Verses.

The Satanic Verses by Salman Rushdie (Signed, First Edition)
(London): Viking. (1988). First. First edition. Quarter morocco gilt and cloth. A tiny bump at the foot, else fine, lacking the unprinted tissue dustwrapper. Copy number 4 of 100 numbered copies (there were also 12 lettered copies) Signed by the author. Winner of the Booker Prize. (Offered by Between the Covers Rare Books)
---
Harry Potter and the Sorcerer's Stone
To most people, the Harry Potter books are engrossing, but lightweigh fare, diverting stories of good versus evil, and the basis for an uneven but enjoyable series of movies. However, to others they are gateways to a life of Satanism and witchcraft, and thus they have been frequently challanged in US schools.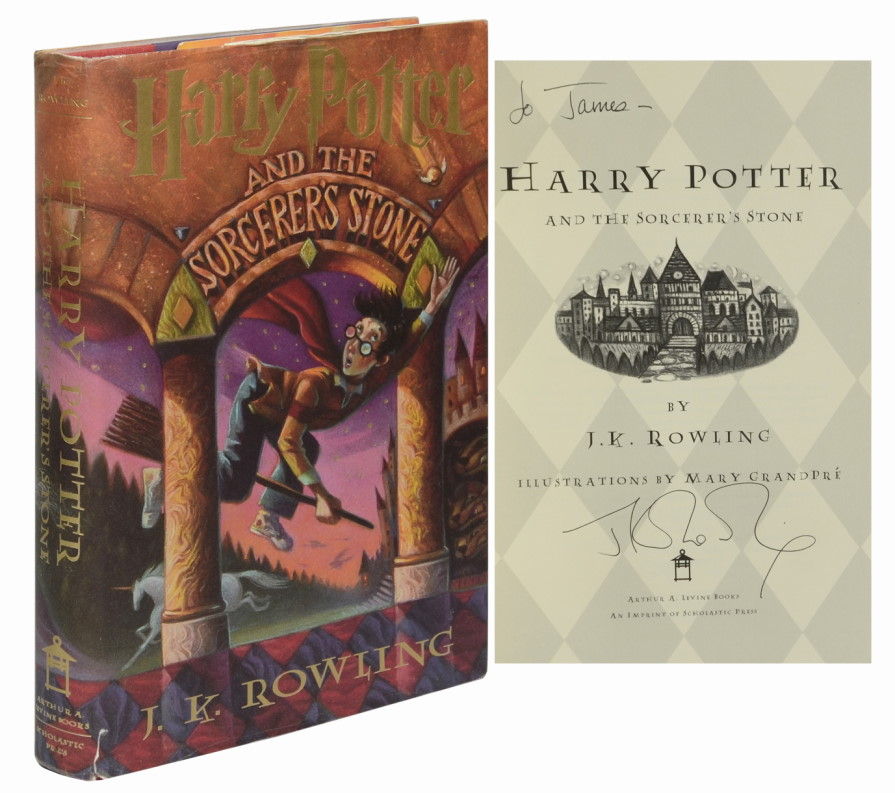 Harry Potter and the Sorcerer's Stone (Signed, First Edition)
New York: Arthur A. Levin; Scholastic Press, 1998. First American edition. Very Good +/Very Good +. A true first printing with full numberline and all other points, signed by the author directly on the title page. Laid in is a blue stub from the October 14, 1999 Books of Wonder signing event where this copy was signed. Book is Very Good+ with some rubbing and wear at the extremities. In a Very Good + dust jacket which also has a few short tears and chips at the spine ends and corners. A book that is becoming increasingly scarce as the market for the UK first reaches astronomical levels ($225,000 at auction for an annotated first edition). The Harry Potter franchise, sparked by this novel has become one of the most successful and important children's literature franchises since the C.S. Lewis and Tolkien books from the '50s. Very Good + in Very Good +. dust jacket. (Offered by Whitmore Rare Books, Inc.)
---
The Adventures of Huckleberry Finn
Its status as the first great American novel does nothing to protect The Adventures of Huckleberry Finn from annual bouts of controversy over its suitability for use in contemporary American schools.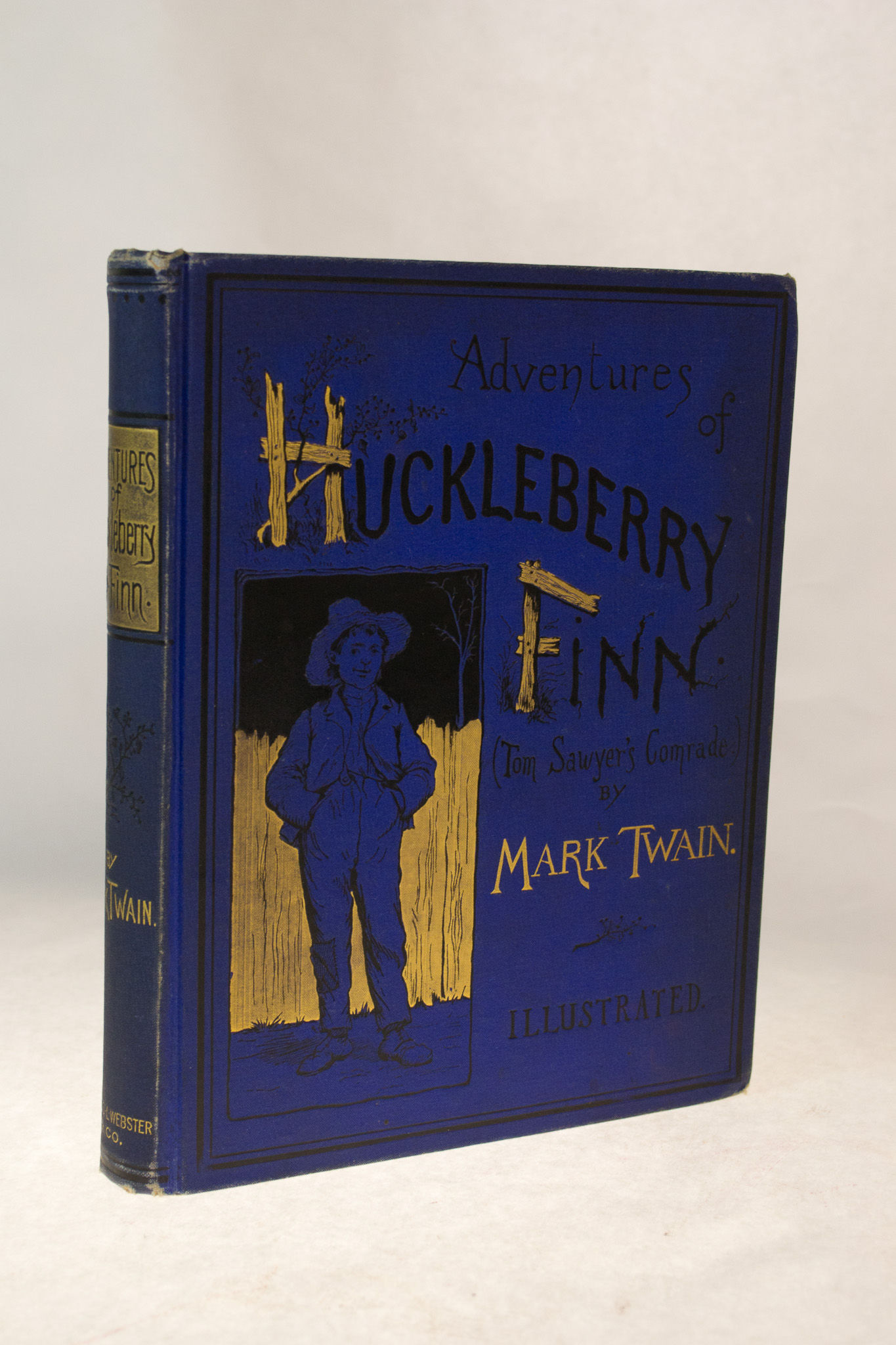 The Adventures of Huckleberry Finn by Mark Twain (First Edition)
First American of the Blue Cloth Edition of Huck Finn, Early Issue TWAIN, Mark. Adventures of Huckleberry Finn (Tom Sawyer's Comrade). With one hundred and seventy-four illustrations. New York: Charles L. Webster and Company, 1885. First American edition, early issue, with the following points: the title-page is a cancel, with the copyright notice dated 1884 (BAL second state, with the first state only noted in publisher's prospectuses and advanced sheets); p. (13), the illustration captioned "Him and another Man" is incorrectly listed as at p. 88 (BAL first state); p. 57, the eleventh line from the bottom reads "with the was" instead of "with the saw" (BAL first state); p. 283 is a cancel, with the engraving redone and the line indicating the fly on Silas Phelps's trousers a straight vertical line (BAL third state, the earliest known to appear in cloth-bound copies of the book); p. 155, the final "5" in the pagination is lacking (BAL first state); the frontispiece portrait has the imprint of the Heliotype Printing Co. and the tablecloth, or scarf, on which the bust rests is clearly visible (BAL first state). Octavo. 366 pp. Inserted frontispiece portrait and wood-engraved text illustrations. In the publisher's rare blue cloth pictorially stamped and lettered in gilt and black on front cover and spine. Minor rubbing to corners and extremities, especially on top and bottom of spine. Occasional minor soiling. An excellent copy. Housed in a custom navy blue full morocco clamshell, gilt stamped. (Offered by Heritage Book Shop, LLC)
---
Howl
Another landmark obscenity trail occured in 1957 and found City Lights publisher (and fellow poet) Lawrence Ferlinghetti not guilty of obscenity for publishing Allen Ginsberg's Howl. Along with On the Road, Howl remains probably the most-famous work of the beat generation.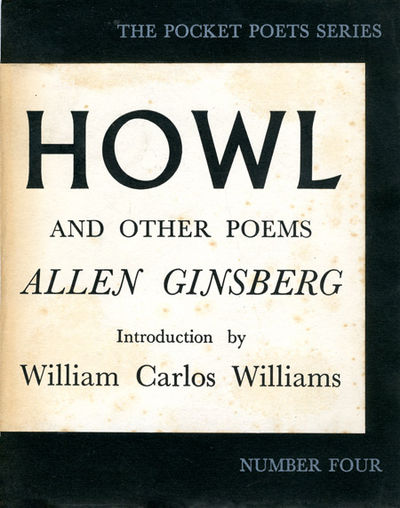 Howl and Other Poems by Allen Ginsberg (First Edition)
San Francisco: City Lights / Pocket Poets Number 4, (1956). Black wrappers, printed white label. White label a bit tanned at edges and somewhat foxed, else a very good copy. First public edition, first printing, preceded by the scarce 1955 mimeographed printing prepared for Rexroth's San Francisco State College class, of which few copies remain extant. Introduction by William Carlos Williams. One of 1000 (or 1500) copies printed according to Cook, or 2000 according to Wallace. "The publication of HOWL marks a watershed in American poetry as definitely as LEAVES OF GRASS did in 1855" - Wilson. (Offered by William Reese Company)
---
We could go on and on, as it appears that somebody will find something objectionable about every book. Instead, let us point to the American Library Asociation, who tirelessly campaign for intellectual freedom and publish annual lists of the most-frequently banned or challanged books in the US:
You may also be interested in reading:
Collecting Vladimir Nabokov's Lolita
--Another novel that still proves controversial.