The Thomas Mann House has paired up with ABAA-members Brad and Jennifer Johnson of Johnson Rare Books & Archives in Covina, California, to recreate the author's personal library during the years he spent in California.
This informative video details the exciting project...
We asked Dr. Nikolai Blaumer, Program Director of the Thomas Mann House, about this ambitious project:
ABAA: What happened Thomas Mann's original library at the end of his life?
The Mann family left the country in 1952, after Thomas Mann was accused of Un-American activities. Parts of his private library were taken to Switzerland, where Thomas Mann spent his last years. Those books are part of the Thomas Mann Archive in Zurich today. Other books (approximately 3500) were sold to a bookseller in Santa Monica.
The German Government bought the house in 2016 after it was privately owned for more than sixty years. Many parts of the house remained in their original condition -- including the former study of Thomas Mann and its bookshelves. This room is still the centerpiece of the house -- and a wonderful opportunity to keep the spirit of Thomas Mann alive.
ABAA: Who will be using this library when completed?
The library will first of all be a study for our fellows, who spend three to ten months in the US. We believe that they will be grateful for the reconstitution of the library -- even though their work reaches beyond Thomas Mann research. Over time, the library will grow according to the interests and expertise of our fellows.
The Thomas Mann House mission is to foster the intellectual and cultural exchange between Germany and the United States. During his time in America, Thomas Mann tackled the topics of democratic renewal, freedom, migration and exile. We would like to carry this tradition forward and take up the cultural and societal questions of our time.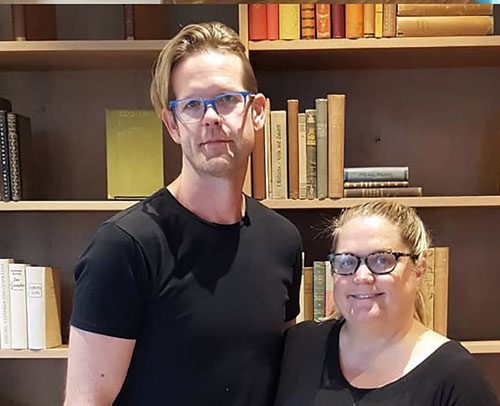 Brad and Jennifer Johnson of Johnson Rare Books & Archives
The challenge for Johnson Rare Books & Archives was to find "items that were contemporary to the library that Thomas Mann had in LA," according to co-owner Jennifer Johnson. Describing the library itself, Brad Johnson, co-owner of Johnson Rare Books & Archives, commented that the library contained "books that were important to [Mann], that were special to him, and also the books that he was reading at the time." He noted that the library contained "books that were written by writers like T.S. Eliot and W.H. Auden in the collection, writers that were relatively young in their career at the time" as well as "books that reflect the interest in Hindu philosophy and self-realization that was a very prominent movement in Los Angeles at the time."
"Among the rarities we were able to track down were four volumes issued by the Pazifische Press, which was at the center of German exile publishing in Los Angeles. Additionally, a personal favorite for us was a copy of Wilhelm Gennerich's Die Syphilis Des Zentralnervensystems (1921), an essential resource for Mann during the writing of Doctor Faustus (1947), which he composed at the home where we reconstructed the library," said Brad Johnson.
"While it was challenging, it was also a very rewarding project for us because we were able to play a small role in helping to preserve Mann's legacy in Los Angeles for future generations," commented Jennifer Johnson; "There are many lessons to be learned from his life. He came to Los Angeles after being forced into exile by the Nazi regime for his political views. In the United States he was labeled a 'suspected communist' and was required to testify before the House Un-American Activities Committee, where he was termed "one of the world's foremost apologists for Stalin and company." Again facing so much persecution, he ultimately left the United States and spent his final years in Zurich."
Brad Johnson said visitors to the newly reconstituted library will take away a "sense of the man and also his tastes, and the literature that influenced his work during his time here in Los Angeles and thereafter."
As with any book collection, the project is on-going: "the vast majority of his actual library resides in Zurich, which was fortunate as it provided a road map for rebuilding his Los Angeles' library," said Jennifer Johnson; but, "there were a number of books he parted with before leaving the United States, and we are still investigating how they were dispersed in the hopes of tracking them down."
Further reading:
More information about the Thomas Mann House can be found at https://www.vatmh.org/...
More information about Johnson Rare Books & Archives can be found at https://www.johnsonrarebooks.com/...